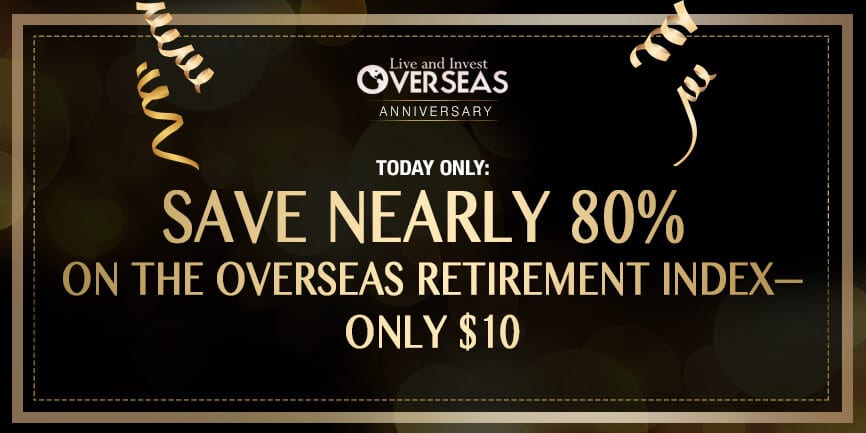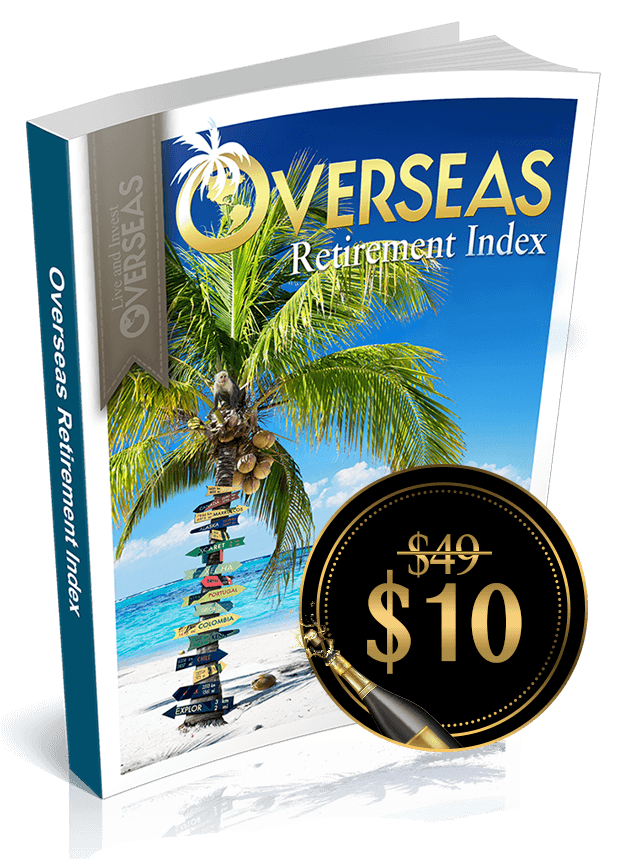 By far our most comprehensive study to date, this 324-page report identifies and scores the 30 best places on earth to think about living or retiring overseas.
Inside this unique resource you'll also find a comprehensive list of moving-overseas FAQs, detailed cost-of-living budgets, recommendations for what you should spend if you're interested in purchasing a home of your own or renting… how to bring your pets with you to your new home overseas… our editors' "best of" picks for singles and families, and much, much more…
Today, to celebrate our 10-year Anniversary, we're making this ultimate resource available to you for only $10. That's a whopping discount of 80%.
What's more, when you secure your copy now, you'll receive a free, 30-day trial subscription to Overseas Living Letter, the most complete, comprehensive, and useful tool available anywhere for anyone interested in knowing more about the world's top overseas havens.
Remember, this special deal, like every offer during our Big 10th Anniversary Celebration Event, is available for 24 hours only.

KATHLEEN'S PERSONAL GUARANTEE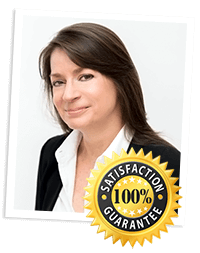 I guarantee that my overseas-living-intelligence service—delivered monthly via email—is the most straight-shooting, tell-it-like-it-is report available about the best-value destinations on the planet for living and investing abroad.
But if you don't feel Overseas Living Letter delivers the kind of make-your-nest-egg-last-forever opportunities you're looking for, you can cancel at any time. If you do, I'll promptly reimburse you for any issues remaining in your subscription. No questions asked. The Bonus Reports are yours to keep, no matter what.
When you subscribe, you will be enrolled in our auto-renewal program, which guarantees the low price of US$36/year for your first renewal and for as long as you continue with your subscription. You can cancel anytime you like, and any unwanted automatic recurring charges will be refunded immediately.
With your free 30-day trial subscription, you get to try everything out risk-free for a full 30 days.
Then, during the 30-day test-drive, if you are not happy with the service, simply let us know, and you will not be charged anything beyond your initial US$10 investment.
And, if you love the service, as I know you will, simply do nothing. We'll continue your subscription, charging your credit card for the balance of your subscription price after the 30 days are up (US$36).