Would You Like To
Work Less…
Play More…
Lose Weight…
And Be Happy?

That Was
Rob Burrow's Dream, Too…

Dear Live and Invest Overseas Reader,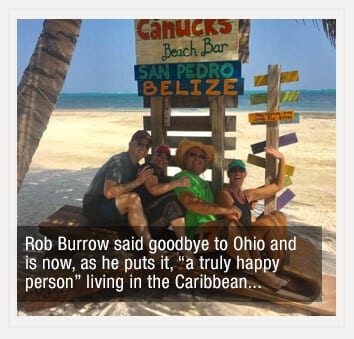 "I was vacationing in the Caribbean all the time," Rob explains.
"I was working 50 weeks a year, then I spent every two-week vacation in the Caribbean.
"That meant 14 days a year I was happy.
"What if, I finally thought, I were to move to the Caribbean?
"Then I'd have two days each weekend to enjoy being in the Caribbean. Even without taking a vacation, that'd mean I'd be happy 104 days a year!
"I'm no math wiz," Rob continues… "but it seemed like a no-brainer to me."
How is Rob's new life of white sand, azure sea, and swaying palms working out for him?
"I love the water," Rob says, "so I spend all my free time sailing, surfing, snorkeling, fishing…
"My wife and I are living much better lives… much healthier lives.
"I lost 70 pounds in the first eight months here. We just eat better, and we naturally get more exercise.
"I can honestly say that I'm happier than I ever was living in the States. I'm a truly happy person now."
Or Maybe You Dream Of
Running Away To A Sweet,
Simple Life In The Country…

Perhaps it's not the Caribbean that's calling your name…
Maybe you long for wide-open spaces… a simple, sweet life in the country…
This was Tony Lauria's dream.
"In my previous life in the States," Tony says, "I worked for a big international company as a trainer, instructor, and later in corporate sales.
"I'm a New Yorker born and bred… but I've dreamed my whole life of country living.
"For me, the best part of retirement was the chance to put my frenzied New York City lifestyle behind me."
And that's just what Tony has done.
Tony has found a place where the living is uncomplicated… back-to-basics… and super affordable.
"I was able to buy an adorable little turnkey cottage here for US$69,000… fully furnished, fully outfitted," Tony explains.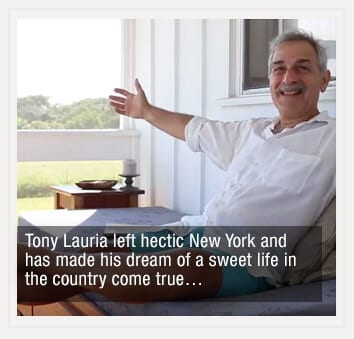 "My life here is great…
"I ride my bicycle every day… I tend my gardens… I walk to the grocery store… once or twice a week I go into town…
"And every morning," Tony adds with a big smile, "you'll find me on my front porch.
"I start each day on my porch drinking my coffee and watching the sunrise…
"The sun comes up each morning right… there…" Tony says pointing from his porch to the horizon just ahead.
"This is a dream come true for me," he continues. "This cottage… this community I've joined… the new friends I've made… it all means a lot to me… I mean really a lot…"
Caribbean Life Or Country Living?
Where has Rob Burrow reinvented his life in the Caribbean?
Same place Tony Lauria has relaunched his!
I'm talking about a beautiful English-speaking land that has been attracting would-be retirees and expats in the know from the United States, Canada, and across the globe for decades.
Welcome To Belize—
Your Lifestyle Home Run

You could say that Belize offers the potential for a double play… for this little country is part Central America… part Caribbean…
In fact, we say Belize is a lifestyle home run.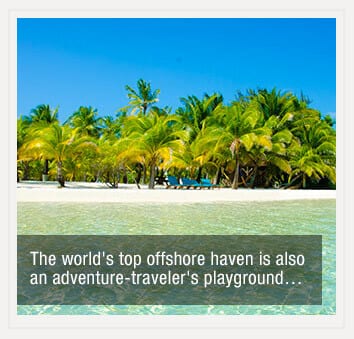 I first alerted readers to the many charms of little English-speaking Belize in 1987. In those days, it was mainly scuba divers, sport anglers, and independent free spirits who invested or made new homes in Belize. Back then, Belize was pretty rough around the edges. And both Belizeans and expat residents preferred it that way.
I've just returned from my most recent visit to Belize, and, boy, what a difference 30 years have made! You could say the tides have shifted. Belize today is attracting people from all walks of life. Some are famous, ridiculously wealthy public figures… others are just normal folks like you and me.
The common denominator I can identify among everyone finding his (or her) way to Belize's shores today—from scuba enthusiasts and eco-adventurers to missionaries and billionaire investors—is a desire for a simpler, freer, more private way of life.
With everything going on in the world these days, Belize's back-to-basics lifestyle is almost irresistibly appealing.
And it's attracting a new breed of investors and expats eager to stake their claims. They come seeking escape from the doom and gloom back home. They come seeking the freedom to live their own lives and to make their own way. They come in search of privacy, for themselves and for their money. They come in search of paradise.
And they're not disappointed.
Who Are All These Expats
Seeking Escape And Safe Haven
In Belize?

Eve's story is another great example.
Eve spends five to six months a year living part-time on Ambergris Caye, Belize's best-known and most-developed Caribbean lifestyle choice.
Every winter, Eve and her husband look forward to escaping the grueling Canadian winter in San Pedro Town, where they own a small condo on the beach.
It's perfect for them.
Eve's constantly in town, where she knows everyone. She spends her time volunteering. There's no shortage of opportunities to get involved with the local community here, and Eve takes full advantage. You see her everywhere, at every social event, always with a smile on her face.
Ambergris Caye is quintessential Caribbean, offering all the azure water, white sand, and swaying palm trees your island-loving soul could ask for. It's also the most expensive lifestyle choice in this country. But don't worry. You have many other desirable but lower-cost choices, too. More on those in a minute…
Residency That's Ultra
User-Friendly And Super Flexible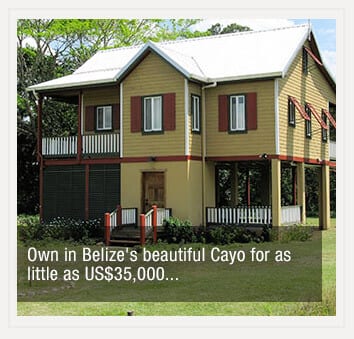 Belize expat Helena Hess was originally attracted to Belize for its diving. She wasn't even thinking about retirement when she made her first visit to the country.
But, the better she got to know Belize, the more she came to appreciate the advantages it offers the would-be retiree. Helena and her husband Mike bought a piece of land on Ambergris Caye, built a home, and, eventually, looked seriously at Belize's residency options, including its resident-retiree program.
Their conclusion?
Belize is hard to beat, not only for the Caribbean lifestyle it offers on its cayes, but also for how easy it makes it for a foreign retiree to make Belize home.
And a QRP retiree can be as young as 45 years of age!
Today, Helena lives in Belize full-time with her husband. He's a full-time resident; she's a QRP. They made their decisions as to which residency option they wanted to pursue independently and, as a result, have been able to take full advantage of the residency benefits Belize has to offer.
Helena and Mike pay no U.S. income taxes on income they earn while living in Belize. Because they're Americans, they retain a tax obligation Stateside, of course. However, because they're Americans abroad, residing full-time in Belize, they can earn up to US$211,800 of income each
year that is U.S. tax-free. And, Helena is not liable for taxes in Belize, either, since she's a QRP.
Plus, thanks to their residency statuses, they were able to ship their personal belongings and household goods into the country duty-free…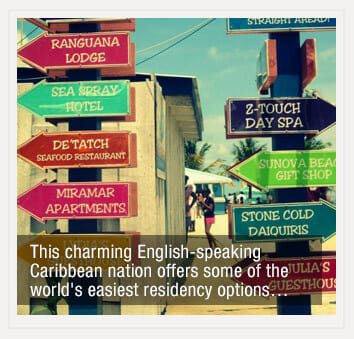 Linda is a professional artist who first visited Belize on a catamaran charter. She and her boyfriend had attended a conference in Panama in 2004. They drove all around Panama and considered settling in that country, but Linda didn't feel comfortable. The idea of learning Spanish was just too daunting for her. She couldn't talk to the locals, so she felt unable to connect with them.
But Belize was a different story from the day they first arrived. Every day the couple was able to dive, snorkel, and fish among Belize's beautiful Caribbean cayes, all the while making friends with the local Belizeans. Linda felt safe and welcome from the start.
After her initial visit, Linda worked out a swap with a resort on Ambergris Caye so she could return. In exchange for free accommodation, she completed a number of paintings for the resort owner. And, during that five-week trip, she made her decision. Belize would be her new home.
Linda returned to her old home in Monterey, California. It took her a year to sell her house and her art gallery and to prepare for the move.
Today, Linda is a fully delighted full-time resident of Belize, where she has opened two art galleries. She divides her time between Ambergris Caye and San Ignacio and loves both locations and the wonderfully relaxed lifestyle they afford her…
Belize is also a top choice if you're interested in a "sustainable life"—an opportunity to live off the grid, completely self-sufficient.
Good friends in this country have been living the sustainable life for four decades, since long before it was a fashionable idea.
"I Have To Commend You For Your Honesty And Insight Into Telling It Like It Is"

"Kathleen, as a reader of Overseas Opportunity Letter and a Private Placement Funding Syndicator for over 25 years, I really have to commend you for your honesty and insight into telling it like it is to your readers. It is uplifting to read an article from a person like yourself who is delivering the truth to her readers. Keep up the good work."

— Norman S., United States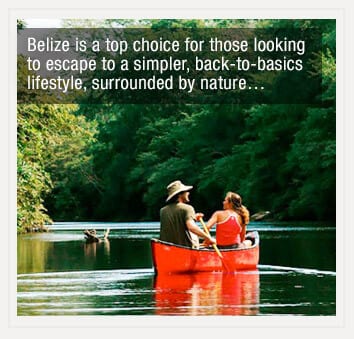 In 1977, Mick and Lucy Fleming traveled from Great Britain to Belize. They had but US$600 in their pockets. For Mick and Lucy and Belize, it was love at first sight. They fell in love especially with the country's Cayo District, a region of rain forest, rivers, mountains, and Mayan ruins. As soon as they could scrape the money together, Mick and Lucy bought a remote piece of property in the Cayo, on the Makal River. And they lived off the land. The only way in to their property back then was on horseback or by canoe, up the river.
That was some 40 years ago and, today, Mick and Lucy have developed their Chaa Creek property into the most impressive and most applauded rain forest eco-resort in the country, rated the Best Eco-Resort in all the Caribbean by Caribbean Travel & Life four years straight.
A visit to Chaa Creek qualifies as a luxury experience these days. However, it's still very possible to have the back-to-basics, off-the-grid experience that first attracted Mick and Lucy to this part of Belize so many years ago.
Today, the Cayo District is the fastest-growing area in the country. The lush tropical rain forests you find here, the abundant freshwater rivers, the largest underground cave system in the Western Hemisphere, and the fertile Belize River Valley once supported hundreds of thousands of Maya. Today, they support 21st-century adventurers and environmentalists looking to escape to a simpler, sweeter life.
One Of The World's Most
User-Friendly Jurisdictions

Retire To Belize On US$1,400 Per Month… Or Less
In Belize's Cayo, you could enjoy a rich, fulfilling life on a budget of as little as US$1,400 per month, if you buy locally and use local resources.
The key to maintaining a low cost of living is getting to know the local vendors, farmers, and suppliers. I have several Belizean friends with higher standards of living than many "First World" residents. They purchase locally grown foods, which are far superior to the more expensive processed foods imported from abroad. They have more quality time with their family and friends because they can afford maids, cooks, and gardeners. They build their houses using readily available local materials and talent. If they need something that isn't on hand, they go to the Mennonites in Spanish Lookout, who can fabricate just about anything for less than the cost of importing it…
—Part-time Belize expat Phil Hahn on life in the Cayo
Belize is a tiny country, about the size of Massachusetts, with a population of fewer than 375,000 people. The entire country is like a small town. It's easy to become part of the community here. Everyone's friendly. Welcoming. Very willing to lend a hand and to make an effort for a neighbor.
But it's not only your neighbors who'll go out of their way to make your new life in Belize easy, comfortable, and everything you want it to be…
Take local politicians, for example. In Belize, they mingle. They're happy to talk to you, even to listen!
Take a walk in downtown San Pedro Town on Ambergris Caye any weekend, and you'll likely run into Minister of Tourism and Culture, Jose Manuel Heredia, relaxed and barefoot. When he's out, as he often is, the Minister likes to stop to chat with his constituents. Most are his relatives, friends, and neighbors.
Easy access to a local politician like this really makes a difference, believe me, when you need assistance on a business or an immigration issue.
Local politicians are easily accessible in this country… and so is the local banking industry, which qualifies as seriously user-friendly.
While compliance requirements imposed by the United States have tightened, opening a bank account in Belize is still relatively easy compared to other offshore jurisdictions. With professional local assistance you can even open a bank account long-distance. Belize's modern banking system is protected by a strong Central Bank, professional banking staff, and strict confidentiality rules.
No need to be a millionaire either. You can open even a nonresident account in Belize with as little as US$500…
Your Own Piece Of Belize For
As Little As US$35,000

It's easy to purchase property in Belize, too. And the opportunities on offer are tempting… from deeply discounted beach condos on Ambergris to emerging-market buys in the Cayo, where you can own in a private riverfront community, for example, for as little as US$35,000.
Not ready to buy? You can rent in the Cayo and elsewhere for as little as US$400 per month.
Meaning you could enjoy a rich and comfortable retirement in one of the world's most appealing offshore havens today with a retirement nest egg of US$1,400 per month or less… maybe much less…
In Belize, Both You And Your
Assets Are Safe
Belize offers two structures specifically designed to help keep your assets safe. The Belize International Business Corporation (IBC) and the Belize Trust are both solid parts of a plan to protect your assets, including from frivolous lawsuits.
"The Babe Ruth Of Overseas Living"

"Kathleen, you are like the Babe Ruth of overseas living."

— Sean A., United States
Furthermore, a Belize IBC is not subject to income, social security, capital gains, or withholding tax or stamp duty. Nor to gift, death, estate, dividend, distribution, or inheritance tax. And an IBC is not required to file annual returns.
We're not suggesting you do anything that is not legal or 100% compliant, of course. My point is that you can create a structure in Belize that is fully legal and compliant… and also rock-solid.
Entrepreneurs Most Welcome
Savvy investors looking to keep their investments and their assets safe are finding their way to Belize's shores in growing numbers…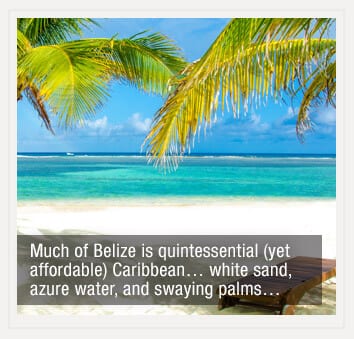 As are entrepreneurs looking for opportunity.
If I had to choose a single word to describe Belize, it'd be "potential." Belize is a frontier. A land for pioneers.
Much of Belize is quintessential (yet affordable) Caribbean… white sand, azure water, and swaying palms…
The Belize government is doing its part to make modern-day pioneers feel welcome. Opening a business in this country is straightforward and relatively red tape-free. As an entrepreneur in Belize, you enjoy significant tax advantages when you structure your business properly.
Remember, all transactions take place in English. Plus, Belize's no-nonsense legal system is tied to the Caribbean Court of Justice. This gives many investors and business-owners the comfort of familiarity.
As a result, Belize is enjoying an influx of Americans, Canadians, French, Italians, British, Irishmen, Jordanians, even Eastern Europeans, all making their way to this country to stake a claim.
One of the best-known among this group is Francis Ford Coppola, the award-winning American movie director. In the early 1980s, Coppola visited Belize and, like so many others, fell in love. Like so many others before him and since, he wanted a little piece of Belize of his own. He purchased the abandoned Blancaneaux Lodge.
For more than a decade, Coppola used the resort as a family retreat. In 1993, he opened his tropical paradise to the public.
Mr. Coppola was drawn to Belize by the beauty of the country itself. But, in time, he came to appreciate the advantages of setting up a business here. And he continues to invest. Coppola bought a second inn in Belize, this time in Placencia, in 2001. The Turtle Inn, located on a white-sand beach that dissolves into the clear Caribbean Sea, "is a personal joy," Francis says. "It features any number of original ideas and details, which, I confess, continue to delight me. I made the resort as rustic as I love and as luxurious as I could."
The open-arms business climate encourages this kind of innovation and imaginative investment.
Where In Belize Might Suit You Best?
Belize is a tiny country, but its geography belies its diversity. Perhaps the biggest challenge as you consider all the opportunities that Belize has to offer is determining where in the country might suit you best.
What part of Belize calls to you?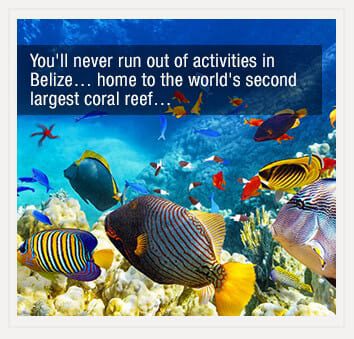 Are you drawn to the pristine sugar-sand cayes and the aquamarine waters of the Caribbean?…
You'll never run out of activities in Belize… home to the world's second largest coral reef…
Or would you feel more at home amidst the lush rain forest, the mountainside waterfalls, and the rivers that meander through ceremonial Mayan caves in the Cayo?…
Maybe the lively and growing communities, both expat and Belizean, of San Pedro Town and San Ignacio would suit you?
Would you prefer a simple, close-to-nature lifestyle, living fully self-sufficient and off-the-grid?…
Or are you more inclined toward an active, vibrant community in a town that has colorful festivals, trendy restaurants, expat-run cafés, and lively beach bars?
Are you an entrepreneur looking for a niche to fill? Or a would-be volunteer, looking to give back?
Are you seeking a low-cost, easy-to-obtain retirement residency… part-time escape… or a second passport?
All these things and many others are possible in this beautiful little country.
The Good And Simple Life…
But Is It For You?

Belize is the simple life defined, but the country also boasts the modern conveniences you need to live comfortably. Easy internet access in most areas allows you to continue working, if you want, and it makes it easy to stay in touch with friends and family back home.
This is not to say that Belize is for everyone.
More to the point: Is Belize for you?
There's only one way to find out. Come see the country for yourself!
"You Are So Much Better Than The Others"

"You are so much better than the others out there writing on these same topics. I receive this kind of information from many other sources. None of them compare. They're all sales letters pitching their next seminars or books or secret stock tips. Anyway, just wanted to let you know you are on the right track. Anyone who makes the comparison between you and the other resources available will choose you."

— Stephen S., United States
I've been traveling to Belize for more than 30 years. I knew from the first day of my first visit, as a just-starting-out travel writer, that this was a place I wanted to spend time long term.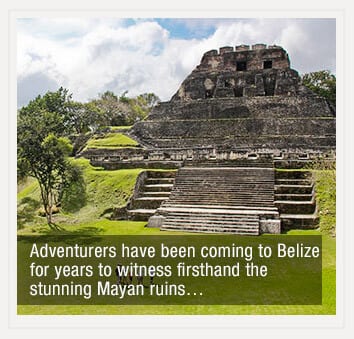 That initial, instinctive response to a place is important. You know in your gut, often right from the start, whether a place is right for you or not. It feels like a fit… or it doesn't. You feel at home… or you don't.
Before you can make a determination one way or the other about any place, you've got to wander the streets, walk the beaches, hike the hills, speak with other expats who've already made the move, and, critically, have all your questions answered by experts with firsthand knowledge and experience.
Is Belize a place you should consider spending your time or money? Would you be happy living here full-time (like expat retiree Helena Hess)… or maybe part-time (like longtime friend and correspondent Phil Hahn)? (Belize's unique QRP residency program means you can enjoy the tax advantages of being a Belize resident even if you spend but four weeks in the country each year.)
The only way to answer those questions is to get on a plane.
And that's what I'm writing to invite you to do. Come on down to see this unassuming English-speaking haven for yourself. Join me and my top Belize contacts and resources for two-and-a-half days for our Live and Invest in Belize Conference scheduled for Feb. 12-14, 2020.

Have All Your Questions Answered
Come to this year's Live and Invest in Belize Conference and have every one of your Belize questions answered by people who know from firsthand experience what they're talking about…
Isn't Belize really humid?…
Aren't there a lot of bugs?…
Is the government stable?…
What are the benefits of the QRP residency program? What's required to qualify?…
What would life here really be like… on Ambergris Caye, on the mainland coast, in the mountainous Cayo?…
Is there a developed expat community to look to for support?…
What's required to open a bank account?…
What are the options for medical care?…
What's the cost for local health insurance?…
Is Belize City as unsafe as some make it out to be?…
Where does it make sense today to buy for investment?…
How much to build a home?…
What about Guatemala? Aren't they ready to invade Belize?…
Where are the best beaches in the country?…
Can I really get the things I need? I mean… how would I live without Walmart and Home Depot?…
"You Don't Need A Big Retirement Account Or Income To Live The Good Life Here"
Great climate… fresh food… a healthy, adventurous lifestyle. For many, Belize is the good life defined. Take one expat retiree we know in Belize, for example…
"Initially, I was attracted to Belize by its natural beauty and environment, including the opportunity it offers for scuba diving and water sports," Helena Hess explains.
"Thinking back to when this country first got my attention, I realize that, then, I wasn't in a hurry. I had a lucrative career. I wasn't thinking of making an international move. Instead, my husband and I invested in a vacation home on the island of Ambergris Caye. For eight years, we traveled to Belize yearly, to relax and to scuba dive.
"I wanted to be sure before committing to something as dramatic as a move to another country. When I did think about the idea, I mainly considered living in Belize part-time.
"But then came 2008, and everything changed. My best friend and coworker, a 50-year-old senior VP, lost her 'secure' management job. Would I be next? I knew the time had come for me to get serious about making a move, even a full-time one. As more financial and political landmines exploded around me every day, I began to plan my escape.
"In the end, I chose Belize because it provided me with a safe haven in this difficult time. And moving here allowed me to retire eight years earlier than if I had remained in the States.
"Through Belize's QRP program, I obtained my residency in less than four months. That part was easy. The difficult part was making the decision to make the move in the first place.
"Now I live on 'Temptation Island.' Remember the 2001 Fox reality show? The Hollywood producers left Belize long ago, but the beauty and charm of San Pedro, Ambergris Caye, remain. This short-lived TV show provided great exposure for this little country!
"I moved to Belize as a QRP retiree, but I wasn't seeking 'retirement' in any conventional sense. My goal was and is to remain active and to participate fully in life. Now I'm involved in an athletic club on Ambergris. It's easy to stay healthy here, especially as I can work out at the club most days.
"Perhaps the most important point to be made is that you don't need a big retirement account or income to live the good life here. My husband and I are living a great life, and we get by on much, much less than we were spending to live back in the States.
"As I packed my bags for Belize, I knew that the U.S. economy was in serious trouble. But it wasn't clear how bad it would get in that country. I'm relieved to have escaped in June of 2008. Like everyone else, our investments and 401(k)s have taken major hits. But my husband and I will be OK. The cost of living here is very affordable. And the banks are secure.
"And you don't have to become a full-time expatriate if you don't want to. That's one of the best parts of Belize's QRP program. You can take advantage of the benefits it offers even if you spend only a few weeks a year in the country.
"Most North Americans realize that their quality of life is declining. At the same time, countries that once seemed remote are now within easy reach. And they have much to offer.
"We pay a high price to reside in North America. For many, the price has become too high. I'm one of those people.
"But I understand how intimidating the idea of relocating abroad can be at first. Again, that's a big part of the reason Belize makes so much sense. It offers one of the most user-friendly and most affordable foreign residency programs in the world.
"It also allows for a quality of life that, for my husband and me, is the biggest benefit of having made this move. I love the small-town environment here. We don't have movie theaters, galleries, and the sophisticated things you get in a big city. But the island is truly beautiful. We spend a lot of time outdoors.
"And we enjoy a rich social life. It is easy to get to know people, and there are many volunteer activities to get involved with. Music is big, as are festivals and special events. Most music is free, and everyone, it seems, is a musician…"
When you join us for our Live and Invest in Belize Conference, you'll learn everything you need to know about residency and taxes (Belize is one of the most user-friendly places in the world to establish foreign residency and a true tax haven)… bank accounts and corporations… holding structures and health insurance… employment opportunities (these are limited) and current entrepreneurial opportunities and real estate investment options (these are not)…
Over the course of these intensive two-and-a-half days, you'll also meet everyone you'll need to know to launch your new life in Belize. We're opening our personal Rolodex for this event… live and on stage.
At our Live and Invest in Belize Conference, we'll introduce you to:
Philip Hahn
International Development Consultant and Part-Time Belize Expat
Phil first came to Belize in 2003 to inspect 115 acres of land on the northern coast. He fell in love with the people and the country and immediately purchased the parcel. With a lifelong passion for architecture, Phil designed and founded one of the country's most successful new developments on the property. Over the years he's been through all of the necessary red tape involved with establishing businesses… permitting development and construction… finding a home… getting utilities hooked up… opening bank accounts… developing friendships with grocers, restaurateurs, and hoteliers… becoming a real part of the local community…
In addition to his first development, Phil has consulted on several other real estate projects and is currently developing a sustainable off-grid community in Cayo near San Ignacio and the Mennonite community of Spanish Lookout.
Phil is even a Past President of the American Chamber of Commerce in Belize.
Whatever's happening in Belize, Phil and his broad network of family, friends, and colleagues know about it. Whatever you want to do in Belize, Phil will know how and who can help.
"The Conference Was Amazing"

"Last year my husband and I attended one of your conferences and absolutely fell in love with the country. The conference was amazing and provided us with so much valuable information."

—Diane T., United States
---
Michael Cobb
Chairman and CEO, ECI Development
Mike Cobb first founded Exotic Caye International (ECI) to provide loans to North Americans purchasing real estate in Belize and throughout the region. The mortgage company was later converted to an international bank under the jurisdiction of Belize.
Today Mike and his team are developing a condo resort community on Ambergris Caye, Belize.
Mike has spoken at more than 100 international conferences, including many in Belize, about real estate financing and development and can answer any questions you may have on these topics.
---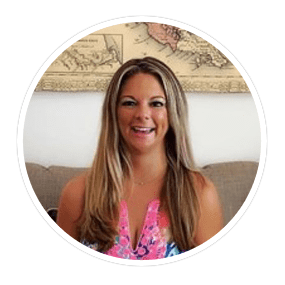 Rachel Jensen
International Marketing Consultant and Belize Expat
Rachel Jensen originally lived in Nicaragua and then Panama before moving to Belize in 2013 and joining the ECI Team. She currently serves as the Vice President of Sales and Marketing.
This role allows Rachel to do what she enjoys most, introducing people to the quaint country she has come to know and love. At the Live and Invest in Belize Conference, Rachel will show you everything you need to know about her new home country—the good, the bad, the beautiful, and the ugly!
---
Bob Stevens
President, Belize Logistics Services, Ltd. and Full-Time Belize Expat
After having been country operation manager for Esso (Exxon), Bob Stevens started his own Belize Logistics Services in 2002. This is the only full-service logistics service provider in Belize, leveraging Bob's years of experience in project management and door-to-door service. Belize Logistic Services also offers services for port agency/husbanding, bunkering, air freight, customs brokerage, customs clearance, crane service, trucking, and delivery.
Bob is the go-to guy for questions about shipping your household goods to Belize.
In addition to his work at Belize Logistics Services, Bob is also a Justice of the Peace, President of the Royal British Legion Belize, Chairman/Director of the Belize British Chamber of Commerce, and an active member of many other Belize organizations.
---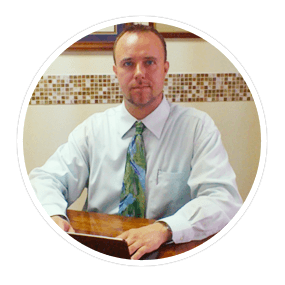 Ryan J. Wrobel, J.D., LL.M., C.L.E
Attorney at Law and Belize Residency Expert
Ryan John Wrobel holds a Degree of Juris Doctor from the State University of New York at Buffalo Law School and a Master's Degree of Laws from the University College London. He is a member of the Bar of the State of New York, the Bar of Belize, and the Bar of Jamaica.
Ryan is the founding member of Wrobel & Co., Attorneys-at-Law, in Belize City, and acts as a director of British Honduras Professionals Ltd., a corporate service firm also based in Belize City.
Ryan Wrobel can help with any residency and other legal questions related to living, retiring, investing, and owning property in Belize.
---
Lief Simon
Private Real Estate Investor, Consultant, and Developer
Lief Simon has been taking a diversified global approach—to business, to investing, and to life in general—and showing others how to do the same, for more than 20 years. Lief doesn't talk the talk, he walks the walk… and he has an impressive track record of real-world experience and personal success.
Lief Simon has lived and worked on 5 continents and traveled to more than 60 countries. He has personally bought and sold property in 26 countries, including past and current investments in Belize.
His current focus in Belize is in the Cayo District, where he is involved with two development communities.
Most User-Friendly Foreign
Residency Program In The Americas
Over 10 years ago, the government of Belize enacted legislation to allow Qualified Retired Persons (QRPs) to obtain permanent residency in this country. In many ways, this program is the most efficient route to foreign residency anywhere in the Americas.
Furthermore, you can enjoy the benefits of being a QRP even if you spend as little as four weeks a year in Belize. (Of course, once you get to know Belize, you may well want to stick around much longer. Running away to a new life in the Caribbean doesn't sound like such a bad idea, does it? But that's entirely up to you…)
Belize's QRP program offers not only the equivalent of a U.S. Green Card to foreign residents aged 45 and older, but it also grants a host of other incentives designed to encourage foreigners to come and bring their money. These incentives include a permanent exemption from any Belize taxes, including income tax, capital gains tax, estate tax, and import tax on household goods, automobiles, boats, even airplanes.
The only requirements for the program are that you or your spouse be 45 years of age or older, that you consider yourself to be retired, and that you show that you have at least US$2,000 a month in income to support yourself in Belize. To meet the last requirement you must deposit US$24,000 of passive income (pension, annuity, or other) into a local financial institution every year. This doesn't have to be spent in Belize, the government just wants to see that you have it, and you can then wire it elsewhere thereafter if you wish.
In practical terms, the "consider yourself to be retired" requirement means that, as a QRP, you can't apply for a work visa. This just means you can't take on traditional "employee" work. Indeed, Belize offers a world of opportunity for the would-be international or internet entrepreneur.
Belize's QRP program can work well for you not only if your ultimate plan is to retire to Belize… but also if your plan, simply, is to travel and move around in retirement. If you are a U.S. citizen, this Belize QRP program is an opportunity to qualify as nonresident in the United States for tax purposes. You could spend a few months a year in the States… maybe winter in Central or South America… then do a little traveling in Europe or Asia… remembering to spare a couple of weeks from your globetrotting to visit Belize.
Under these circumstances, the benefits of the QRP program could be significant, especially if you're an American with active business income from outside the States. In this case, as a nonresident American, you could make use of the foreign earned income exclusion in the States and not only be free from Belize tax, but from U.S. federal tax, as well.
International tax, residency, and QRP experts will be on hand throughout our Live and Invest in Belize Conference to detail the particulars and the advantages of this unique foreign residency program and to answer your questions to help you understand how you might best benefit, given your personal circumstances.
Who else do you need to know? Others just like you who've already made the move. Expats already living, investing, or doing business in this country. We'll make these introductions, too, to other expats who chose this country as the place to launch their new lives overseas… and haven't regretted the decision for a minute.
In addition, during these two-and-a-half jam-packed days, you'll meet experts who will speak to you about medical care and health insurance in Belize… real estate purchase and rentals… property title insurance… obtaining a visa and qualifying for the country's QRP program… opening a bank account… shipping your household goods to the country… receiving mail as a Belize resident… everything right down to how to have the electricity turned on in your new home, how to arrange for cable and a cell phone, and how to go about furnishing your new Belize digs…
"I Am So Happy I Joined Your Group!"

"Kathleen, a quick note to say thank you to you, your staff, and the professionals who participated today in your conference. It was a great day for me and I am sure for every other participant, as well. I am so happy to have taken the decision to join the group, as I am learning a lot about investments, offshore banking, living in foreign countries, and much more. Congratulations for your organization."

—Serge B., Spain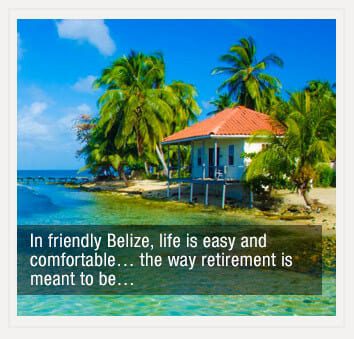 Plus, we'll walk you through a detailed and fully itemized budget for living in Belize, both as a property owner and as a renter. In fact, we'll present you with more than one budget, for the cost of living on Ambergris Caye, for example, would be quite different from that out in the Cayo.
We'll also make sure you have plenty of time to mix and mingle one-on-one during cocktail receptions with both the speakers and your fellow attendees. These private introductions with like-minded folks and those whose footsteps you're considering following… these alone are worth the price of admission and can often prove the most important benefit of the entire event.
Bottom line, here's our promise to you: We're going to show you Belize, from the islands to the mainland coast to the rain forest interior. We're going to show you the real Belize. The good, the bad, the beautiful, and the ugly. This will be the real deal.
No place is perfect, and we understand that a rose-colored view does you no favors.
There are reasons the folks you'll meet at this event have chosen to spend their time and their money in Belize. They're fans. But they're not fools. They recognize not only the pluses but the minuses, too, of day-to-day life and of trying to do day-to-day business in this country. They're enjoying the advantages… and they're reconciled to the downsides.
An important part of our agenda during our 2020 event is to show you these downsides… so you can decide whether you could live with them, too.
This will be a high-energy, full-throttle two-and-a-half days. But we'll do everything we can to make sure it's also a whole lot of fun. As I said, we're building in cocktail receptions, open-air parties, and other special events to give you as much opportunity as possible to mingle and mix with your fellow attendees and your Live and Invest Overseas panel of experts.
As full-time Belize resident Helena Hess puts it, "We Baby Boomers don't usually retire, per se. We transition. My husband knew I would drive him crazy if I didn't have something to do after I left my corporate job. I think I am busier now than ever, running the fitness club, setting up a real estate business, teaching salsa aerobics, trying my hand at travel writing… But it is so much more fun and interesting than my previous life.
"There is a real sense of community here in this place that I have never experienced before. Big cities are busy and remote. You never see your neighbor. Now, everywhere I go, I know people. It is a very satisfying way to live…"
Come on down and discover for yourself what Helena and her fellow expat residents in Belize already have discovered. This is a special country holding out particular and timely advantages right now. You should see what I'm talking about firsthand.
I'm very much looking forward to this chance to spend time in one of my favorite countries in the world. I hope to meet you there!

Sincerely,


Kathleen Peddicord
Founding Publisher, Live and Invest Overseas
P.S. Have questions, or prefer to register over the phone? Reach our Conference Managers directly right now by email here or by phone, toll-free from the United States, at 1-888-627-8834… or, internationally, at 1-443-599-1221.
Your Live and Invest in Belize Conference admission includes:
Admission to all presentations…
Complete access to the restricted exhibit area…
Expert personal consultations…
Formal and informal Q&A sessions, breakouts, and workshops…
Introductions to reliable real estate sources, business contacts, fellow expats, and professional legal resources…
Access to attendee-only (optional) pre-conference and post-conference real estate tours…
Access to optional cultural, craft, and sightseeing tours…
Coffee breaks and snacks…
A welcome cocktail reception…
Seminar materials, notebooks, and handouts…
Downloads of all conference presentations after the event is over…
A complete set of professionally produced conference recordings…
The special price of the 2020 Live and Invest in Belize Conference will be US$1,095 per person, and only US$1,595 for two. (Yes, if you come with a spouse or partner, the second person attends for less than half-price.)
And chances are, you'll be eligible for an even-better discount:
Existing Overseas Living Letter readers will save US$50.
Subscribers to Simon Letter or Global Property Advisor, as well as Overseas Retirement Circle members save US$100.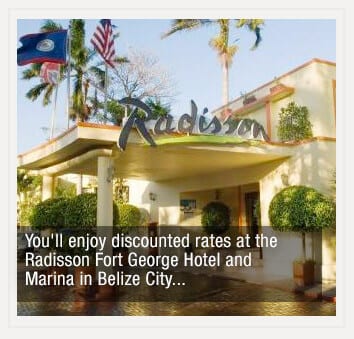 And, of course, All Access Pass Members and Belize Circle Members are invited to join us as our guests. Simply contact our Conference Coordinators to reserve your place in the room.
We're holding our event at the Radisson Fort George Hotel and Marina in Belize City, where we've negotiated a very special rate for our attendees.
We've reserved a block of rooms, but, when they're gone, we may not be able to get more.
Frankly, we're expecting a great turnout, so, again, please don't delay in making your reservation.
Click on the Reserve My Place! button below. Or get in touch with our Conference Coordinators by email here or by phone.
On behalf of our entire Live and Invest Overseas team: We look forward to meeting you soon in sunny, sandy, English-speaking Belize!

What Past Attendees Are Saying:
"I enjoyed this seminar very much. I don't know how you got so many knowledgeable people in one place. It exceeded all my expectations."

— V.R., United States
"Kathleen, I have to say that you seem to dig deeper into the feel of a particular place and to do great comparative analysis between alternative places. Your approach is more sophisticated and thoughtful and therefore more useful to me than other information sources covering these same subjects"

— John Whitlow, United States
"Thank you to you, your staff, and the professionals who participated at the event. It was a great experience for me and I am sure for all the other participants, as well. I am so happy I made the decision to join the group. I learned a lot about investments, offshore banking, living in foreign countries, and much more. Congratulations for your organization."

— Janet K., United States
"Kathleen, I'm sure it will take you a few days to recover from the intense effort that you and your wonderful staff put into the conference. From my perspective, it was an excellent production. Thank you."

— Elmore S., United States
"Kathleen, thank you for all your hard work. You have made a lot of people dream and a lot of dreams come true. I enjoy all the emails from all your staff living all over the world. I am always telling people about you and how you started your publications years ago. In fact, I just today told my banker about how honest and smart you are, letting us know where to go. Wish I had listened to you more years ago…"

— Marlene M., Alaska
"Kathleen, the honesty and realism of your information shines through. I am looking forward to continuing reading your offerings for a long time."

— Carol C., United States
"The level of experience, knowledge, and competence is top-shelf. Primarily, I appreciated the sincere and honest approach of the organizers and all the presenters, as well as the obvious desire to give participants complete, accurate, timely, and appropriate information and to answer questions thoroughly."

— Andrew F., United States
"I think the info and people I've met are super high-quality and in the first day has more than paid for the expense of the trip."

— Scot C., United States
"I particularly appreciated your information today about the joys (?) of international rental property. What I admire is your honest, tell-it-like-it-is approach. A lot of people have been hurt by nothing but glowing reports about offshore living from various sources. Your honest, direct approach is a real service."

— Arlean K., United States
"Great source of reliable information from trusted, proven sources."

— Jim C., United States

Reach us with questions and comments at 
CustomerService@liveandinvestoverseas.com 
or by phone, toll-free from the United States, at 1-888-627-8834.
Copyright © 2008-2019 Live and Invest Overseas, Founding Publisher Kathleen Peddicord