"Expat Loophole" Makes You 2X Richer In The
 Best-Bargain Haven In The World
Plus:

Enjoy Caribbean Shores, Colonial Splendor, "Eternal Spring," And More…
Dear Live and Invest Overseas Reader,
Get on a plane today and land in the place I have in mind for you…
And you'll leave the airport twice as wealthy as you are right now.
I'm serious. Your nest egg will grow both figuratively and literally once you land here…
For that first part, if you're a North American or European, your cost of living will plummet once you're here. Your housing costs, your grocery and utilities bills, your health care charges…
All your expenses will be cut by at least 50% (and probably more) here.
And what's remarkable is that your quality of life will be better… and that's true whether you choose to live on a Caribbean beach or in one of my favorite cities in the world.
Before I go any further, I should reveal this incredible location:
Colombia… and especially the valley city of Medellín.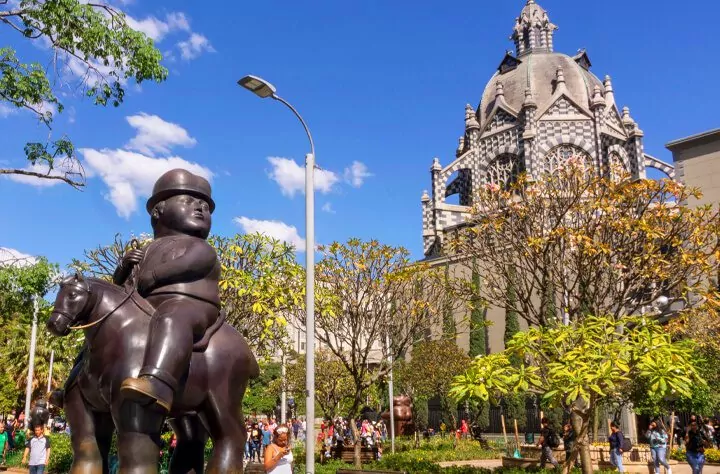 I identified Medellín nearly 15 years ago as a peaceful and affordable haven for expats and retirees…
Back then, I was called crazy and worse by those ignorant of the truth on the ground—that this once violent city at the mercy of cartels had reinvented itself to become of the world's most pleasant places to spend time.
These days, The New York Times, Lonely Planet, Fox News, CNN, and even the AARP agree with me.
Even with a low cost of living, Medellín offers you:
Perfect weather, requiring no heat or air conditioning…
World-class health care—8 of the 42 best hospital in all of Latin America are in this city alone…
A rich cultural scene, with theater, orchestra, and exciting events…
An affordable cost of living—you can live well on US$1,000 a month, or outright luxuriously on double that…
Absolutely low property cost—apartments in the nicest neighborhood start under US$150,000…
How's it all possible?
Well, if you've been a reader for a while, you may understand by now that different parts of the world have different cost of living, based on economies, local wages, and other factors…
It's the same thing as in the States… you'll spend less living in Alabama than California.
Of course, and with all due respect to great state of Alabama, you won't have to take a step down when it comes to quality of life…
The minimum wage in Colombia is less than US$250 a month… even city doctors average only about US$2,500 in salary each month (which also explains those low health care bills).
For anyone coming from outside the country, Colombia is simply another world when it comes to money…
By living here, you'll be able to cut your costs dramatically, leaving more money in your nest egg—or event extra money to invest and grow it…
But that only covers the "figurative" part I mentioned of your new found wealth in here in Colombia…
How in the world could you be literally richer here?
"Expat Loophole": You Have More Than TWICE The Buying Power Here Now
If spending time in places with a lower cost of living is an expat trick…
Then taking advantage of weak local currencies counts as a genuine loophole.
If you're coming to Colombia from a North American or European Union country, your dollars and euros are simply worth more here…
Specifically, compared to a decade ago, American's have 133% more buying power, while Europeans and Canadians enjoy 110% and 84% windfalls, respectively.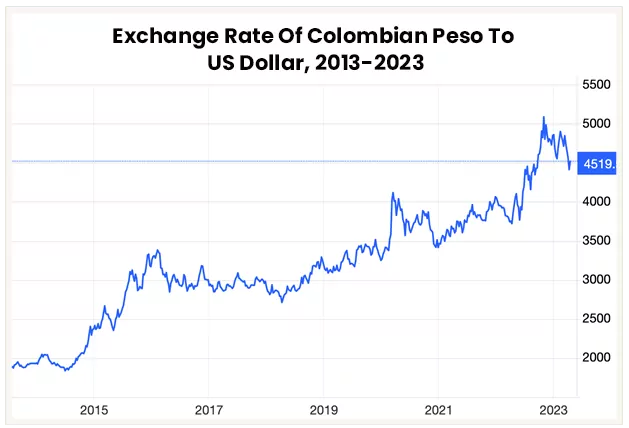 The American Dollar is booming in Colombia…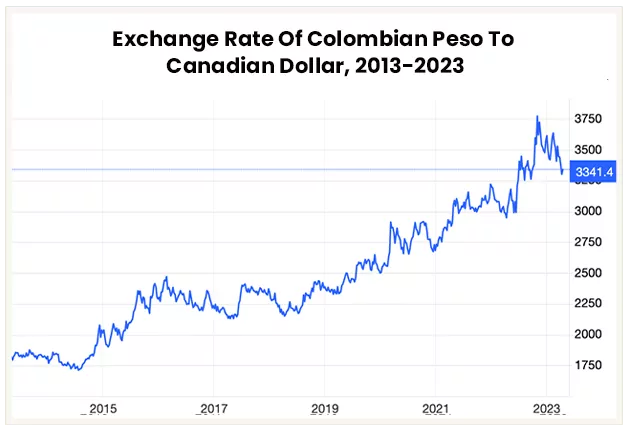 And the Canadian Dollar is not far behind …
This "currency discount" means you'll spend even less money on the already discounted services and goods in this affordable haven…
That upscale steak dinner with a bottle of wine that cost you US$100 back in 2013 would cost you just US$42.84 today—that's more than 50% of the cost you'd pay before, again, thanks to the strength of the dollar.
It's a huge reduction… and, of course, that also applies to your groceries, property taxes, rent, HOA fees, and everything else you might spend money on.
Obviously, a big caveat here is inflation and property appreciation, especially over a decade. However, even when adjusting for rising costs, you're still at giant advantage thanks to both the strength of your home currency and the lower costs here…
This all means you can live a luxury lifestyle—including theater, orchestra, fine dining, bistros, and cafés—without spending a fortune…
You Can Live Comfortably In Our #1 City Here On Just US$998 Per Month
I mentioned Medellín earlier…
Of all the places in the world we could have chosen, this incredibly pleasant and haven known for its "perfect weather" is actually our choice for #1 Best City Option For Overseas Retirement.
Indeed, I've purchased a family home here, and I intend to spend part of my retirement in this city…
Part of the reason, of course, is that I love spending time in Medellín. The other aspect, though, is that living here is amazingly cheap.
Here's what a couple's monthly budget would look like in Medellín, the "City of Eternal Spring":
Eternal Spring And Tranquility
For US$998 A Month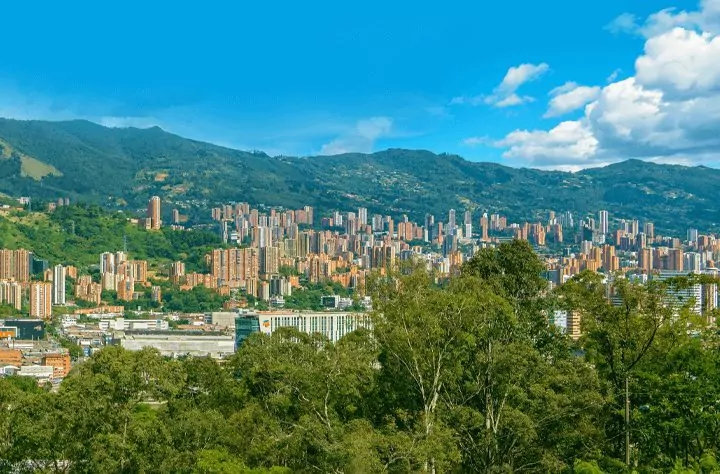 When I think about Medellín, it's the clear blue skies, warm sunshine, colorful gardens, and red-brick buildings that come to mind first.
The city is lush with greenery…
In fact, Medellín is so committed to keeping itself as green as it is, that it requires developers to invest in parks and plantings along with their housing communities and apartment towers.
Combined with the spring-like weather year-round, you'll feel a sense of lightness and vitality waking up every morning to the song birds…
Item
Cost (US$)
Notes
Rent
US$279
Unfurnished, two-bedroom, comfortable apartment in a desirable part of town
Public Transportation
US$28
Combination of metro (70¢/ride) and taxis (starting at US$1.55). You can contract an hour with a taxi driver starting at US$7
Gas
N/A
Usually included in rent
Electricity
N/A
Usually included in rent
Water
N/A
Usually included in rent
Cable/Phone/Internet bundle
US$35
150+ channels, unlimited calls from home, 30 Mb/s internet speed (going to 300 Mb/s costs about double)
Cell Phone
US$23
With 4G data plan
Entertainment
US$370
Including salsa dancing lessons. Movie tickets (in English with subtitles) are US$4 each; higher-end dinners and drinks for two are $65; cocktails for two are about US$10
Food and groceries
US$215
For fresh, whole foods for a couple. Imported, freezer, and processed foods will cost you much more
Maid service
US$48
4 hours of cleaning, one day a week
TOTAL
US$998
Monthly expenses
for a couple
*US dollar figures are according to currency exchange rate as of May 2023
Timing Is Everything…
And, Here, The Time Is Now
During one of my first visits to Medellín, I sat at a table in a newly opened restaurant…
I was with a group of investors and businesspeople who, like me, had come to explore current opportunities in this fascinating city. The conversation went like this…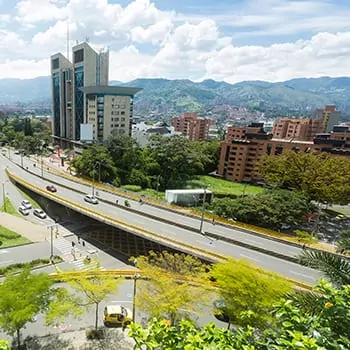 A lasting misperception creates an
enormous opportunity for you…


"Property values in this city are so under-valued," one of the gentlemen having dinner with us remarked (a real estate professional).
"I believe that apartment costs here are the lowest for any cosmopolitan city in the world on a per-square-meter basis.
"This is because Colombia, especially Medellín, is still misunderstood.
"When you say 'Medellín' to the average American, he thinks: Drugs… gangs… Pablo Escobar…
"It's such a misperception. The current reality of this city is so far removed from all that…
"But luckily for us, that outdated stereotype is keeping the prices down."
It was like déjà vu…
I'd heard the same case, made by another group of investors, around a similar table, in Boquete, back in 1999… 10 years before it was ranked as one of the world's top five retirement destinations by AARP.
So I know how this scene plays out.
Here's Who Should Be Focused On Colombia This Year
There are four types of people who should pay serious attention to Colombia this year:
Thanks to spring-like weather all year long, Medellín has a booming outdoor café scene…

The Retiree

The City of Eternal Spring is rapidly becoming a popular destination for the North American retiree. Medellín enjoys one of the world's best climates, offers an amazing selection of restaurants and cafés, and boasts an exciting cultural scene, with theater, orchestra, and events all year… all at a reasonable cost of living…

The Property Investor

We know where to find the best bargains on the Caribbean Coast…

Prices are an absolute, global bargain. Costs of getting in start at about US$100,000, even in the nicest parts of Medellin and within certain towns on the Caribbean coast. That said, our property experts do not recommend buying for quick returns given the historic exchange rates—if you plan on living here or otherwise spending Colombian pesos, however, then the property market here can be big profit center for you…

The Second Homebuyer

Forget Florida or Arizona… Colombia offers more culture and adventure at a lower cost…

More and more, I'm seeing people who are spending their summers in the United States or Europe, but skipping out on the ice and snow by coming to a city where they can leave their windows open day and night, all year.

They're bypassing the well-worn snowbird haunts like Arizona and Florida, for the romance, excitement, and affordable high-end lifestyle in Colombia…

The Entrepreneur

The expat wave in Medellín started with retirees and investors. But over the past years, scores of entrepreneurs have come on the scene. Many have opened brick-and-mortar businesses… but just as many have brought portable careers—writers, web designers, internet-based businesses, etc. known as Digital Nomads—to take advantage of Medellín's low property cost, low cost of living, and amazing weather.
We don't always have the vision to jump when opportunity presents itself. Imagine if you had bought in Costa Rica in the mid-1980s… in Ireland in the mid-1990s… on Ambergris Caye, Belize, later in that decade… or in Panama City 10 years ago…
But I recognized the opportunities in all these places at precisely those points in time. And I urged readers and friends to take advantage.
I see that same potential again right now, in Medellín.
But In Today's Colombia,
Medellín Is Just The Tip Of
The Iceberg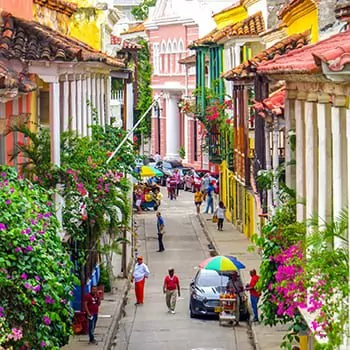 The opportunities in Colombia are not limited to Medellín… Cartagena remains one of the Caribbean's sexiest, sultriest escapes…

Admittedly, the values in Medellín jump off the page when looking at Colombia…
But Medellín is just one destination of several that are attracting the North Americans in large numbers these days…
Take Cartagena, for example.
Most people know Cartagena as Colombia's #1 tourist destination, but it was actually Colombia's first major expat haven, too… and it's still growing in popularity today.
Considered the exotic jewel of Colombia's Caribbean coast, Cartagena is a popular beach
resort city that has been drawing expats for decades.
Its main attractions are the beach and its Old City, particularly the inner walled district, which was named a UNESCO World Heritage Site.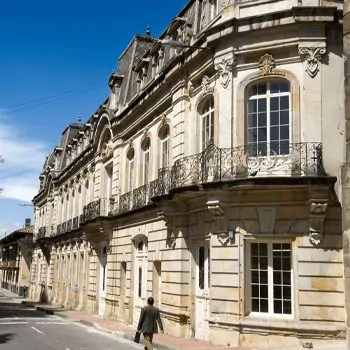 From coastline to Euro-chic cities, Colombia offers a tremendous diversity of appealing retirement lifestyle options…

Cartagena is chock full of history with its colonial architecture, narrow cobblestone streets, and homes with overhanging balconies and shady patios… giving the city an Old-World beach feel and making a romantic out of just about anyone.
But it also offers a wide range of lifestyles. The city has many modern amenities, including a growing number of high-rise condos with spectacular water and beach views in addition to modern shopping centers.
Enjoy the history and luxury of El Centro in the Walled City… or base
yourself by the beach of Bocagrande…
Get a taste of the bohemian feel of the restaurants and shops in Getsemani… or the more residential beach ambiance of Castillogrande…
No matter what your personal dream calls for, Cartagena will likely offer a lifestyle and a price-point that can be cheaper than many other Caribbean beach resort areas.
Or Check Out The "Other Cartagena"
Popular With Those In The Know…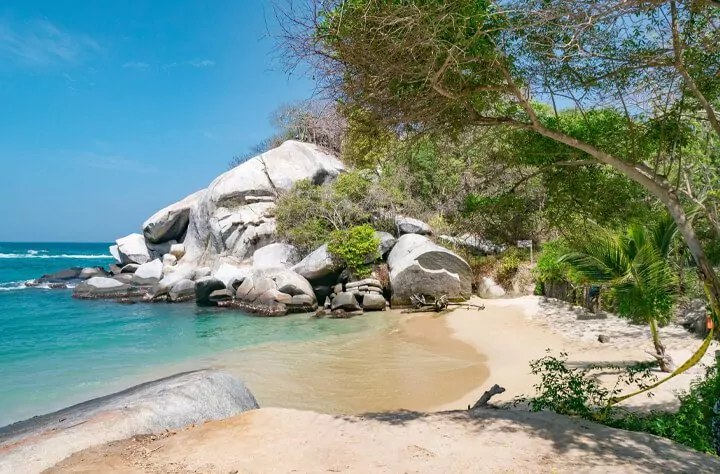 Just over 140 miles up the coast from Cartagena is the colonial city of Santa Marta.
Founded on July 29, 1525, by Spanish conquistadors, this is the oldest city in Colombia.
This is a much more affordable option than Cartagena, despite offering the same sandy coast, calm waters, excellent diving, and energetic culture.
Fifteen years ago, Santa Marta was a work in progress, rough around the edges in some areas and downright seedy in others.
Today's Santa Marta is a different story…
Its downtown has undergone a restoration effort that has revived its Spanish-colonial parks, churches, and homes to their former glory.
New elements have been introduced, as well, and the city now boasts an attractive seafront park, excellent seafood restaurants, cafés, boutique hotels, and even a cruise-ship port.
The beaches here are longer, wider, and better-kept… all with a small-town feel.
You can enjoy the boardwalk lined with palm trees where people come to walk, exercise, and take in the views. The energy picks up in a big way after sundown, with live music and people of all ages out and about.
Despite my comparison before, Santa Marta's allure is altogether different from that of Cartagena.
Colombia's sister coastal cities share a similar aesthetic, but Santa Marta is less than half the size of Cartagena and has a natural backdrop that few places on earth can match—the Caribbean to the north and west, Tayrona National Park to the east, and the Sierra Nevada de Santa Marta mountain range to the immediate south.
And How About The "Other Medellin"?
Welcome To The White City…
For the architecture buff who likes cool mountain weather, meet Popayán.
One of the world's best-preserved Spanish colonial cities, this historic gem offers a small-town feel along with an "eternal spring" climate similar to the world-famous weather in Medellín.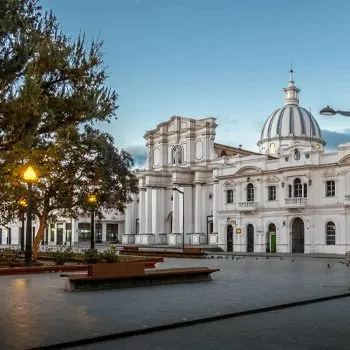 The "eternal spring" feel can also be found in Popayán with the added bonus of a
stunning white and gold town…
The historic center in Popayán is built around the central plaza in the Spanish-colonial style. It serves as the bustling social center of the city from 6 a.m. onward.
The stately cathedral overlooks the square from one end, and the beautiful architecture extends outward through the entire downtown.
What's really remarkable about Popayán is that all the buildings—homes, shops, churches, museums, and government buildings—are all painted white with gold trim…
Even the streetlamps and the accents and signs match the overall color scheme, which is maintained consistently throughout the historic center.
The city sees some tourists, which explains the presence of a fair number of nice restaurants and hotels. But, by and large, Popayán is off most foreigners' radar…
That means it's a bigger bargain than Medellin, but you also won't find the same big-city trappings here.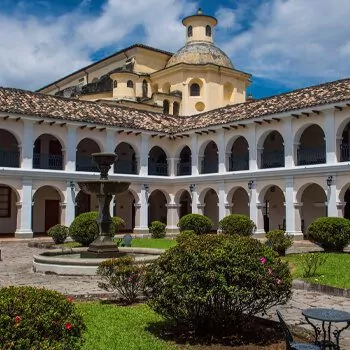 Tranquil and off-the-radar, Popayán is one of Colombia's best bargains…
Whether you decide on Medellin or Popayán, keep in mind these and most inland cities in Colombia are more reserved and tranquil than their dance-the-night-away sisters on the Carribean.
Indeed, Colombia offers up an abundance of opportunities and options for whatever your taste…
Whether you're looking for the best of city life…
The best nightlife in the Caribbean…
An affordable hideaway on the coast …
Colonial living in the highlands…
Colombia will have a world-class destination for you.
These Exciting Destinations Are Part Of A Stable And Safe Nation
Spanish architects did some of their best work in Colombia, and today's retirees can enjoy the charming colonial cities they left behind…

Colombia is a solid, stable democracy… one that's on the move.
The country is on a strong, economic footing these days, showing impressive growth… boasting a powerful industrial base… and enjoying an energy surplus, thanks to its abundant natural resources.
Back in 2012, Standard and Poor's, Moody's, and Fitch all upgraded Colombia to "investment grade" status… most recently citing "prudent economic policies and increased resiliency to internal and external shocks."
These ratings opened the door to an even greater flood of institutional foreign investment.
The old Colombia stereotypes have fallen… and it's rapidly becoming the hot destination that I predicted in 2008.
Today's values won't last long… they'll soon be tomorrow's retail buys.
And what took Colombia from "timely" to "urgent" is the exchange rate. Today's extremely favorable exchange rates can change quickly. And when they do, the window will have closed on the best buying opportunity we've seen.
I bought here myself. I'll be spending part of my retirement here… and I'm investing here. So I'm behind Colombia 100%…
That's why I'm inviting you now to join my team for our 12th-annual event…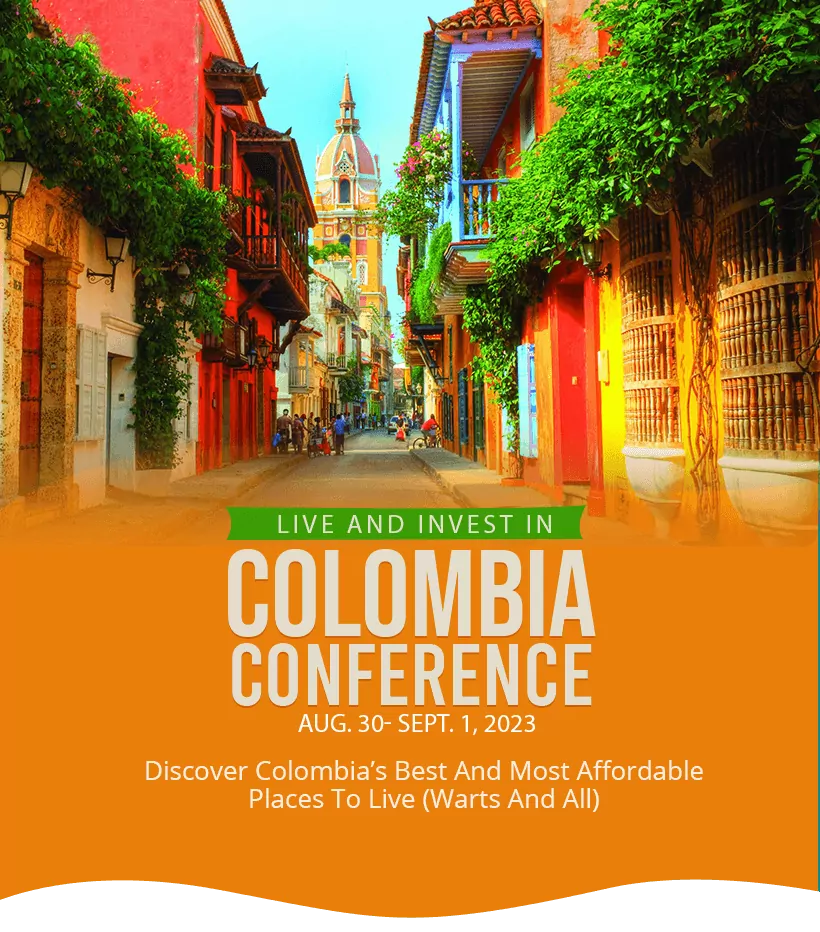 Join me and our top Colombia contacts and resources for two-and-a-half days during which you'll get to know Colombia's best places to live—"thin sliced" to exact places that could be your personal piece of paradise.The event will give you a comprehensive, in-depth view of Colombia that outsiders and tourists simply don't know.
Our Live and Invest in Colombia Conference has three major objectives:
#1: To help you find out if Colombia could be the place for you…
#2: To show you where in Colombia, specifically, you should live or invest…
#3: To give you the knowledge, support, and contacts necessary to make any move with confidence—that is, to create a plan…
Find the security that comes with knowing exactly how you can live—comfortably—on a budget that starts around US$750 a month.
Get to know each of your best options for living well in Colombia… from near-private islands to bustling cool-weather mountain villages…
Discover where you can tap into affordable health care, with excellent facilities and English-speaking doctors…
Find out how you can save thousands—tens of thousands—by living in certain off-the-radar places…
See examples of comfortable apartments you can rent for less than US$300 per month…
Learn where the best investment markets are… and what you can and can't purchase as a foreigner…
Whatever your agenda, you'll end the event prepared and confident, with all of the practical matters at your fingertips….
From residency to taxes, from banking to real estate, you'll leave this conference ready to take action.
And, most important, you'll benefit from the experience of those who have gone before you.
At this conference you'll hear from seasoned expats who were once in your shoes.
This has long been one of our most popular events over the past 12 years…
Join us, live and in person, for our 2023 Live and Invest in Colombia Conference.

All The Nuts And Bolts

"I appreciated the nuts and bolts, especially the cost of living, the financial considerations and strategies and the businesses that you showcased were interesting and enticing"

—Barbara Leicht, United States
Experience It Live…
Then Get Lifetime Access
To ALL Of The Information

Your registration today gets you more than just access to the event, our experts, and all of their insights…
We'll be recording everything—every data sheet, every checklist, every discussion, every panel debate, and every bit of information.
We'll edit, organize, and package it all into a high-definition video program that you can download or access online whenever and from wherever you want…
We'll even add in some e-books for quick and easy reference.

Have All Your Questions Answered
Attend this year's Live and Invest in Colombia Conference and have every one of your questions answered…
And by people who know from firsthand experience what they're talking about…
What are the downsides of living in Colombia in general?
What's the best way to move money to Colombia and into the local currency?
What are the residency options? Are retiree benefits available? What's required to qualify?
How can an expat get into the local health care systems?
What would life here really be like… in the expat hotspots like Bogotá and Medellín… and in smaller, under-the-radar cities?
Where can you find developed expat communities?
What's required to open a bank account?
Where does it make sense today to buy for investment? What real estate is off limits for foreigners?
Where are the best beaches in the region? The best bargains?
Can I really get the things I need? I mean… how would I live without Walmart and Home Depot?
Every question you have—if there's an answer for it, we can give it to you.
Colombia's top experts will be on hand to discuss it all…

"It was really great to have expats present that have lived here for many years, and how LIOS helped guide their path"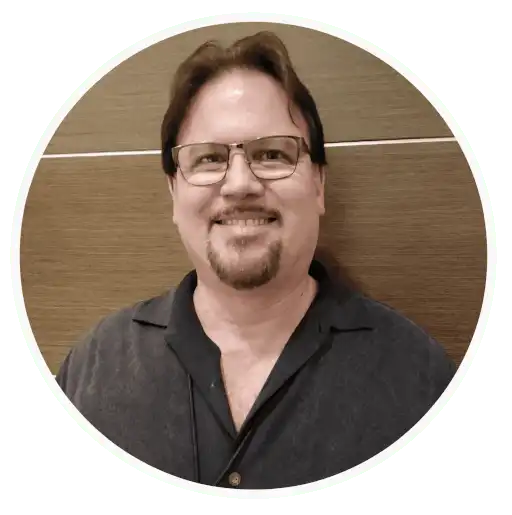 —Chris Rodgers, United States
You're In Latin America…
But It Feels Like Paris
Medellín is clean… safe… classy… and elegant.
The first thing you notice is that it feels very different from the typical Latin American city. It's much more Euro in flavor, like Buenos Aires… but far safer and cleaner.
Medellín is the perfect place to spend your days and evenings enjoying the glorious year-round weather at the city's cafés, gardens, museums, and art galleries. See this City of Flowers once, and you will understand why tourists and investors both are increasingly infatuated with this place.
This is a pretty, pleasant city of gardens and parks everywhere. It's clean, and it's green. Structures are red brick, with red-clay tiled roofs. You see almost no steel and glass towers.
The mood is calm, easy-going, and relaxing.
And people are friendly, polite, and pleasant… even the taxi drivers. It's easy to make friends, and you'll find most everyone willing to help out a newcomer.
If you want to escape the usual grit and grind of a typical big city—while still enjoying all the advantages and benefits of city life—then this is the place.
The Rich Local Culture Will Deepen Your Experience In Colombia
The people of Medellín are rightly proud, for theirs is a city of delights. There's no shortage of things to do in this town; both outdoorsy and more cerebral.
Medellín is a city made to be enjoyed outdoors…

On any given day, you could go hiking or bike riding. You could visit a museum or one of the seven shopping malls. You could see a tango show or an opera.
Come evening, dance the night away… sample the local rum in one of the outdoor bars… or enjoy a fine meal and white-glove service at one of the many elegant restaurants.
Medellín is an economic and financial center for this country, but it's also a literary and an artistic one. Newspapers, radio networks, publishing houses, an annual poetry festival, an international jazz festival, an international tango festival, and an annual book fair—all have chosen Medellín as their base.
It's a major educational center with over 32 colleges and universities… plus an aquarium, a planetarium, botanical gardens, and sculpture gardens.
Each summer sees the five-day Festival of Flowers with its procession of horse riding, music, and of course, beautiful flowers. The Flower Festival is the highlight of the year, along with the Lighting of the Lights at Christmastime. Both draw people from around the world.
Medellín is sophisticated and cultured in a way that is uncommon anywhere in the world, but especially in Latin America.
Meet The "World's Most Innovative City"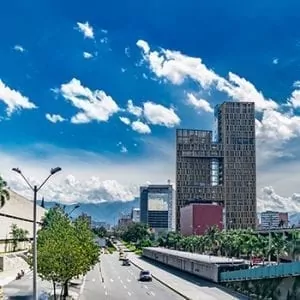 A place of the future…

A couple decades ago, Medellín was named "the most dangerous city in the world" by Time magazine. The impressive turnaround this city has made in the last couple of years has not gone unnoticed…
A few years back, Medellín received an international Smart City award for its social urban, and cultural transformation. The recognition given out by Netexplo (an international digital area trend observatory sponsored by UNESCO), states that technology and innovation are at the heart of Medellín's enormous transformation.
Focusing on rebuilding the city after those infamous times, special attention was paid to providing basic services like education, healthcare, transportation, and their most vulnerable population. Medellín now attracts entrepreneurs, tourists, and encourages innovation.
And, according to the BBC:
"The Urban Land Institute said Medellín had seen one of the most remarkable urban turnarounds in modern history.
"[The ULI] praised its civic spaces, libraries, and art galleries, as well as its infrastructure which includes a giant escalator and a cable car allowing the residents of the poor neighborhoods on Medellín's steep hillside to easily commute to the city centre, in the valley."

Not What I Expected!

"[The conference] really opened up my eyes and ripped apart the preconceptions and stereotypes I had that I knew I wanted to get past. Thank you so much!"

—Mike W., Panama
You'll Give Up Nothing
To Enjoy This Elegant Lifestyle…
One concern you might have if you're considering a move to Latin America is that you'll have to give up Western-standard luxuries…
This couldn't be further from the reality in Medellín, where you can actually enjoy a higher quality of life.
And You Won't Beat This Glorious Weather…
Plus: No Bugs!

While Colombia itself has a huge variety of climates—from the heat of the Caribbean to the cold peaks of the Andes—the weather in Medellín is just about perfect…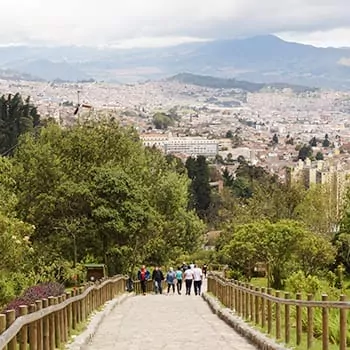 A clean, green, pleasant place to be…

The average high temperature in Medellín is a comfortable 79°F (27°C), and the average only varies a handful of degrees throughout the entire year. The average low is in the low 60s (about 17°C) so it's great for sleeping.
The bottom line is that you're always comfortable at home, and you won't need heat or air conditioning.
Medellín's prime residential area—El Poblado—is lush with green, tropical plants and tall trees, thanks to the almost-nightly rains. This abundance of natural water feeds the many rushing streams that tumble down the mountainside through the neighborhood.
And the most unusual aspect of the city is that there are virtually no bugs.
Here's a story from my friend Lee Harrison, Latin America correspondent and a fellow resident of Medellín:
"On my first day in town, I checked in at the Best Western… into a room without air conditioning. A local real estate agent had told me that you didn't need to keep the windows closed, because there are no bugs.
"But being skeptical of information I get from realtors, I didn't believe this 'no bugs' story… and suffered through two stuffy nights with my windows closed.
"But he was right.
"Today, when I arrive in my apartment in Medellín, I throw open the windows, and leave them open—day and night—for my entire stay. No heat… no A/C… and no bugs."
Here's Why The "Perfect Time"
Has Arrived In Colombia
This is why I am so convinced that now is the right time for Colombia… and specifically, Medellín. Just look at these factors, which we'll showcase during our Live and Invest in Colombia Conference:
Rich and diverse lifestyle and cultural opportunities. Whether you want to while away the afternoon at a sidewalk café… spend a night at the orchestra… or join the fun at the Festival of Flowers, Medellín will offer you a cultural landscape that's rich and fulfilling…
Solid, modern infrastructure. Well-maintained roads, a new Metro system, pure, drinkable water, modern Cable TV, and high-speed Internet will lay the groundwork for a convenient lifestyle…
Plentiful, well-stocked shopping. Medellín offers everything from mom-and-pop corner stores, to high-end shopping malls… old-fashioned markets to gleaming supermarkets… discount clothing bazaars downtown to exclusive boutiques in El Poblado. Whatever you need, it's here…

21st-century infrastructure…


Low cost of living. A couple living in one of the country's best neighborhoods can live this luxury lifestyle on less than US$2,000 per month, including entertainment. Considering the clean, safe, and beautiful environment—not to mention the wealth of city amenities—it's an amazing value…
Tremendous diversity of outdoor recreation options. Colombia is a natural wonderland, with dramatic scenery, natural wonders, and fascinating cultures. It offers everything from excellent SCUBA diving, to exploring colonial villages, to zip-lining down an Andean valley…
Medellín is a major educational center. More than 32 colleges and universities give a lift to the ambiance of the city and help to provide a vibrancy that you can feel from the moment you land…
Low global awareness is the main factor that keeps prices reasonable for now…
The Colombian economy thriving and on the upswing, by any measure, one of the leaders of Latin American and the world…
Powerful—but temporary—exchange rate advantage, providing today's buyers with 55% more buying power, when compared to just a few years ago (and more than 100% from a decade ago)…
A wonderful climate. Medellín's climate is what most people feel to be perfect. But Colombia offers a full spectrum of other climates, from the Caribbean tropics to high colonial cities in the mountains…
Friendly, helpful people. An expat haven has a hard time surviving if the expats and investors are not welcome. But in Colombia, the proud, friendly, and welcoming people are one of its strongest assets…
High standards of service and hospitality give Medellín a true, first-world feel…
Medellín is a clean, safe, modern city with Old World charm. Quite often, "charming" is code for "developing world drawbacks," making it a trade-off. But, in Medellín, you really do get to have your cake and eat it, too. This is a city with the best of the Old World and the new…
Medellín is also a real city, with restaurants, cafés, nightclubs, and bars… plus museums, art galleries, antique shops… and parks, plazas, and gardens. So, in reality, you get a lot more than charm… you also enjoy all the amenities of a large, cultured city…
Easy Access. Non-stops from the United States are available to Medellín, Bogotá, Cali, and Cartagena. Flight times to Miami are about 3 hours. Medellín is the only city in Colombia with two transportation terminals and two airports. Across the country, public transportation is excellent, with inexpensive buses and metered taxis available everywhere…
Quality, affordable health care. Medellín is home to a number of world-class hospitals and clinics. Insurance is reasonable (about US$750 per year), and the quality of care is so good that Medellín has become a center for medical tourism…
These are just a few of the reasons why I've invested myself already. And why I'm looking today for even more property to buy.
"I particularly like hearing about the nitty gritty of living in Medellin and Colombia. I really enjoyed hearing from the Howarter of the Gutiérrez brothers. I would like to know more about retiring in areas outside Medellin also"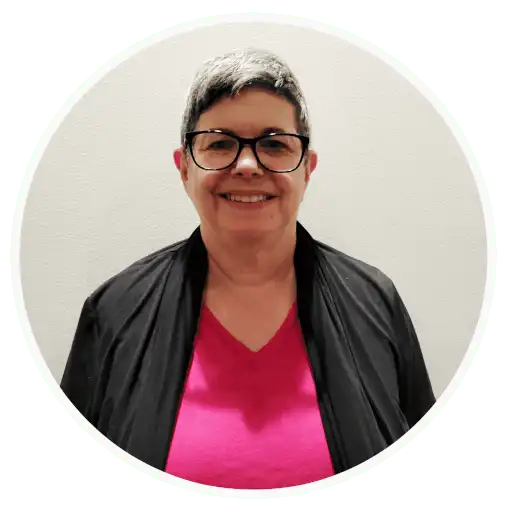 —Ellen Zucker, United States
Discover One Of The Most Undervalued
Real Estate Markets In The World Today
Here are three things that should grab your attention:
Low real estate prices, in absolute terms. Medellín offers a safe, elegant, first-world lifestyle that beats the competition. Yet real estate prices in its most exclusive neighborhood are lower than in Panama City… Montevideo, Uruguay… or Fortaleza, Brazil…
Potential for appreciation. Costs of real estate have been risen about 5% a year over the past three years in Medellín, and a little less than that in Cartagena and Santa Marta. These are steady, healthy gains… but not a bubble…
Double-digit yields from income-producing properties. Short-term furnished rentals can earn 10% in good neighborhoods, while longer-term furnished rentals can reach 8%…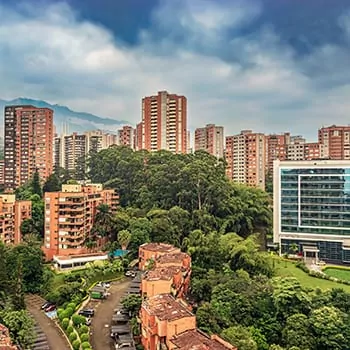 Property buys that qualify as absolute global bargains…

Again, though, when it comes to returns, you'll want to keep your profits in Colombian pesos in the short term. That's because the big currency exchange advantage that has led to such low prices can put a dent in your profits if you convert back to dollars or euros.
Otherwise, these are almost-perfect conditions for real estate investing.
Of course, when thinking about retirement or relocation, cost is crucial, both cost of living and cost of real estate. Living anywhere, the biggest part of your budget will be given over to housing—either the purchase of a home, or to rent.
This is another way Medellín shines.
You can buy in El Poblado, the top end of the market and the best location in the city, for as little as US$1,700 per square meter. Medellín properties cost as much as 48% less than its "competing" cities, such as Santiago or Montevideo.
Or you could rent a nice, modest apartment in a good neighborhood for US$500 a month… or less.
Let's hear from the experts who have already invested here.
Listen to what international property investor Lief Simon has to say: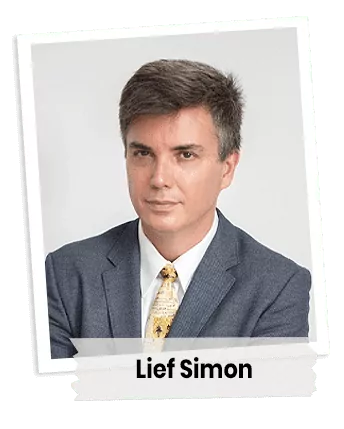 "The Medellín real estate market didn't take a big hit during the recent recession. Unlike so many real estate markets around the world, the property market here was never frothy, and was never over-leveraged.
"Real estate prices in Medellín are downright cheap. Not just relatively, but absolutely.
"Rental returns are steady, but the cashflow route here is best used if you intend to keep and spend Colombian pesos. Short-term yields can be high, in part thanks to a fast rate of growth in the tourism market. However, keep in mind that some cities, including Medellin, don't allow short-term rentals in building complexes—this can be reversed via a vote through the buildings' HOA groups. Be sure to check the building's current rules when buying an apartment.
"Appreciation is strong in our key Colombian markets, though, again, keep in mind the currency exchange rate can overtake any gains during a currency exchange. This is a place that could experience especially strong growth over the next decade as Colombia moves onto the world stage and the outdated stereotype finally crumbles completely away…"
Our Latin America Correspondent Lee Harrison has also chosen Colombia as his current overseas retirement and investment destination.
Here's what he has to say about why he is so focused on Colombia right now:
"Some would say that I've over-invested in Colombia, for a small-time investor. But I was completely sold by the quality of life I could enjoy in Medellín for such low prices… not to mention the solid, first-world construction quality.
"I bought a primary home here, expecting to rent it out when I'm not in residence. And then I bought a rental property—also large and well-located—with my self-directed 401(k) plan.
"I was told that returns would be good… but I didn't expect them to be quite this good. Both properties rented almost 100% last year.
"And aside from the good rental returns, both properties increased in value by between 8% and 10% over the first three years I owned, per an independent appraisal.
"The truth is that I'd buy in Medellín even if my property didn't rent—or wasn't going up in value—because the quality of life and the weather are worth it. But these returns have provided a welcome, extra bonus."
In Addition, The World's
High-Powered Real Estate Investors
Are Now In Colombia

Legendary real estate investor Sam Zell has made billions with his savvy. He's smart. He's tough. And he's famous for his great timing. Zell sold his Equity Office Properties Trust in 2007 for US$39 billion, right as the real estate market in the U.S. was peaking.
From the northern Caribbean coast and its resorts to the Andes Mountains and the Tatacoa desert, there is so much to see and experience here.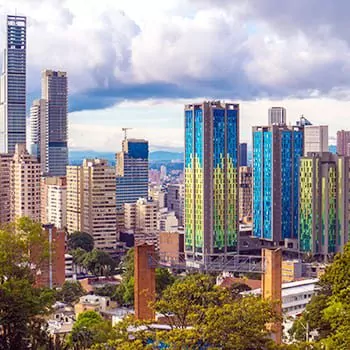 The world's smartest money is focused
on this country right now…
Where is his timing telling him to invest now?
Colombia.
"Colombia is the next star of Latin America," Zell says. His company has already invested US$75 million in a mixed-use development. And where Sam Zell leads, others follow…
Also, the world's richest man, Carlos Slim, recently decided to "increase his investments in Colombia because of the country's liberal oil exploration policies, along with its mineral assets and expanding middle class."
Prices are low, the supply of premium rentals is low, and demand is increasing.
Colombia has also enjoyed significant political stability and security, including peace deals with its infamous guerillas. This has attracted even more foreign investment and has led to a growing economy, which is part of the reason the real estate market is so steady and stable…
That's a combination you can't beat.
We'll have several experts on hand at the Live and Invest in Colombia Conference to explain it all and to answer your questions…

"I have travelled to Colombia for over 15 years and I learned many new ways to Live and Invest in Colombia"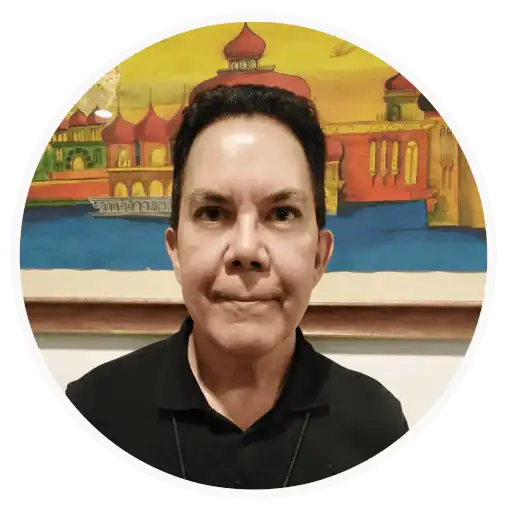 —Juan Cruz, United States
Discover Colombia's Affordable,
World-Class Health Care

Colombia's excellent medical system is also one of the best in Latin America and highly respected internationally. The cost of procedures can be 30% to 90% lower than for comparable procedures in the United States.
Because of this, Medellín has become a center for medical tourism. Cosmetic treatments, dentistry, and eye surgery are the most popular services. Medellín offers eight of the best hospitals in all Latin America.
You will find that their standards often exceed those in the United States.
In fact, according to a study by América Economia, Colombia boasts 23 of the top 58 hospitals out of all the 33 countries in Latin America—that's nearly half of the best all in one country!
This Spectacular Country Has Passed
A Turning Point In Its History

Colombia is a beautiful country with a colorful history and a rich and diverse culture. The variety of its geography has resulted in a rapidly growing tourist industry.
From the northern Caribbean coast and its resorts to the Andes Mountains and the Tatacoa desert, there is so much to see and experience here.
Colombia is a healthy place to live… and, when you need it, it boasts some of the world's best health care, too…

In recent years, Colombia has enjoyed some of the highest rates of growth of any Latin American country.
And with GDP growth of 7.5% last year, it continues to out-perform the old, traditional powerhouses like Brazil, the United States, or Europe.
This is due to many factors, including the country's increasing peacefulness.
It's Not Too Early…
And Not Too Late…
But Just The Right Time To Stake
Your Claim Here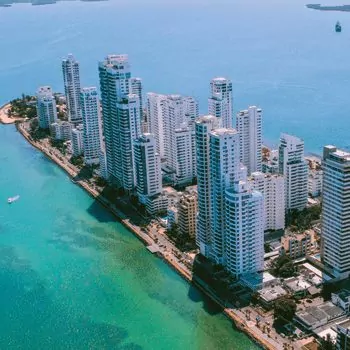 Affordable, high-end Caribbean living…

I can't stress strongly enough how great the window of opportunity is right now in Medellín.
Remember, I've seen this many, many times before, over the 30 years I've been covering this beat. I recognize the potential that Medellín is offering, for both the investor and the retiree.
And today's exchange rates make this a particularly important time to pay attention.
The New York Times placed Medellín high on their list of "Places To Go", as did the AARP and numerous other outlets.
So the mainstream is on the way.
On one hand, this is a very good thing. As Medellín and Colombia become more recognized for the investment and retirement havens that they are, it will become ever easier to invest and retire here… more user-friendly.
On the other hand, as more and more investors and retirees discover what Medellín and Colombia have to offer… the more costly it will become to get in on the action and to enjoy this enviable lifestyle.
So the time to act is now… while Medellín and the rest of Colombia still qualifies as an emerging retirement haven… and prices are correspondingly, absolutely low.
However, getting in now, ahead of the pack, means that the right advice and support are even more critical than it typically is. You have to act ahead of the crowd to gain the big advantages. But jumping in without the right knowledge can be a costly mistake.
You could waste months, even years trying to figure out on your own how best to invest and get things done in Colombia. Not to mention the thousands of dollars you could lose by taking some all-too-common missteps.

Seasoned Advice

"I most appreciated the opportunity to hear from some very seasoned international travelers and expat residents."

—Stephen Scott, United States
Sound Like A Bed Of Roses?
Remember, There Are Always
Two Sides
There are strong reasons why everyone (including my husband Lief and I) are paying serious attention to Colombia right now, specifically to Medellín.
We're intrigued, even infatuated by what we see in this city…
But we're not fools. We know the good, the bad, and the ugly of day-to-day life and of trying to do business in a new city.
No place is perfect. Anywhere you go, you will find pros and cons… and Colombia is no different.
For example, English is not spoken by most of the locals. Though you can find it spoken at the larger hotels, restaurants and businesses, this is not the rule everywhere. But we can introduce you to the best places we know to study Spanish, to smooth out this rough spot.
Another downside right now is that things like opening a bank account and moving money are not straightforward. It's possible to do these easily—once you know how—but you'll need help learning the ropes… before the fact.
You'll need connections… and introductions.
And, at the Live and Invest in Colombia Conference, you'll meet the people who can make it happen for you.
This is an emerging retirement haven… not, at this point, an always very user-friendly one for the English-speaker.
But like anywhere in the world—knowing what you're getting into in advance will allow you to make well-informed decisions and smart choices… that will protect you from any potential downsides.
That's the driving agenda of our Live and Invest in Colombia Conference: To prepare you…
To help you understand your options. This is why we take a "tell-it-all" approach in everything that we do.
Certainly, you will make your own choices about where you spend your time and your money. Our objective is to make it possible for you to make those choices as wisely as possible.
An important part of our agenda at our Live and Invest in Colombia Conference, therefore, is to show you the downsides… and then show you how to navigate and overcome them.
And to this end, you'll hear from a number of expats who have already chosen to re-launch their lives in this special country. They'll show you first-hand, how they overcame the obstacles to make things happen.
Information, contacts, connections, and real-world insights. That's what we promise… and that's what we deliver.
So please, save yourself the heartache and the hassles…
Join me and my team in beautiful Medellín for our Live and Invest in Colombia Conference and get all the inside information and all the on-the-ground support you need. Learn the important details you need to be able to make your plans and invest wisely.
Meet the people who can make all the difference for you…
The people you'll hear from at the Live and Invest in Colombia Conference can make the difference between giving yourself a plan for a delightful adventure… or missing out completely and losing your shirt.

Straight Answers

"I can't tell you how good it feels to get straight answers to my questions… no hype and no baloney"

—Timothy Steel, United States
Colombia's Experts In The Same Room…
Over the course of these intensive three days, you'll meet everyone you'll need to know to launch your new life in Colombia. We're opening our personal Rolodex for this event…
At our Live and Invest in Colombia Conference, we'll
introduce you to:
Kathleen Peddicord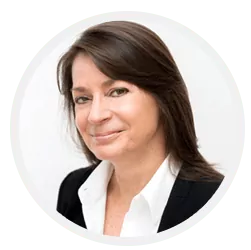 Live and Invest in Colombia Conference MC and Founding Publisher of Live and Invest Overseas  
Kathleen has covered the live, retire, and invest overseas beat for more than 35 years and is considered the world's foremost authority on these subjects.
She has traveled to more than 75 countries, established businesses in 7, and invested in property in 21. Thanks to these adventures abroad, Kathleen has been able to assemble an unparalleled network of global contacts, colleagues, friends, experts, resources, and advisors.
Kathleen has moved children, staff, companies, household goods, and pets across three continents, from the East Coast of the United States to Waterford, Ireland… then to Paris, France… and, then to Panama City, Panama. Today, Kathleen and her family officially divide their time between their homes in Paris and Panama… but are most often on the road, traveling the globe and spending time wherever life takes them.
Kathleen also writes regularly for U.S. News & World Reports and Forbes and is regularly quoted by The New York Times, Money magazine, The Economist, the AARP, and beyond. She has appeared often on radio and television and has written innumerable books (including her Amazon best-seller, "How To Retire Overseas," now in its Second Edition with Penguin Random House), reports, and essays on where and how you can escape the retirement-tromping economy at home and live like royalty on a modest budget… invest for profits overseas ahead of the crowds… and secure your dream retirement in the world's best destinations.
Lief Simon
Global Real Estate Investor
and Offshore Diversification Expert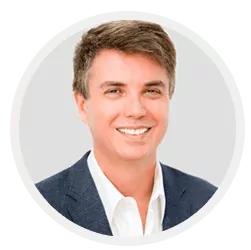 Lief Simon is Live and Invest Overseas' resident real estate investing and offshore diversification expert. His twice-weekly free newsletter, Offshore Living Letter, covers both topics with direct and easy-to-understand language.
Lief has lived and worked on 5 continents and traveled to more than 50 countries. His real estate investing experience began around 20 years ago with a multi-unit building in Chicago.
After selling that building for a leveraged total return of more than 1,800% in 2 ½ years, Lief began to diversify internationally. In the two decades since, Lief has purchased more than 45 properties across 21 different countries. He has developed land, managed rentals, and flipped pre-construction buys.
Lief has more experience buying and profiting from real estate around the world than any other individual investor you're likely to find.
In addition, Lief specializes in offshore diversification, asset protection, and tax mitigation. Over the last 20 years living and doing business around the world, he's built a network of reliable and expert contacts he trusts on such matters—attorneys, bankers, tax consultants, and other advisors, both Stateside and in the jurisdictions where he spends time and money.
You'll get to meet many of these trusted contacts, alongside Lief, during the Live and Invest In Colombia Conference.
Wendy and Darren Howarter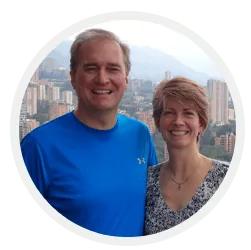 American Expats in Colombia
In 2014, Darren and Wendy Howarter left their rural, small-town life in Northern Illinois, USA, and full-time careers to start a new adventure in Colombia, South America.
Since settling in the city of Medellín, they now enjoy a semi-retired lifestyle in the City of Eternal Spring. Darren tracks and trades the U.S. stock market while Wendy is pursuing her passion for writing.
They will be on hand this year to share their overseas trials and tribulations, along with tips about moving to Colombia.
Juan Dario Gutierrez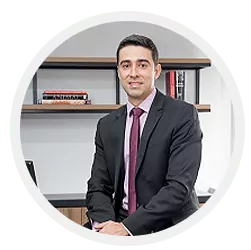 Attorney and Investment
He's the Foreign Investment and Business Law Director and partner in Gutiérrez Márquez Asesores, a legal, accounting, and financial advisory practice in Medellín with more than three decades of experience helping foreigners and companies new to doing business in Colombia or looking to retire/relocate.
He and his staff speak fluent English and know how to solve problems.
Juan Dario and the Gutierrez Group will be available to answer your questions.
Angela Patricia Sanchez
Investment Advisor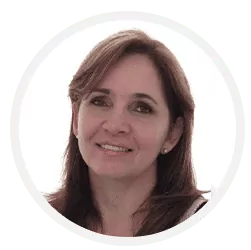 Angela specializes in the financial field thanks to her 18 years of experience as a Financial Advisor in Alianza plus 10 years of experience as Manager of one the biggest Colombian banks—Davivienda.
She has led her team in advising clients in national and international investments for over 20 years. Simultaneously, she has worked to optimize a permanent investment portfolio for them.
Angela works with clients seeking foreign investment in Colombia and helps them transfer their money safely to the country. You'll be able to ask her all of your questions regarding investing in Colombia during the Live and Invest in Colombia Conference.
Adam Bates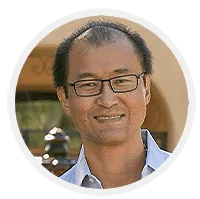 Vice President, Insurance Services of America, Expert in Expat Health Insurance 
A true world traveler, Adam understands the benefits of travel insurance.
"Our most loyal customers are those who have used their international insurance policies—they see it works," he says.
Adam is a graduate of the University of Central Florida where he earned his business degree.
Andrew Straus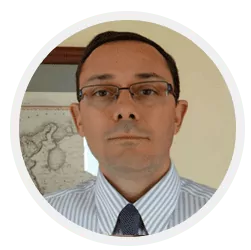 Investment Advisor 
Andrew Straus is the Co-founder, General Partner and Chairman of the Board of Consinfra. For more than five years, Andrew has been responsible for the company's real estate investment portfolio and its risk management.
Andrew is a Passive House certified builder and studied at the Private Equity Institute in New York, holds an Economics and Philosophy degree from Brandeis University, and is an alumnus of Harvard Business School. He completed a post graduate certificate in Real Estate Finance from Middlesex University in the U.K., and participated in the Generative Leadership Program™(GLP) of the Institute for Generative Leadership.
Andrew is just one of the investment advisors that will be available to you during the event.
George Gonzalez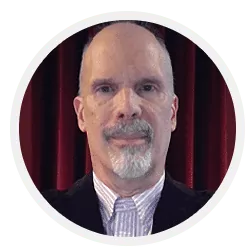 Professional Accountant 
George Gonzalez is a Canadian Chartered Professional Accountant (CPA, CA) and U.S. Certified Public Accountant (CPA) who provides international tax consulting services to individuals and small business clients.
Prior to opening his own tax consulting practice, he worked for a Big Four public accounting firm and later a multi-national financial services firm. He has worked in the United States, Hong Kong, Japan, the Dominican Republic, and Canada, where he currently resides. George is a professor at the University of Lethbridge in Alberta, where he teaches courses in tax and accounting.
Jeff and Heather Raheb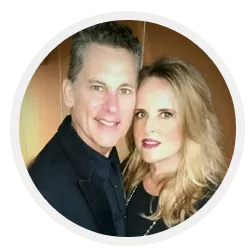 Full-Time Colombia Expats 
Dr. Jeffrey and Heather Raheb are from St. Petersburg, Florida, living here together since 2003.
Dr. Jeffrey is a chiropractor and earned his Doctorate degree from Life University in Atlanta, Georgia. Heather earned her bachelor's degree in Secondary Education of Social Sciences at the University of South Florida in Tampa, Florida.
They put their education, experience, and skills together to open and manage a chiropractic office. While serving the community on health and wellness, they also had a dream to eventually live in and explore another country. They both have a love of travel and learning about other cultures. After learning about Medellín, Colombia, and making a few visits in 2014 and 2015, they decided to make a move in March 2017.
Their boots-on-the-ground experience will available to you during the Live and Invest in Colombia Conference.
And that's just a start… you'll hear from more than 15 experts, expats, and retirees…

So Many Experts In One Place

"I enjoyed this seminar very much. I don't know how you got so many knowledgeable people in one place. It exceeded all my expectations."

—V.R., United States
2023 Live and Invest in
Colombia Conference
This is everything you need to make the right decisions about Colombia…
Explore with us, to see the best of what Colombia has to offer, region by region. We'll not only have expats to give their point of view, but also Colombians who can showcase their country…
Discover the natural beauty of Medellín. At the Live and Invest in Colombia Conference, with travel locked down, we've been able to create videos that are the second best thing to experiencing it all yourself…
Discover the natural wonderland within Colombia. At the Live and Invest in Colombia Conference, you'll hear from Maria Clara Ruiz, managing director of Zooming Tours. Maria will not only show you the natural wonders of Colombia from our conference room… but can organize a personal tour, to show you the best of what the region has to offer.
Get the facts on being a part-time resident in exciting locations like Cartagena, Santa Marta, and Medellín…
See the expat-friendly neighborhoods, with the people who live here now…
Discover how to find an affordable rental—starting at US$277.59 per month—and where you should be looking…
Get the facts on safety and security in the "new Colombia"…
Discover Colombia's medical care… what many believe is Latin America's best, modern, and most affordable…
Learning the language is a terrific investment to help you get the most out of your experience in Colombia. We'll showcase the best of Colombia's many fine language schools for your convenience…
Get a grasp on the cost of living. At the Live and Invest in Colombia Conference, we'll show you actual budgets from people who live here…
Of course, our business experts
will be on hand, too…
Find out how to do business in Colombia and how to overcome the most common frustrations…
Learn the real story on taxes and how they may affect you as a resident, retiree, or investor in Colombia…
Explore today's best business opportunities, guided by entrepreneurs who have already built successful businesses…
We've also got the
practical matters covered…
See how to become a resident, using one of Colombia's easy, flexible residency options. You'll hear from North Americans who've settled here, as well as our staff of legal experts…
Learn how to navigate Colombia's financial system… from bank accounts, to investment portfolios… along with how to move money efficiently…
Get the facts on how to relocate to Colombia, from the experts who know the rules…
And when it comes to real estate…
Find the best real estate deals by learning where to buy… and how much to pay…
Learn where to invest today in Colombia, for the most upside potential…
Meet with Colombia's top property managers and discover how—and where—to make money in today's rental markets…
Explore Medellin's best commercial real estate investments— with our on-the-ground commercial experts…
Learn how to navigate the property purchase process and buy real estate safely and securely…
As important, you'll be able to connect with expats already living in key locations across Colombia so you can hear from folks that were once in your shoes…

Here's the bottom line: you'll come away from the Live and Invest in Colombia Conference knowing if Colombia is right for you… if you'd be happy living or investing here.
And if it's right for you, you'll have all of the information and local contacts necessary to make it happen.

Exceeded All Expectations

"Wonderful, just wonderful! It was far beyond ALL expectations!! The staff, speakers, and content couldn't be better! We're grateful for all the detail and hard work by all."

—Beverly Seligman, United States
I Promise You'll Have No Regrets…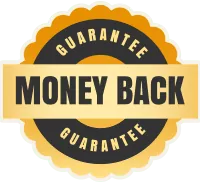 Part of our agenda at the Live and Invest in Colombia Conference is to give you the full story… the pros and the cons.
Did the readers I've helped find their spot abroad have their down days?
Of course they did…
One past attendee told me recently that she had the mother of all meltdowns after she and her husband packed up all their boxes and were getting ready to sell their beloved Illinois home. But, the next morning she picked herself up and followed through with her move…
"The best thing about our new life now is that we have no alarm clocks. We take our time in the morning and enjoy a leisurely breakfast. I'll do some writing in the afternoon and exercise in the evening. There is no routine—and it's wonderful."
You'll never know how wonderful your life could be unless you go and see…
And what about those readers who decided Colombia was not for them after all?
I've heard from several, and not a single one regretted the experience. In fact, many of these folks told me the only regret was not doing it sooner, when they were younger and healthier.
I urge you to give yourself the best start—sooner than later and in the best company—during my Live and Invest in Colombia Conference.
I hope to see you there.
Kathleen Peddicord
Founding Publisher, Live and Invest Overseas
P.S. In a recent Overseas Retirement Index, our favorite city in Colombia, Medellín, scored big…
In fact, it was the World's Best City Option For Overseas Retirement.
This overlooked destination checks every box:
"Perfect" weather… it's springtime all year long…
World-class health care… 8 of the best hospitals in all Latin America are here…
Unbelievably affordable cost of living… especially if you are converting from the U.S. dollar…
Bargain-priced real estate and rentals… the average U.S. Social Security check could cover the cost of a penthouse rental, for example…
An outdated stigma still lingers, keeping it one of the greatest bargain lifestyles in the world today.
People have already begun to discover this hidden paradise…
In time, even more people will realize the truth. Until then, opportunity abounds for those savvy enough to see past the myths to the reality of what this beautiful "City of Eternal Spring" offers today…
What are you waiting for? In incredibly beautiful and affordable Colombia, the sun is shining, and the future is bright. You owe it to yourself to come see for yourself.
Contact our Events Team now to order over the phone or to ask any questions: ColombiaConference@LiveandInvestOverseas.com. You can also reach us by phone, toll-free from the States: 1-888-627-8834.

Live And Invest In Colombia
Medellín, Colombia
Aug. 30- Sept. 1, 2023
Program Details, Costs, And Special Discounts
Your Live and Invest in Colombia Conference admission includes:
Admission to all presentations…
Complete access to the restricted exhibit area…
Expert personal consultations…
Formal and informal Q&A sessions, breakouts, and workshops…
Introductions to reliable real estate sources, business contacts, fellow expats, and professional legal resources…
Access to attendee-only (optional) pre-conference and post-conference real estate tours…
Access to optional cultural, craft, and sightseeing tours…
Coffee breaks and snacks—at least 2 a day…
An open-bar cocktail Welcome Reception…
Seminar materials, notebooks, and handouts…
Downloads of all conference presentations after the event is over…
A complete set of professionally produced video recordings…
Click the button below to proceed to the Registration Page, where you'll find more information on the event and venue…

We're holding our event at the San Fernando Plaza Hotel located in Medellín, Colombia. Be sure to reserve your room ahead. Our Events Team is happy to assist…
Frankly, we're expecting a sell out from this event, so, again, please don't delay in making your reservation.
Click on the Reserve My Place! button below. Or get in touch with our Conference Coordinators by email here or by phone.
Have questions, or prefer to register over the phone? Reach our Conference Managers directly right now by email here or by phone, toll-free from the United States, at 1-888-627-8834 or, internationally, at 1-443-599-1221.
On behalf of our entire Live and Invest Overseas team: We look forward to meeting you soon in the City of Eternal Spring!

"I appreciated the nuts and bolts, especially the cost of living, the financial considerations and strategies and the businesses that you showcased were interesting and enticing"

—Barbara Leicht, United States
"It was really great to have expats present that have lived here for many years, and how LIOS helped guide their path"

—Chris Rodgers, United States
"[The conference] really opened up my eyes and ripped apart the preconceptions and stereotypes I had that I knew I wanted to get past. Thank you so much!"

—Mike W., Panama
"I particularly like hearing about the nitty gritty of living in Medellin and Colombia. I really enjoyed hearing from the Howarters and the Gutiérrez brothers. I would like to know more about retiring in areas outside Medellin also"

—Ellen Zucker, United States
"I have travelled to Colombia for over 15 years and I learned many new ways to Live and Invest in Colombia"

—Juan Cruz, United States
"I thought the Colombia Conference was excellent; top rate speakers… It was a different experience to last year and I feel I have a few new layers of information on Colombia – I was never bored and never felt "same old, same old" because it was current, interesting and very well organized."

—Phyl Doppelt, United States
"I can't tell you how good it feels to get straight answers to my questions… no hype and no baloney"

—Timothy Steel, United States
"All of the ex-pats who did contribute were fabulous!! Overall, the info and insights provided during the conference were very helpful to my understanding of what options are available to us for both lifestyle and investment choices in Colombia. Thanks so much"

—Marc Imbach, United States
"Wonderful, just wonderful! It was far beyond ALL expectations!! The staff, speakers, and content couldn't be better! We're grateful for all the detail and hard work by all."

—Beverly Seligman, United States
"Thanks for introducing us to Medellín. We will be back!!"

—Gerry & Toni Dobrilla, United States, previous conference attendees

Reach us with questions and comments at
CustomerService@liveandinvestoverseas.com
or by phone, toll-free from the United States, at 1-888-627-8834.
Copyright © 2008-2023 Live and Invest Overseas™, Founding Publisher Kathleen Peddicord