Live and Invest in
Ecuador Conference
March 20–22, 2019
Quito, Ecuador
Yes, I Want To Live The Adventure Of A Lifetime…
On A Social Security Check!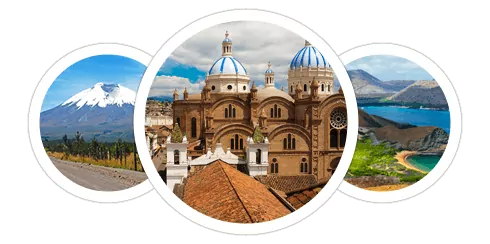 We've assembled an impressive staff of Ecuador experts, including an unprecedented number of expats, to make sure you get the most during three information-packed days.
You can choose to live high in the Andes in Spanish-colonial splendor… or stroll the miles of white-sand beaches… or find your dream hideaway among the hidden mountain valleys.
All within a country that boasts some of the best real estate prices on the continent.
We guarantee you this: No one has ever left a conference in Ecuador better prepared than you'll be after this one… regardless of the lifestyle you're seeking.
For hotel details, travel suggestions, and cancellation information, click here.
Congratulations!
You're one of the first 5 to sign up and are entitled to special VIP status for this event. This includes…
VIP Transfer Service: Let us get you from the airport to your hotel—it's a terrific service when landing on your own in a foreign country…
Reserved, VIP front-row seating: Get the most of all presentations with exclusive, front-and-center seating in the event room…
Elite, VIP Concierge Service: We'll take care of your every need, from the moment you register until the closing ceremonies. Whether you want to arrange a trip to the local market or to an indigenous village in the Amazon rain forest, we can get you there…
And here's what comes with the price of the event:
Admission to all presentations;
Complete access to the restricted exhibit area;
Expert personal consultations;
Formal and informal Q&A sessions, breakouts, and workshops;
Introductions to reliable real estate sources, business contacts, fellow expats, and professional legal resources;
Access to attendee-only (optional) pre- and post-conference real estate tours;
Access to optional cultural, craft, and sightseeing tours;
Coffee breaks and snacks;
A welcome cocktail reception and all sponsored lunches and events;
Seminar materials, notebooks, and handouts;
Downloads of all conference presentations after the event is over;
A complete set of professionally produced conference recordings.
With the Early Bird price currently in effect, you'll pay only $845 for one person, or only $1,095 for a couple. (That's right: Your spouse or friend can attend for only $250 more!) Register here now!

But You May Be Eligible For An
Even Better Discount!
Existing Overseas Living Letter readers will save $50. Register here.
Subscribers to Global Property Advisor, Simon Letter, and members of Overseas Retirement Circle save $100. Register here.
As always, our All Access Pass members and Personal Consulting Clients come free!.
If you have any questions, including which discounts you qualify for, please get in touch with us immediately by email: EcuadorConference@LiveandInvestOverseas.com, or by phone: 1-888-627-8834 or 1-443-599-1221.
Register Today To Get The Early Bird Price And To Grab One Of The Limited VIP Slots While Both Are Still Available!

Reach us with questions and comments at 
CustomerService@liveandinvestoverseas.com 
or by phone, toll-free from the United States, at 1-888-627-8834.
Copyright © 2008-
2018
Live and Invest Overseas, Founding Publisher Kathleen Peddicord