The Simple Secret To Living In Europe
On US$1,500 A Month (Or Less)
Dear Live and Invest Overseas Reader,
If you think living in Europe is out of reach for you…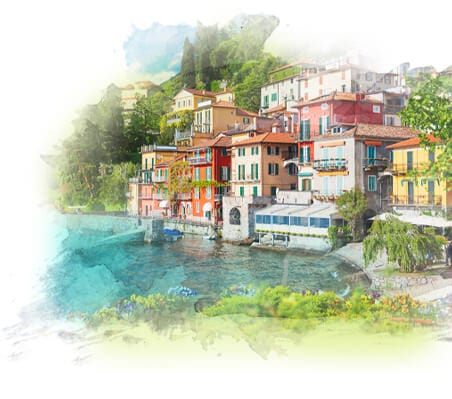 Think again.
I'm serious—you have more options for affordable Old-World charm than you might ever imagine:
Alpine villages, lush vineyards, Mediterranean islands…
Fresh markets, undiscovered local eateries, Michelin-star cuisine…
Outdoor cafés, famous museums, quaint villages…
Europe has something for everyone and every budget.
Better yet, in 8 of Europe's greatest places to live, you can live the lifestyle you've always wanted for as little as US$1,500 a month or even less.
These are 8 havens where you can truly embrace le joie de vivre or la dolce vita on a budget.
Indeed, affordable overseas living options are NOT limited to only Latin America and Asia… and elite destinations are NOT way beyond your reach.
Of course, you'll need a little guidance…
But, once armed with the right insights and the right destination, you'll be amazed at how easy it actually is to enjoy the good life in Europe at a cost you can easily afford…
You Won't Believe
The Hidden Gems Within Your Reach…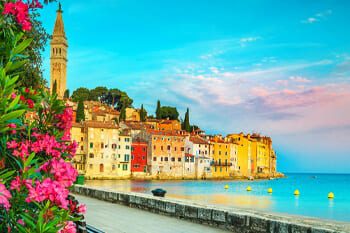 Budget-friendly treasures are lying in wait—like unearthed diamonds—for those lucky enough to find out about them.
It's a fact:
Europe does not offer the shoestring bargain havens of Latin America and Asia.
But living affordably here is actually an even more astounding bargain when you consider how much MORE Europe has to offer…
The combination of architecture, climates, and history is, frankly, impossible anywhere else in the world.
Europe offers up every lifestyle you can think of…
And, in 8 of its greatest places to live, you can live the lifestyle you've always wanted for as little as US$1,500 a month or even less.
Your housing cost will be—by far—your largest expense when living abroad…
But, in the places I have in mind for you, your rent could be cheaper than back home:
Seaside apartments of 110m2 (big enough for two bedrooms) regularly list for €500 to €700 a month (less than US$900)… and hillside village apartments a little further inland go for €300 to €550…
In one place we love, a 4-bedroom house close to a golf course and with stunning sea views has a price tag of €850 monthly…
What about cosmopolitan living on the Mediterranean? Our top pick here has a listing for a tidy 2-bedroom, minutes from the beach, for €778 a month… and a studio in the quaint historic city center for €650…
Prefer to buy? You might not believe the kinds of properties available to you…
A 65m2 apartment with sea views for €95,000…
An 80m2 condo with 2 bedrooms, a terrace, and views of the Adriatic Sea for €200,000 euros… and you can rent it out for at least €600 a week, when you're not around…
A fully restored 100-year-old, 3-bedroom house built from stone, with two vaulted-ceiling cantinas (cellars)— not far from the sea and near the ski slopes—for €115,000…
With citrus, olive, and carob orchards, and some of the most unique beaches in the world, all nearby… you can grab studio, one-bedroom, and two-bedroom apartments from €70,000 to €100,000 in our #1 pick for overseas retirement in the world…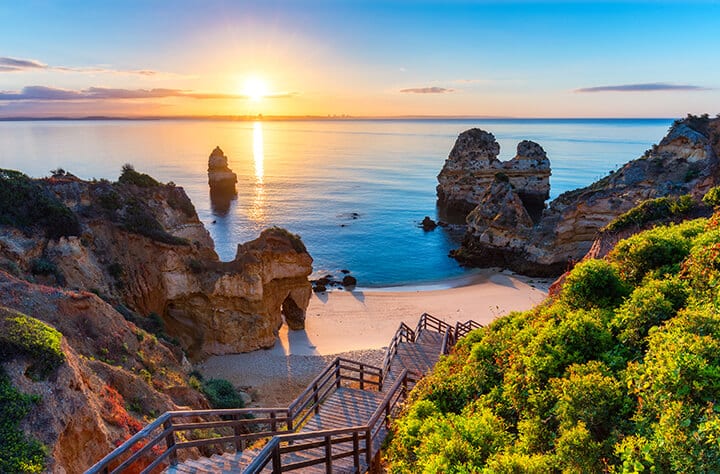 A Simple Life By The Coast In Europe
How affordable is Europe?
Despite being near the ocean, the cost of living in one of our top countries is, on average, 32.5% lower than in America.
And rent? It's a whopping 42.6% cheaper despite the fact that most people live within 50 miles off the coast…
 Rent
 400
 Basic apartment, About a 15-minute walk to the water
 Public Transportation
 40
 Monthly, unlimited pass for the bus—takes you all over, including cities and beaches
 Gas/Electricity/Water
 130
 Total monthly utility costs
 Cable/Phone/Internet bundle
 78
 Subscription for WiFi and TV
 Entertainment
 204
 Dining out at a restaurant for a couple—twice a week
 Food and groceries
 70
 For fresh, whole foods. Imported, frozen, and processed  foods will cost you more
 TOTAL
€922
 Monthly expenses for a couple
*Currency exchange rate as of July 2021.
So, what's the secret here?
It's all about avoiding tourist traps.
Indeed, I know of dozens of places that often look and feel like similar locations that are pricier and more well-known…
All the better for you that they haven't yet been "discovered"—that their names aren't yet as familiar as their celebrity equivalents. These "alternate Tuscany" options comes at a fraction of the cost of the original.
Dare to feed your dreams—and plans—with these under-the-radar jewels…
Aphrodite's Birth Place
Is Under The Radar These Days…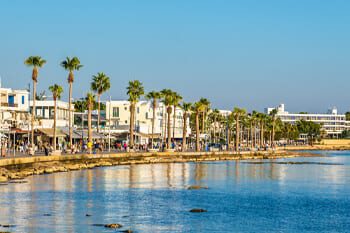 An ancient place going back 10,000 years, the entire town here is recognized as a UNESCO World Heritage Site.
For much less than the usual Mediterranean destinations, you'll get the same breathtaking coasts and fascinating museums, plus impressive mountains and vast forests to explore—it's an outdoorsman's treat…
And, with more than 300 sunny days a year, you'll be able to spend as much time as you want enjoying Mother Nature's best.
You'll also be pleased to learn that this is one of the safest places in the world, and it was all once under British rule… so English is spoken by more than 3/4 of the locals.
Irresistible Charm And A Colorful And Fascinating Past…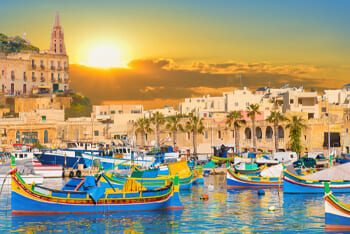 Imagine yourself nestled between patchwork fields and crashing waves in an intimate setting where you can't help from dropping your jaw…
A place that never stopped laughing and shaking its fist at adversity…
But instead danced, sang, and told lively stories about it.
In this little-known haven of history, culture, and dramatic landscapes and seascapes, it's the welcoming people and relaxing and fun-loving way of life that can't help but capture your heart…
The fact that English is the official language is simply the cherry on top.
A Pre-Roman Walled City, Vineyards, And 300+ Days Of Sun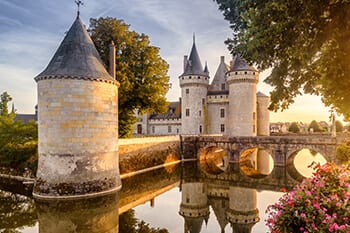 As legend has it, a very wise woman once saved a lovely and history-rich city from a tribe holding it under siege.
With the help of the other starving inhabitants, she fattened a pig with the city's last scraps of food, threw it over the walls, and thereby convinced the attackers the siege was in vain.
Today, fresh food and local wine are abundant—thanks to the area's great weather, which also makes it inviting to spend lots of time outdoors.
What's more, it's only a short drive to seaside pleasures, mountain skiing, and urban cultural attractions.
Medieval Hill Villages, Endless Golden Beaches, And Thermal Spas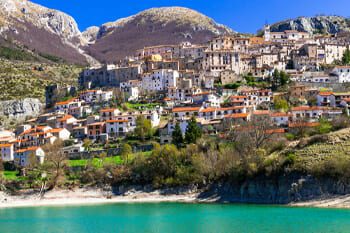 Picture it… tranquil living, only a couple of hours from one of the world's most historic and tantalizing cities…
Women in pinafores chatter and laugh in chairs drawn into a circle near the village square. They string and braid onions into long strands. Scarlet peppers hang from balconies, while boys play soccer in the street below. Shoppers fill mesh bags at open-air markets.
And it's only a short drive to hiking trails, wildflowers, thermal spas, and the best city beach in Europe.
With its tall mountain range and sandy coast so close to each other, you could go snow skiing and surfing in the same day.
Choosing your corner of this paradise is the only "dilemma"… views of hillside terraces, mountains, medieval cities, or sea views… or all at once!
The Best Climate In The World—And
Tax-Free Pensions…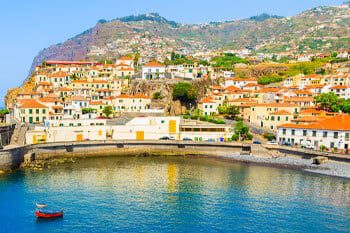 The Romans, Moors, and a few other tribes took their turns inhabiting the historic walls in yet another prime location with all the best that the past and present have to offer.
This area boasts one of the most stable climates in the world.
The ocean it looks out on is not so much one of howling winds and pounding surf…
But rather gentle sea breezes, white sand, secluded coves, and beautiful limestone formations.
Every day's a celebration for all five senses—given attractions like the cobbled streets, whitewashed houses, and locally produced seafood, figs, olives, and carob.
And being Europe's most attractive tax-free destination means indulging yourself even more in this setting….
Simple Living In An Historic City With Cultural And Artistic Passion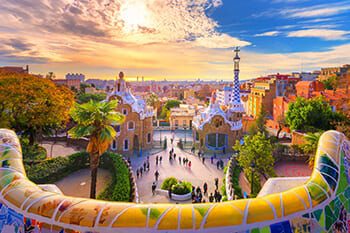 One compact but well-laid out city with its own fabulous beach presents a charming blend of pre-Roman and modernist architecture.
Newcomers enjoy the mix of narrow streets, quaint shops, unique neighborhoods, and buildings and green spaces insightfully designed with people's needs in mind.
It's a city that caresses the past, savors evolving trends, and embraces the creativity and technology of the future.
It's a prime example of a big European city where you can afford to live well.
"Why Not!?"
Try Mediterranean Living On This Island…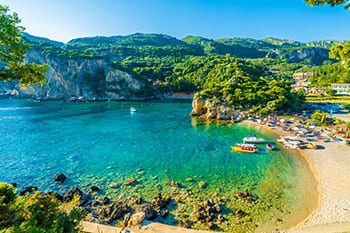 On one of our favorite islands anywhere, the green landscape is nearly as brilliant as the surrounding blue waters of the Mediterranean.
It's hilly here, with rocky cliffs that drop down onto some of the most dramatic coasts you've ever seen…
Along with its unrivaled scenery, this place is famous for its authenticity and maintaining its village way of life—they don't cater to tourists here like other parts.
Because of this, here you'll find some of the best restaurants and also some of the friendliest people. Our contact on the ground here tells us, "The response to any question or favor I've asked has been either 'Why not!?' or 'No problem!'"
Of course, these are just a tiny sampling of the cities and towns you'll find within the group of 8 European countries I want to show you…
The variety of settings you could call home in Europe today—even within the borders of only 8 countries—is vast.
These are affordable and uniquely life-changing places to spend time.
We Did Not Intend To Stay For 20 Years
"We did not intend to stay for 20 years, but sometimes things just turn out that way."
-Susie Hines-Walters,
United States
Picture yourself stepping out your door every day onto cobblestone streets or alongside a vineyard. Does the very thought set your heart pounding?
Or is that little "too good to be true" voice in your head kicking in as you consider a move to Europe?
Just consider some of the savings and bargains that quality Old World living can offer. Imagine…
Internet, TV, and phone (including international calls) for only €40 euros a month…
A deluxe scenic picnic anywhere you choose—with world-class wine, bread, and cheese for €10 per person. (You can get fresh-baked loafs of bread for less than €1!)
Numerous little-known restaurants where, for €6 to €13, you can enjoy two to three tasty courses—and often bread, wine, and coffee too…
Stocking up on quality wine as cheap as €4 per bottle—these same wines can cost US$10 or more back in the States…
€5 to rent a beach chair and an umbrella on a famous Mediterranean beach… or €1.50 to access manicured, fully-appointed private beaches along Europe's most pristine lake…
Free entrance to local outdoor concerts and festivals, as well as famous parks and gardens—and even to world-class museums and exhibits on certain days…
Skiing the "other Alps" and paying only €10 to €15 for lift passes…
Playing 18-holes of golf with snow-capped mountain views for only €38 euros…
Look, we get it…
Europe has never been the place to seek out the world's least expensive overseas living options.
However, you'll be surprised at the number of affordable areas awaiting you in Europe.
In fact, be prepared to be overwhelmed at how you DON'T have to come up with a king's ransom to enjoy European charm and culture in any of the recommended destinations.
Yes, the really good news is that you CAN afford to…
How To Live Well (On The Cheap)
In The "Other" South Of France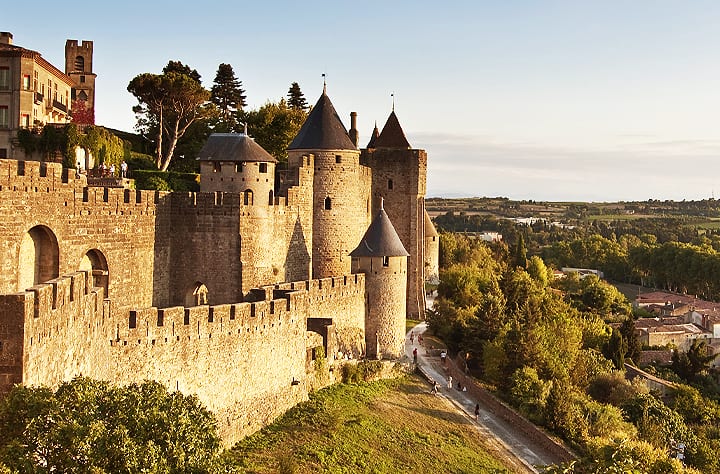 To live like a king in Europe, you need only know the local insights…
For instance, the French country life has long been a top-of-the-list choice for capturing joie de vivre.
But, check the price tag on a big-name place like Provence, and you might need to rethink your budget.
Not so for one of our "other" South of France suggestions in France, Carcassonne.
Here, where you can live a fairy tale life among medieval castles and lavender fields, a couple could embrace French country life in a medieval setting for only about US$1,600 a month…
Rent: €400 for a small, standalone house with a yard…
Utilities: €100 to power a medium-sized home…
Telephone/Cable/Internet: €40, including no-limit data plans and toll-free calls to North America and the rest of Europe…
Groceries: €410 to supply three square meals every day with fresh, whole foods (and plenty of beer and wine)…
Transportation: €60 for two monthly bus passes…
Entertainment: €300 euros—this is, of course, highly variable…
TOTAL: A budget of €1,310 a month for two people living well in the French countryside
Budgets, Taxes, Language:
Here's The Truth About Living In Europe…
I hear it all the time from readers:
"Dream on! There's just no way I could afford Europe."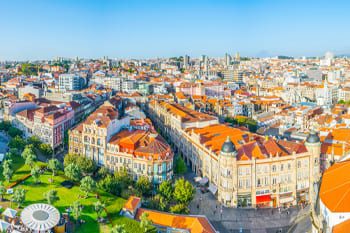 Well, contrary to what many North Americans think, Europe has always offered Old World seekers a number of affordable options.
I know, I know… even if you've been to Europe for work or vacation already, it can be hard to wrap your head around the fact that it's an affordable, even cheap, place to live…
But just think about it for a second:
Hundreds of millions of middleclass folks have lived in Europe their entire lives…
How are they are getting by without big salaries and overflowing nest eggs?
It's because they're not living as tourists.
They're shopping in local markets, they're skipping the museum restaurants, and they're certainly paying much less than you might for a hotel room or an AirBnB.
Of course, anyone can learn to pinch their pennies… but what about the legal side?
Again, I think you'll be pleased…
You see, these countries only need you to earn the bare minimum to enjoy life within their borders. In fact, many residency programs require you to earn the equivalent of around just US$1,500 a month—that's about the current average U.S. Social Security check.
But it can be much cheaper in key places. In Spain, for instance, about US$950 a month is all you'll need to qualify. Many places in famously low-cost havens in Asia and Latin America require more than that…
So, I say again: your dream of living in Europe is alive and well.
Especially when you consider that many of the greatest benefits living here don't cost you a single cent.
Let's see…
What else is keeping you from enjoying a life in Europe in retirement?
I've heard all of the excuses…
Absolutely Smitten
"I am absolutely smitten by the European lifestyle, and we don't even drink!"
-Robert S.,
United States
"I'll be taxed to death if I live in Europe."
Do the math, and you'll find that your tax bill is unlikely to change at all after a move here.
That's partly because the havens I have in mind for you have tax treaties with many countries, including the United States and Canada.
Plus, you don't have to worry about state taxes.
On the day-to-day side, making things a little easier is the value added tax (VAT) throughout the EU. Very simply stated, VAT is a tax that is already included in the price of most goods you'll buy—if something costs €1, that's all you're going to pay.
Obviously, you'll encounter some new taxes, as well as some familiar ones that likely cost more than back home. The entire transaction cost of buying and selling property, for example, is more expensive here than elsewhere.
But they're all manageable, and we can show you everything you need to know to reduce their costs when legally possible.
I'm Thrilled
"It's tempting to continue living the way you've been living. It's easy… and it can be very frightening to think about creating a whole new life for yourself in a foreign place."
"But that fear can keep us from acting on chances for fun, for adventure, and for possible profit."
"All I can tell you now is that I'm thrilled… it has been one of the most satisfying experiences of my life."
-Jay, United States
"I'm too old to learn a foreign language."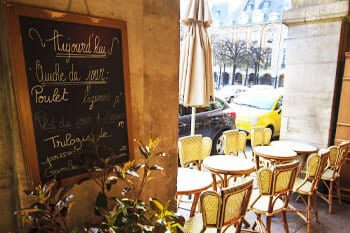 First, you're never too old…
In fact, learning a new language is now an accepted practice for successfully fending off the symptoms of Alzheimer's… so working that noodle in your head on some new words has a double benefit.
Of course, Europe is a very educated region of the world, English is the new lingua franca… and, frankly, they get Netflix here…
That means most young locals speak English, and many professionals such as lawyers and doctors know it.
Plus, few places in the world have as strong and as established a foreign English-speaking community as Europe. Needless to say, you'll find a giant expat population here.
I wholeheartedly suggest that you try to learn the language of your new country, but you can certainly get by without it.
Weaving Dreams…
"Kathleen, just wanted to tell you that everything I get from you is like a ray of hope. I see it and am reminded that I still have options to control my future…
"Thank you for the service you provide."
-Layne B.,
United States
Think of Europe as the vault of crown jewels of overseas havens…
Are you really willing to miss out on the jewels well within your price range right now?
To give up your dream on Old World living?
This opportunity is simply too tempting to ignore…
Of course, you need plenty of good information and insight, and you have important decisions to make…
And, mostly, you just want to make sure you get it all right when it comes to organizing a move to Europe—and your reinvented life there.
Let's face it… the whole thing would be very daunting—even overwhelming—if you were doing it all on your own.
But you don't have to.
Instead, you can tap into honest and current information, insights, and advice, all in one place…
Live And Invest In Europe Virtual Conference
Oct. 12–15, 2021
Discover Europe's Best And Most Affordable Places To Live  (Warts And All)
Over four days, you'll get to know Europe's best places to live—"thin sliced" to exact places that are irresistibly affordable.
Via high-definition video, you'll see and hear from professionals, expats, and retirees who are already working, investing, or living in these places…
All from the comfort and convenience of your own home.
This is not a series of webinars… this is a professional event that happens to be online. You'll be able to interact with speakers as well as your fellow readers via chat rooms and forums, along with a virtual "raise your hand" option to ask your questions during discussions.
The event will give you a comprehensive, in-depth view of these places that outsiders and tourists simply don't know.
This online event has two major objectives:
#1: To help you find out where in Europe is best for you…
#2: To give you the knowledge, support, and contacts necessary to make a move with confidence—that is, to create a plan…
Find the security that comes with knowing exactly how you can live—comfortably—on a budget that starts around $1,500 a month.
Get to know each of your best options for living well in Europe… from Mediterranean island shores to lavender fields in France…
Discover where you can tap into free health care, with award-winning facilities and English-speaking doctors…
Find out how you can save thousands—tens of thousands—by buying properties in the right, off-the-radar places…
See examples of comfortable apartments you can rent for less than $500 per month…
Learn where the best property investment markets are… and where you get a mortgage as a foreigner…
Whatever your agenda, you'll end the event prepared and confident, with all of the practical matters at your fingertips. From residency to taxes, from banking to real estate, you'll leave this conference ready to take action.
And, most importantly, you'll benefit from the experience of those who have gone before you. At this conference you'll hear from seasoned expats who were once in your shoes.
Plus, if you want to see the cities and properties firsthand, you can join one of the optional (virtual) real estate tours and see the lay of the land for yourself.
This has long been our most requested event over the past 12 years…
And now you can attend the Live and Invest in Europe Virtual Conference at the lowest rate we'll ever ask.

This is not crazy!
"I loved hearing stories of expats…
"These are people who actually walked the walk and show people like me that this is not crazy."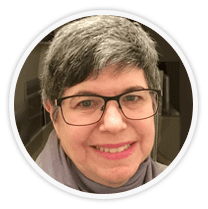 —Ellen Zucker, United States
"We Knew We Could
Never Afford To Live Like This In America…"
Allen Freeman drinks his coffee on the spacious balcony every morning.
He looks out at the aqua-blue waters of the North Atlantic…
And listens to the tide come in over and over again, closing his eyes to take in the sounds and smells of the incoming breeze.
"We knew we had to retire overseas," he says.
"It's cheaper and easier. And with all the chaos back home, we were ready to take that step.
"It was the right time. We just… didn't know where."
For years, he and his wife Linda had researched far and wide for a place to call home…
The European options they'd heard about were almost an afterthought… until they realized it was cheaper and safer than back home.
Indeed, despite being one of Europe's top destinations, they learned that Portugal had everything they always wanted…
"We are in gorgeous Silves, nestled in the Algarve region. A little walk and we're in Old Town, where we can take a coffee break, get some sun, and avoid tourism.
"There's a castle, a cathedral, museums, tons of beaches…
"Having our own villa a few blocks from the beach is a dream we couldn't afford in America."
Here on Europe's western-most coast, Allen and Linda can live the retirement they've always wanted and then some.
Former teachers, they had never led expensive lives, and they weren't ready to start in retirement.
But what they weren't prepared for was how cheap Europe actually could be…
During the 2021 Live and Invest in Europe Virtual Conference, we'll discuss your best options in Portugal, and dozens of other places where you can live Old World or Mediterranean life at a discount…

You Are Straight To The Point
"Kathleen… you guys are more straight-to-the-point and less hard-sell, which I appreciate at age 76."
 -Walt B.,
United States
With A Little Effort From You And My Team… You'll Feel Like You've Won A Lottery…
Europe…
Its castles and landscapes and kings and queens inspired most of what always came after "Once upon a time…" as far back as you can remember.
Its stories and events filled the history books of your school days.
Its countries, large and small, spread languages, culture, and countless immigrants all over the globe—maybe even into your family tree.
From Beethoven to the Beatles, it has helped shape the history of Western music… and literature… and art… and cuisine.
In fact, it's saturated with many of the world's finest masterpieces… both of nature and of civilization.
And it was the place you could finally practice the French you learned in high school!
It's no wonder so many adventure-seekers have been hypnotically drawn to backpack, Eurail, or take tours to collect those treasured passport stamps.
Europe IS magical. Always was… always will be.
Must be why no matter where else in the world you travel… it's really hard to loosen the hold that this premium setting has on people from all over the globe.
And if you believe in "no regrets"…
Don't you, at the very least, owe it to yourself to check out what it might be like? After all, we're talking about YOU… living in Europe! And within your means!
We've done it, our experts have done it, and our readers have done it…
And the Live and Invest in Europe Virtual Conference will show you just how easy it is to do it, too…

"Please don't ever stop the truth telling."
-Michael C., United States
"…I really have to commend you for your insight and honesty in 'telling it like it is' to your readers…"
-Norman S., United States
"Keep up the good work. I particularly like your approach to presenting both the good and the bad, as believe me, seldom are the bad ever mentioned."
-Keith T., United States
A Quick Guide To Living Better
For Less In Europe…
Nowhere else in the world can you stretch your retirement dollars to get the quality and richness of lifestyle you get in Europe…
The Live and Invest in Europe Virtual Conference will give you exact advice you need to narrow the search for cosmopolitan and picturesque Old World living that suits your lifestyle and your budget.
Discover charming homes—the kinds you've dreamt of—that you never really thought could be yours. Check out dream settings in Europe where your basic monthly living costs (including rent) can be €1,500 or less.
Options include…
City or village living in a medieval setting, surrounded by vineyards and Cathar castles—with both the Pyrenees and the Mediterranean nearby…
Cosmopolitan lifestyle with regional historic richness… centrally located apartments in either of two up-and-coming neighborhoods in a city that's both vibrant, quaint, and always opening its arms to expats…
At a stone's throw from—or even on—the turquoise and cobalt waters of the Adriatic, including apartments near both sea and hillside terraces…
Bridging two continents, one of the world's oldest cities with apartment living in a variety of neighborhoods… where you can choose bustling activity or serene panoramas…
And, as you might guess, the value of a home in Europe—and the cost of living in any given setting there—is in your hands, depending on some personal choices and tastes.
You'll really appreciate and enjoy the bargain your European home can be, as you keep in mind…
The rich quality of life surrounding you—just being in Europe is in itself priceless…
Just as anywhere—big city living costs more than small city living costs more than rural living…
Some cities just cost more than others—regardless of size… Paris, for example, is among the world's most expensive in some parts… while in less central areas it can cost less than many midwestern U.S. cities…
Even prime urban real estate has some options that aren't as out of range as you might think… (you'll find one area that's an unexpected bargain, only a few minutes on foot from the River Seine)…
Just like anywhere you live… cost of living depends on lifestyle choices beyond the fixed costs of housing, taxes, and utilities…
Indeed, personal lifestyle choices—such as eating out, entertainment, and other nonessential spending—dramatically impact a monthly budget.
Also, if a move to Europe includes trying to recreate the total North American lifestyle left behind… well, let's just say that won't be cheap.
Downsizing the amount of possessions is a must if you're heading to a big city here.
European living can be surprisingly affordable… as long as you apply a little "When in Rome…" to your lifestyle.

How To Spend LESS In Europe
Than Latin America…
I anticipated a big jump in our cost of living when we moved to Paris.
But life in France turned out to be more affordable than what we paid each month in Panama:
 In Latin America, a car is more or less a requirement. That means paying for a car, and then paying for insurance, maintenance, and gas. In Paris and most cities in Europe, where walking is a free pleasure and the metro is cheap, our transportation costs dropped to nearly zero…
City living in Europe means living in a smaller home. Practically speaking, it meant I couldn't go on shopping sprees to fill spaces and rooms with new furniture and bric-a-brac. It also means I didn't need the same help with household chores, nor the cost of a maid…
Europe prides itself on fresh, whole foods. Aside from being healthier, the open-market food in Europe is much cheaper than processed or frozen foods popular in many parts of the world…
In Europe, your utility bills will plummet. As I said before, you're living in a smaller dwelling. But in Panama, we also ran the A/C nearly 100% of the time thanks to year-round sun and warm weather. With more temperate climates, the majority of Europeans opt for fans over air conditioning…
Some of the best entertainment in Europe is cheap or free. Whether its people watching at a café, relaxing on a beach, heading to the museum on monthly free-days, or reading a book in the park, Europe boasts plenty of free activities to keep you happy…
My life is about to change
"Thank you for the awesome experience.
"I know my life is about to change. Thank you for your honesty…"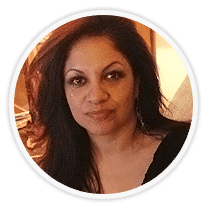 –Dora Montelongo,
United States
"Will I Be Welcomed In Europe?"
If you're an American, the image of home has seen better days…
But take heart:
Just like most places in our world, you'll be judged by your behavior rather than the color of your passport.
Indeed, the term "ugly American" was coined by Americans and I've never heard a European say it (we Americans tend to love and hate ourselves at the same time).
In fact, as an American myself, I can say that the places I'll show you boast locals that are happy—even excited—to meet Americans.
At this point, I'm sure you're shaking your head in disbelief…
"There's absolutely no way Europeans could be excited to see that couple I saw in Wal-Mart the other day."
But here's the thing: the worst people America has to offer don't travel to Europe.
That means that, thankfully, the image of Americans here still relies on actual travelers and expats—and a little bit of Hollywood, too.
And don't get me wrong, the folks here have seen Black Friday brawls on the news just like you and me… they just realize its only part of the population.
Bottom line, let's be honest: if you're considering Europe, you're likely a lot more sophisticated than the Average American Joe.
Yes! Americans Are More Than Welcome…
Here are the biggest reasons Europeans give for why they like Americans:
Friendly and "always smiling"… there was a time when smiling at strangers in Europe would cause them to think you might be drunk—and, to be fair, it's still the case in some places…
Generous and helpful… I can't stress this enough: hotel and restaurant staff LOVE Americans (a direct effect from our habit to tip). Americans are also seen as willing to help strangers, which brings me to my next point…
Outgoing and talkative… as with everywhere, this is a double-edged sword. Not everyone is happy to chat. Still, bartenders, hair stylists, and others tend to jump a chance to practice their English and learn more about America…
Organized and respectful… Americans are rule-followers by and large. We're not going to run a red light, for example, and we're not going to try to skip ahead to the front of line (both of which are popular behaviors of expats from other parts of the world)…
Of course, here's what Europeans don't like about Americans…
Loud talking… Americans are famous the world over for the volume of their speech. Try to keep it down, and avoid yelling into your phone, and you'll get by just fine…
Tipping… the locals certainly do not want tipping to become popular—yet I have noticed more and more tip jars around…
Not trying to speak the language… with English firmly entrenched as the lingua franca in Europe, you certainly won't be judged poorly for lack of local fluency. But you're going to want to learn the basics to show you're trying. Know how to say "Hello," "Please," "Thank you," and "Do you speak English?" in the language of your home country…
Confrontational… when you're outgoing, that friendliness can turn quickly when you feel you've been wronged. Subtle and passive aggression is the norm here. That said, call out one of those aforementioned line-cutters, like my daughter often does, and you'll get your share of thanks from strangers…
Of course, these are only some examples of the do's and don'ts you should keep in mind when spending time in Europe. We'll go over many more, and answer every question you have, during the Live and Invest in Europe Virtual Conference…

At last, I can use my passport!
"I've had my passport in my handbag for the last 27 years.
You have showed me the way to use it… and how.
Thank you!"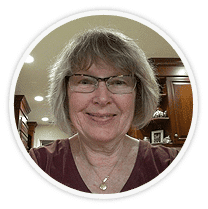 – Penny Herbert,
Canada
How Smooth Can Your Transition To
A New Life In Europe Be?
Very smooth… if you're prepared and have made decisions right down to the details.
It's why we'll put at your fingertips information specifically focused on specially selected destinations…
It's why we'll "go deep" in regard to a combination of key considerations (haven-focused rather than country-wide)—taking you far beyond any touristic guidebook offerings.
And the best part of all this information?
It's not sugarcoated. It's the real deal. We give it to you straight—"beefs," "bouquets," and everything in between. Then you can decide for yourself…
The decision of "where" is ultimately yours, but we're going to do our very best to ensure you have all of the best information available in the most easily-digestible format available.
If preparation is the #1 key to success, then confidence is a close #2…
We're going to give you both during the Live and Invest in Europe Virtual Conference.
You'll get a firm idea of the order of events for actually making the move. We make sure that once you set your sights on your dream destination, you know the next steps to take toward getting there.

Keep Up The Good Work
"I've enjoyed your descriptive writing and fabulous relocation tips for some time…
"Your recent… Two Affordable, Turn-Key Retirement Options In Europe… was perfect. Keep up the good work."
– Charles W.,
United States
At Your Service…
A Sneak Peek At Some Of Your Experts
Kathleen Peddicord
Live and Invest in Europe Conference MC and Founding Publisher of Live and Invest Overseas Expat in France and Ireland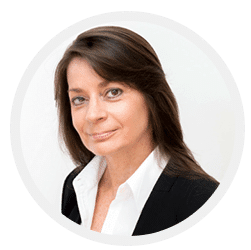 Kathleen has covered the live, retire, and invest overseas beat for more than 35 years and is considered the world's foremost authority on these subjects.
She has traveled to more than 75 countries, established businesses in 7, and invested in property in 21. Thanks to these adventures abroad, Kathleen has been able to assemble an unparalleled network of global contacts, colleagues, friends, experts, resources, and advisors.
Kathleen has moved children, staff, companies, household goods, and pets across three continents, from the East Coast of the United States to Waterford, Ireland… then to Paris, France… and, then to Panama City, Panama. Today, Kathleen and her family officially divide their time between their homes in Paris and Panama… but are most often on the road, traveling the globe and spending time wherever life takes them.
Kathleen also writes regularly for U.S. News & World Reports and Forbes and is regularly quoted by The New York Times, Money magazine, The Economist, the AARP, and beyond. She has appeared often on radio and television and has written innumerable books (including her Amazon best-seller, "How To Retire Overseas," now in its Second Edition with Penguin Random House), reports, and essays on where and how you can escape the retirement-tromping economy at home and live like royalty on a modest budget… invest for profits overseas ahead of the crowds… and secure your dream retirement in the world's best destinations.
---
Lief Simon
Global Real Estate Investor and Offshore Diversification Expert
Expat in France and Ireland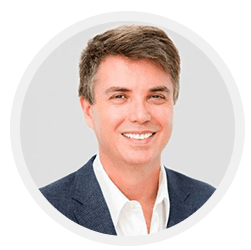 Lief Simon is Live and Invest Overseas' resident real estate investing and offshore diversification expert. His twice-weekly free newsletter, Offshore Living Letter, covers both topics with direct and easy-to-understand language.
Lief has lived and worked on 5 continents and traveled to more than 50 countries. His real estate investing experience began around 20 years ago with a multi-unit building in Chicago.
After selling that building for a leveraged total return of more than 1,800% in 2 ½ years, Lief began to diversify internationally. In the two decades since, Lief has purchased more than 45 properties across 21 different countries. He has developed land, managed rentals, and flipped pre-construction buys.
Lief has more experience buying and profiting from real estate around the world than any other individual investor you're likely to find.
In addition, Lief specializes in offshore diversification, asset protection, and tax mitigation. Over the last 20 years living and doing business around the world, he's built a network of reliable and expert contacts he trusts on such matters—attorneys, bankers, tax consultants, and other advisors, both Stateside and in the jurisdictions where he spends time and money.
You'll get to meet many of these trusted contacts, alongside Lief, during the Live and Invest in Europe Virtual Conference.
---
Kat Kalashian
Editor-in-Chief at Live and Invest Overseas
Expat in France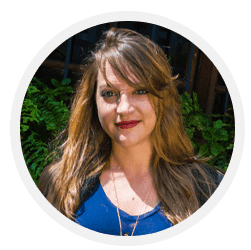 Kat has grown up around the world, living in the United States, Ireland, France, and Panama. Growing up as a young expat, she is familiar with the trials and tribulations of an overseas move and the adjustments that must be made in every new destination. Living and learning through experience, she now considers no one place home and feels more comfortable in new environs than in familiar ones.
After living in the tropics of Panama for seven years, she and her husband relocated back to Paris, France, in 2018, where they now live full-time with their new daughter, American cat, and Panamanian dog.
At this year's Live and Invest in Europe Virtual Conference, Kat will introduce you to some of her favorite corners of Europe and be part of our big-topic panel discussions where she'll share her hard-earned secrets to expat survival.
---
João Gil Figueira
International Tax Attorney
Native of Portugal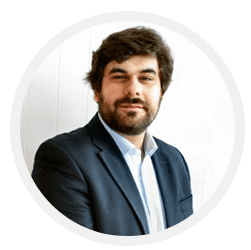 João Gil Figueira (JD, LLM, MMgt) is an international tax lawyer and business consultant who advises multinational firms and individuals regarding taxation, residency, and asset protection in Portugal and in Portuguese-speaking countries. He is the appointed Managing Partner of the Lugna firm.
João is also a professor of Taxation in the Masters Programs (Finance, Management, and Law and Management Programs) of Nova School of Business and Economics, a top Financial Times ranked University in Lisbon. He has authored several legal books, articles, and guides on Portuguese business and tax law.
He is experienced in providing comprehensive and well-rounded advice on living and investing in Portuguese-speaking jurisdictions.
---
George Vassallo
Expert on Maltese Property Market
Native of Malta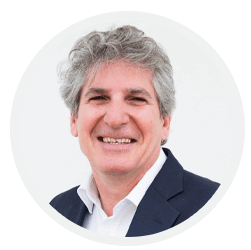 George Vassallo has nearly 35 years of experience in the Maltese property market.
George has always been sales oriented and still finds selling property very satisfying and motivating after all these years. His excellent managerial skills coupled up with his enthusiasm has provided a track record of success throughout his career and has received awards in terms of best performing sales consultant and best performing office.
He has also given advice about, spoken on, and sold property in Malta  at international property and immigration exhibitions, as well as property roadshows across all continents.
George currently lives in Malta with his wife Debby and his four children.
---
Dennelle Taylor Nizoux
Expat Relocation and French Property Market Expert
Expat in France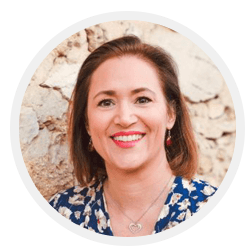 Coming from Southern California, Dennelle has been living in France full-time since 2000. She likes to say she is living the California Dream in the South of France.
After a university exchange year in Aix-en-Provence left her madly in love with France, she later jumped at a chance for a job position in Paris. After a decade there, she had a French husband, a flat in Paris next to the Bois, and two little Franco-Americans.
In 2010, her family moved to sunny Montpellier in the south of France.
Noticing the high demand for an English-speaking relocation service, she started her own business in 2015 to help retirees and others dreaming of a French lifestyle. To help clients navigate the French real estate market, she also got a Bachelors in Immobilier in 2016.
Dennelle will be on hand during the event to handle EVERY question you might have about moving to and living in France.
---
Monia di Guilmi
Founder and Director of Abruzzo Rural Property
Native of Italy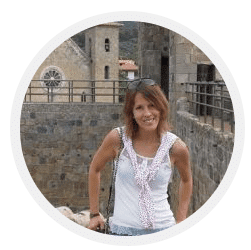 Monia moved from Northern Italy to the Abruzzo region when she was five years old and considers herself a true Abruzzese. After studying in the U.K. and living in Spain, she became fluent in English and Spanish and developed a passion for the countryside and country properties. She also has lived in Japan.
After a decade abroad, Monia's love for Abruzzo finally brought her home again where she soon found herself working for a local real estate agent as an English/Italian interpreter and translator. This was a stepping-stone to starting her own real estate company: Abruzzo Rural Property.
Since its inception in 2012, Monia and her team have helped hundreds of clients from all over the world buy homes in Abruzzo, and, today, Abruzzo Rural Property is one of the fastest-growing real estate agencies in Abruzzo.
---
Luis Teixeira Da Silva
Founder and Director, Algarve Senior Living and Director of Luz Living
Native of Portugal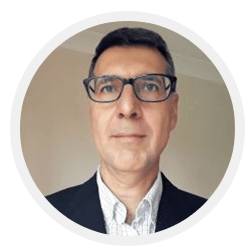 Luis da Silva has more than 30 years of business experience. He has lived in 9 countries (including the United States, U.K., Brazil, and Portugal) and worked in more than 30 markets around the globe.
With almost 20 years of experience in international real estate markets, his focus during the last decade has been on senior or retirement living. He is the founder and Director of Senior Living Villages, and co-founder and Director of Portugal Senior Living and Spain Senior Living. These businesses provide a broad range of solutions to the retiree or senior (50+) market in Portugal and Spain.
Luis is an expert on a range of subjects affecting international retirement migration, including real estate (purchase and rental), residency visas such as income based and Golden Visas, investment, climate, etc., with a unique ability to comment on the pros and cons of different destination markets. He is actively involved as an investor in, and has detailed knowledge of, investment opportunities in the senior or retirement living sector.
If you're interested in Portugal or Spain, Luis will be the guy to speak with during the Live and Invest in Europe Virtual Conference.
---
Graham Bates
President, Insurance Services of America
Expert in Expat Health Insurance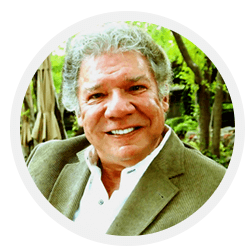 Graham has been in the insurance business for 50 years. His firm, Insurance Services of America (ISA), has specialized in international health insurance since 1995 and has won first-place rewards for every company he has represented since that time.
Last year, ISA helped insure over 60,000 people either traveling in or outside the United States or moving overseas.
ISA has an A+ Better Business Bureau, 5 Star rating, and a more-than-99% customer satisfaction rating. To better serve their clients, ISA has offices located in Arizona, Indiana, and Texas. Graham has a son in the business and has been married to his wife, Rebecca, for 53 years.
---
Mike Herndon
Expat in Spain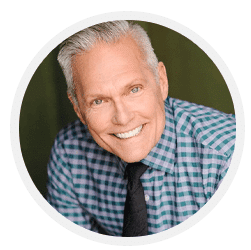 Mike is an unmarried "son of the South" who lived in Tennessee and Florida before leaving the U.S.A. in March 2016.
He explored 47 states and 35 countries before finding "home" in Valencia, Spain, at the age of 65.
He has worked as a sales manager, corporate trainer, real estate broker, and a small business owner (twice). And, after renting living spaces on 4 continents in 8 countries between 2014 and 2018, he is now writing a book about his rental experiences.
Current aspiration? He is looking for a cottage in a country (yet to be determined) that has cool weather through summer and a festive spirit in winter—a place he can spend several months each year to take a break from the urban life in Valencia.
We'll try to help him find the right place during the event!
---
Alyson Sheldrake
Expat in Portugal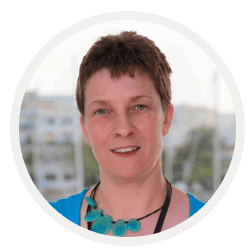 Alyson Sheldrake was born in England in 1968. After 13 years of work as a police officer, she left to work in the education field where she eventually become the Director of Education for the Church of England in Devon in 2008.
Once her husband Dave retired from the police force, their long-held dream of living in the sun could become a reality. Alyson handed in her notice, and with her dusty easel and set of acrylic paints packed and ready to move, they started their new adventure in the Algarve region of Portugal in 2011.
Alyson is the author of the award-winning and popular Algarve Blog, and has also been a keynote speaker for several years at the "Live and Invest in Portugal Conference."
She is now an accomplished and sought-after artist working alongside her husband Dave, a professional photographer. Being able to bring their much-loved hobbies and interests to life has been a wonderful bonus to their new life in the Algarve.
She is also an author, and her first book "Living the Dream – in the Algarve, Portugal" is full of useful advice, enjoyable adventures and hilarious accounts of their Algarve life in the sun.
And that's just a start… you'll hear from more than 10 additional experts…

Access To This One-Of-A-Kind Event Is Currently Available At The Lowest Rate Possible…
Our Live and Invest in Europe Virtual Conference has been designed to give you the firsthand, on-the-ground information that you need to make the right decision about investing and living here.
And, whatever lifestyle you're looking for—in the mountains, villages, cities, or at the beach—we'll have experienced expats on hand to show you what life is really like when you live on The Continent.
The price of this year's Live and Invest in Europe Virtual Conference will be US$595 for access to all 4 days of the event.
But frankly, there's no need to pay that much…
Today, you can save at least US$200…
This cost includes full access to the interactive workshops and presentations, all supplemental reports, guides, and seminar materials, as well as access to the chatrooms and forums where you'll get to mingle with the experts as well as like-minded adventurers also looking to make a move to Europe.

I Promise You'll Have No Regrets…
First of all, your satisfaction is 100% guaranteed.
If you're not happy with the event (or if you need to cancel), just let us know and I'll send 100% of your money back to you.
But that's not exactly what I mean with "no regrets"…
Part of our agenda at the Live and Invest in Europe Virtual Conference is to give you the full story… the pros and the cons.
Did the readers I've helped find their spot abroad have their down days?
Of course they did…
One past attendee told me recently that she had the mother of all meltdowns after she and her husband packed up all their boxes and were getting ready to sell their beloved Illinois home. But, the next morning she picked herself up and followed through with her move…
"The best thing about our new life now is that we have no alarm clocks. We take our time in the morning and enjoy a leisurely breakfast. I'll do some writing in the afternoon and exercise in the evening. There is no routine—and it's wonderful."
You'll never know how wonderful your life could be unless you go and see.
And what about those readers who decided Europe was not for them after all?
I've heard from several, and not a single one regretted the experience. In fact, many of these folks told me the only regret was not doing it sooner, when they were younger and healthier.
I urge you to give yourself the best start—sooner than later and in the best company—this October during my Live and Invest in Europe Virtual Conference.
I hope to see you log on.
Sincerely,

Kathleen Peddicord
Founding Publisher, Live and Invest Overseas

P.S. This is the only event of its kind to help you consider, compare, and contrast Europe's best places to live as a foreigner…
We're going to help you develop an actionable plan so you can follow through on your move in as little as 12 months or sooner.
Most important, we'll introduce you to our trusted contacts who can support you through every step of your journey…. both during and after the event.
This is your best shot at finding the life you want on The Continent…
I urge you to take it.

Frequently Asked Questions
Is this event for you?
If you're looking for Old World charm without having to pay a king's ransom but don't know how to get started—then YES, this is the event for you.
You'll walk away with the knowledge, support, and contacts necessary to make a move to Europe with confidence…
How does it work?
All of the information, video sessions, and expert interaction is done online.
Our professional online event system features an online chat system, and every talk will have a question center… during each presentation, we'll take time to address the question over live video.
What is the daily schedule?
Tuesday, Oct. 12, 2021 - 9:00AM – 5:00PM EDT
Wednesday, Oct. 13, 2021 - 9:00AM – 5:00PM EDT
Thursday, Oct. 14, 2021 - 9:00AM – 5:00PM EDT
Friday, Oct. 15, 2021 - 9:00AM – 5:00PM EDT
Remember, every live session will be recorded and available for on-demand playback... so you'll never miss anything.
How long can I keep the video access?
Once the event is over, you'll have lifetime access to all of the content.
What's the refund policy? What if I need to cancel?
We are completely confident in the information and deals you'll access during the event.
Right now, you'll have to take our word for it. However, if, after attending our Live and Invest in Europe Virtual Conference, you don't agree—no problem...
Like everything we publish, it comes with our No-Hassle, Money-Back Satisfaction Guarantee. We'll refund your money 100% if you ask before the end of the first day.
Likewise, there is no cancellation fee prior to the event's start.
Are there discounts available?
Yes!
Coupon EUBESTDEAL gets you 50% off.
*This discount is already applied at checkout.
Here's what past Virtual Conference attendees had to say:
"Our minds are still reeling with all of the information presented to us. All of your presenters were very knowledgeable about their respective fields. We also enjoyed talking with other expats-in-waiting. Mike and I live in the snowy part Washington State. Last year was very snowy and cold. Needless to say, we would love to spend at least our winters someplace warm instead!"
— Laura D., United States
"Thanks again for all of your hard work in putting together the conference. For anyone considering a move to a foreign country, a conference like this one should be on their must-do list."
— Diane D., United States
"Kathleen, thank you for all your hard work. You have helped a lot of people dream and then helped a lot of dreams come true. I am always telling people about you. In fact, I just today told my banker about how honest and smart you are, letting us know where to go. Wish I had listened to you more years ago…"
— Marlene M., United States
"What I admire is your honest, tell-it-like-it-is approach. A lot of people have been hurt by nothing but glowing reports about offshore living from other sources. Your honest, direct approach is a real service."
— Arlean K., United States
"Kathleen, I have to say that you seem to dig deeper into the feel of a particular place and to do great comparative analysis between alternative places. Your approach is more sophisticated and thoughtful and therefore more useful to me than other information sources covering these same subjects."
— John W., United States
"I feel that the Conference was extremely worthwhile, both in terms of information received and cost. I am just beginning to explore the possibility of retiring overseas and, after attending the Conference, I can't wait to get started. The conference was extremely helpful as a first step in considering all of the options that are available to me. I didn't even know what they were until your conference. Also, as a single woman moving alone, you quelled my concerns over safety in the areas that I will be considering. I look forward to receiving additional information from you to assist me as I proceed with my move."
— Alice G., United States
"Excellent information. Met some people who could become longtime friends."
— LeRoy J., United States