The Global Property Summit May Also
Be The Vacation Of A Lifetime!


Cancún, Mexico | May 13-15, 2020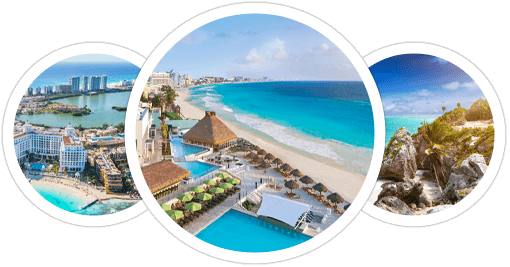 Enjoy Our Discounted Hotel Accommodations…

The Westin Resort & Spa, located on the nicest stretch of beach in Cancún's hotel zone, is the venue for this year's Global Property Summit.
We have negotiated special room rates for attendees of the event. To take advantage of these special rates, reservations must be made through Live and Invest Overseas. Contact us at PropertySummit@LiveandInvestOverseas.com or dial 1-888-627-8834 (toll free from the United States) to make your reservation.
From the States or Canada, you'll land in Mexico at the Cancún International Airport (airport code CUN). The Cancún airport is a 25-minute car ride from The Westin Resort & Spa. If you'd like to book an airport transfer, rates start around US$40 for a one-way service.
Several airlines have direct flights to Cancún: American Airlines via Dallas, Miami, or New York, United via Chicago, Los Angeles, or Washington D.C., Delta Airlines via Atlanta, Salt Lake City, or Detroit, US Airways via Phoenix and others. Several other airlines provide connecting service.
For your travel needs (including flight assistance and insurance), please contact your travel agency of choice. (VIP attendees may contact our conference coordinators for booking assistance at PropertySummit@LiveandInvestOverseas.com)
If you want to research your airfare options online, try an online travel service, such as: Kayak, Travelocity, Google Flights, or Expedia.
Don't forget: Make your reservations soon in order to get the best rates and ensure availability.
Currency Exchange
You'll need Mexican pesos. It's best to exchange your dollars before you leave the airport. To avoid poor exchange rates at banks and hotels, you can withdraw Mexican pesos from ATM machines.
Credit Cards
Most restaurants, shops, and hotels in Cancún will accept credit cards. Look for a sign near the entrance noting which cards are accepted. Visa and Mastercard are most commonly accepted, though some businesses will accept American Express and Diners credit cards.
Seeing More Of Mexico

You'll have an easy time keeping yourself busy in the area, but why not see what else the region has to offer?
Located directly on the Caribbean Sea, you're only steps from the palm-tree-lined, white-sand beach where, if you so desire, you can spend the full duration of your stay with your toes in the sand. But that's not all that you can walk to… The Westin Resort & Spa is in the heart of the hotel zone, where you can easily walk to shopping, restaurants, and nightlife.
You can also plan a day trip to discover sites that date back to 1200 A.D. Step back in time with a trip to Chichén Itzá, considered by archaeologists as one of the most advanced societies in the Americas due to their knowledge of the universe, astronomy, and mathematics. Explore the Temple of the Warriors, Ball Court, Observatory, and Sacred Wall, and walk through countless other archeological sites, ancient ruins, and temples.
While in Cancún, you could also enjoy the Mexican-flavor nightlife, where the fun doesn't stop until the sun comes up. Spend hours immersing yourself in a vibrant culture, singing and dancing to traditional Mexican music at one of the many lively discotheques or bars in the area.
Culture and climate intertwine to provide the perfect backdrop to adventure around this country. Whether it's exploring ancient ruins or swimming along tropical reefs (the second-largest coral reef in the world is here), Mexico is waiting for you to uncover its magic.
Driving In Mexico
If you'd like to stay for a while and see the country by car, all you'll need is a valid driver's license from your home country. You should also have an international driver's license, available from AAA or, in Canada, CAA.
Travel Insurance
We've worked with an international insurance service to provide exclusive coverage for Live and Invest Overseas event attendees.
We've negotiated the most affordable and extensive policies available, starting at rates of as little as $1.45 per day.
You can get full details on policy options here.
Conference Cancellation Information 
All cancellations must be sent to our conference department by email. For cancellations received more than 45 days before the start of the event, we will return your payment, less a $150 administration fee per person. For cancellations received more than 14 days before the start of the event, we will return your payment, less a $350 penalty per person. For cancellations made 14 days or less before the start date of the event, the conference fee is non-refundable. *
*Please note that all cancellation fees may be used as a credit towards a future Live and Invest Overseas Conference or Conference Kit.
For complete legal terms and conditions, please go here.
Mexico is booming like never before, and there's never been a better time to consider making it home. We hope you'll spend some time before or after the conference to get to know this fascinating country.
Register today, to get the best price and to
grab one of the

VIP slots, while both are still available!