We've selected Panama City as the venue for the 2019 Global Property Summit. A city long-esteemed in the world of offshore banking and financial services, it's also the travel hub of the Americas.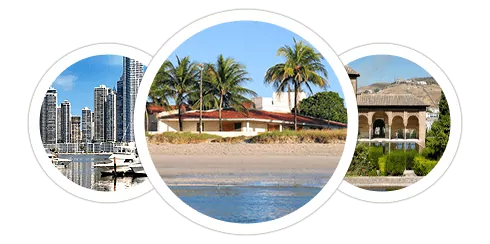 Enjoy Our Discounted Hotel Accommodations…
The luxury Westin Playa Bonita, one of Panama City's only beach resorts, is the site of the 2019 Global Property Summit.
The Westin Playa Bonita boasts a view of the Panama Canal with four beachfront swimming pools, plus a Sensory Spa by Clarins, and other luxurious amenities located on the property.
We have negotiated special room rates for attendees of the event. To take advantage of these special rates, reservations must be made through Live and Invest Overseas. Contact us at PropertySummit@LiveandInvestOverseas.com or dial 1-888-627-8834 (toll free from the US) to make your reservation.
Traveling To Panama
Flights arrive at the Tocumen International Airport (code PTY), which is 40-minute cab ride from the hotel.
American and Canadian citizens do not need a Tourist Visa, however you are required to have a valid passport that is more than three months away from expiration. There are no required vaccinations to enter Panama, however you should consult your physician before international travel.
Service is provided by most major international airlines, such as United, American Airlines, or Delta. Or you can compare all your options easily by entering your dates into Kayak, or an online travel service of your choice.
Airport Pickup
Taxis are available at the airport, and the standard rate is about $50 one-way, depending on the number of passengers and pieces of luggage. Your driver may not speak fluent English, but he or she will understand the name of the hotel.
Money Exchange
Panama uses the US dollar as its official currency, so there is no need to exchange money. ATMs are available throughout the city when you need cash. It can be difficult, however, to break larger bills… so have a supply of fives and ones on hand for tips, taxis, and small purchases.
Seeing More Of Panama
You'll have an easy time keeping yourself busy in Panama City, but why not see what else Panama has to offer?
Barefoot Panama offers personalized tours in Panama City and to the most exciting destinations in the surrounding area… or afar. Kevin O'Brien, owner of Barefoot Panama, encourages his clients to gain insight into the culture and way of life of the indigenous people, to act in a socially responsible way, and to learn about the history, flora, and fauna of this dynamic country and its people. Barefoot Panama's goal is to set an example of sustainable tourism while providing clients with top quality adventure tours.
Contact Kevin here, or call (781) 479-2011 to book your tour now.
Driving In Panama
If you'd like to stay for a while and see the country by car, all you'll need is a valid driver's license from your home country. Although not required by law, some visitors prefer the extra assurance of having an International Driver's License. The IDL is available from AAA or in Canada, CAA.
Travel Insurance
To protect your travel investment, we strongly recommend that you purchase travel insurance. Travel insurance protects you from all the unexpected events that can disrupt or cancel your travel plans.
Cancellation Information
 All cancellations must be sent to our conference department by email. For cancellations received more than 45 days before the start of the event, we will return your payment, less a US$150 administration fee per person*. For cancellations received more than 14 days before the start of the event, we will return your payment, less a US$350 penalty per person*. For cancellations made 14 or less before the start date of the event, the conference fee is non-refundable*.
For complete legal terms and conditions, please go here.
* Please note that all cancellation fees may be used as a credit towards a future Live and Invest Overseas conference or conference kit.
We're Glad You Can Join Us For The Global Property Summit
Panama is booming like never before, and there's never been a better time to discover what this country has to offer. We hope you'll spend some time after the conference to get to know this fascinating country.