This Year's
Make Money Overseas Event
Can Also Be A Super Vacation!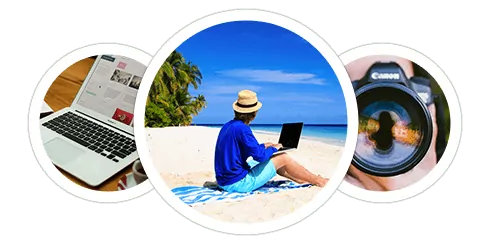 We've selected Las Vegas, Nevada, as the venue for our first-ever Make Money Overseas Event. Nicknamed the Entertainment Capital of the World, Las Vegas is home to a great range of attractions.
While there, make sure to take a walk down The Strip to enjoy the incredible architecture of mind-boggling hotels like the New York New York Hotel or Paris Las Vegas. Take advantage of all the free attractions, such as the Bellagio fountains and the erupting Mirage volcano. Enjoy a gondola ride on the Venetian's canal, meandering through a Vegas recreation of St. Mark's Square in Venice and pop in to marvel at the exhibitions at Madame Tussauds Wax Museum. Head Over the Stratosphere Tower to see the city from this famous, 100-story-tall observation deck. Visit the Shark Reef at Mandalay Bay to watch sharks, turtles, sting rays, and more cavort underwater at this half-indoor half-outdoor aquarium. And if you're interested in wildlife, don't miss Siegfried and Roy's Secret Garden & Dolphin Habitat, home to tigers and a great dolphin show. Or grab tickets to one of the many world-class shows as Cirque du Soleil or top Broadway musicals. Sin City's entertainment options are endless… even for the more conservative visitor!
Enjoy Our Discounted Hotel Accommodations 
The Excalibur Hotel & Casino, Las Vegas, is the site of this year's conference, and we've negotiated special room rates for attendees of the event.
To take advantage of these special rates, reservations must be made through Live and Invest Overseas. Contact us at MakeMoneyEvent@LiveandInvestOverseas.com or dial 1-888-627-8834 (toll free from the US) to make your reservation.
Excalibur Hotel & Casino, Las Vegas

3850 S Las Vegas Blvd, Las Vegas, NV 89109,
United States
Tel: (702) 597-7777
Traveling Las Vegas
Flights arrive at the McCarran International Airport (code LAS). The trip to the hotel is about 2 miles, and takes about 5 minutes. The taxi rate is around US$8.50 per person at this time.
Travel Insurance
To protect your travel investment, we strongly recommend that you purchase travel insurance. Travel insurance protects you from all the unexpected events that can disrupt or cancel your travel plans.
Cancellation Information
All cancellations must be sent to our conference department by email. For cancellations received more than 45 days before the start of the event, we will return your payment, less a US$150 administration fee per person*. For cancellations received more than 14 days before the start of the event, we will return your payment, less a US$350 penalty per person*. For cancellations made 14 or less before the start date of the event, the conference fee is non-refundable*.
For complete legal terms and conditions, please go here.
*Please note that all cancellation fees may be used as a credit towards a future Live and Invest Overseas conference or conference kit.
Come Join Us In Las Vegas!
We'll look forward to seeing you at the event in Las Vegas; to enjoy both the conference and the city.

Reach us with questions and comments at 
CustomerService@liveandinvestoverseas.com 
or by phone, toll-free from the United States, at 1-888-627-8834.
Copyright © 2008-2019 Live and Invest Overseas, Founding Publisher Kathleen Peddicord