Why Go Farther?


America's Most Popular Haven
Is Also The Easiest…


• Diverse: Mountains, Rainforests, Caribbean, and Pacific Coasts
• Affordable: Live Well On US$1,328 Per Month…
• Familiar: World Famous Culture and Cuisine…
• Easy: No Plane Ticket Needed!
Dear Live and Invest Overseas Reader,
It's no coincidence that America's most popular overseas haven boasts world-class beaches…
As well as world-famous food… easy residency… friendly people… and a monthly cost of living well under the average Social Security check.
In fact, nearly 20% of the world's North American expats and foreign retirees—about 2 million people—live here in Mexico.
Mexico is far and away the most popular retirement and expat haven in the world for North Americans.
From world-class beaches along its Pacific and Caribbean rivieras…
To 16th-century Spanish-colonial towns oozing with charm…
Mexico offers up some of the best of Latin America.
But plenty of countries offer tasty food, history, and beaches…
What sets Mexico apart?
Top 11 Reasons Why Americans


Prefer Mexico To The Other Options
#1 It's the closest retirement haven abroad.
If you hate long flights or don't want to stray too far from friends and family, Mexico is easily the best option for living abroad.
You can even drive here from the United States or Canada…
No worries about overweight bags, luggage limitations, airport security lines, or expensive airfare. Even pets are a breeze.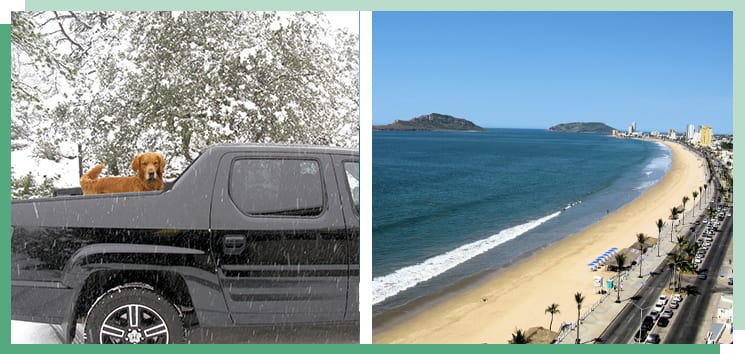 In some parts of Mexico, you don't even need a vehicle permit to bring your car or truck. Where you do need one, you can get the permit and the insurance online before you leave and just drive right through.
Of course, if you'd rather fly, quick and direct flights are available throughout the States and Canada.
Plus, if you're an American over 65, this proximity means that you can simply drive or fly north to use Medicare.
Of course, you can always stay put for local, quality medical care at a fraction of the price.
#2 Mexico is familiar.
In many areas we suggest here, you'll have to look closely to realize you're not in California or Texas.
Mexico's familiarity shows up in many small ways… like eating Mexican and TexMex food… or seeing full-sized, V8 American SUVs and pickups on the road… or even seeing the cattle ranchers with Arizona-style cowboy hats and belt buckles.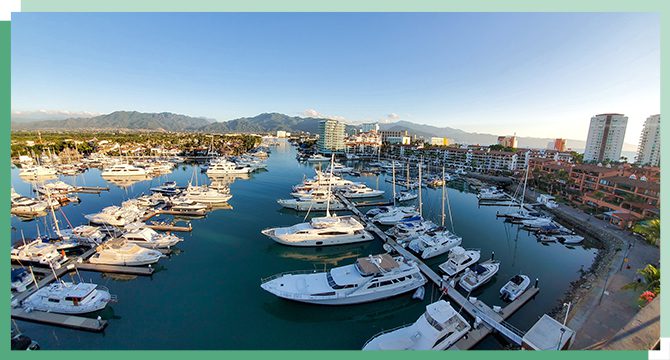 There's a lot of American influence in Mexico, and a lot of Mexican influence north of the border, which gives Mexico a very familiar feel.
But Mexico also has a rich culture that we aren't that familiar with… a colorful history, fascinating traditions, fiestas, arts and artisans, music, and dance.
Unlike most places abroad, you're unlikely to experience culture shock in Mexico.
#3 Easy and fast residency. 
If you want to become a resident of Mexico, the process is quick and easy… both for temporary and permanent residents. Like many countries, you can use income to qualify, including a pension or Social Security.
But what's really unusual is that you can qualify for residency with savings, such as a 401k or IRA balance.
Best of all, your visa paperwork won't require a notary seal, apostille, or translation, as it does in most countries. Just bring your English pay stubs to the consulate and be on your way…
Here's How Easy It Is To
Move To Mexico As A North American…
Mexico has one of the world's easiest immigration programs.
Travelers are granted long stays upon entry, and residency is fast and easy to obtain:
There are no health checks or physical exams required…
Mexico requires no background checks…
 Instead of income, you can qualify with a savings account or an IRA/401k balance…
Temporary residency is easy to qualify for with fast approvals…
Permanent residency is available without a lengthy period of temporary residency (higher financial thresholds are required do to this)…
Citizenship is available after five years of residency, and in as little as two years if you qualify.
Mexican tax residency is easy to avoid legally with no 180-day tax residency rule…
Mexico grants residency visas locally at your nearest consulate, using English-speaking agents…
If you're looking to set up a Plan B location, Mexico is your fastest and easiest place to do it.
And it's a place you can drive to if air service becomes difficult, as it did with COVID-19…
 #4 Six-month, visa-free stays.
If you don't want to fuss with residency at all, you can get a six-month tourist entry by just driving over the border.
If part-year living is what you have in mind (or operating a vacation rental), then the six-month tourist entry can do the trick.
And if your six-month visa runs out? You can simply drive to the border, and get another six months when you cross back over… legally.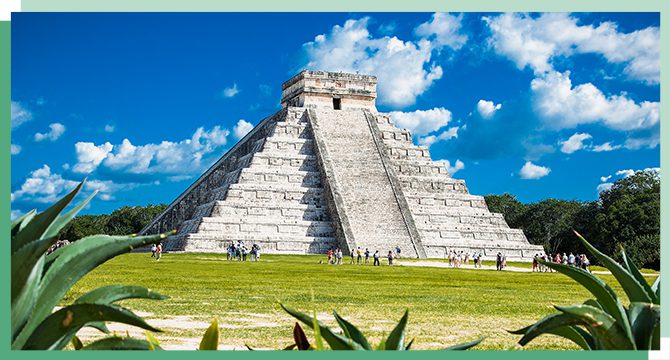 #5 The dollar is near an all-time high here.
While inflation eats into your savings in the United States, the dollar has enjoyed historic highs against the Mexican peso over the past couple of years.
The cost of living was already low, and now you can compound that advantage with this "currency discount."
Many foreigner-focused property markets sell in U.S. dollars, but rents and any real estate priced in pesos is at bargain levels.
Have a look at the chart below: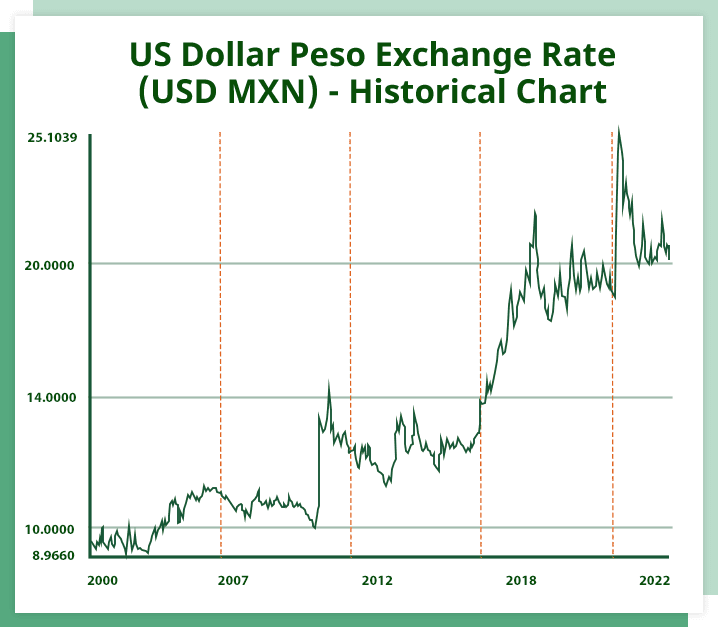 And Americans aren't the only ones to benefit—Canadians likewise enjoy a historic advantage here:

#6 Mexico has the best food in Latin America.
Sure, you could argue this…
But ask me and I'll tell you to forget beans-and-rice, eating guinea pigs, or the bland-and-boring food that you'll find in much of Central and South America.
Argentina and Brazil both have an argument for top spot here, but outside of those two countries, there's no contest.
Mexican food is rich and savory with loads of exciting options. From its new, upscale Mexican gourmet dining to its mouthwatering seafood, from spicy salsas to tamales, tacos, and enchiladas… Mexico can't be beat.
In fact, the New York Times recently reported that "New Mexican" cuisine is catching on at high-end restaurants the world over.
#7 It can be incredibly cheap to live here.
Even before the recent historic strength of the euro and American and Canadian dollars, Mexico was famous for its low cost of living…
Take a look at a real budget from our man-on-the-ground:
Pacific Beach Living
For Only $1,328 A Month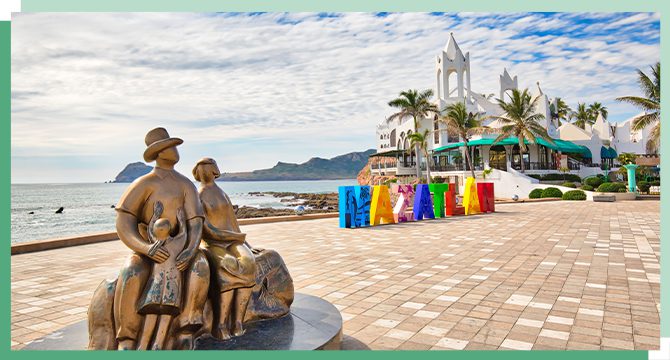 Find yourself in Mazatlán, and you might think you're somewhere in Southern California…
Mazatlán's golden beaches, 13-mile (21km) boardwalk, vibrant nightlife, and 19th-century Old Town—not to mention world-renowned sport fishing—have vaulted this town onto our list of Top 5 Havens In Mexico.
Despite its draw, a couple could live well in Mazatlán on only US$1,328 a month…
Live and Invest Overseas Senior Correspondent Lee Harrison reports:
"I chose Mazatlán after several visits and an extended stay in this city. I found that the more time I spent in Mazatlán, the better I liked it.
"When here, my days fall into a pleasant routine…
"Each day starts with a morning walk along the beach at sunrise (fellow dog owners will understand why I'm out there so early), followed by a day of exploring the colonial historic center and beaches that make Mazatlán a famous vacation spot.
"My apartment is both on the waterfront and within easy walking access of the city's historic center, allowing me to enjoy the best of both worlds.
"Mazatlán is a unique place in this way, and this ability to enjoy the conveniences of city living with the beach still on my doorstep was one of the biggest attractions for me."
Rent
US$551
Unfurnished, two-bedroom, comfortable apartment in a desirable part of town.
Public Transportation
US$118
Several taxi rides a month (a 10-minute taxi ride is about US$1.96).
Gas/Electricity/Water
US$130
Total monthly utility costs.
Cable/Phone/Internet bundle
US$36
Including download speeds of 50 Mbps, unlimited SMS and calls to landlines and cell phones.
Entertainment
US$402
Movie tickets: US$1.72 per ticket; dinner and drinks for two: US$26.48; drinks for two: US$9.81 to US$19.62.
Food and groceries
US$152
For fresh, whole foods. Imported, frozen and processed  foods will cost you more.
 TOTAL
US$1389
Monthly expenses for a couple.
* Currency exchange rate of Mexican pesos to U.S. dollar from March 2022.
Of course, your budget could be more or less than that amount—sometimes much so. The good news is that your budget is mostly up to you…
For example, a maid would you cost you US$35 more a week, and driving your own vehicle would result in gas, maintenance, and insurance costs.
And don't forget about your health care costs which can vary dramatically based on your needs…
Regardless, a visit to an English-speaking doctor in Mazatlán will cost as low as US$20.
#8 Lots of English-speaking expats.
More than 1.5 million Americans now call Mexico home, easily the biggest expat destination in the world. (In fact, more Americans now move to Mexico than Mexicans to the U.S.)
What's more, over 1.6 million Canadians visit Mexico each year, with about a half-million actually living there at least part-time.
This influx from the north is the biggest testament to Mexico's standard of living and convenience.

#9 Plenty of English-speaking service providers.
In many countries it's hard to find English-speaking lawyers, doctors, dentists, or even restaurant workers.
Not in Mexico. Here, you'll find plenty of English-speaking professionals, service providers, and residents throughout much of the country.
Make no mistake, you'll do better in Spanish… but if you don't speak Spanish, you can still get by in plenty of areas.
Escape To Zihuatanejo…
And Pay US$200 For Rent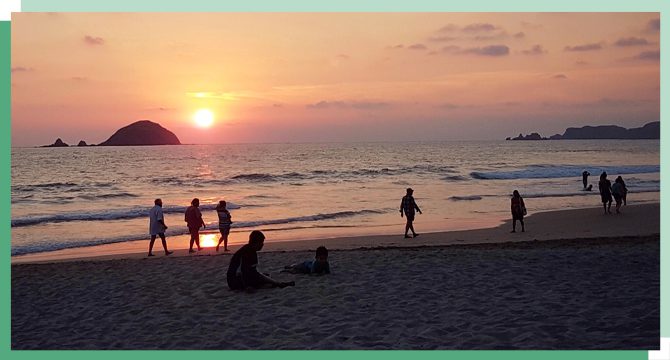 To quote Andy Dufresne from the movie Shawshank Redemption:
"Zihuatanejo. It's a little place in Mexico on the Pacific Ocean. You know what the Mexicans say about the Pacific? They say it has no memory. That's where I want to live the rest of my life. A warm place with no memory."
At 76 years old, Live and Invest Overseas reader Robert Knight has found his own escape in Zihuatanejo…
"As I lay in my hammock watching the sunset paint the sky behind the green hills that surround the fishing village of Zihuatanejo, I am reminded, as I am every day, just how lucky I am to be living in this tropical gem…
"Zihuatanejo is particularly cheap. I live in a fully furnished two-bedroom apartment, just an eight-minute walk from the beach. My rent, which includes all utilities as well as high-speed internet, is only US$200 per month.
"Another great advantage of Zihuatanejo is that you can walk everywhere. A motor scooter might come in handy if you want to go outside town, but the public transportation is plentiful and very reasonable (about fifty cents for a bus or US$2 for a cab). We usually walk to the supermarket and take a cab home with the week's groceries.
"The government health service (IMMSS) is available to all residents, and the cost is extremely low. A Canadian friend of mine, Mike, 69 years old, pays about US$600 annually for complete health coverage. Mike had a kidney removed at the regional hospital in Acapulco, and his cost, including all tests, the operation, hospital stay, and medication, was zero. I accompanied Mike for his operation and found the hospital to be clean and modern.
"Zihuatanejo weaves a magical spell around you from the first time you experience it. Once you've experienced it, it's impossible to resist…"
#10 Relocating to Mexico is cheaper than anywhere else.
I've spent many tens-of-thousands of dollars moving from place to place in the world—from the States to Ireland, from Ireland to France, and from France to Panama—thanks to shipping and customs.
Mexico is one of the world's few expat locations where it's practical to just pack up and drive.
And even if you use a mover, your things are going quickly by land, rather than spending months in a sea container.
To boot, Mexico offers new residents duty-free importation of household effects… a savings of potentially thousands of dollars.
#11 Mexico has many of the conveniences of home.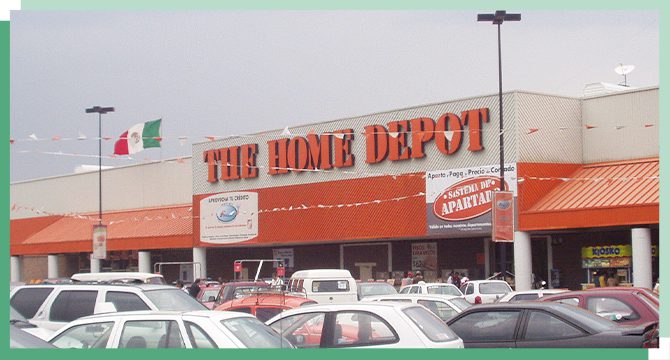 In Mexico, you can buy almost anything you're accustomed to having back home, from your favorite peanut butter to your favorite automobile.
It's reassuring to know exactly what you're going to get at a Home Depot, Walmart, or even a Wendy's.
Home Depot? Walmart? Not the "real" Mexico, you say?
I don't buy that argument. The fact that we share a lot of common ground doesn't make Mexico any less "real."
After all, Canada has Home Depot, Walmart, and Wendy's, too—it's still the "real Canada"…
Honest, Tell-It-Like-It-Is Approach

What I admire is your honest, tell-it-like-it-is approach. A lot of people have been hurt by nothing but glowing reports about offshore living from various sources. Your honest, direct approach is a real service.

–Arlean K., United States
Take A Look At My 11 Reasons Above, And


Ask Yourself This: Why go farther?
Mexico is easy, diverse, and affordable…
You can make a complex project out of moving to a foreign country. For some people, that's half the fun.  
But many of us want to have all the excitement, savings, and benefits of living overseas… without the complexities of getting there. 
Mexico delivers on all counts… there really is no need to go farther to find the life you've been dreaming of.
In short, Mexico is easy, diverse, and affordable …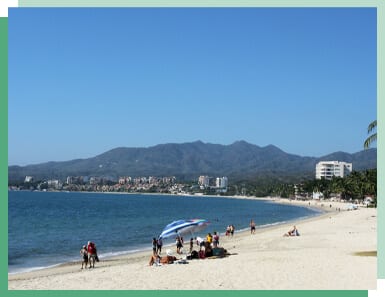 Mexico's part of North America and a car ride away from the States.
The immigration process is simple and quick, whether you want to stay here full- or part-time.
English-speaking service providers in Mexico are easy to find, and literally millions of English-speaking expats are already living here.
Mexico offers thousands of miles of coastline, on both the Caribbean and Pacific sides of the country. You can live in a small, colonial town… or on a remote section of a pristine beach… or in a modern, upscale resort.
You've also got a dozen dramatic mountain ranges, with tall peaks, green valleys, and pristine lakes.
With the most UNESCO World Heritage Sites in the Western Hemisphere (and 7th most in the world), Mexico is the king of colonial Spanish America.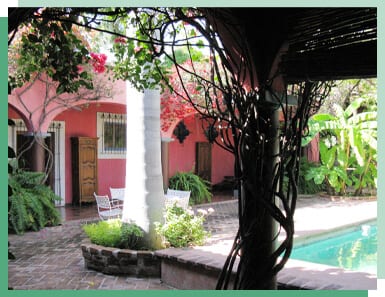 If you've dreamed of a Spanish Colonial home with a center courtyard, you'll find more options in Mexico than anywhere on the planet.
Today's exchange rates have turned Mexico into even more of an unbelievable bargain.
In fact, you can live in some of Mexico's premium locations—places like the colonial San Miguel de Allende—for around US$1,150 per month.
If you'd prefer few expats and a less polished setting, you can do even better. In the beautiful colonial city of Guanajuato (also a colonial city) for example, the cost of living comes in at just over US$700 per month at today's exchange rates.
At last, I can use my passport!

I've had my passport in my handbag for the last 27 years. You have showed me the way to use it… and how. Thank you!

–Penny Herbert, Canada
But No Place Is Perfect…
Here's The BIG Downside With Mexico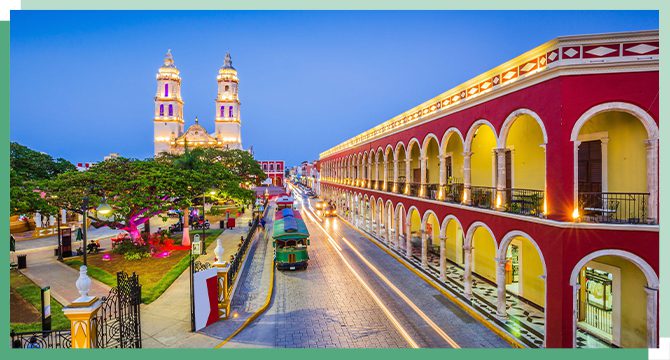 To state the obvious, Mexico has a crime problem in certain areas of the country.
However, Mexico is a big country—comparing a place like Mazatlán to Tijuana is like comparing Malibu to Detroit…
Every place in Mexico we'll suggest to you is safe and peaceful.
So what then is the big downside I am talking about?
The sheer size of Mexico.
It's actually an advantage when it comes to the aforementioned crime, and it's why Mexico offers more diversity than any other country we cover at Live and Invest Overseas.
But, for most havens we discuss, you could check out all parts of a country in a few weeks—you can't do that in Mexico.
Mexico is not just big… it's gigantic…
This is the 13th biggest country in the world.
It's 7 times the size of Ecuador and 38 times larger than Costa Rica… it has almost 5,800 miles (9,300 km) of coastline… 12 major mountain ranges with peaks as high as 18,500 feet (5,600 m)… hundreds of authentic Spanish colonial cities… and countless living options within each.
You can live in a well-established expat community… or in an authentic Mexican neighborhood… a small village… or totally off on your own.
On the water, you can live in anything from a modern high-rise condo to a small single home on a remote stretch of beach.
Finding the perfect home in Mexico could take years of exploration.
But if your time is limited, or if you want to save money and hassle, then there's a better answer… one that will get you on your way immediately…
Live and Invest In
Mexico Virtual Conference
May 18 – 20, 2022
Discover Mexico's Best And
Most Affordable Places To Live
(Warts And All)

Over three days, you'll get to know Mexico's best places to live—"thin sliced" to exact places that could be your personal slice of paradise.
Via high-definition video, you'll see and hear from professionals, expats, and retirees who are already working, investing, or living in these places…
All from the comfort and convenience of your own home.
The entire event is live, so you'll be able to interact with speakers—both to ask your questions during the presentations and to chat during social breaks.
Indeed, as usual, we'll also have our popular chatrooms and forums opens to chat with your fellow readers and the experts who will be on hand.
The event will give you a comprehensive, in-depth view of our top havens in Mexico that outsiders and tourists simply don't know.
This online event has two major objectives:
#1: To help you to decide if Mexico could be the place for you…
#2: To show you where in Mexico, specifically, you should live or invest…
#3: To give you the knowledge, support, and contacts necessary to make any move with confidence—that is, to create a plan…
Find the security that comes with knowing exactly how you can live—comfortably—on a budget that starts around US$700 a month.
Get to know each of your best options for living well in Mexico… from the Caribbean islands and Pacific coast to Spanish-colonial towns and mountain villages…
Discover how to tap into Mexico's incredibly affordable health care system, with excellent facilities and English-speaking doctors…
Find out how you can save thousands—tens of thousands—by living in certain off-the-radar places…
See examples of comfortable apartments you can rent for US$500 per month or less…
Learn where the best investment markets are… and what you can and can't purchase as a foreigner…
After attending this event, you'll be prepared and confident, with all of the practical matters at your fingertips.
Taxes, banking, property financing, health care, health insurance…
Dealing with culture shock, mitigating your tax burden, shopping for health insurance, choosing life insurance, budgeting for owning a car…
Helping your children adjust to a new life overseas, staying in touch with your kids back home…
This is the A-to-Z education you need to make decisions about a next step in this country that offers so many appealing and almost unbelievably affordable options for investment and lifestyle.
And, most important, you'll benefit from the experience of those who have gone before you… at this Virtual Conference you'll hear from seasoned expats who were once in your shoes.
Plus, if you want to see the cities and properties firsthand, you can join one of the optional (virtual) real estate tours and see the lay of the land for yourself.
Our high-definition-video, online-event system makes it easy.
This 2022 Live and Invest in Mexico Virtual Conference will allow you to explore America's most popular retirement haven the comfort of home…
Your presenters were very knowledgeable…

Our minds are still reeling with all of the information presented to us. All of your presenters were very knowledgeable about their respective fields. We also enjoyed talking with other expats-in-waiting. Mike and I live in the snowy part [of] Washington State. Needless to say, we would love to spend at least our winters someplace warm instead!

–Laura D., United States
Experience It Live…
Then Get Lifetime Access
To ALL Of The Information



Your registration today gets you more than just interactive access to the event, our experts, and all of their insights…
Because this is all done via video over the internet, we'll be able to record everything—every data sheet, every checklist, every discussion, every panel debate, and every bit of information.
We'll edit, organize, and package it all into a high-definition video program that you can download or access online whenever and from wherever you want…
We'll even add in some e-books for quick and easy reference.
Plus, unlike our live events, these recordings will not immediately be available for discounted purchase to the general public.
I'm Thrilled…

It's tempting to continue living the way you've been living. It's easy… and it can be very frightening to think about creating a whole new life for yourself in a foreign place. All I can tell you now is that I'm thrilled… it has been one of the most satisfying experiences of my life.

–Jay S., United States
Have All Your

Questions Answered
Attend this year's Live and Invest in Mexico Virtual Conference and have every one of your questions answered…
And by people who know from firsthand experience what they're talking about…   
What are the downsides of living in Mexico in general… and each of the places within it that Live and Invest Overseas specifically suggests?
What's the best way to move money to Mexico and into the local currency?
What are the benefits of the residency programs? Are retiree benefits available? What's required to qualify?
How can an expat get into the local health care systems?
What would life here really be like… in the expat hotspots, in big cities, no the islands, and in small towns?
Where can you find developed expat communities?
What's required to open a bank account?
Where does it make sense today to buy for investment? What real estate is off limits for foreigners? Are mortgages available?
Where are the best beaches in the region? The best bargains?
Every question you have—if there's an answer for it, we can give it to you.
Our top experts in this region of the world will be on hand to discuss it all…
If All These Folks Could Do It,


You Can Do It Too!



Who else will you meet at our Live and Invest in Mexico Virtual Conference?
Others just like you who've already made the move:
Retirees and expats already living, investing, or doing business in this country.
In fact, these introductions alone are worth the price of admission. They could be the most important benefit of the entire event.
These people have no agenda. They've agreed to participate in the event for no reason other than they'd like to help out fellow expats considering following in their footsteps. They receive nothing in return… have no ties to anyone (including me or Live and Invest Overseas) and are hindered by no conflict of interest.
Our only request of them is that they tell it like it is. What you hear from these Mexico expats won't be all good. Maybe it won't even be mostly good. But it will be the real deal.
No place is perfect, and we understand that a rose-colored view does you no favors…
There's a reason these folks are in Mexico. They're all fans. But they're not fools. They know the good, the bad, the beautiful, and the ugly of day-to-day life and of trying to do day-to-day business in this place.
They are enjoying the advantages… and they are reconciled to the downsides.
An important part of our agenda during this event is to show you these downsides… so you can decide whether you can live with them, too.
To this end, our expat speakers will be there to tell you about life in Mexico as it really is…
One expat couple is living out their vision, building their dream home on the beach and taking midday surf breaks on the daily…
Another actually rediscovered his home country after moving to the States to try to attain the American Dream, which he eventually found back home, in Mexico.
But all stories of success come with some struggle… and your seat grants you the opportunity to avoid any mistakes they may have made along the way…
This is not crazy!

I loved hearing stories of expats… these are people who actually walked the walk and show people like me that this is not crazy.

–Ellen Zucker, United States
Mexico Has 5,800 Miles Of Coastline…


Which Spot Might Be Best For You?



Our first priority with the Live and Invest in Mexico Virtual Conference is to introduce you to the lifestyles and regions of this giant country…
Mexico's coastlines are famous the world over… and they're a big reason why Americans opt to live here over any other haven abroad.
In fact, you have so many options for seaside living here, that you can actually specify a price point, a convenience factor, and a lifestyle, and still have plenty of options.
Here's a sample of what we'll see on the east coast…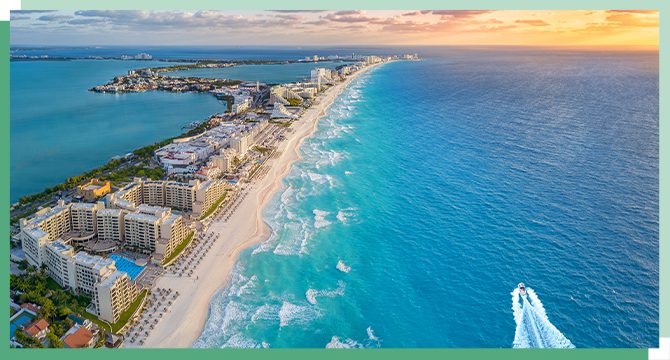 Cancún—one of the world's top resort towns—began in 1974 as a tourism project on top of a sleepy fishing village. These days, it's a thriving town of nearly 900,00 people that was welcoming more than 6 million tourists every year prior to the pandemic.
Despite ritzy resorts and beachside casinos, the town remains affordable outside of the "Hotel Zone"… rents can easily be found around US$500 a month or less, and tasty meals (with beer) can cost less than US$10.
Still, as Cancún became more developed and expensive, locals and expats alike flocked south along this coast (dubbed the Riviera Maya) for the next big thing…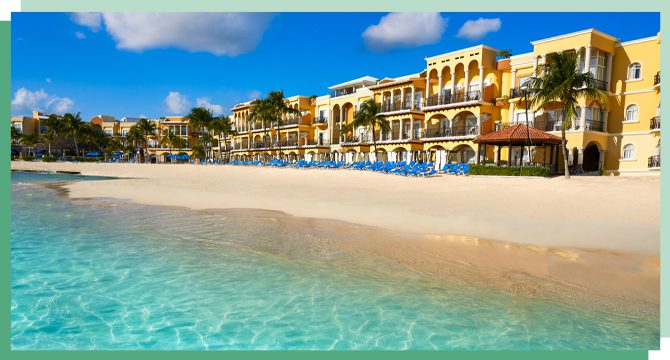 Playa del Carmen boasts a small town atmosphere about an hour south. After Cancun, it became the region's chic place to be and to be seen. While that trend has moved farther south, "Playa" has become home to the most expats on this coast of Mexico. You'll find the Rolling Stones blaring from margarita bars, swings instead of stools at the beach bars, and the bustling Quinta Avenida (5th Avenue)—a main street full of shopping and dining experiences.
Investment wise, rental yields as high as 10% are possible in Playa del Carmen… as well as property appreciation in the double digits. This town may already be  discovered, but the investor should still pay attention—we'll reveal more during the event.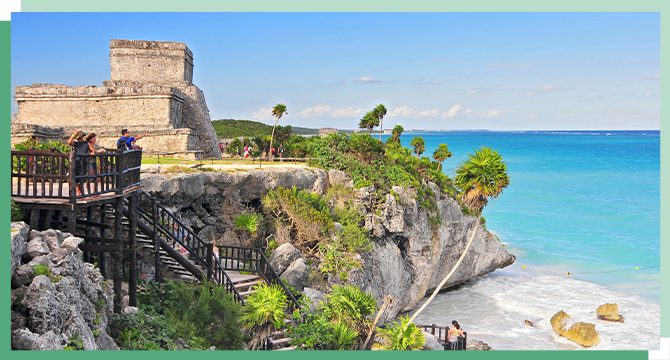 Tulum is the current en vogue area… and it may be the last as it's at the end of the coast (south of it is a protected wildlife preserve, followed by the border with Belize).
Less of a walkable town than Playa, Tulum's draw lies along its stunning white-sand coast. The lack of infrastructure in the area is a challenge, but most buildings are being built with self-sustainability in mind.
Development in this area is nonstop and increasingly geared toward the jet-set and Instagram influencers. Several developments, restaurants, and hotels here are as ritzy as you might find in California… that is to say, while it's a stunning location, it can also be relatively expensive despite the lack of development.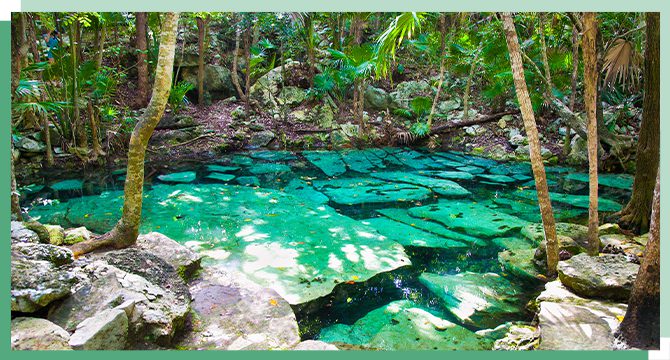 Altogether, the Riviera Maya features warm Caribbean waters and pristine beaches. The Great Mayan Reef—the second largest barrier reef in the world—is located offshore, providing world-class diving and snorkeling.
Another draw to this area is the presence of the best-preserved Mayan archeological sites… plus plenty of cenotes (sinkholes with swimmable, crystal-clear water), water parks, and world-class golf courses to round out the local attractions.
This 100-mile stretch of coast is an example of Mexico's diversity:
You have Las Vegas-on-the-beach in Cancun, the boozy beach town of Playa del Carmen, and the eco-friendly chic of Tulum.
At this year's Live and Invest in Mexico Virtual Conference, we'll showcase the best lifestyle and investment opportunities along the Riviera Maya.
And then we'll head to Mexico's west coast…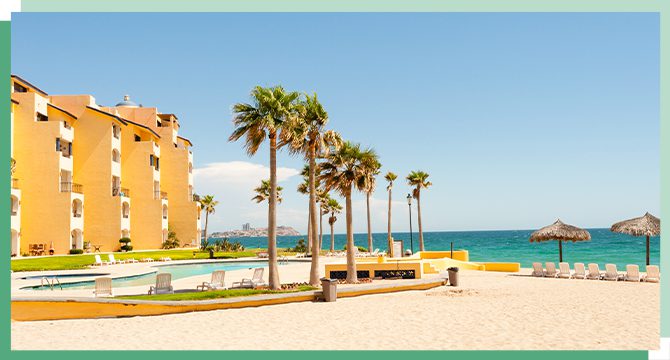 Puerto Peñasco is the seaside resort that's most convenient to the United States by car… just over one hour from the border. Also known as Rocky Point, it has been a playground for the western United States and Canada for almost 100 years.
Homeowners in Puerto Peñasco can drive over the border and head right for their seaside home without even stopping to register the car. Yet, as you can see in the picture, the beaches are second to none.
Puerto Peñasco enjoys warm, calm waters all year, broad sandy beaches, lots of housing options, and low property prices.
In fact, our expat friends here report that you can get a two-bedroom beach condo starting at just US$99,000.
At this year's Live and Invest in Mexico Virtual Conference, we'll show you the pros and cons of one of Mexico's most-convenient west-coast locations.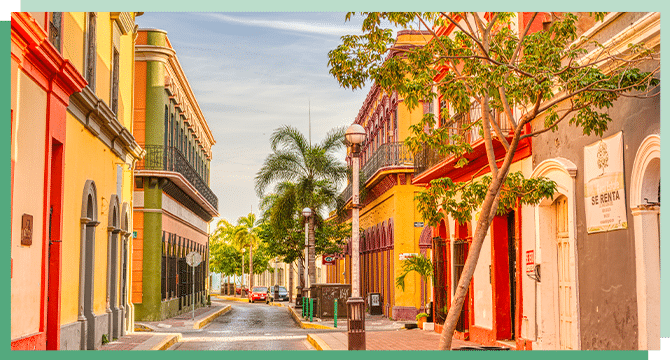 Mazatlán has rebounded from the 70s and 80s, when it was mostly forgotten as a resort. Today, it's becoming a sought-after expat haven.
Its dozen-plus miles of beaches and boardwalks are once again as busy as when John Wayne and Gary Cooper were in town.
Even better, the historic center has been newly renovated, and qualifies as one of the finest examples of Spanish-colonial America, with plenty of world-class restaurants, sidewalk cafés, and a beachfront promenade.
Our Senior Latin America Correspondent Lee Harrison could live anywhere in the Americas… but it's in Mazatlán where he chose to put down roots.
At the Live and Invest in Mexico Virtual Conference, Lee will showcase the best lifestyles that today's Mazatlán has to offer, as well as its best property deals.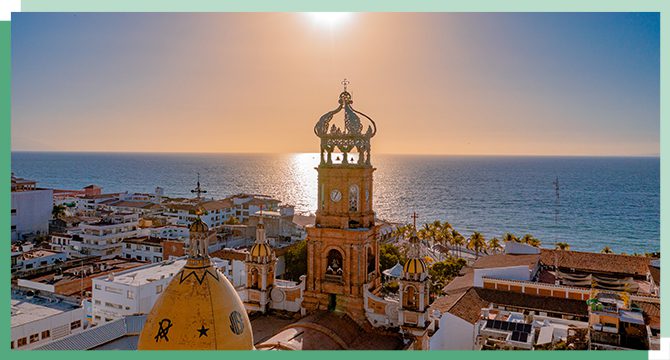 Puerto Vallarta has been one of Mexico's most-popular resorts since the 1960s, although its rich colonial history goes back hundreds of years.
Unlike many resort areas, "PV" has a number of coastal sections with beaches interspersed among them… meaning different areas have their own unique character. For LGBT expats and travelers, Puerto Vallarta is the most gay-friendly destination we've found in Latin America.
Puerto Vallarta excels when it comes to ocean views. Here, you'll find lots of properties perched on lush, green hillsides, and long views looking out to the ocean.
We can show you PV's best lifestyle options and property buys… as well as one of Mexico's best coastal investments.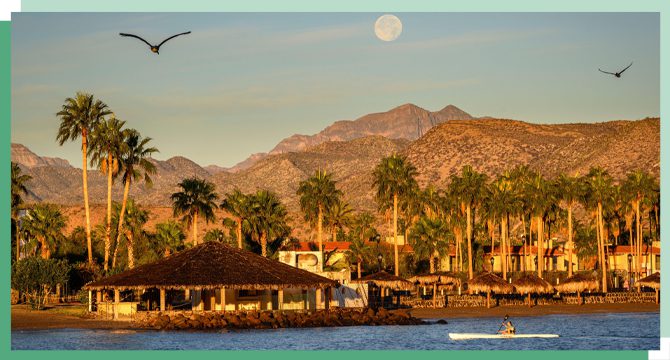 Over on the Baja Peninsula, the first destinations that probably come to mind are Ensenada, or maybe Los Cabos, both very popular areas.
But how about the small seaside town of Loreto? At first glance, it seems like a half-forgotten fishing village that's on its way to becoming a resort and second-home destination.
But Loreto has two interesting twists. One is that it's being promoted by FONATUR, the government agency that created Cancún.
And, perhaps more importantly, Carlos Slim—one of the world's richest individuals—has purchased the struggling Loreto Bay Golf Resort and Spa, as well as its unsold lots and the undeveloped land.
With both FONATUR and Carlos Slim behind Loreto, it may just be a hidden investment gem.
We'll take a look at Loreto's full potential at this year's Live and Invest in Mexico Virtual Conference.
We'll Also Uncover The Hidden Treasures Of
Mexico's Spanish-Colonial Heartland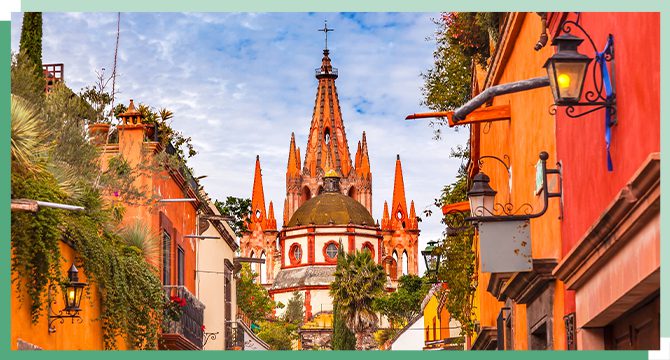 Not everyone is a beach person. In fact, I believe that most full-time expats prefer the ambiance and brilliant weather of Mexico's colonial heartland.  
Mexico truly shines for its wealth of Spanish colonial cities and their impressive colonial architecture.  
Here are three examples of the colonial living options that represent the scores of towns where expats have settled…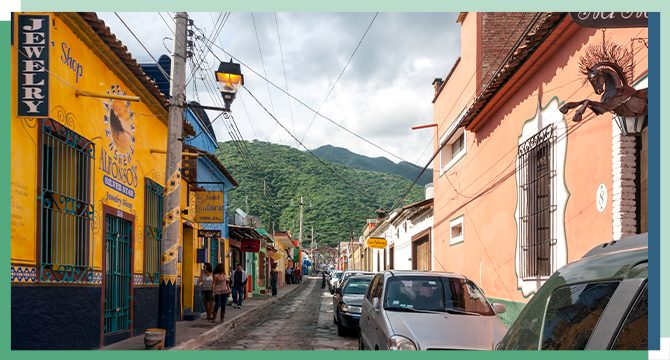 #1: Ajijic (pronounced ah-hee-HEEK) is a remarkably picturesque and friendly colonial town. Located at 5,000 feet above sea level (1,500 meters) the weather is just about perfect all year.  Ajijic is a 500-year-old village, located on the shores of Lake Chapala, Mexico's largest lake.  
The narrow cobblestone streets are lined with colorful houses, along with more boutiques, galleries and restaurants than you'd expect in a town this size.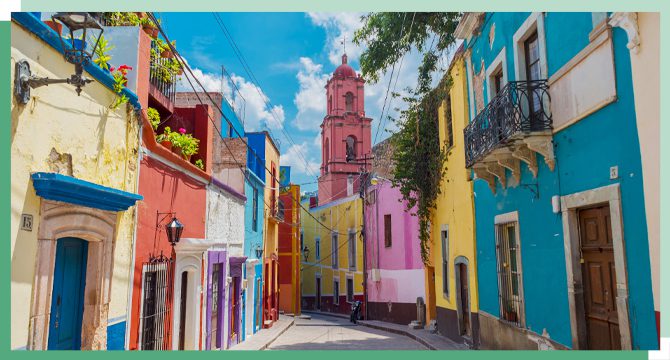 #2: Guanajuato is another colonial gem, but it's a gem that's less polished and more natural than Mexico's famous expat haunts. I've heard it called the "most romantic city in Mexico." 
Instead of Ajijic's thousands of expats, for example, Guanajuato's number is in the hundreds. It's still a large town with everything you need—with beautiful architecture—but it's more of a "Mexican" town, with less expat influence.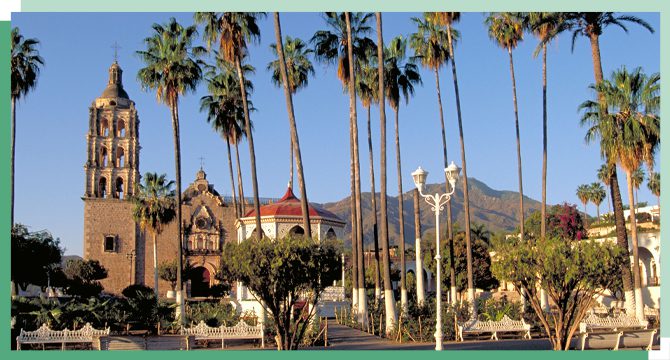 #3: Álamos is a small town of less than 25,000 people, but the state of restoration and preservation in its historic center is beyond anything I've seen, anywhere. 
Of the dozens of Latin American cities that bill themselves as a "bohemian town that's home to artists, writers, musicians, and poets," Álamos is the only one where I've actually met a large percentage of artists, writers, musicians, and poets. 
Álamos is also the town where I've met the most female expats living on their own. In my experience since 1998, it's one of best places for a woman moving abroad on her own. 
For a small-town alternative to cities like San Miguel, Guanajuato, and Oaxaca, Álamos is the best I've seen.  
If Spanish colonial living is your style, then look no further to these and other discoveries we have in store for you at the Live and Invest in Mexico Virtual Conference.
Very Well Organized

I just wanted to let you know how much I enjoyed the conference.
Very well organized and more information than I ever expected.

–Dave D., United States
Mexico Is

The Original Tourism Destination
Mexico is America's first and foremost destination for affordable, quality, out-of-country medical care. In fact, it's one of the 10 most visited countries in the world for medical treatments.
Once known mainly for dentistry and cosmetic surgery, Mexico now rivals many of its Asian competitors as a medical tourism destination.
And there's good reason for that.
Many Mexican doctors are trained in the United States, Europe, or Canada and speak English fluently. Most medical workers at all levels speak basic-to-good English.
The doctors here will spend time with you and often provide their home and cell phone numbers so you can contact them directly. Many doctors make house calls.
A visit to a clinic costs as low as US$20, and a minor procedure with a specialist can be US$50 or less.  
Expats enjoy high levels of satisfaction with quality and cost, both with doctors and dentists in Mexico. What's more, you can buy into the public system and get fundamental health care for less than US$50 a month.
You could use the local health care system for basic care, and take a quick trip back to the States to use Medicare for less-routine procedures.
Whether you use Mexico's health care system or make a cross-border run, quality care is close at hand… and it's good to have a choice.
At the Live and Invest in Mexico Virtual Conference, you'll meet the medical and dental professionals who can show you the lay of the land, firsthand.
Excellent information

Excellent information. Met some people who could become longtime friends.

–LeRoy J., United States
Mexico Is

The Original Tourism Destination
Mexico is America's first and foremost destination for affordable, quality, out-of-country medical care. In fact, it's one of the 10 most visited countries in the world for medical treatments.
Once known mainly for dentistry and cosmetic surgery, Mexico now rivals many of its Asian competitors as a medical tourism destination.
And there's good reason for that.
Many Mexican doctors are trained in the United States, Europe, or Canada and speak English fluently. Most medical workers at all levels speak basic-to-good English.
The doctors here will spend time with you and often provide their home and cell phone numbers so you can contact them directly. Many doctors make house calls.
A visit to a clinic costs as low as US$20, and a minor procedure with a specialist can be US$50 or less.  
Expats enjoy high levels of satisfaction with quality and cost, both with doctors and dentists in Mexico. What's more, you can buy into the public system and get fundamental health care for less than US$50 a month.
You could use the local health care system for basic care, and take a quick trip back to the States to use Medicare for less-routine procedures.
Whether you use Mexico's health care system or make a cross-border run, quality care is close at hand… and it's good to have a choice.
At the Live and Invest in Mexico Virtual Conference, you'll meet the medical and dental professionals who can show you the lay of the land, firsthand.
You'll Live Better In Mexico…


For Less Money
By Lee Harrison, Senior Latin America Correspondent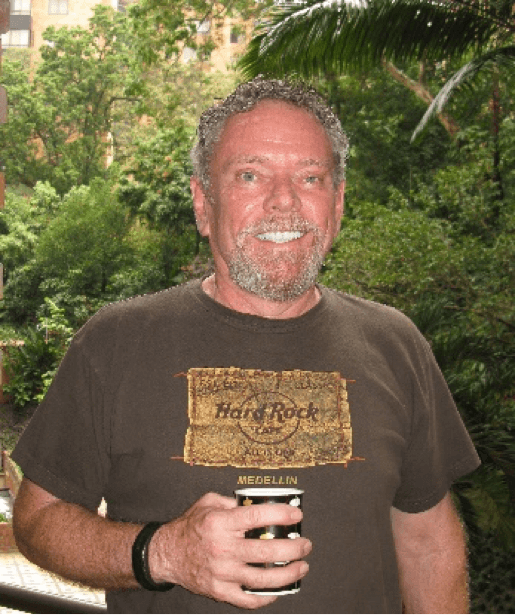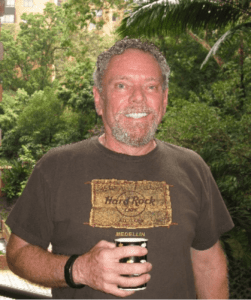 For most of us, the cost of living (and properties) in Mexico plays a big part in our decision to move there or to set up a second home.
I like having a beachfront home in Mazatlán… I like the boardwalk, the cafés, and all that the old town has to offer, including its social scene and expat community.
I couldn't come anywhere near affording a beachfront home on the American or Canadian Pacific coast… even in the parts that have nasty weather.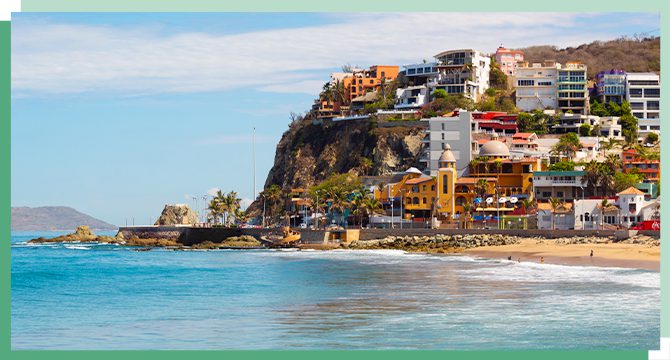 The costs are also reasonable in Mexico's colonial cities… and that's a lifestyle that you can't find in the United States or Canada at any price.
Expats in San Miguel de Allende—Mexico's premier colonial city—report that they can live comfortably on a budget of US$1,142 per month at today's exchange rate of 24.5 pesos per USD.
In Guanajuato it's even better, at just US$704 per month.
In Barra de Navidad on Mexico's Pacific coast, you can enjoy an upscale seaside lifestyle for only US$900 per month.
One of the best seaside buys you'll find is in Puerto Vallarta, which comes in at just US$1,037 per month.
Keep in mind, though, that the average Social Security retirement check so far in 2021 is US$1,505 per month. So, even at the high end of the spectrum, many couples can live in Mexico on one person's Social Security.
But let me also give you my personal experience…
I had a flat fixed at the Goodyear store in Mazatlán, and the total came to just US$3.27… with rebalancing. That's less than what I'd tip the guy in the United States.
A visit to the emergency room came in at just US$31…
And we went to dinner just last week at Casa Garcia… a restaurant in the historic center of Mazatlán that is one of the finest in the city. We got appetizers, a good bottle of wine, entrees, and desserts. With the tip, the bill came to US$54…
In Mexico, you'll live better for less.
It's a quality lifestyle, with an easy relocation and residency… all at a good price.
At this year's Live and Invest in Mexico Virtual Conference, we'll walk through exactly how much you need to live in Mexico, whether you prefer the coast, the mountains, or the colonial cities…
Awesome Job!"

This was a 10! Great event. Awesome job by the Live and Invest Overseas team!

–Edward T., United States
Access Now Available At The


Lowest Rate Possible…
Our Live and Invest in Mexico Virtual Conference has been designed to give you the firsthand, on-the-ground information that you need to make the right decision about investing and living here.
And, whatever lifestyle you're looking for—in the mountains, the cities, or at the beach—we'll have experienced expats on hand to show you what life is really like when you live in Mexico.
The price of this year's Live and Invest In Mexico Virtual Conference will be US$595 for access to all 3 days of the event.
But frankly, there's no need to pay that much…
Today, you can save at least US$200….
This cost includes:
Full access to the interactive workshops and presentations over all 3 days…
The Attendee Private Library, which includes research reports, legal guides, maps, and more…
All seminar materials, including session and chat schedules, biographies, and contact information for our faculty of experts…
Access to the chatrooms and forums where you'll get to mingle with the experts as well as like-minded adventurers also looking to make a move to Mexico…
On-demand recording access for every single session, including every question and answer—you'll never miss a thing…
After the event, you'll get access to the professionally-edited video package (it'll be many months before this is available to the public)…
Alert: Early Bird Discount Now In Effect
The Early Bird Discount is currently in effect, meaning you'll save at least US$200 when you register today…
In other words, you'll get complete and interactive access to all 3 days of the event, including the recorded coverage of everything, for only US$395.
That's just US$131 per day and, again, it comes with the complete on-demand program featuring high-video recordings of everything once the evet is over…
Along with full access to every expert and the library of guides and reports that every attendee will receive.
In addition, you may be eligible for an even better discount*:
Subscribers of Overseas Living Letter, Global Property Advisor, and Simon Letter will get a US$50 discount…
Or, if you're a member of Overseas Living Unlimited, you can double that amount for a full US$100 discount…
And, of course, All Access Pass members get 100% free access…
* Please note that you cannot combine any of the discounts above.
In order to receive your savings, look for the special link on the registration page that corresponds to your discount…
🚨Congratulations!🚨
If you are reading this message, it means you're decisive… ahead of the crowd… a trendsetter…
And the recipient of the Early Bird Discount meaning US$200 OFF the going rate for full access.
Register today to claim your online seat for only US$395.
Better yet, this discount is already set up right now—and you can combine it with a subscriber discount if you're eligible…
More Information Than I Ever Expected

I just wanted to let you know how much I enjoyed the conference. Very well organized and more information than I ever expected.

–Dave D., United States
I Promise You'll Have

No Regrets…
First of all, your satisfaction is 100% guaranteed.
If you're not happy with the event (or if you need to cancel), just let us know by the end of the first day and I'll send 100% of your money back to you.
But that's not exactly what I mean with "no regrets"…
Part of our agenda at the Live and Invest in Mexico Virtual Conference is to give you the full story… the pros and the cons.
Did the readers I've helped find their spot abroad have their down days?
Of course they did…
One past attendee told me recently that she had the mother of all meltdowns after she and her husband packed up all their boxes and were getting ready to sell their beloved Illinois home. But, the next morning she picked herself up and followed through with her move…
"The best thing about our new life now is that we have no alarm clocks. We take our time in the morning and enjoy a leisurely breakfast. I'll do some writing in the afternoon and exercise in the evening. There is no routine—and it's wonderful."
You'll never know how wonderful your life could be unless you go and see.
And what about those readers who decided Mexico was not for them after all?
I've heard from several, and not a single one regretted the experience. In fact, many of these folks told me the only regret was not doing it sooner, when they were younger and healthier.
I urge you to give yourself the best start—sooner than later and in the best company—this January during my Live and Invest in Mexico Virtual Conference.
I hope to see you log on.
Sincerely,


Kathleen Peddicord
Founding Publisher, Live and Invest Overseas
P.S. This is the only event of its kind to help you consider, compare, and contrast your options in Mexico…
We're going to help you develop an actionable plan so you can follow through on your move in as little as 12 months or sooner.
Most important, we'll introduce you to our trusted contacts who can support you through every step of your journey…. both during and after the event.
This is your best shot at finding the life you want in Mexico…
I urge you to take it.
Frequently Asked Questions
A sneak-peek at some of the Mexico experts,

entrepreneurs, retirees, and expats you'll meet:
Lee Harrison
Full-Time Mexico Expat;
Senior Latin America Editor, Live and Invest Overseas;
Senior Property Correspondent, Live and Invest Overseas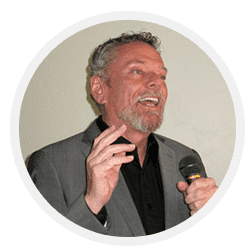 After spending six years flying with the US Navy, Lee completed a successful career in the nuclear power industry. Taking advantage of a post-merger early retirement offer, he left the US in 2001 at age 49 and retired to Cuenca, Ecuador.
Since that time, Lee has enjoyed and invested in properties in Ecuador, Nicaragua, Uruguay, Colombia, Brazil, and Mexico. And beginning in 2001, he's written for a number of publications about living abroad, travel writing, and property investing.
Lee has obtained residency in Ecuador, Uruguay, Colombia, and Mexico. And he's visited as many as 17 countries per year throughout Europe and Latin America, traveling and writing about retirement and investment opportunities.
Lee's network of property insiders from those travels, along with his understanding of local cultures and languages, has helped him develop insight into local property markets that only the locals usually possess.
As Emcee of the Live and Invest In Mexico Virtual Conference, Lee will be on hand to answer any questions you have.
---
Kathleen Peddicord
Founding Publisher, Live and Invest Overseas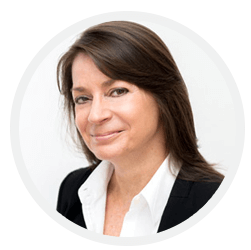 Kathleen has covered the live, retire, and invest overseas beat for more than 35 years and is considered the world's foremost authority on these subjects.
She has traveled to more than 75 countries, established businesses in 7, and invested in property in 21. Thanks to these adventures abroad, Kathleen has been able to assemble an unparalleled network of global contacts, colleagues, friends, experts, resources, and advisors.
Kathleen has moved children, staff, companies, household goods, and pets across three continents. Today, Kathleen and her family officially divide their time between their homes in Paris and Panama… but are most often on the road, traveling the globe and spending time wherever life takes them.
Kathleen also writes regularly for U.S. News & World Reports and Forbes and is regularly quoted by The New York Times, Money magazine, The Economist, the AARP, and beyond. She has appeared often on radio and television and has written innumerable books (including her Amazon best-seller, "How To Retire Overseas," now in its Second Edition with Penguin Random House), reports, and essays on where and how you can escape the retirement-tromping economy at home and live like royalty on a modest budget… invest for profits overseas ahead of the crowds… and secure your dream retirement in the world's best destinations.
---
Cindy and Chris Bouchard
Full-Time Mexico Expats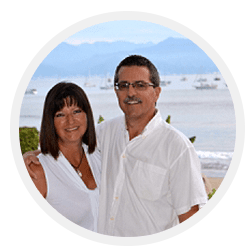 What began as a mid-life sabbatical has become a full-time Mexican lifestyle for this expat duo who, for the past two-and-a-half years, have called La Cruz de Huanacaxtle, just north of Puerto Vallarta town, home.
After many years of self-employment, they sold their business in Vancouver and set their sights on Puerto Vallarta, the Pacific coast Shangri-la where the couple had enjoyed many vacations.
After only a couple of months, Chris and Cindy bought a condo with the intention of renting it out and using it for vacations. Today it is their full-time home.
Chris and Cindy will share with you the story of how they transitioned from what could be described as "work-a-holics" to relaxed "do-a-holics," building a part-time business in Mexico.
---
Wayne Franklin
Owner, Tropicasa Real Estate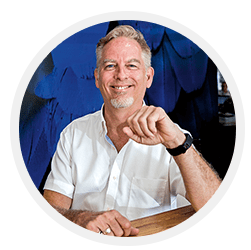 Known as "Franklin" in the real estate community of Puerto Vallarta, has been in the real estate industry for 28 years. Trained and licensed in California, Franklin practiced real estate for nearly 10 years in the Bay Area.
Over the past 15 years, Franklin has nurtured his start-up, Tropicasa Realty, to one of the leading real estate agencies in the region, harnessing nearly 25% of the market share of AMPI-based real estate conducted in the Bay of Banderas.
Unique marketing techniques, attention to clients' needs, and the highest professional reputation in the industry are hallmarks of both Wayne Franklin and Tropicasa standards.
Franklin will share insights on the Mexican property market, as well as his experience as an entrepreneur and expat.
---
Lief Simon
Global Real Estate Investor and Offshore Diversification Expert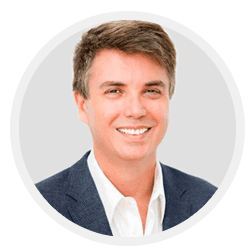 Lief Simon is Live and Invest Overseas' resident real estate investing and offshore diversification expert. His twice-weekly free newsletter, Offshore Living Letter, covers both topics with direct and easy-to-understand language.
Lief has lived and worked on 5 continents and traveled to more than 50 countries. His real estate investing experience began around 20 years ago with a multi-unit building in Chicago.
After selling that building for a leveraged total return of more than 1,800% in 2 ½ years, Lief began to diversify internationally. In the two decades since, Lief has purchased more than 45 properties across 21 different countries. He has developed land, managed rentals, and flipped pre-construction buys.
Lief has more experience buying and profiting from real estate around the world than any other individual investor you're likely to find.
In addition, Lief specializes in offshore diversification, asset protection, and tax mitigation. Over the last 20 years living and doing business around the world, he's built a network of reliable and expert contacts he trusts on such matters—attorneys, bankers, tax consultants, and other advisors, both Stateside and in the jurisdictions where he spends time and money.
---
Greg Custer
Founder, Choosing Mexico LLC
Longtime resident of Southern California and Oregon, Greg has called Mexico's altiplano home for the past 5+ years as a permanent resident.
Greg is part of a highland lakeside community (Chapala, Jalisco), surrounded by volcanic mountains, facing Mexico's largest freshwater lake. Here, he works developing his company Choosing Mexico LLC, while connecting with a Mexican pueblo lifestyle.
---
Michelle Bradshaw
Full-Time Mexico Expat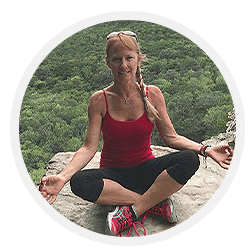 In 2012, Michelle traveled to Isla Mujeres, Mexico to fulfill the requirements and her dream of becoming a Yoga Teacher.
In 2018, Michelle completed her 300- hour Teacher Training at the Vinyasa Yoga Ashram in Rishikesh, India.
The combination of Sivananda and Vinyasa is now the focus of her Yoga Navan, Yoga Teacher Training School in Tulum, Mexico.
Michelle will be on hand to discuss her experiences as both an expat and an entrepreneur.
---
Roberto Castellanos Omaña
CEO, Novamar Insurance Mexico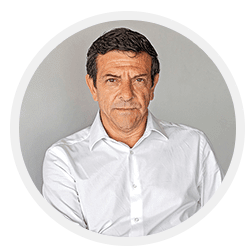 With more than 25 years of experience in the Insurance Industry, Roberto has worked in different top executive positions in insurance companies and brokerage firms at an international level and worked in the United States and Mexico.
Based in New York, Chicago, and Los Angeles, he worked with Johnson & Higgins, a worldwide insurance brokerage firm, in international insurance programs for clients included in the Fortune 500 list. In Mexico City, he worked as an executive of Brockman y Schuh-Marsh Mexico, the largest insurance brokerage firm in Mexico, and as nationwide Commercial Director for two Mexican Insurance Companies, AIG Mexico and BBV Probursa, now RSA Seguros.
He belongs to the small group of brokers in Mexico that holds the highest-class insurance brokerage license (C class), that includes the expertise of Risk Management and Insurance Programs. He has also carried the Property & Casualty license in the U.S.
Roberto will answer every single question you might have about your U.S. insurance coverage, as well as new policies within Mexico.
And that's just a start… you'll hear from more than 15 experts, expats, and retirees in all…
Including residency attorneys, shippers, health care professionals, and much more.
Save yourself time and money…
We've already found and vetted all of the experts you need to make the right decisions in Mexico. They'll all be at your service during the Live and Invest in Mexico Virtual Conference…
Here's what past attendees at this event


have had to say:
Our minds are still reeling with all of the information presented to us. All of your presenters were very knowledgeable about their respective fields. We also enjoyed talking with other expats-in-waiting. Mike and I live in the snowy part [of] Washington State. Needless to say, we would love to spend at least our winters someplace warm instead!

--Laura D., United States
It's tempting to continue living the way you've been living. It's easy... and it can be very frightening to think about creating a whole new life for yourself in a foreign place. All I can tell you now is that I'm thrilled... it has been one of the most satisfying experiences of my life."

--Jay S., United States
I loved hearing stories of expats... these are people who actually walked the walk and show people like me that this is not crazy.

--Ellen Zucker, United States
I just wanted to let you know how much I enjoyed the conference. Very well organized and more information than I ever expected.

--Dave D., United States
Excellent information. Met some people who could become longtime friends."

--LeRoy J., United States
I just wanted to let you know how much I enjoyed the conference. Very well organized and more information than I ever expected."

--Dave D., United States
This was a 10! Great event. Awesome job by the Live and Invest Overseas team!

--Edward T., United States
Thanks for the online opportunity to meet, listen and have options to communicate with such exceptional professionals and human beings. I liked all presentations and presenters (usually it is not so easy to satisfy my criteria!) My love, to Mexico and the desire to move there even increased after these 3 days. I am already making action plans and communicating with people I get chance to know during the conference. Thanks a lot to all LIOS team, obviously to Kathleen and Lief.

--Emilia Belayev, Canada
Awesome job. This is the best money I have spent on any program - diverse, sound, useable, and very applicable information. Even my wife paid attention to these sessions. Mexico has replaced our home in Greece as a better option to spend 75% of our time. Thanks.

--Nathaniel Robinson, United States
Outstanding conference. Lots of valuable information. Gained a whole new perspective of Mexico.

--Susan Harrington, United States