This Live And Invest In Panama Conference May Also Be The Vacation Of A Lifetime!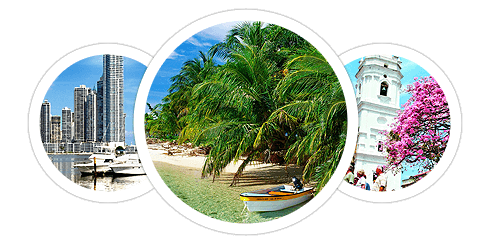 The Sortis Hotel, Spa & Casino is the site of the Live and Invest in Panama Conference.
We have negotiated special room rates for attendees of the event. To take advantage of these special rates, reservations must be made through Live and Invest Overseas.
Contact us at PanamaConference@LiveandInvestOverseas.com or dial toll-free from the U.S. at 1-888-627-8834 to make your reservation.
Traveling To Panama
You'll arrive at Panama City's Tocumen International Airport, (airport code PTY) which is a 30-minute cab ride from the hotel.
Air travel is fairly straightforward: American and Canadian citizens do not need to obtain a Tourist Visa, nor are you required to receive vaccines prior to landing.
However, you are required to have a valid passport that is more than 3 months away from expiration. Also note that you may be required by the airline to prove your eventual departure from Panama via return ticket (this is a moot point if you purchased a round trip ticket).
Most major airlines fly to Panama, so be sure to check rates from your preferred airline.
We routinely find that www.kayak.com provides the best airfare results. You can also try the following websites: www.orbitz.com, www.travelocity.com, www.expedia.com, and www.google.com/flights.
The budget airline Spirit Air (www.spirit.com) offers very low airfare to Panama from several airports in the US.
You also may want to sign up for free email alerts from your preferred airlines; take a look at their websites for options. Many websites also offer free email alerts highlighting air travel specials. Try www.travelzoo.com.
Also note that the best way to get the best deal on a flight is to be flexible with your travel dates and airports, if possible.
For your travel needs (including flight assistance and insurance), please contact your travel agency of choice. (VIP attendees may write to Valentine Fouché for booking assistance, at PanamaConference@liveandinvestoverseas.com.)
Don't forget: make your reservations soon, in order to get the best rates and ensure availability.
Airport Transportation
VIP attendees of the Live and Invest in Panama conference receive a free transfer from the airport to the hotel from our preferred transfer company. If you are not a VIP and would like to schedule an airport transfer, contact Valentine Fouché for more information.
Taxis are available at the airport, however they are not metered and the majority of the drivers do not speak English. You can expect to pay between US$25-$30, depending on the number of passengers and pieces of luggage.
Seeing More Of Panama
You'll have an easy time keeping yourself busy in Panama City, but why not see what else Panama has to offer?
Barefoot Panama offers personalized tours in Panama City and to the most exciting destinations in the surrounding area… or afar. Kevin O'Brien, owner of Barefoot Panama, encourages his clients to gain insight into the culture and way of life of the indigenous people, to act in a socially responsible way, and to learn about the history, flora and fauna of this dynamic country and its people. Barefoot Panama's goal is to set an example of sustainable tourism while providing clients with top quality adventure tours.
Contact Kevin here, or call (781) 479-2011 to book your tour now.
Driving In Panama
If you'd like to stay for a while and see the country by car, all you'll need is a valid driver's license from your home country and you should have an International Driver's License, available from AAA or in Canada, CAA.
Travel Insurance
To protect your travel investment, we strongly recommend that you purchase travel insurance. Travel insurance protects you from all the unexpected events that can disrupt or cancel your travel plans.
Cancellation Information 
All cancellations must be sent to our conference department by email. For cancellations received more than 45 days before the start of the event, we will return your payment, less a US$150 administration fee per person. For cancellations received more than 14 days before the start of the event, we will return your payment, less a US$350 penalty per person. For cancellations made 14 or less before the start date of the event, the conference fee is non-refundable*.
*Please note that all cancellation fees may be used as a credit towards a future Live and Invest Overseas conference or conference kit.
For complete legal terms and conditions, please go here.
It's A Great Time To Look At Panama!
Panama is booming like never before, and there's never been a better time to consider making Panama home. We hope you'll spend some time after the conference to get to know this fascinating country.

Reach us with questions and comments at 
CustomerService@liveandinvestoverseas.com 
or by phone, toll-free from the United States, at 1-888-627-8834.
Copyright © 2008-
2018
Live and Invest Overseas, Founding Publisher Kathleen Peddicord