The Single Best Place In The World


To Live Or Retire Overseas?

For Decades, I Insisted No Such Place Existed…

Then I Discovered…


Dear Live and Invest Overseas Reader,
The #1 most frequently asked question I've received over the more than 30 years that I've been covering the live and invest overseas beat has been this one: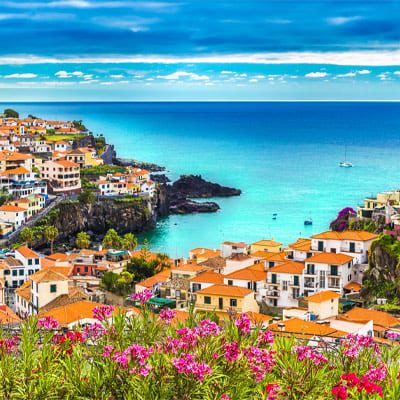 This welcoming country's coast looks
and feels like the flawless beaches and dramatic coastlines of the French Riviera…
Where is the best place in the world to live?
For decades, my response was the same…
"I have no idea," I'd explain…
Because, I'd continue, there's no such thing as a one-size-fits-all overseas haven… no one place that's ideal for everyone.
Only you can identify the destination that's best for you, I'd say to everyone who asked.
Then, seven years ago, I traveled to a corner of the world where I'd never been before… to a place I'd somehow overlooked in decades of travel… even though I'd been just next-door many times.
This place is beautiful, affordable, welcoming, friendly, and safe.
It serves up 3,300 hours of sunshine annually and a mild climate year-round.
It boasts some of the world's best beaches… and best golf courses…
Plus one of the world's best cities that nobody talks about.
This is a place with a long and interesting history where you can indulge any interest you could imagine… from boating, diving, and hiking to regular nights out at the theater and museum and gallery afternoons…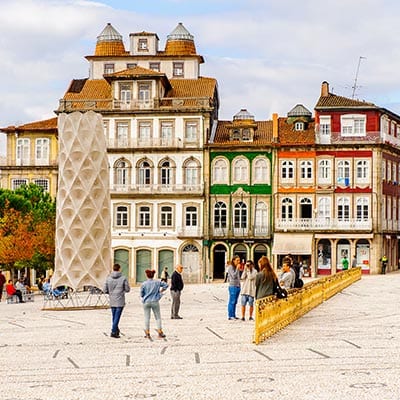 The architecture is as stunning as its beaches…
The infrastructure is top-notch. This is not the developing world.
The health care is world-class… and a fraction the cost of care in North America. Become a resident, and it's free (no kidding).
English is widely spoken. You would not have to learn a new language if you didn't want to.
Residency is easy and cheap… for anyone of any age.
Retirement income is not taxed. Various other income is not taxed either… more on this in a minute…
Property can be an absolute bargain… both to buy and to rent…
Indeed, the cost of everything here is better than affordable… as good as it gets for bona-fide First World living…
Now, Finally, I Have An Answer To The Question…


Where Is The Best Place In The World To Live…
It's one of the world's best-kept secrets… a place that will captivate you… and also allow you to preserve your nest-egg.
This is the best of the Old World… with history, culture, vineyards, mouthwatering cuisine… all the makings of very good living.
Where in the world am I talking about?
Portugal Is #1
That's a distinction not easily earned. As you may know, every year my editorial team and I rate all of our well-researched, tantalizing, life-changing overseas living destinations on 12 specific criteria. While all our featured destinations manage to ace at least several of the categories, it's uncommon for one haven to earn top scores across the board.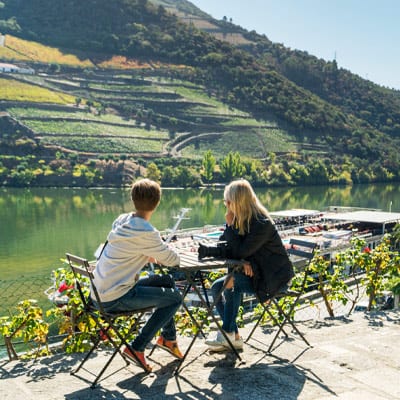 Super Affordable: You can enjoy the best
of the World's #1 Retirement Haven with as
little as $1,500 per month…
But that's what Portugal has done… for the past five years running!
In fact, this country is several top retirement and lifestyle havens all rolled into one… from its gorgeous Algarve region and treasure of a capital city to its northwestern coastal towns and dazzling Douro River Valley and vineyards.
This country is an eye-candy explosion across over 200 kilometers of ocean shoreline, fruit orchards, world-class golf courses, and museum-class cities…
Offering a lifestyle that only feels expensive… with…
Sizzling real estate bargains for living or investing—or both—that will have friends back home packing to follow your lead…
Affordable, simple gourmet food and wine—rivalling Europe's finest—as direct from the earth and sea as it gets…
A home where you can barely remember the last time you had to turn on a heater or air conditioner…
Simple and easy residency procedures and easy access to Europe…
Head-shaking disbelief at the Old World charm all around you…
World-class health care whenever you need it… and without worrying about the cost…
Open arms—and hearts—to expats…
Affordable trendsetting lifestyle options for seniors… like nothing else available anywhere in the world…
It's Your Overseas Retirement Wish


List Coming To Life Before Your Eyes…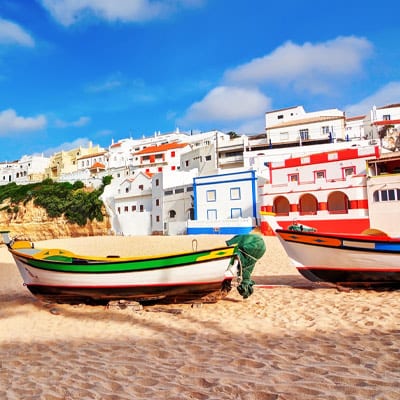 Even the fishing villages and cities
themselves are entertaining…
We pride ourselves on being straight. When we tell you about life in some appealing corner of the world, we give you the full story—the good, the bad, and the ugly. We call it our "warts-and-all" approach.
The better we've gotten to know Portugal over the past seven years, the more we like it. Honestly, this is one time when the "warts" have proven few indeed.
Really… you might be hard pressed to come up with a reason not to make this move. I know we have been.
And my team and I are not alone in recognizing the potential of this little David taking on all the Goliaths of global retirement havens…
International publications rank Portugal at or near the top of the world's best travel and retirement destinations.
Named as Travel + Leisure's 2016 Destination of the Year, in at #3 on Lonely Planet's 2018 Best in Travel Top Countries list, ranked #5 on InterNations 2017 Expat Insider survey, as well as one of Fodor's 2018 Go List destinations, Portugal—specifically the Algarve—has emerged to reach much-deserved celebrity status.
In fact… even actual celebrities are clamoring to get in on the action. Madonna purchased a home in the Algarve in 2017 and is living there part-time with her children, her son attending the local, famed soccer academy, much to the excitement of locals.
Huffington Post called it "the country everybody will be visiting," and it seems they were spot on. The word's definitely out—on all fronts.
And now it's time for a "road map" for how to get there… which is exactly what my team and I—with our usual overseas-haven exuberance—have been working on for years. There's no time to lose on this one… so I'm writing to you today about how you can quickly get your foot in the door—and not miss out on…
A Rare Opportunity Right Now…


For A Fast Track To Affordable Quality Living


In The First World
You could, of course, just put this thought on the back burner. But I believe that would be a mistake. You owe it to yourself to take a good, up-close look at all this charming, welcoming, safe, sun-filled, affordable corner of Europe has to offer.
When you do, you won't be alone.
Europeans and North Americans are quickly catching on to this conveniently located paradise—with a cost of living that's up to 30% less than the rest of Western Europe!
What's more, thanks to the tens of thousands of British expats who have retired to Portugal over the years, this is one of the easiest places to settle in Europe. The locals wholeheartedly welcome foreign retirees, and you can get by easily on speaking English alone.
It's everything you're looking for in an overseas retirement haven… AND the lowest prices you'll likely ever see for this standard of living. No wonder it's being called Europe's best-kept secret. But not for long…
Not with a growing number of its visitors coming back—to stay.
I simply can't let you miss out on this one.
That's why I'm inviting you now to join my team beside the cobalt waters, white sand, and sculpted cliffs of Portugal's southern coast—for our fifth…
Live And Invest In
Portugal Conference
Oct. 21-23, 2020
in Carvoeiro, Portugal
Discover This Uniquely Appealing, Welcoming, Safe, And Affordable Setting For Retiring, Living, Investing, Or Owning A Second Home…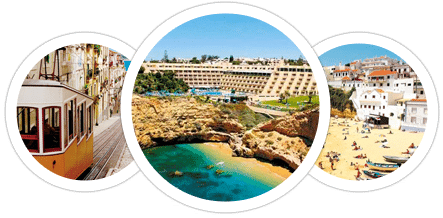 In three adventure-filled days, you'll get to know the areas available… along with the professionals who work there, and the expats who live there… all from the comfort and convenience of the beautiful
Tivoli Carvoeiro Beach Resort
.
Discover for yourself why so many people are embracing Portugal and seeing it for what it is…
A Truly Magical Corner Of Europe
What exactly is it that thousands of expats there have taken a chance on—and now can't live without?
In short… just about everything.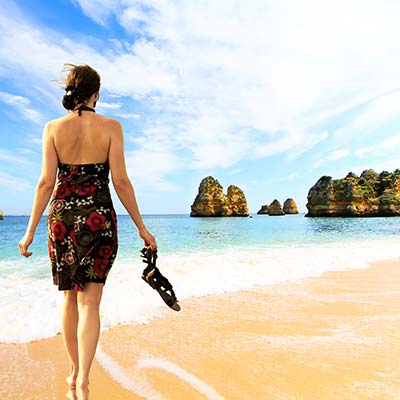 Start your day with a leisurely stroll on the beach…
Picture yourself waking up every day in a setting and lifestyle that feel like the best vacation you ever took or even imagined.
You can't explain why, but you feel energized yet relaxed, pampered and serene yet eager to engage with life and people around you. Occasionally, you can't help but stop to scan the inviting coves, vineyards, Roman castles, and nature trails around you. And you close your eyes to let your other senses take in the salt air, the fresh bread, the orange blossoms—a world unlike anything you've known. And you feel… at home.
This is that place… where people come and don't want to leave.
Who wouldn't enjoy the variety of landscapes and seascapes… of historical and cultural influences… of local and cosmopolitan flavor… of nature—any way you choose to enjoy it?
And, what's more, it's all at your disposal in…
The World's Most Stable Climate—
With Over 300 Days Of Sunshine A Year
That's right. More sunshine than anywhere else in Europe.
The Algarve is situated to take the absolute best advantage of currents and temperatures from the Atlantic, the Mediterranean, and North Africa. Talk about Mother Nature's prize-winning recipe for a climate that's as close to perfection as it gets.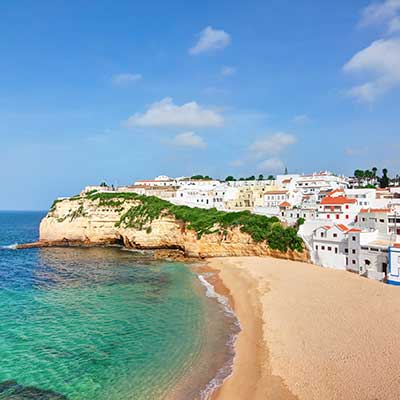 The Algarve enjoys more sunshine than anywhere else in Europe…

Sitting in the shade or putting on a sweater will feel good on some days, but those are likely the biggest weather worries you'll face there.
No rainy season… or hurricane season… or snow season… or scorching-hot season.
There's just weather that makes you smile the moment you open your eyes every morning.
Perfect for coffee and oven-fresh rolls on your balcony—overlooking a river, the ocean, cobblestone streets, or groves of orange trees.
And also perfect for heading out the door to connect with nature and the relaxed yet vibrant buzz of other happy people around you. This is the way it is…
Where The Atlantic Feels
Like The Mediterranean
In just about every way you can imagine, the Algarve looks and feels much more like the flawless beaches and dramatic coastlines of the French Riviera, Dubrovnik, Santorini, and Majorca than it does any other stretch of coastline along any part of the Atlantic—anywhere.
It's as if the Algarve never took note of—or took seriously—which side of the Straits of Gibraltar it had been assigned to.
Thanks for providing a great experience and introducing Portugal. All the work it takes to put on an event like this is appreciated.  You are proffesionals at doing this.
–Colleen McConnell, United States
Or maybe it was the locals' belief in Fado… the traditional acceptance of divine will: "It is what it is." Though, the balmy climate couldn't have been too hard a pill to swallow.
In any case—and lucky for retirement-haven seekers like you and me—it's likely partly its location that's kept the Algarve's gifts a secret for so long.
Laid-Back Landscapes And

Lifestyle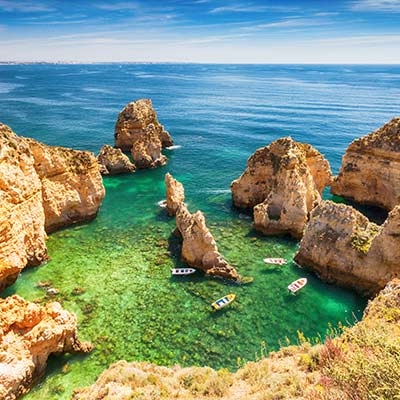 Warm blue-green waters of Portugal
await you…
Breathe deep, relax, and reinvent life on your own terms—one day at a time—enjoying the treasures that both nature and civilization have to offer.
It's hard to say what's most breathtaking to behold throughout the Algarve—the blue-green waters, natural grottos, windswept dunes, ocher cliffs, piney hills, and tidal pools… or the citrus and nut tree orchards… or the serene hills overlooking it all.
Fortunately… you don't have to choose. You can enjoy any or all of those wonders of nature… by car, bicycle, foot, sail, paddle, swimming, or surfboard…
Or by just watching the sun set over them—wine glass in hand—as fishing boats return and beachcombers harvest shellfish along the shore.
Mother Nature At Her Best…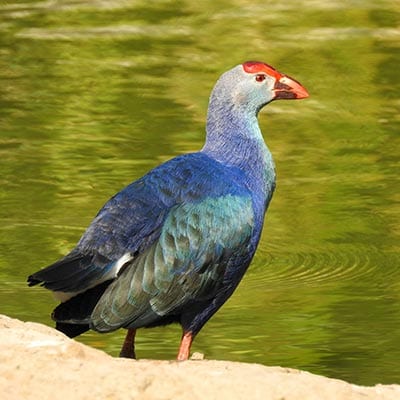 Portugal is a natural wonderland. From bird watching to daredevil surfing there is something for everybody…

The Algarve is an excellent place for bird-watching. The Salgados basin, located immediately adjacent to Praia Grande in Silves, is great for observing species such as ferruginous duck, little bittern, swamp hen, and avocet. During the migratory season, several birds, including the rare Squaco heron, can be spotted.
Look out for the nesting storks, which have occupied many a traditional brick chimney. They are easily located by the clucking sound made by smacking their beaks together.
Silves and Lagoa offer superb walking trails in totally different environments. Silves' hillier terrain means that a stroll in the citrus valleys and barrocal countryside will be as much a soulful experience as a visual one. The way in which Silves has maintained its originality, the pureness of air punctuated by a citrus tang, the preservation of original architecture, culture, and trade, makes a walk in the Silves countryside synonymous with a stroll through the inland Algarve as it once was.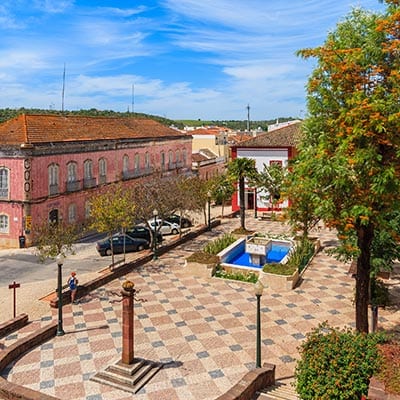 Spending time in countryside villages
like Silves is like traveling back in time…
Lagoa's coastal walks are altogether very different. The emphasis here is on the "wow" factor. There is probably not another stretch of the coast anywhere in Portugal (perhaps anywhere on the Iberian Peninsula), which brings together so many spectacular vistas in such a short distance. Perched on the very edge of the cliffs (care must be taken when walking or cycling as cliffs can be unstable—in fact, an increasing number of protective barriers have been placed along the most popular stretches), walkers are able to look down into gullies, out to the azure ocean, and through the fantastical shapes created in the soft coastal rock. A walk along the coast from Ferragudo to Armação de Pera (which is best done over several days) is an unforgettable, eye-candy experience.

A pioneering project in Silves is the lynx reproduction center, which is the leading research facility for the protection of the endangered Iberian lynx, the world's most endangered feline species. If you love nature then a visit is a must.
Unique Historical And

Cultural Twists
You'll find Portugal's footprints of civilization—structures, landmarks, and artisan products—just as impressive as the natural ones. But, even more, they are reminders of a rich and blended past and present…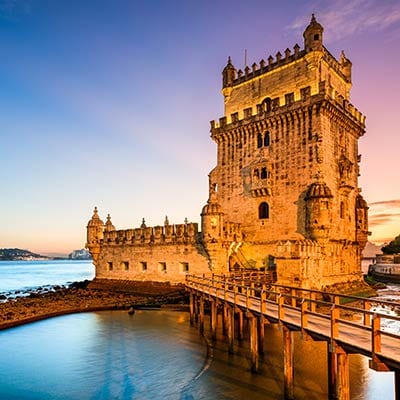 Spend time exploring 16th Century castles…
From the Enchanted Mouros—folkloric giants, warriors, maidens, and elves who lived underground while protecting the sites and people above… to the ancient Romans, Visigoths, Moors, and Crusaders… to a modern European identity.
From white-washed and blue-trimmed cubist-looking fishing villages with spacious roof terraces that used to be for drying figs and almonds and collecting water… to the same terraces that today are the perfect place to take in the panoramas, sounds, and smells of dawn and dusk—or any time in-between.
From the cobblestone streets—some like narrow alleys—with their unique cone-shaped and filigreed chimneys… to all the wicker and especially the terra cotta and painted ceramic tiles—azulejos—some still handmade as they were in Roman times.
From stone bridges and castles to eco-friendly luxury hotels and villas and world-class golf courses.
From open markets where time seems to have stood still to designer boutiques and Michelin-star restaurants.
And—speaking of food and traditions—what better place to step into…
A Mediterranean Diet

—Without
Even Trying…
Eating for a healthy body and mind couldn't be any easier than it is in the Algarve. Algarvians lead the Portuguese in eating more fish and other seafood per capita than other Europeans. Add the locally grown grains, vegetables (including olives), fruits (including wine!), and outdoor activity—that just comes naturally—and you might just blissfully eat your way into a long and healthy life there.
The Mediterranean Diet features foods eaten in countries that border the Mediterranean Sea.
The benefits of a Mediterranean-style diet reinforce the benefits of eating a diet rich in fruits, vegetables, fish, high-fiber breads, whole grains, and healthy fats.

For your heart and body, a Mediterranean-style diet may:

Prevent heart disease.

Lower the risk of a heart attack.

Lower cholesterol.

Prevent type 2 diabetes.

Prevent metabolic syndrome.
For your brain, a Mediterranean-style diet
might help prevent:
Stroke

Alzheimer's disease and other dementia

Depression

Parkinson's disease
–National Cancer Institute, May 2013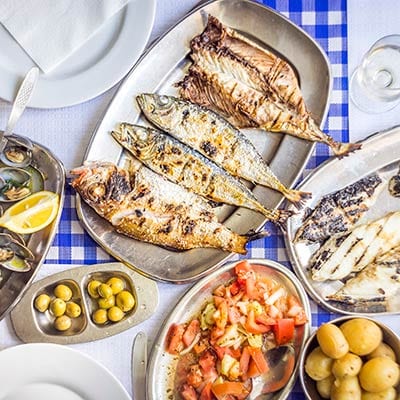 A healthy, full course
Mediterranean-style meal for a
couple will set you back but $25…
Imagine yourself seated in a scenic cliff-perched seaside restaurant, feasting on a shrimp or tuna lunch, with salad and wine for about $25 for a couple.
Or how about giant grilled sardines sprinkled with coarse salt and washed down with vinho verde—Portugal's well-known green wine. So many ways that healthy eating just comes naturally—and inexpensively—in the Algarve.
Of course, you can have it both ways… and also indulge in the region's abundant and equally tasty meat, dairy, and sweets. Enjoy specialties such as mouthwatering suckling pig, roast lamb, and carob tart—without breaking the bank.
And enjoying food is only part of the adventure of life in the Algarve. You'll also be quite impressed with what's…
All In A Day's (Or Month's)
Play In Paradise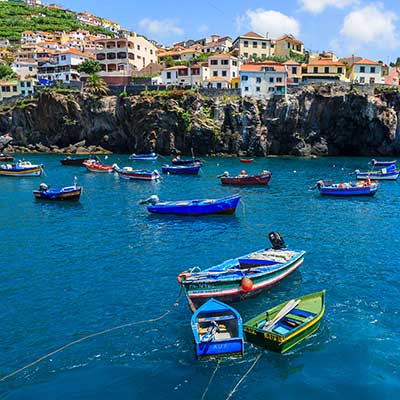 Here you can enjoy the best the
Old World has to offer, from medieval towns and fishing villages to some of
Europe's best sandy beaches…

In a perfect climate like the Algarve's…
Everyone is an outdoor person—even those who weren't before moving there. You're drawn outdoors… with no shortage of options for enjoying it.
The ocean, rivers, and marinas offer an endless variety of water sports and other diversions.
Beaches abound—sandy, rocky, long open stretches, isolated coves—even some that you descend a long stairway to access. As a matter of fact, a surprising number of the Algarve's beaches can be found on Europe's esteemed Blue Flag beach list.
But they're not the only places to enjoy the ocean views.
The Algarve's dramatic cliffs—especially those at the extreme southwest corner of Portugal (and Europe, for that matter)—are an excellent vantage point to watch daredevil surfers, or to study the same horizon Columbus once nervously eyed, or just to simply be mesmerized.
And if you turn your gaze inland, lush groves of fruit trees and tranquil hill country are only a short drive away… where a ride or hike reminds you of how tranquil and simple life can be. And why not pick some almonds, figs, and carobs while you're at it?
Even the fishing villages and cities themselves are entertaining… for relaxing strolls, enjoying the abundance of open-air cafés and restaurants, ancient and modern landmarks, and artisan treasures. The summer adds frequent festivals and celebrations to the mix—as well as free outdoor classical and jazz concerts and strolling groups of Charolas sharing folkloric music.
And Then There's Golf—

Over


800 Holes' Worth
One of the other hats the Algarve wears is that of Europe's top golf destination. But, you know… the 42+ golf courses dotting the approximate 100-mile length of the Algarve should probably come with a warning—because their spectacular panoramic views may pose serious distractions to your game.
As Sunny, Enjoyable, And Affordable
As Europe Gets
We don't usually look to Europe for our most budget-friendly retirement havens. And our budget destinations don't generally include every single item on an overseas-haven seeker's wish list.
But Portugal breaks those rules—and more… as a prime overseas retirement haven. When you look at the overall cost of living there, Portugal is truly a quality lifestyle bargain—whether you're buying or renting… living simply or even more lavishly.
Terry And Ann's Amazing Seaside


Retirement In Cascais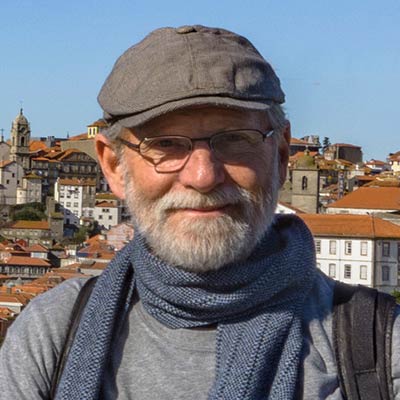 Terry O'Halloran
Full-Time Portugal Expat
About a year ago, my wife and I made the leap to Portugal.
Maybe we were a little crazy, but we haven't looked back and we couldn't be happier.
We'd lived in Hawaii for 40 years, and my wife Ann had just retired from her career as an emergency room nurse. It was time for our next phase in life, and we wanted to make the most of it. We'd saved enough, but we didn't want to just settle into a "comfortable" retirement. We wanted new, different, and exciting.
Both of us are active and healthy, and we love traveling. We thought a simpler life, where less could be more, sounded very appealing.
We knew our criteria for the right place for us. A mild climate was important, as was living near the ocean, good health care, safe environment, interesting culture and history, good food, and a reasonable cost of living and of establishing residency. We were also looking for a place where we could get by speaking English.
We learned that Portugal had it all.
We decided that we wanted to be near Lisbon, at least initially, and found a beautiful, fully furnished, two-bedroom apartment in Costa da Caparica, with an ocean view and just a short walk to the beach, just outside Lisbon south of the Rio Tejo.
After three months, when the lease on our initial rental was expiring, we decided to move closer to Lisbon and settled into an apartment with an ocean view in Caxias, midway between downtown Lisbon and Cascais.
It was a small community with quiet neighborhoods and friendly people. Next door was a large house with lots of trees and shrubs. Living on that property was one of the most beautiful peacocks we'd ever seen. Each morning we watched him stretch his feathers and prance around. You never know what you'll find in Portuguese neighborhoods!
Caxias turned out to be too quiet for us. With only a couple of small neighborhood grocery stores, we frequently took the train to Cascais for supplies. It didn't take long to realize that we'd be much happier in Cascais… meaning it was time to move again.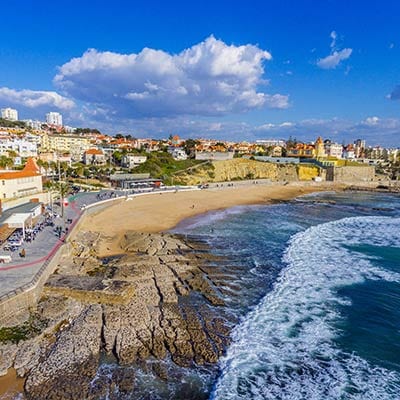 Cascais is also spectacularly beautiful with clean ocean waters, a rugged coastline, white sandy beaches, stone buildings, cobblestone sidewalks, and several parks…
Cascais seemed to have everything we were looking for, and we loved that it is just a 40-minute train ride to the center of Lisbon. Now this has become our favorite apartment and place in this country. Now we feel like we're home. We love Cascais.
There's so much to see and do here that we feel like we are only beginning to discover the true nature of Cascais and its surrounding areas. Our favorite discovery so far has been the enormous Cascais market on Wednesdays and Saturdays, with fishmongers, bakers, butcher shops, and the freshest seasonal produce you can find at prices easy on the wallet. This is a happening place with a strong sense of community.
Cascais is also spectacularly beautiful with clean ocean waters, a rugged coastline, white sandy beaches, stone buildings, cobblestone sidewalks, and several parks. When the sun or moon rises over the bay, you can feel the romance in the air. My wife and I feel like we're falling in love all over again. Our favorite pastime is strolling along the bay holding hands.
Magnificent Lisbon is on our doorstep. This city reminds us of San Francisco with its red 25th of April suspension bridge, trams (cable cars), and steep, narrow streets. We've traveled to Lisbon for concerts, a bullfight, and great dinners out. Recently we found a Chinese restaurant that serves respectable Peking duck and an excellent Italian restaurant perched on a cliff over the ocean. I could go on and on, but you get the idea.
We've always felt safe in Portugal, including walking the streets of Lisbon after midnight. Never have we felt threatened. We could just be lucky, but we think it's more than that. This is a truly safe place and a great place to raise a family. Kids and dogs are everywhere, at all times of day and night. And we are so enjoying being able to get out and be part of it all.
Are we happy with our move? No question. We're here to stay… and still smiling every day at our audacious move and our unknown future.
Terry O'Halloran
Full-Time Portugal Expat
A Welcome Mat—
More Than 100 Miles Long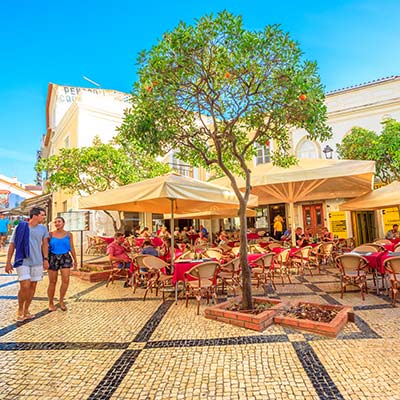 Enjoy a stroll through town or people watch at one of the many outdoor cafés…
By now, you're maybe already picturing yourself enjoying all the nature, diversions, and lifestyle the Algarve has to offer as a new home or second home…
But is there also a part of you wondering about the details and logistics of the actual move and of actually living there? Wondering if that great lifestyle is actually more complicated to slip into than it seems?
Well, not to worry…
The news just keeps getting better, the better you get to know this remarkable lifestyle haven…
No move overseas comes without challenges, but Portugal has really stepped up to the plate in that regard…
Easy Residency…

Save Your Energy
For Scenic Strolls
You can begin your adventure by checking out Portugal for up to 90 days—with no visa required for U.S. citizens.
Enjoyed every topic and speaker. Conference very professionally ran. I can't think of anything that I need to know in my decision to move to Portugal that has been left out.
–Alexander Sumbati, United States
When you decide you'd like to stick around longer (as we strongly suspect you just might), you'll be delighted to know that Portugal offers a variety of avenues for obtaining residency… including one so simple and affordable we didn't believe it at first.
When our advisors on the ground told us about just how easy it can be for someone to establish residency in this country, we were skeptical. Now, though, we know many who've done it… and who can attest from firsthand experience just how no-hassle and low-cost the process can be.
Europe's Newest Tax Haven…
More $$ For Travel And Fine Wine
Portugal is a great place to maximize the value of all of your income and assets. Unlike most of Western Europe, recent legislation in Portugal allows foreign residents to receive most types of foreign income tax-free in the country. And, what's more, there's no inheritance tax.
Safety First…
Unless Daredevil Surfing Is
On Your To-Do List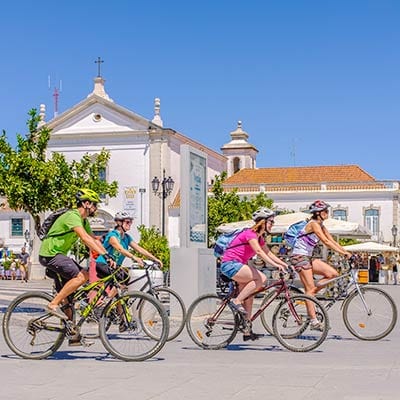 Outdoor activities come naturally to everyone in the Algarve…
Savor the relaxation in your reinvented life in Portugal, knowing that this country ranks as the 5th Safest Country in the World on the Global Peace Index. No organized crime, no radical groups, and—in contrast to roadway congestion and road rage most everywhere else in the world—very few traffic accidents.
In fact, you might want to tell family and friends to join you—instead of worrying about you.
Expat Ecstasy…


In The Algarve Tradition…
A presence of some 100,000 resident expats in the Algarve pretty well says it all when it comes to its expat-friendliness in this country. This haven simply has too much to offer to pass it up—mostly because the Portuguese love sharing what they have… and love making everyone feel welcome.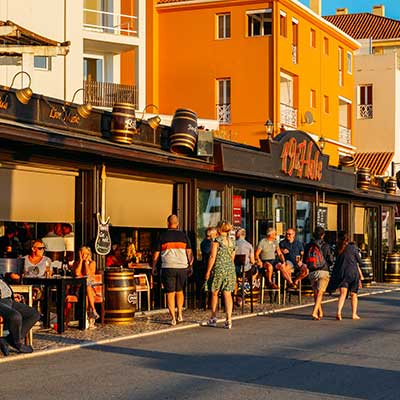 Portugal is home to a very large
English-speaking expat population…
you could retire here and easily get by without having to learn another language…

Indeed, the Portuguese have been ranked the world's seventh most welcoming people out of 140 countries surveyed by the World Economic Forum.
English being spoken just about everywhere in the Algarve is a great start. But the warm welcome goes far beyond that…
The locals are very tolerant of religious, ethnic, and cultural diversity. They seem to thrive on it… almost as if they're celebrating a reverse immigration of their ancestors who sailed away to far reaches of the globe 500 years ago.
Oh, and by the way, the locals aren't alone in their friendliness. The comradery among expats who've already settled here is an added bonus and means invaluable support for those now making the move.
As for attention to basic needs beyond all those nice personal touches… you can't help but notice the significant and ongoing infrastructure investment now in high gear in this country. Government and the business community continue to take the ongoing improvement of utilities, communications, and transportation very seriously as the country's position on the world stage continues to expand.
Much Ado About…

Everything
No other retirement haven hits it out of the park like this one. But the only way you can know what this kind of retirement perfection looks and feels like is to experience it for yourself at… The Live and Invest in Portugal Conference.
Take advantage of this firsthand opportunity to live and breathe the vibrancy and tranquility of this enchanted setting. And maybe… choose to wake up to it every day—for the long-term.
All of your questions will be answered with the information and insight provided by my team of experts on the ground.
You'll soon see how Portugal has managed to steal the show in our Overseas Retirement Index for six years running, and why we say it's the absolute best place in the world to retire in 2020.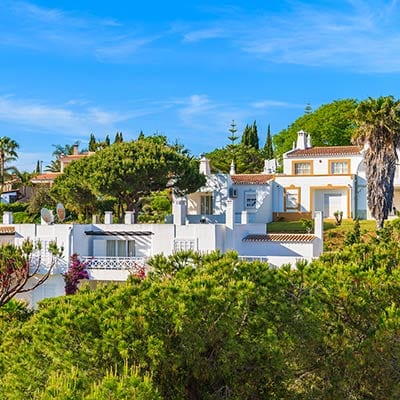 Whether to own or to rent, you'll be floored by just how many affordable homes, including the luxurious ones, will fit into your budget…
You may never want to leave once you see some of the properties that are available for rent and for purchase in this most affordable place in Europe to live the Euro-lifestyle—and in a setting the rest of Europe just can't match.
Choose a studio, one-, two-, or three-bedroom apartment, or spacious villa. Select from views of historic buildings and cobblestone, rivers, ocean beaches, cliffs, trees or whole orchards, rolling hills, or world-class golf courses. For those with the time and perseverance to build, there are numerous beautifully situated rural properties for sale. Otherwise, make existing homes yours for prices like the ones in these listings:
A three-bedroom, two-bath apartment with large balconies, 100 meters from the beach for $130,000…
A one-bedroom apartment close to town and beaches for a mere $72,500 (and—by the way—no property tax for up to 6 years on primary residency homes less than $135,000)…
One-bedroom cottages in a very popular area for as little as $160,000…
A three-bedroom villa with various amenities and a sea view listed at $240,000…
Often new residents in overseas havens want more time to think about what and where they ultimately want to purchase. Portugal offers numerous long- and short-term rentals—like these…
A four-bedroom, four-bath villa with pool and panoramic views for $76 per night ($2,300 per month)…
A new and modern two-bedroom beachfront condo with sea view for $181 per week ($780 per month)…
A lovely traditional one-bedroom apartment with a sea view, fireplace, and private garden, located near the old town center and beach for $31 per night ($930 per month)…
Whether you're looking to purchase or to rent, the large selection of affordable homes—while they last—is impressive. Together with Portugal's reasonable cost of living—relative to the rest of Europe—and the relaxing and quality lifestyle… it's easy to see why this little haven is truly the Best Retirement Haven for 2020.
And there's still an ace in her hand I haven't mentioned…
Barbara's New Life In The Algarve—"I've Never Been This Happy"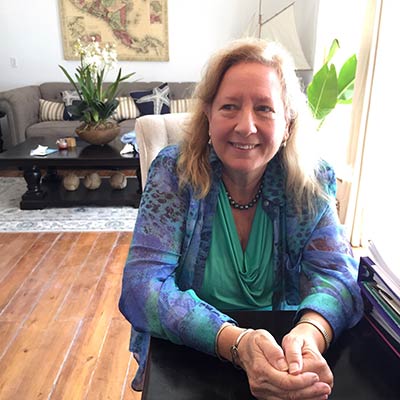 Barbara Petrohan
New Portugal Expat
For me and the Algarve, it was love at first sight.
The ocean has always been magic to this girl who grew up in Kansas, but the Algarve coast is the most magical I've seen anywhere. With its massive rock formations, it's like something out of a science fiction movie… like something from beyond our world.
I've based myself in Lagos. This medieval town on the ocean has been a daily charmer with dazzling views of the ocean, dawn and dusk, as well as interesting city views, all of which I enjoy every day from my balcony.
Lagos is a small enough town that I can walk to everything I need and want, easily striking up conversations with others also out walking as well as with the shop keepers, who I have found mostly speak English. It is just so much fun for me to walk around this city. I never get tired of the cobblestoned streets and the old buildings with their decorative doors.
Saturday mornings are farmers' market days. I load up on vegetables and then visit the bread lady, Virginia, before trolleying my goodies home.
I found my trolley at the Chinese store that has everything imaginable. This gets filled with produce at the farmers' market, fish from the fish market, and wine and port.
With my trolley I've also brought home herb plants. My balcony herb garden has basil, mint, oregano, thyme, sage, Italian parsley, French tarragon, and dill plants. Every dedicated cook needs a little herb garden like this one.
When I was shopping for my herb plants the kindly gentleman watched when I was having trouble locating what I was looking for and then made a search for what he thought was the best plant to substitute. No words, just good will.
The smiling person behind the counter at the fish market or the grocery store will clean your just-caught-that-day fish completely, including the gills, if you but ask. They will also tell you how to prepare it and pack it in ice for the trip home.
The bread lady, Virginia, who speaks at least three languages, is solely responsible for my no weight loss despite all the exercise I am getting here. She wraps each loaf in plastic and ties it up with raffia, then inserts fresh-cut flowers or herbs into the package. Her breads and rolls are made with love and passion.
When I walk to the town square to sit and listen to the musician of the day, it has become my regular pleasure to buy a small bag of hot, roasted chestnuts. These come from the north of Portugal, and I buy them from a smiling, charming young man who will tell you all about them.
I've been living here now for a little more than two months, and, not counting the food carts and ice cream, I have yet to eat out. I am finding so much enjoyment in cooking the fresh food available and talking with the folks about new ways to prepare things.
This is such a healthy place—the air is healthy… the food is healthy… the people are healthy, happy, friendly, and peaceful.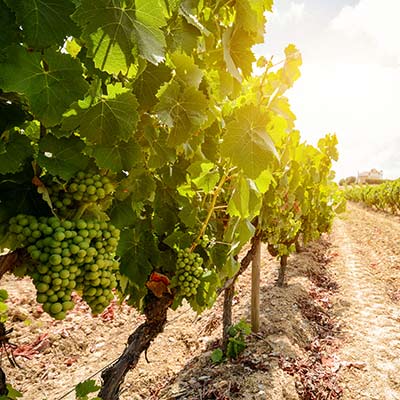 Be sure to sample a nice glass of port when visiting the local wineries…
My new friend Bruno manages a chain of wine and port stores here in the Algarve. It's a family business that includes a vineyard. He and his staff are educating me, down to telling me what time of day the grapes are picked for each wine. They usually have about six different bottles of port to taste, including port from the turn of the century (that is, 1900).
Each day I'm making new discoveries, and this adventure is showing me that this is what life is all about.
And it has all come together so much more easily than I even hoped.
I honestly cannot remember when I have been this happy.
Barbara Petrohan
New Portugal Expat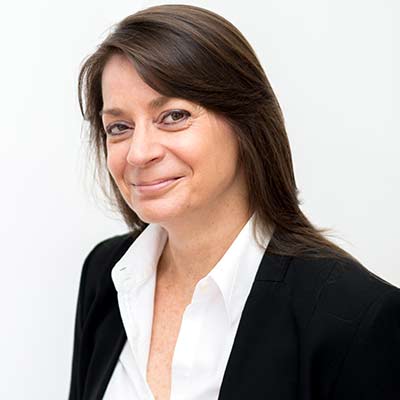 Kathleen Peddicord
Founding Publisher,
Live And Invest Overseas
My name is Kathleen Peddicord. For more than 23 years, I was Editor and Publisher of International Living. In 2007, I took a break… and launched Live and Invest Overseas and the free Overseas Opportunity Letter.
At the same time, my husband, Lief Simon (the overseas investment part of the Live and Invest equation) and I moved family, business, and pets from Paris to Panama. (Previous moves were from the United States to Ireland and later to France.)
In other words, I've been covering this beat, researching, writing, speaking, and presenting on the opportunities for living, retiring, and investing overseas, for more than three decades.
I have traveled to more than 75 countries, invested in real estate in 23, established businesses in 7, and renovated historic properties in 6.
I've written numerous books, including, most recently, the new edition of my "How To Buy Retire Overseas," published by Penguin in 2018, and I've appeared many dozens of times on television and radio (everything from Bloomberg and CNBC to Fox and the Regis Philbin Show).
It's with that experience, that I confidently offer you this truly rare overseas retirement opportunity. At the Live and Invest in Portugal Conference in Carvoeiro, Portugal, in October… you will discover a quality, affordable lifestyle in a truly enchanting setting.
More than that, I look forward to the chance to meet you face-to-face and one-on-one. For me, this is one of the best parts of these live events…
Trendsetting One-Of-A-Kind
Senior-Living Projects For The 55+
There are two pioneering projects in the Algarve that are setting new standards in the retirement-living sector.
For one thing these projects add another very competitive rental option… at only 798 euros per month for retirees who qualify. But best of all are the many innovations they include to meet the evolving lifestyle needs of retirees.
For example—maximizing the natural benefits and impact of the climate and setting. These forward-thinking Portuguese entrepreneurs have created in the Algarve a senior lifestyle that few places in the world could duplicate… even if they threw themselves behind such a development the way the Algarve has.
And there's yet another treasured lifestyle gem. One that not only supports the senior-living initiatives and commitment… but that also provides peace of mind to everyone who chooses to make this little corner of paradise their home…
Don't-Worry-Be-Happy

Health Care
It stands to reason…
The Portuguese were the first to make accurate world maps and large-scale aerodynamic sailing ships… and, with them, to navigate their way around the globe… before others had even hoisted their sails.
So, it shouldn't be surprising that they continue to be forerunners in doing whatever needs to be done to make life better. Both their unique senior-living vision and initiatives… and their whole health care system are prime examples of their foresight in the areas of health and well-being.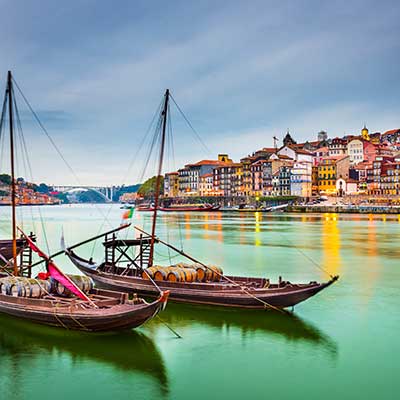 This beautiful country has made quality
retirement living a priority, with low cost
health care, senior living developments,
and tax-free retirement income…

It's exactly why Portugal is a popular health tourism destination—from specialized surgery to elsewhere-exorbitant hearing-aid repairs. The care is modern, humane, and personalized, and the costs are reasonable—by global standards—for such quality care.
Just about everyone living in Portugal has access to free or low-cost, universal health care—depending on their residency status. Even without health insurance, the costs are reasonable for those who are not yet full residents.
The innovation continues here as the medical community, for example, capitalizes on the therapeutic value of the warm, dry climate—in both pre-op prep and post-op convalescence. Just another way that the Algarve seems to have been designed with all aspects of the ideal lifestyle in mind.
What else could a retirement haven possibly offer?
Well, actually…
The Keys To The Kingdom—Europe At Your Doorstep…
And The Door's Wide Open
At home in Portugal, you are within easy driving and flying distance of all Europe.
Imagine weekend getaways to Paris, London, Milan, or the Swiss Alps. Take in the Tour de France, the Grand Prix, Oktoberfest, festivals of all kinds, the Eiffel Tower, Venetian gondolas, museums, concerts, exhibits—or whatever parts of Old World charm and history you feel drawn to.
But it's not just geographic access that Portugal offers…
After five years as a long-term resident, you may travel without visa restrictions throughout the EU. After the sixth year you may apply for citizenship.
And there's also the fast track to residence—Portugal's Golden Visa… immediately enabling visa-free travel throughout the EU.
So you see… the home awaiting you in Portugal is also your ticket to making traveling and living in Europe as effortless as domestic travel and moving is within the United States.
What a retirement gift to yourself Portugal would be—and one that would keep on giving as you never imagined possible.
Are you ready to take the next step?
"If You Want It, Here It Is—

Come And Get It…

"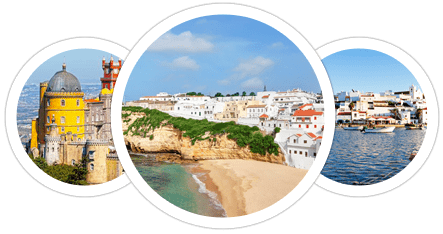 Everything you need to know and everyone you need to talk to—all in one place… Carvoeiro, Portugal… Oct. 21-23, 2020.
Come and see for yourself. All the best information and insight I have to share will become infinitely more valuable when you can simultaneously experience the real deal.
Follow your heart—but not blindly. Let my all-star team of experts share their insight and advice—and answer all your questions… face-to-face.
Embrace the opportunity ASAP. If you're ready to get serious about Portugal—we'll help you start lining up your ducks—on the spot.
You already know my commitment to keeping it real—telling it like it is. It's the only way we operate.
We'll tell you how easy it is to get a driver's license, or to find workers for your business, or to find work yourself—in a limited number of specific occupations.
But we'll also alert you, for example, to the combination of language barriers, time demands, and general obstacles you'll face if you're considering building, major renovating, or setting up a business.
You can count on my team of experts at the Live and Invest in Portugal Conference to deliver—as you've come to expect from me—the straight goods… including the "warts." They'll be there ready to answer questions you've already thought of… and to reveal and highlight more "ups, downs, and get-arounds" that will make your decision-making much easier.
A Conference

You Won't Want To End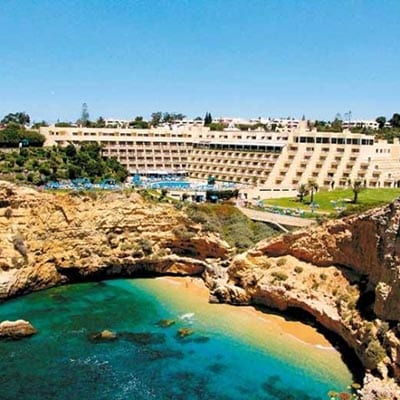 Meet us at the Tivoli Carvoeiro Beach Resort for the 2020 Live and Invest in Portugal Conference…
The beautiful, just-renovated, five-star Tivoli Carvoeiro Beach Resort will welcome you in October… and provide all the comforts of a luxury vacation from the moment you arrive. When you're not talking with my team and me, you can enjoy diving, golf, or just the views from this beautiful hotel perched on cliffs overlooking one of the many bays the sea has carved out of the rock.
Carvoeiro is a medieval fishing village turned popular seaside resort area. And why not—with such beautiful beaches, grottos, islets, and waterspouts created over time by the ocean waves' artistry.
You can't afford to postpone thinking about Portugal… or about signing up for the conference that will get you there before the most amazing values get snapped up by others. Reserve your place now…
At The Live And Invest In Portugal Conference, Our Staff Of Experts And Local Expats Will Help You Picture Yourself Living The Amazing Lifestyle On Offer In This Beautiful, Historic, Welcoming, Safe, And Affordable Country—And Then Help You With The First Steps Toward Making That Dream Picture Reality
Explore with us, to see the best of what Portugal has to offer. Listen to experts and expats as they share their knowledge and insight—and showcase their country's assets…
Discover the natural beauty of the Algarve. At the Live and Invest in Portugal Conference, we'll not only show you the natural wonders of the Algarve from our conference room… but can organize a personal tour to show you the best of what the region has to offer…
Get the facts on being a part-time or full-time resident in exciting locations like Porto, Cascais, Lisbon, Silves, Portimao, Lagos, and beyond…
See the expats' favorite areas, with firsthand reports from people who live there now…
Discover the large selection of affordable rentals—starting at $650 per month—and where you should be looking…
Find out how safe and secure it is in this little-known corner of Europe…
Have a look at Portugal's international-standard medical care… how modern, accessible, and affordable it is… and why this little country has become a medical tourism hub…
Consider the possibilities for learning Portuguese… as a terrific investment to help you get the most out of your life in Portugal…
Get a sense of the cost of living… At the Live and Invest in Portugal Conference, we'll share with you actual expats' budgets and details on the lifestyles those budgets support…
Of course, our business experts will
be on hand, too…
Find out how to do business in Portugal and how to overcome the most common frustrations…
Learn the real story on taxes and how they may affect you as a resident, retiree, or investor in Portugal…
Explore today's best business opportunities, guided by entrepreneurs who have already built successful businesses…
We've also got the practical
matters covered…
See how to become a resident, using one of Portugal's easy, flexible residency options. You'll hear from North Americans who've settled here, as well as our staff of legal experts…
Learn how to navigate Portugal's financial system… from bank accounts, to investment portfolios… along with how to move money efficiently…
Get the facts on how to relocate to Portugal, from the experts who know the rules…
And when it comes to real estate…
Find the best real estate deals by learning where to buy… and how much to pay…
Learn where to invest today in the most appealing and under-valued locations across Portugal—for the most upside potential…
Meet with Portugal's top property managers and discover how—and where—to make money in today's rental markets…
Explore Portugal's best commercial real estate investments—including innovative senior-living projects… with our on-the-ground commercial experts…
Learn how to navigate the property purchase process and buy real estate safely and securely…
Get in on the ground floor of hand-picked investments… your chance to invest as an insider…
Most important, you'll be able to connect directly with expats already living in key locations across Portugal so you can hear the ups and downs firsthand.
You'll come away from the Live and Invest in Portugal Conference knowing if this is the place for you… if you'd be happy living or investing here.
And if it's right for you… you'll have all of the information and local contacts you need to take the next steps.
But, right now… it starts with this step…
What

Past Attendees

Have To Say…
I enjoyed this seminar very much. I don't know how you got so many knowledgeable people in one place.
It exceeded all my expectations
–V.R., United States
The absolute finest conference I ever attended (and that number is in the hundreds). Topics were great. Presenters were wonderful. Your staff was outstanding.
–Bob Seligman, United States
I especially appreciated the nuts and bolts, especially the cost of living, the financial considerations and strategies, and the businesses that you showcased were interesting and enticing
–Barbara Leicht, United States
Thank you for sharing and putting together that awesome Portugal Conference. I met so many wonderful new friends that are also in the process of moving to Portugal.
–Micheline Huntley, Ramstein, Germany
Come To Consider A Reinvented Life In The Pearl Of Europe—And To

Have A Whole Lot Of Fun While You're At It!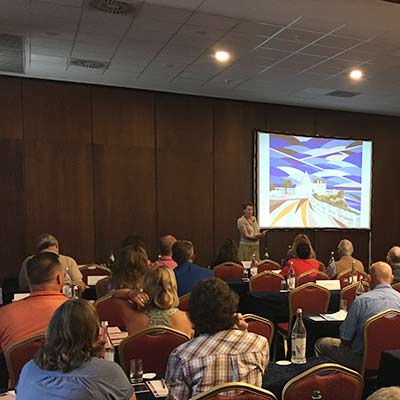 The Live and Invest in Portugal Conference
is the best and most cost-effective way
to learn how to start your new life here…
Our Live and Invest in Portugal Conference will be a two-and–a-half-day, high-energy, full-throttle event of interactive presentations and workshops—jam-packed with solid content.
But we won't skimp on the fun either!
Things will kick off the first evening with a welcome cocktail reception—featuring tantalizing Portuguese food and drinks.
You can also look forward to lunches, open-air parties, and other special events to give you as much opportunity as possible to mingle and mix with your fellow attendees… as well as your Live and Invest Overseas panel of experts.
Actually, you never know where these cocktail and poolside conversations might lead. At our other conferences, these informal networking opportunities have themselves been worthwhile investments.
They've led to meeting future business partners… roommates… equity investors… language tutors… great friends… and—in Lief's and my case more than 20 years ago in Ireland—future spouses.
And as for the Live and Invest in Portugal Conference…
Husband Dave To Wife Alyson:
"I Could Live Here…"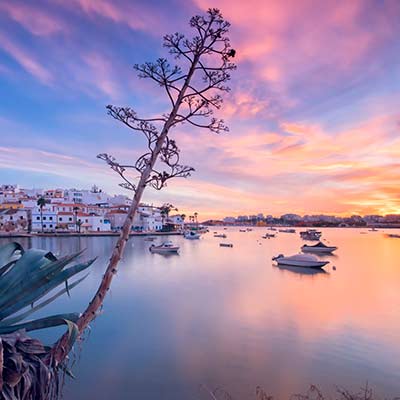 Every Portuguese sunset is the perfect ending to an extraordinary day…
We sat at an outdoor table at a café in the square of the little fishing village of Ferragudo in Portugal's Algarve in the late afternoon sunshine, sipping cold iced teas and watching the world around us. Children laughed and played in the square, old men sat together on benches talking and putting the world to rights, and tourists browsed the little shops. The sun was hot, even in late September. In the background, fishing boats bobbed and clanked in the harbor as the tide turned.
"I could live here," my husband Dave turned to me to say.
"So could I," came my eager reply.
And then we both stopped talking and stared at each other in amazement.
In all our years together, we had had only one rule about travel—never go back to the same place twice on holiday. That little rule had translated to many fantastic adventures. We had been to Venice, South Africa, Hong Kong, the Caribbean, and Spain and had traveled around most of our home country, the U.K.
When a friend lent us his little fisherman's cottage in the Algarve, we planned a week's holiday, to rest from our busy jobs as police officers, to catch some late summer sun, and to unwind.
However, from the minute we arrived, we were hooked. The drive into the fishing village of Ferragudo is enthralling. White-washed houses sit perched on the hillside overlooking the river below, the water is so blue and sparkling, and the view is spectacular. Fishermen bring in their catches in little boats that are pulled up on the beach so the bounty can be unloaded and taken over to the fishermen's huts to be cleaned.
The village population is a mix of local people, expats, and holidaymakers and felt welcoming and comfortable to us from the start. So much for our rule of never returning to the same place twice. Over the next two years, we rented that little cottage seven times. Each time it felt more and more like we were coming home. We would count the weeks and days until we could return.
Our first visit was more than 12 years ago. Four years ago, we realized our we-could-live-here-one-day dream.
Something about the Algarve makes you want to sit on a bench and relax… or to pack a picnic and take off for the day, just wandering. It's hard to hurry here. The pace of life is so gentle.
There are frustrations to be sure, but with the sun shining for more than 300 days of the year and a coffee shop on every corner where you can stop for a strong and heartening espresso and a warm and gooey pastel de nata pastry… somehow you just know everything is going to be fine.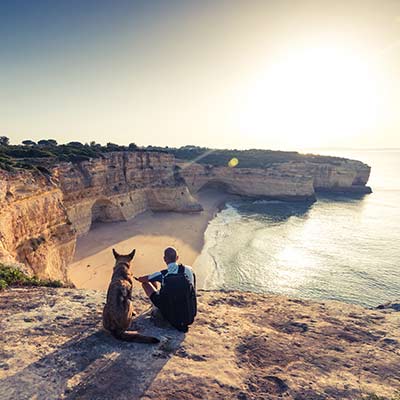 Much of the Algarve's landscape has been carved over time by the ocean waves' artistry…
So now here we are, living and working in the Algarve. Every morning we are greeted with our spectacular view. I sit on our terrace to enjoy it with a cup of tea after taking our little rescue dog for a long walk around the village and down to the beach.
Work for me now is going downstairs to my basement art studio and picking up my brushes to work on my latest commission or upcoming exhibition. Meantime, Dave packs up his camera gear to go out on a shoot. We have lunch in the garden in the sunshine most days and live a simple, quiet, and relatively uncomplicated life.
Working back in the hectic and stressful U.K. is a distant memory now…
Alyson Sheldrake
Full-time Portugal Expat
It Might Just Land You A Home In


The World's #1 Retirement Haven



Now if you're picturing the conference as some mammoth, overhyped event with hundreds of people in a cavernous ballroom, you should know that that's not our style.
Rather, you'll be part of a select group, in an intimate setting, with full one-on-one access to all of our experts and plenty of time to make sure every one of your questions is answered.
You'll get the personal attention you deserve. I make that promise to every reader who joins us for one of our conferences… and it makes all the difference.
Get In On The Discounts—While They Last—For This

Unique, Value-Packed Event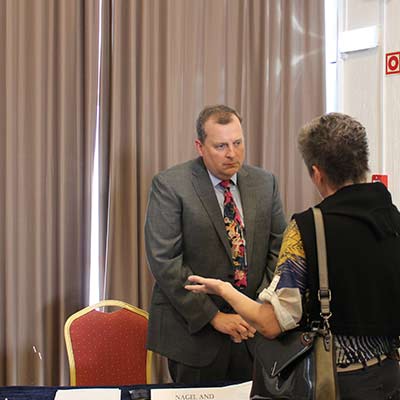 Experts will be on hand to inform and guide you to whatever next steps might be
right for you…
The 2020 Live and Invest in Portugal Conference is a one-of-a-kind opportunity to get to know Portugal in a way that's simply not possible by any other means. Expats will be there to show and tell you what life is really like in this beautiful, welcoming, safe, and affordable country. And experts will be on hand to inform and reassure—and to guide you to whatever next steps might be right for you.
Based on past experience, I can assure you that this will be an action-oriented conference… and that some attendees will begin the visa process during the event… or open financial accounts… or even buy a home.
And you may be eligible for additional discounts:
$50 off for current Overseas Living Letter readers.
$100 off for Overseas Retirement Circle members, Global Property Advisor members, and Simon Letter subscribers.
And, as always, our All Access Pass Members (and their guests) come free!
Just Look At

What's Included…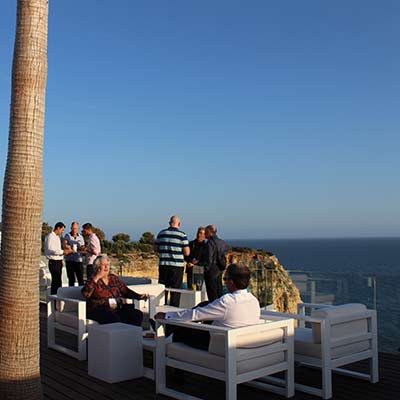 The Live and Invest in Portugal Conference
is the best and most cost-effective way
to learn how to start your new life here…
Admission to all presentations
Complete access to the restricted exhibit area
Expert personal consultations
Formal and informal Q&A sessions, breakouts, and workshops
Introductions to reliable real estate sources, business contacts, fellow expats, and professional legal resources
Access to attendee-only (optional) pre-conference and post-conference real estate tours
Access to optional cultural, craft, and sightseeing tours
Coffee breaks and snacks
Welcome cocktail reception and all sponsored events
Seminar materials, notebooks, and handouts
Downloads of all conference presentations after the event is over
A complete set of professionally produced conference recordings
That's what awaits you in October.
Now you're just minutes away from the first step to reinventing your life in the World's Best Retirement Haven for 2020. Reserve your spot today…
Reserve your seat today by contacting our conference coordinators by email, or by calling them at 1-888-627-8834. They'll have you booked and ready to go in minutes. If you'd prefer, you can use our convenient Online Registration Form.
Time To Take The Wheel And Steer

Your Future

Where You Want It Go



Enjoy the lifestyle of your dreams… within your budget. It's your life—live it your way.
Opportunity for networking with the other conference attendees and vendors was a priceless investment of my time and energy to be here
–Tara Stadius, United States
All the information and resources you need to explore your options in Portugal with confidence—and to make informed and life-changing decisions… will be waiting for you in Carvoeiro in October. All the tools you need.
Then we'll guide you through the details and secrets to making a successful plan because we know that…
Portugal is a retirement haven without equal—anywhere.
But You Must Hurry…


This Event Is Selling Fast

Think about it. If you had to gather this information on your own, you'd spend thousands of dollars, and months of your time to do it.
And believe me, after knocking on doors, searching the Internet, sitting in lawyers' offices, and hanging out with real estate agents, it would still be virtually impossible to assemble the body of knowledge that we've pulled together for this conference.
This was my first conference and certainly won't be my last. I think I will be selling some of my bigger items. I have made my decision to retire and move to Portugal.
–Joann Arnold, United States
Frankly, the Live and Invest in Portugal Conference is an indispensable investment for anyone who's considering Portugal… well worth every penny you'll pay to attend.
Don't you deserve the kind of life that Portugal has to offer?
Here's the button that'll reserve your spot… until I see you in Carvoeiro!
Sincerely,

Kathleen Peddicord
Founding Publisher, Live and Invest Overseas
P.S. The opportunities in Portugal will not wait. Follow the link to secure your seat now!