This Year's Retire Overseas Conference Can Also Be A Super Vacation!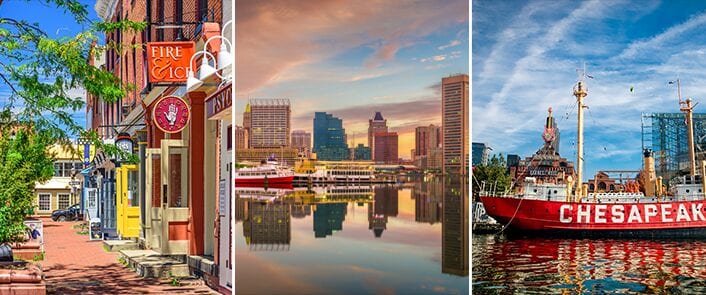 Radisson Baltimore Downtown-Inner Harbor
101 W Fayette Street,
Baltimore, Maryland,
United States, 21201
Tel: +1 (410) 385-6865
Website:
Or you can see their website here.
We've selected Baltimore, Maryland as the venue for this year's Live and Invest Overseas Conference. Nicknamed Charm City, Baltimore is home to Inner Harbor, a historic seaport transformed into a community hub. But there's more to Baltimore than Charm…
Visit Baltimore's Museum District to explore the collection of 40 museums, galleries, cultural centers, and community organizations, which form part of this city's most interesting and cultured area. Whether you're interested in the Maryland Science Center, the American Visionary Art Museum or the Maryland Zoo, this district has you covered. You can explore the area by water taxi or walk the 7-mile brick Waterfront Promenade that connects all the action.
If you want to get out and enjoy some fresh air with nature, Cylburn Arboretum will serve your purpose. This 200-acre greenspace boasts with hundreds of specimen trees and plantings, gorgeous gardens, wooded trails, and an historic mansion.
You don't have to venture too far from our conference hotel, the Radisson Baltimore Downtown-Inner Harbor, to enjoy some of what Baltimore has to offer. The property is within walking distance to shops and boutiques of Harborplace, amazing restaurants, and renowned attractions.
Enjoy Our Discounted Hotel Accommodations
The Radisson Baltimore Downtown-Inner Harbor is the site of this year's conference, and we've negotiated special room rates for attendees of the event.
To take advantage of these special rates, reservations must be made through Live and Invest Overseas. Contact us at RetireoverseasConference@LiveAndInvestOverseas.Com or dial 1-888-627-8834 (toll free from the US) to make your reservation.
Traveling To Baltimore
Flights arrive at the Baltimore/Washington International Thurgood Marshall Airport (code BWI). The trip to the hotel is about 12 miles, and takes about 25 minutes. The taxi rate is around US$30 at this time.
Medical and Cancellation Insurance
We've worked with an international insurance service to provide exclusive coverage for Live and Invest Overseas event attendees.
We've negotiated the most affordable and extensive policies available, starting at rates of as little as $1.45 per day.
You can get full details on policy options here.
Cancellation Information
All cancellations must be sent to our conference department by email. For cancellations received more than 45 days before the start of the event, we will return your payment, less a US$150 administration fee per person*. For cancellations received more than 14 days before the start of the event, we will return your payment, less a US$350 penalty per person*. For cancellations made 14 or less before the start date of the event, the conference fee is non-refundable*.
For complete legal terms and conditions, please go here.
*Please note that all cancellation fees may be used as a credit towards a future Live and Invest Overseas conference or conference kit.
Come Join Us In Baltimore!
We'll look forward to seeing you at the event in Baltimore, to enjoy both the conference and the city.
Register Today To Get The Early Bird!