From Cosmopolitan Cities… To Sun-Kissed Mediterranean
Beaches… To Mountain Villages Lost In Time…
How To Live Your Dream Life In Spain


On $1,780 (Or Less) A Month
Spain delivers the best of European living… at a most affordable cost. Now, with dedicated help from my experts on the ground, you can nail down where in this hugely diverse country could make sense for you… and how to get yourself there with ease.
Soak up the Mediterranean sun year-round on a budget of just US$1,780 a month (or less)…
Rent in one of the world's cultural capitals from just US$850 a month…
Own your own beach home from US$93,950… or quiet country retreat from US$35,000…
2022 Live And
Invest In Spain
Virtual Conference

3-Day Event Takes Place
Sept. 21–23, 2022
Early Bird Discount:
AVAILABLE
Live and Invest in Spain Virtual Conference
Sept. 21–23, 2022
Online via our high-definition video event system
To help determine whether Spain—the best bang for your buck in Old Europe—is the right fit for your retirement dream.
Our 2022 Live and Invest in Spain Virtual Conference will take you on a tour of the country's top lifestyle options, share insights from the expats gone before you (no holds barred), and provide all the contact information you need for a successful move. With help from our expert team, you'll be able to land in any corner of Spain and hit the ground running.
Save Your Spot Now—
At The Lowest Rate Available:
Every attendee enjoys a 100% Money-Back, No Questions Guarantee…
This Is Where You'll Get The
Best Bang For Your Buck In Old Europe…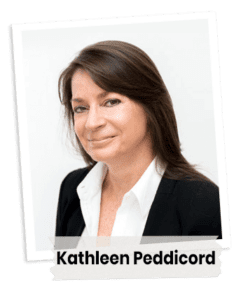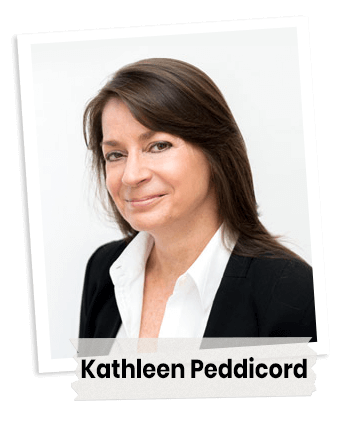 Dear Live and Invest Overseas Reader,
It's hard to imagine living the good life anywhere in Europe without preparing yourself for some sticker shock…
But here in Spain, the surprise comes in discovering how low the price tags are…
Especially given the top quality of life on offer…
And, this incredible value applies to everything from eating out… to health care… to renting or buying a home.
Dreaming of settling in a city that's full of Old-World charm?
You can rent a studio, right in the heart of Seville, for just US$480 a month… or own a three-bed apartment here from US$66,800.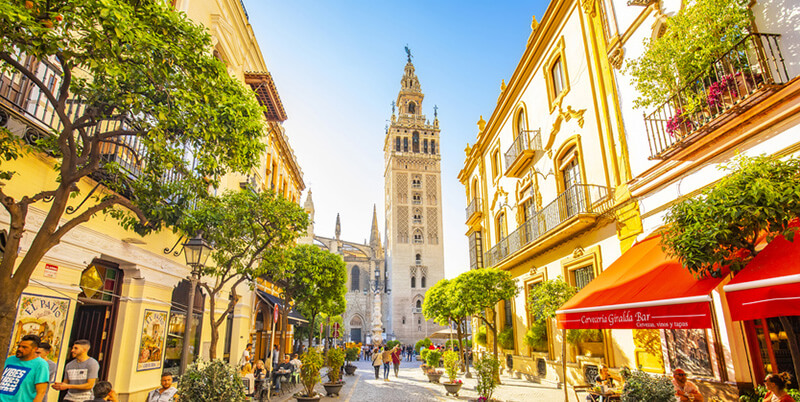 Prefer to kick back at the coast?
Again, it's good news…
Apartments on the sought-after Costa del Sol, with views of the twinkling Mediterranean, start from US$590 a month…
Or pick up your own beach home—minutes from the sand, with sea views from your balcony—for US$158,900.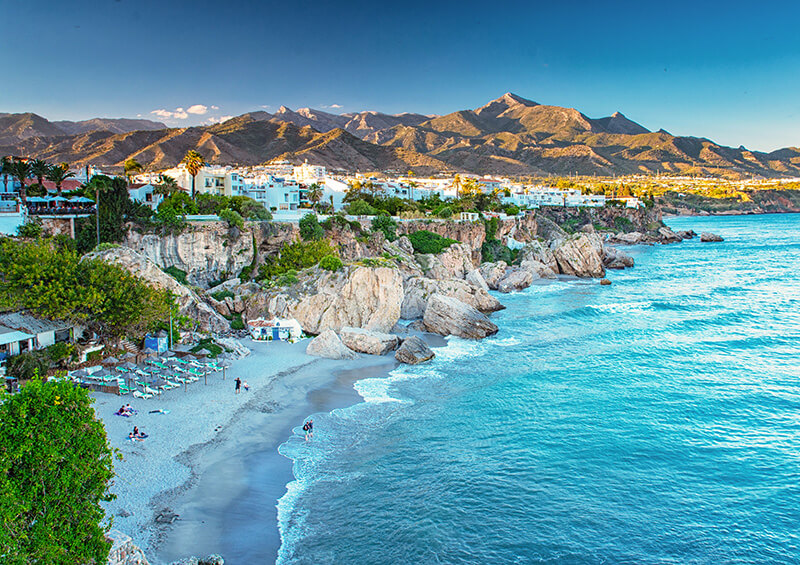 To get this kind of value in France, Italy or Portugal, you'd likely have to base yourself at least 10 minutes or so from the city center or coast…
But here in Spain, you won't have to make such sacrifices.
From its stunning beaches to its tranquil mountain retreats, brand-name cities to glamorous island resorts, this is one unbelievably diverse country.
Spain has a range of climates… a range of landscapes… and a range of lifestyles.
In fact, I'd say it's impossible to travel any length of the country and not find a single place to charm you… at a price that's easy on your pocket…
And, with the greenback and euro almost equal, this is the best time in 20 years take advantage of the great values in Spain…
In a minute, I'll show you some of the top lifestyle options (and dream properties) on offer here today.
But first, let's take a quick look at the advantages of settling in this warm, welcoming country that's a world away from the stresses of North American life…
11 Reasons Spain Is One Of
The World's Top Retirement Havens
#1

– A Retirement Without Compromise…
Spain ranks highly among expat workers and retirees from all over the globe. And for good reason
It offers all the romance of the Old World, holding tight to its traditional charms (like flamenco, tapas, and a quirky mix of architecture)…
Yet mixes in the best of the 21st century.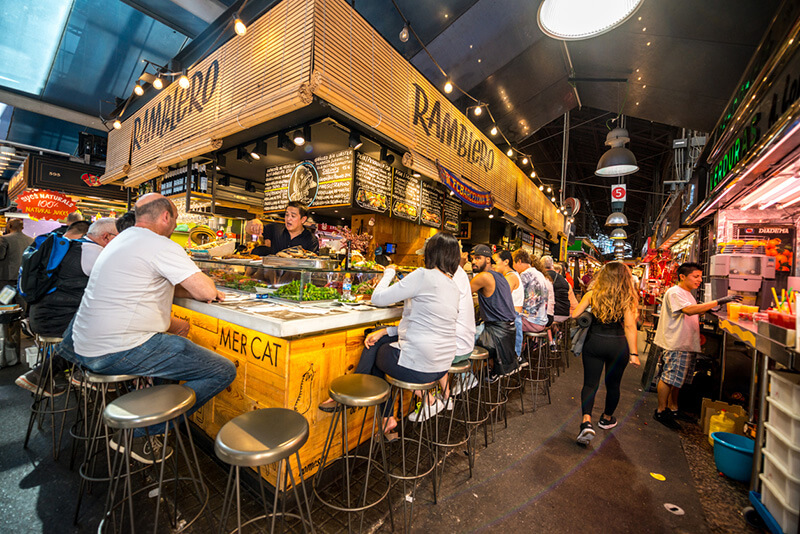 Spain has a first-class infrastructure and one of the world's best health care systems…
And, all these advantages come at an affordable cost.
Living in the center of world-class cities like Madrid or Barcelona, your living costs would easily be 50% less than city life in Miami or L.A.
In Valencia—named the world's #1 expat destination by InterNations in 2020—you'll find everything from renting an apartment to eating out even cheaper. A couple could live well here on a budget of US$1,780 a month (including rent).
In Seville and Málaga, your budget can be as low as US$1,500… and prices drop even more as you move inland.
Rent
€ 800
Unfurnished, two-bedroom apartment.
Transportation
€ 60
Bus/metro pass for two, occasional taxi.
Electricity
€ 100
A/C usage.
Telephone
€ 35
More than 150 channels, and internet speed of 20Mb/s—speeds of up to 300Mb/s are available for about double the cost
Internet
N/A
Bundled with phone.
Groceries
€ 300
Basic items for couple.
* US dollar amounts are according to currency exchange rate as of July 2022
#2

– Affordable Property (Cheaper Than France And Portugal)…
Spain is the most popular second-home destination in Europe and home to some 7.2 million expats. Despite its popularity, the cost of housing remains cheaper than many of its neighbors…
Spain and Portugal boast many of the same attractions. So, how do property prices compare between the two?
Luis da Silva, my go-to real estate expert in the region, says:
"When you compare like with like, real estate in Spain is really much cheaper. Thanks to Portugal's limited housing stock and prices inflating in recent years, you get a lot more bang for your buck in Spain. And you have a much bigger variety of costas to choose from."
Comparing like with like on the Atlantic coast, we find…
A two-bed townhouse in one of my favorite spots in Portugal's Algarve for US$468,000…
Meanwhile, near the town of Cádiz on Spain's Costa de la Luz, you can buy a similar townhouse at the beach for US$244,750…
That's almost 50% less in Spain.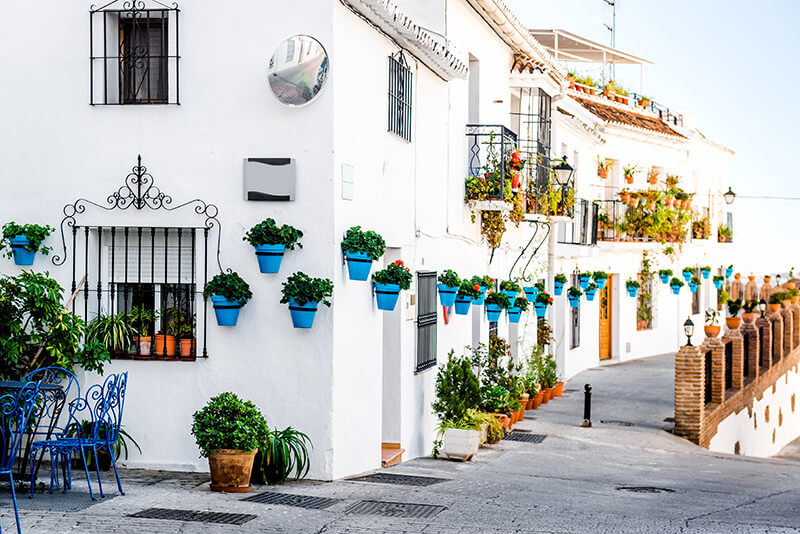 What about prices on the Mediterranean?
Portugal doesn't have a Mediterranean coastline. But, if we look to the French Riviera, there's a two-bed apartment in Nice, with sea views, asking US$555,700…
Yet, on the Costa del Sol, surrounded by beaches and golf courses, you can buy a similar two-bed apartment, second line to the beach with wide sea views, for US$229,875… almost 60% less!
#3

– Choose Your Lifestyle (Spain Has It)…
From cosmopolitan cities to sun-kissed Mediterranean shores… to romantic island escapes and mountain villages lost in time… modern Spain has 17 autonomous regions, each with its own personality and customs—and, sometimes, its own dialect.
Whichever region you decide to call home, you'll never be stuck for new cultures to explore.
Want a vibrant city, full on Old-World charm, where there's always something going on? Choose from Madrid, Barcelona, Valencia, Seville, and many more…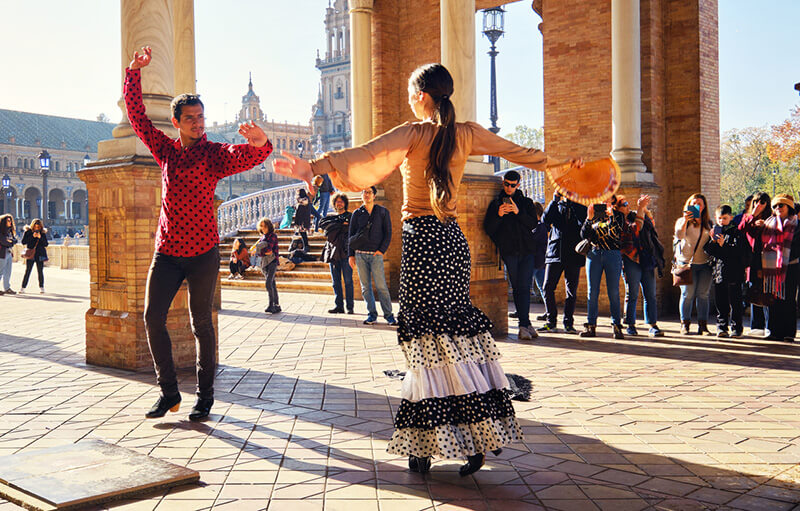 Prefer to live by the beach? Again you have options… from the wild Atlantic coast to the calm shores of the Mediterranean… and from mainland to island…
Looking for the quieter life? Escape to lush Galicia where shepherds still roam the hills… and local bakers deliver their fresh loaves to your door, ready for when you wake.
#4

– Laid-Back Pace Of Life…
If you're hoping to escape the rat race once and for all, you'll find Spain refreshing…
This is a true work-to-live society with an emphasis on time with family and friends.
Siesta culture is still strong. And holidays are many—with each region having colorful festivals throughout the year.
In many ways, life in Spain can feel like the America of the 1970s. People get dressed up… no matter how small the occasion. And you'll often see three or four generations socializing together.
Retirees are respected here, too. Ivan, one of our local contacts in Cádiz, told us: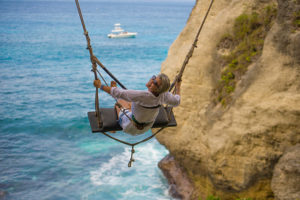 "Older people are very respected in Andalucía. They live their lives to the fullest until the very end. They still socialize in the plazas, play dominoes, babysit their grandkids at the beach, and do exercise classes together.
"This is especially true about older women from Andalucía. They are my inspiration for how to age with elegance. They still get dressed up, do their hair and makeup, go out with their friends to restaurants and cafés, and so on. And they are sassy!"
#5

– Great Weather (With Sunshine Year-Round)…
With an average 3,000 annual sunshine hours, you can expect to enjoy the outdoor lifestyle most of the year…
The Andalucía region is the hottest part of all western Europe. In Seville, daytime temperatures in winter rarely drop below 60 degrees. But if you can't stand the intense heat of high summer, cities like Málaga and Valencia provide a more comfortable climate.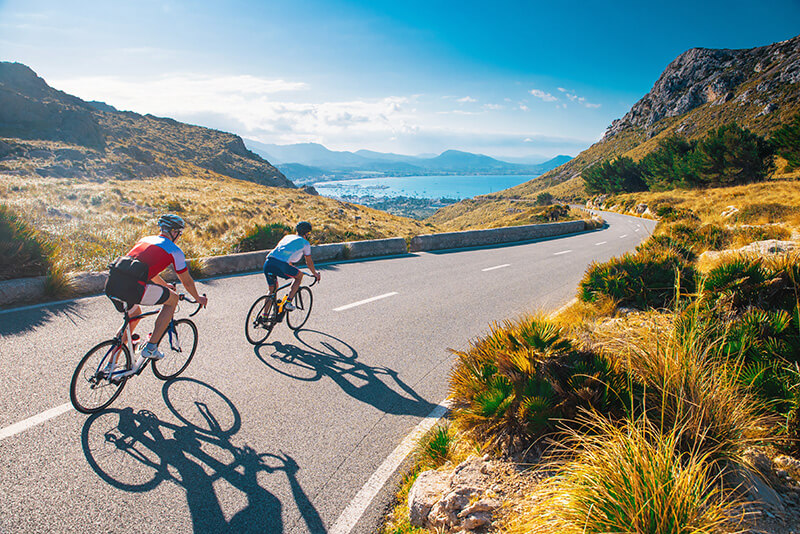 If you want a taste of winter chill, you'll find snow to the north in the Pyrenees, and south in the Sierra Nevada. Both provide skiing and snowboarding during winter months.
#6

– World-Class Beaches…
From its dramatic Atlantic shores to idyllic Mediterranean beaches, Spain has more than 3,000 miles of coastline… not forgetting its Balearic and Canary islands that attract everyone from the jet set to the budget traveler…
The Costa del Sol is home to the most stunning beaches, so it can be hard to get near one in high season…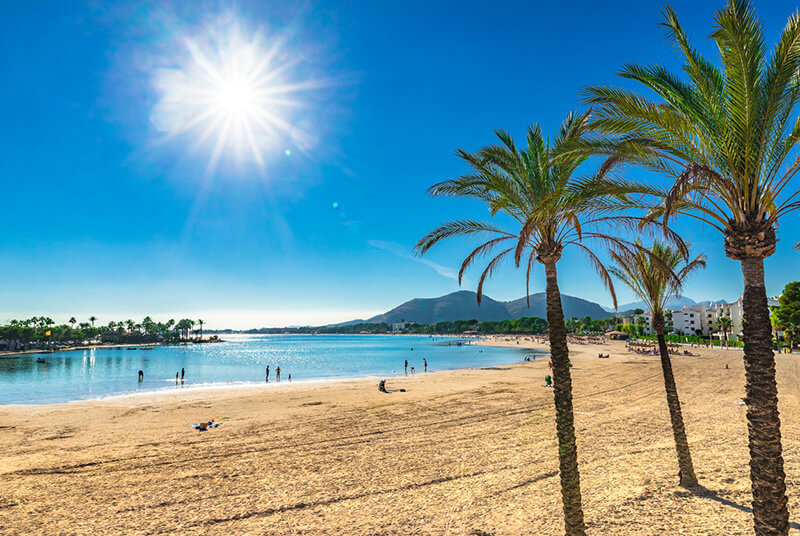 But travel north to the Costa Brava or Costa Dorada… where the crowds begin to thin out… and you'll find long, golden beaches lapped by the warm Mediterranean…
Spanish beaches are also clean and safe for swimming. The country holds the most blue flags of all European countries—and has done so since the awards began in 1987.
#7

– Top Health Care…
The Spanish health care system is one of the best in the world—it placed 7th in the most recent World Health Organization rankings.
As a North American retiree, you likely won't have free access to the Spanish public health system. But there is a pay-in scheme of around US$65 a month for under-65s and US$170 a month for older residents. Meantime, private health insurance plans start from around US$300 a month.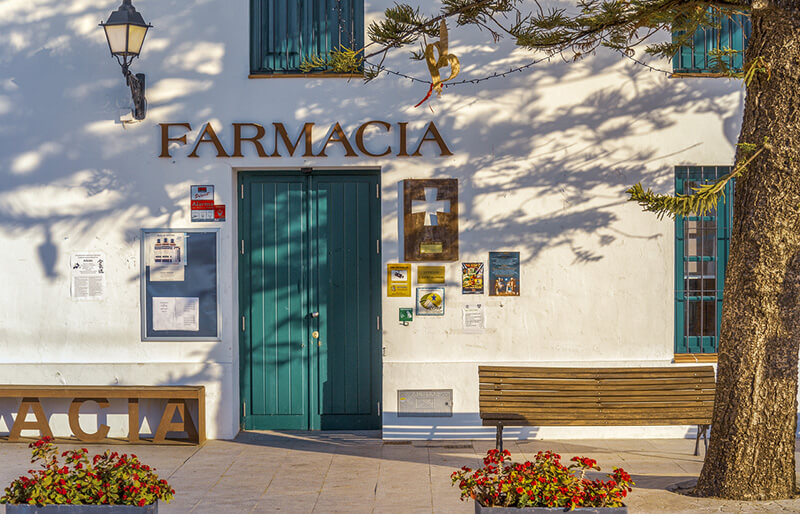 If you need ongoing access to health care, you'll be well catered for…
My friend Lucy who spent many years living in Barcelona says, "Barcelona has an enviable reputation for health care. There are well-trained doctors galore and many English-speaking ones from several different countries. Consultants in every specialty can be found throughout the city."
#8

– Healthy, Hearty Food (And Great Wine)…
Thanks to the rain up north and the Mediterranean climate down south, almost every fruit and vegetable grows here.
Valencian oranges are renowned as the best in the world… Galicia produces fine cheeses… the Mediterranean serves up the freshest seafood… and olive oil is a staple.
It's no secret that the Mediterranean diet is a healthy one. For the fourth year running, it was voted the best diet in world by U.S. News & World Report.
Untouched Beaches And
Coconut-Covered Mountains

"It's generally accepted that the people living in countries bordering the Mediterranean Sea live longer and suffer less than most Americans from cancer and cardiovascular ailments. The not-so-surprising secret is an active lifestyle, weight control and a diet low in red meat, sugar and saturated fat and high in produce, nuts and other healthful foods."

‐‐U.S. News & World Report
Living here, you could—without any real effort—eat your way into better health.
Best of all, eating out is extremely affordable. In some places, simple tapas come free with your glass of beer or wine… or pay a few dollars for a heartier dish.
Spaniards eat their main meal at 2 p.m., and you'll find restaurants offering their three-course menú del día for lunch…
Expat in Valencia Mike Herndon says, "I'm single and I don't cook at home. Why would I when I can enjoy a three-course lunch at one of my favorite restaurants for about US$10."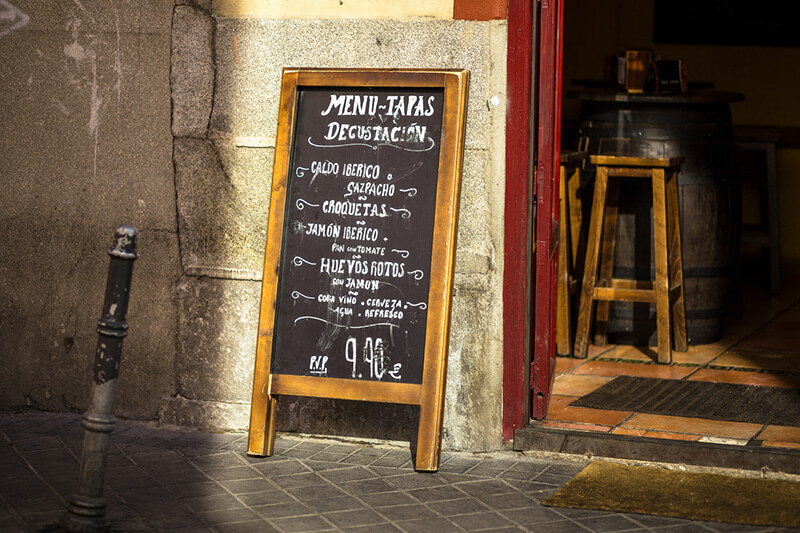 And let's not forget wine…
Spain, home to the most vineyards in the world, is also the second-largest wine exporter…
You can buy a good bottle in the supermarket for US$4 or US$5. When you feel like splashing out, you'll find excellent wines for around US$10 to US$12.
#9

– A Cultural Powerhouse…
If you're looking for a rich culture, Spain is hard to beat…
City-lovers will be spoiled with entertainment options in Madrid and Barcelona, both of which boast stunning architecture, countless museums and art galleries, theaters, cafés, and every kind of cuisine.
In Barcelona, recently named "the greatest city on Earth" by The Telegraph (UK), all you have to do is grab a seat at an outdoor café and soak up the atmosphere…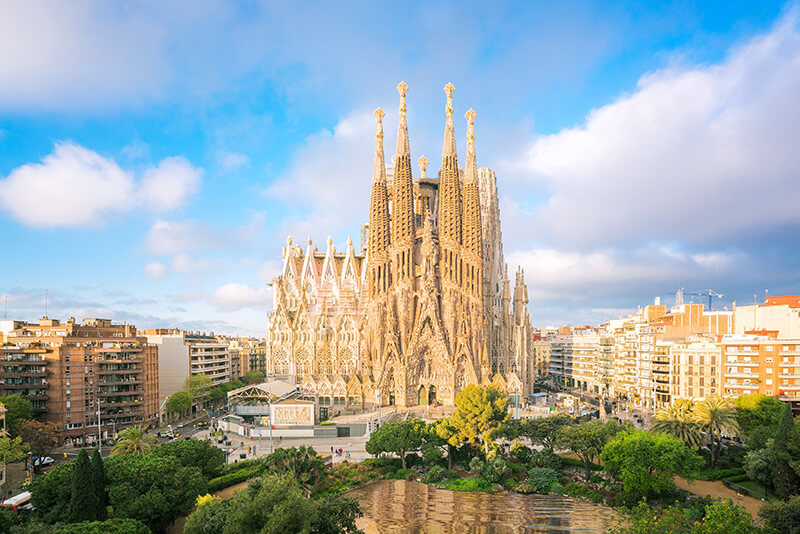 Andalucía is the birthplace of flamenco and there's a particularly strong culture of this artform around Seville and Granada… though you can clap along to flamenco shows in all major cities, too.
From the Aqueduct of Segovia to the Alhambra in Granada to La Sagrada Familia in Barcelona, local architecture is impressive and varied with well-preserved remains of Roman and Moorish rule to more recent Gothic and Gaudi offerings.
If you're a soccer fan, you'll fit right in. Soccer is a religion in Spain. Those that don't pack the stadiums and streets on match day gather with their families to watch it at home. You'll have plenty of opportunity to experience premier league, European, and international action in full color.
#10

– Access To Europe…
A huge advantage of living in Spain is the chance to explore Portugal, France, and beyond. Whether by road, rail, or air, Spain's infrastructure allows you to plan your European adventures easily, frequently, and affordably.
From Seville, you can be in the Algarve in less than two hours by car… From Barcelona, it's just over two hours to the French Riviera.
Fancy a long weekend in Amsterdam, Vienna, Rome, Prague, or Dublin? Budget airlines like Ryanair and EasyJet offer cheap flights all over Europe, with services close to all major towns.
#11

– Lots Of English-Speaking Company…
If you're hoping to find English-speaking friends in your new home—at least until you find your feet—you won't be disappointed…
Madrid, Barcelona, and Valencia all have established expat communities where you'll find plenty of native English speakers. The same is true of the Costa del Sol where Brits have been visiting and putting down roots for decades.
If you want to make local friends—or get any business done outside of the main tourist areas—you're going to have to learn to speak at least some Spanish.
The good news is that Spanish is one of the easier languages to learn… and the locals are very patient, encouraging, and forgiving.
Expat Interview:


Why Stephanie Chose To Settle


In The Costa de la Luz
LIOS:

How did you end up in Spain?
Stephanie: My husband retired from the U.S. Army in 2015, and we decided to take a year off to travel. We thought we'd go back to work but realized that the cost of living is so much cheaper overseas… even in Western Europe.
We went to the Valencia area the first time we came to Spain, and I was really struck by it. It was much more affordable than I thought it would be. The weather was beautiful—like San Diego but so much cheaper. That's when the wheels started turning.
But before we moved to Spain, we moved to Japan. My husband is half Japanese, so we spent two and a half years there while he undertook an intensive study program and reconnected with his family.
LIOS:

How did you decide on Rota?
Stephanie: We chose Rota because of the U.S. military base here. My husband is retired from the military, so we can use the facilities—most importantly the free Space-A flights for military personnel, but also the fitness center and other recreational facilities, the hospital, and the library.
My husband is an avid golfer, so that was another reason for choosing Rota. Unlike the Algarve where it's mostly expats and tourists using the courses, the Spanish actually golf as well. The courses are much more affordable too. My husband's membership at a 27-hole championship course is about €1,300 for the year with discounts to other courses in the region. Golf is also a great way to meet people.
On the whole, I feel that the Costa de la Luz is a hidden gem that many travelers (or aspiring expats) from other countries don't know about. Rota and the other towns along the coast have incredibly beautiful beaches that are practically empty for many months of the year. Spaniards from Madrid and Seville flock here in the summer and during Easter (Semana Santa), but the area has great weather year-round.
LIOS:

How have you found the social scene?
Stephanie: It's more difficult than I expected to meet people that are my age or in my situation. There are lots of active-duty military members as well as retirees who work on the base, but they've been assigned here, which is a different scenario. There are also lots of retirees who are married to Spaniards, but they're busy with family things…
The expat network is part of the fun of moving abroad… and there isn't one so much in Rota. That's not to say that you shouldn't also make local friends when moving abroad, but having expat friends is a nice way to transition as you build connections with locals, and it's fun learning about different cultures and speaking different languages, even if the people aren't from the host country. I find it easier to meet people through online expat groups.
LIOS:

What was it like moving during the pandemic?
Stephanie: We spent three months in Rota during winter 2019/2020, just to make sure we wanted to go through the effort of getting the visa. We decided that we did, and we returned to the United States in February 2020, just as Covid was hitting. We spent the better part of 2020 applying for our visas and finally moved here in December 2020.
There's never a perfect moment to move… I feature a lot of interview profiles on my website of people who have moved overseas, and the message is usually the same: Don't wait. Tomorrow might not come. Covid really made people see that.
My husband and I had been following the situation in Rota during the pandemic. When we got here, there was this amazing feeling of calm compared to the States, where everything was so political and contentious. Here, it was less of a constant debate.
At the moment, this sense of calm is my number-one favorite thing about living overseas. Whatever your views are, it's hard to disagree that things are simpler over here.
LIOS:

What else do you enjoy about living here?
Stephanie: I love the beauty of Rota's coastline. I never get tired of seeing the ocean. I can run along the beach for miles or walk through the pine forest on the dunes overlooking the Bay of Cádiz. I love that life is so much more affordable, and that fresh fruits, vegetables, and fish are a bargain.
It's so easy to make plans to do something outside, because the weather is rarely bad. We can eat outside year-round.
I also enjoy the calmness and simplicity of life in Rota and the relative safety. We had a checklist for our ideal overseas destination, and while we wouldn't consider locations that we knew were "unsafe," safety wasn't one of the specific items on our list. We hadn't realized how important it was until we lived in Japan
I've come to learn that safety is freedom. Japan was extremely safe… and for the most part, I feel comfortable in Rota. People are out so late here, so there are always people on the streets and I never feel unsafe at night.
LIOS:

Are there any downsides to living here?
Stephanie: We knew coming in that there's a massive cultural difference, particularly between Japan and Spain. We knew the mañana factor would be challenging…
Rota is like a sleepy town in the southern United States. The siesta is four or five hours per afternoon. You go to the restaurant, and often it's "no hay" (i.e., the thing you want is not available)… or there's a handwritten note on the door of the shop that says, "We're not here."
As Americans, we tend to see entrepreneurial opportunities and ask, "Why aren't you doing it like this?" You just have to adapt. It's a very slow pace of life.
Let's Find The Part Of Spain


That's Right For You…
If you're intrigued by the attractions of Spain (and really, I'm just skimming the surface here), and you're up for learning at least a little Spanish, then you're already off to a great start…
Now, how do you decide whether Spain is right for you… and, where, out of all its great options, would be the best fit for you?
Over the past number of years, we at Live and Invest Overseas have been scouring the length and breadth of Spain to discover the best places for expats to live… and growing our network of experts and expats in the country to help you answer all your questions (big and small)…
At last, I'm ready to bring all the answers to you… straight from the experts… at our first-ever, dedicated Spain event…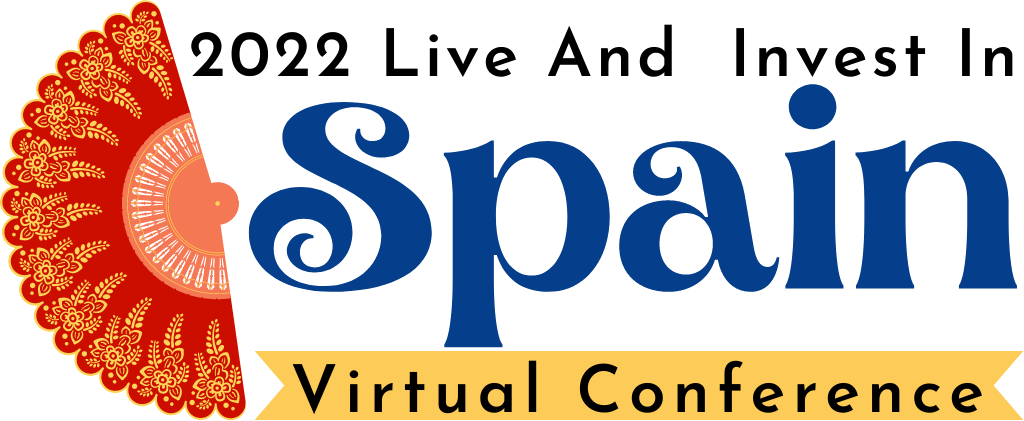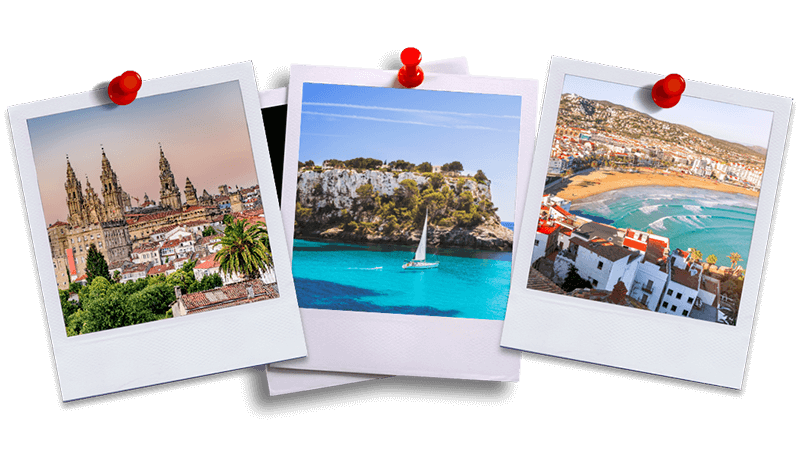 Live and Invest In
Spain Virtual Conference


Sept. 21–23, 2022
Discover Spain's Best And
Most Affordable Places To Live


(Get The Real Lowdown Straight From The Expats)
Over three days, you'll get to know Spain's best places to live—"thin sliced" to exact places that could be your personal slice of paradise.
Via high-definition video, you'll see and hear from professionals, expats, and retirees who are already working, investing, or living in these places…
All from the comfort and convenience of your own home.
The entire event is live, so you'll be able to interact with speakers—both to ask your questions during the presentations and to chat during social breaks.
As usual, we'll also have our popular chatrooms and forums open for you to connect with your fellow readers and the experts who will be on hand.
The event will give you a comprehensive, in-depth view of our top havens in Spain that outsiders and tourists simply don't know.
This Live and Invest in Spain Virtual Conference has three major aims:
#1: To help you to decide if Spain could be the place for you…
#2: To show you where in Spain, specifically, you should live or invest…
#3: To give you the knowledge, support, and contacts necessary to make any move with confidence—that is, to create your own "Spain plan"…
Find the security that comes with knowing exactly how you can live—comfortably—on a budget that starts around US$1,700 a month.
Get to know each of your best options for living well in Spain… from the hotspots of the Mediterranean coast to the natural beauty of inland villages… from bustling Barcelona to the chilled-out vibe of Valencia… and everything in between…
Discover how to tap into Spain's incredibly affordable health care system, with excellent facilities and English-speaking doctors…
Find out how you can save thousands—tens of thousands—by living in certain off-the-radar places…
See examples of comfortable apartments you can rent for US$500 per month or less…
Learn where the best investment markets are… and how to take advantage of Spain's Golden Visa program…
After attending this event, you'll be prepared and confident, with all the practical matters at your fingertips.
Taxes, banking, property financing, health care, health insurance…
Dealing with culture shock, mitigating your tax burden, shopping for health insurance, choosing life insurance, budgeting for owning a car…
Helping your children adjust to a new life overseas, staying in touch with your kids back home…
This is the A-to-Z education you need to make decisions about a next step in this country that offers so many appealing and almost unbelievably affordable options for investment and lifestyle.
And, most important, you'll benefit from the experience of those who have gone before you… at this Virtual Conference you'll hear from seasoned expats who were once in your shoes.
Plus, if you want to see the cities and properties firsthand, you can join one of the optional (virtual) real estate tours and see the lay of the land for yourself.
Our high-definition-video, online-event system makes it easy.
This 2022 Live and Invest in Spain Virtual Conference will allow you to explore one of Europe's most popular retirement havens right from the comfort of home.
Your presenters were very knowledgeable…

"Our minds are still reeling with all of the information presented to us. All of your presenters were very knowledgeable about their respective fields. We also enjoyed talking with other expats-in-waiting. Mike and I live in the snowy part [of] Washington State. Needless to say, we would love to spend at least our winters someplace warm instead!"

‐‐Laura D., United States
Experience Our Spain Event Live…
Then Get Lifetime Access
To ALL Of The Information
Your registration today gets you more than just interactive access to the event, our experts, and all of their insights…
Because this is all done via video over the internet, we'll be able to record everything—every data sheet, every checklist, every discussion, and every bit of information.
We'll edit, organize, and package it all into a high-definition video program that you can download or access online whenever and from wherever you want…
We'll even add in some e-books for quick and easy reference.
Plus, unlike our live events, these recordings will not immediately be available for discounted purchase to the general public.
I'm Thrilled…

"It's tempting to continue living the way you've been living. It's easy… and it can be very frightening to think about creating a whole new life for yourself in a foreign place. All I can tell you now is that I'm thrilled… it has been one of the most satisfying experiences of my life."

‐‐Jay S., United States
Have All Your Questions Answered
Attend this year's Live and Invest in Spain Virtual Conference and have every one of your questions answered…
And by people who know from firsthand experience what they're talking about…
What are the downsides of living in Spain in general… and each of the places within it that Live and Invest Overseas specifically suggests?
What's the best way to move money to Spain and into the local currency?
What are the benefits of the residency programs? What's required to qualify?
How can an expat get into the local health care systems?
What would life here really be like… in the expat hotspots, in big cities, in the islands, and in small towns?
Where can you find developed expat communities?
Where does it make sense today to buy for investment? Are mortgages available?
Where are the best beaches in the region? The best bargains?
Every question you have—if there's an answer for it, we can give it to you.
Our top experts in this region of the world will be on hand to discuss it all…
If All These Folks Could Do It,


You Can Do It Too!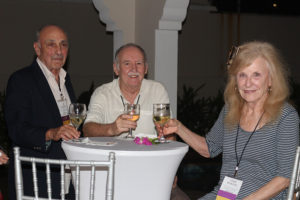 Who else will you meet at our Live and Invest in Spain Virtual Conference?
Others just like you who've already made the move:
Retirees and expats already living, investing, or doing business in this country.
In fact, these introductions alone are worth the price of admission. They could be the most important benefit of the entire event.
These people have no agenda. They've agreed to participate in the event for no reason other than they'd like to help out fellow expats considering following in their footsteps. They receive nothing in return… have no ties to anyone (including me or Live and Invest Overseas) and are hindered by no conflict of interest.
Our only request of them is that they tell it like it is. What you hear from these Spain expats won't be all good. Maybe it won't even be mostly good (depending on what you're looking for). But it will be the real deal.
No place is perfect, and we understand that a rose-colored view does you no favors…
There's a reason these folks are in Spain. They're all fans. But they're not fools. They know the good, the bad, the beautiful, and the ugly of day-to-day life and of trying to do day-to-day business in a foreign country… dealing in a foreign language…
They are enjoying the advantages… and they are reconciled to the downsides.
An important part of our agenda during this event is to show you these downsides… so you can decide whether you can live with them, too.
To this end, our expat speakers will be there to tell you about life in Spain as it really is…
This is not crazy!

"I loved hearing stories of expats… these are people who actually walked the walk and show people like me that this is not crazy."

‐‐Ellen Zucker, United States
Mediterranean or Atlantic?…


Cosmopolitan City or Traditional


Mountain Village?
We'll Take You On A Grand, Virtual Tour…
You may already know that you want to live at the beach… or right in the heart of an eclectic city where you'd never be stuck for something to do…
As I said, Spain serves up many options. And, you owe it to yourself to explore the best ones. Fortunately, you don't have to spend time in all of these places to narrow your options… we're going to bring them to you, via a grand, virtual tour, so you can decide the top few that make sense for your own further investigation…
Over the three days of this online event, you'll get an in-depth picture of our top places in Spain—and, in each case, we'll recommend whether they make sense for full or part time living… and where to look if you're planning on buying an income-producing property…
Here are some of the places we'll check out on our virtual tour together…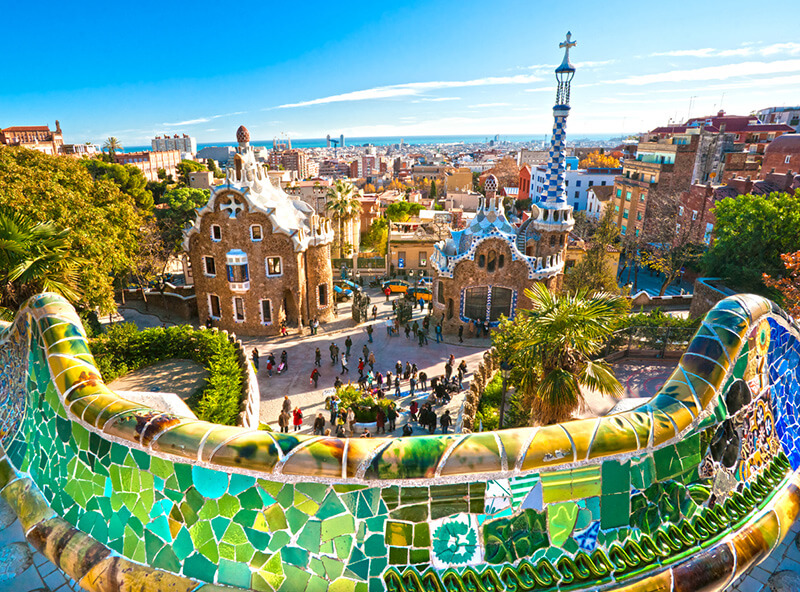 Barcelona. Whether you decide to live here or not, it's impossible not to be charmed by the place The Telegraph (UK) just named "the greatest city on Earth."


"Out of 50 nominations, Barcelona claims the top spot, thanks to its world-class architecture, thriving arts and culture scene and more than 2,500 hours of sunshine per year." – The Telegraph (UK).

But don't let its popularity overwhelm you. Despite being Spain's second-biggest city, you can find your way around quickly and easily thanks to its compact, well-laid-out design… and top-class transport system.

You'll never be stuck for things to do. Fantastic art and architecture from
pre-Roman to 21st century is everywhere. There are galleries,
monuments, theaters, restaurants, shopping—all the usual stuff of cities—yet there are also lots of parks and pretty plazas, great beaches, and easy access to the beautiful Costa Brava to the north and the Costa Dorada to the south.

Barcelona is also a completely livable city—not just for the tourists—and we'll show you the best neighborhoods where you can be in the heart of the action… and those to go for a quiet retreat…

You can rent in the center of Barcelona from around US$850 a month. And a couple could live here from US$2,000 a month.

The laid-back vibe of Valencia is reminiscent of L.A. (at a fraction the cost)…

Valencia. Spain's third-largest city has many of the same attractions as Barcelona—impressive architecture, great weather, fine beaches… but has that smaller town feel. Everything is within easy reach… and there's a welcome, slowed down vibe that's reminiscent of L.A…Along with its hip neighborhoods and vintage bookstores, retro shops, and co-working spaces, the city's Túria Gardens—a dry riverbed converted to a public park and known as "the lungs of the city"—has sports pitches, playground areas, and paths for long walks, runs, and cycles.Grocery prices here can be as much as 30% less than Madrid and Barcelona. You can rent a two-bed apartment from around US$800 a month… and your monthly living costs (for a renting couple) would be around US$1,700.

Expats recently voted Málaga the second-best city in the world to live. It's also one of the cheapest cities in Spain…

Málaga. Despite being on the sought-after Costa del Sol, Málaga is a surprisingly affordable place to live—in fact, the Andalucía region it's part of is one of the cheapest areas of Spain.Not only do you have access to stunning Mediterranean coastline and long, sandy beaches, Málaga also offers up lots of culture in its old town, from its Roman amphitheater to its Moorish fortress (the best-preserved example in Spain), and it's a great base for exploring the region's national parks.Travel+Leisure recently called Málaga a "museum-goer's paradise." Renowned as the birthplace of Picasso, the town has an 8,000-square-foot museum in his honor. It's also home to the first Centre Pompidou pop-up gallery outside France, hosting collections on loan from Paris.On top of all these attractions, it's a clean and walkable city. The most recent InterNations global survey of expats named Málaga as the second-best city in the world (after Kuala Lumpur). It's also a great place to catch an authentic flamenco show… and explore the strong tapas culture of the region.You can rent in the city from around US$750 a month… a three-course dinner for two at a nice restaurant costs around US$40… or go on a tapas-tasting journey with dishes starting as low as US$1.25…

The Costa de la Luz is one of Spain's best-kept secrets. Locals flock here in summer to escape the crowds on the Med…

Cádiz and the Costa de la Luz. Tucked away in the most southern part of mainland Europe, you'll find Cádiz province, with 300 kilometers of Atlantic coastline (making up the Costa de la Luz). Part of Andalucía, the province stands apart from the region… and indeed, the rest of Spain… with its own personality.The capital is Cádiz, one of the oldest cities in Europe. Though it welcomes cruise ships, it's unspoiled by mass tourism—most of the tourists here come from other parts of Spain. Many visitors are attracted by its outdoor and adventure opportunities, from surfing to hiking to rock climbing.With a population of around 115,000, this is a small, manageable city… with a growing reputation among expats.You can rent a furnished, two-bed apartment in the old town here from around US$880 a month… or buy a renovated two-bed apartment, just off the Plaza de la Catedral, for US$197,200…

Among Galicia's treasures, you'll find the Tower of Hercules—the oldest working lighthouse in the world…

Galicia. The Camino de Santiago runs right through this region and ends at the Cathedral of Santiago de Compostela. But there's far more to Galicia than the camino…What this region lacks in weather (it will suit those looking for a cooler climate), it makes up for in its lush landscape, fairytale-like scenery, wild Atlantic beaches, and the chance to escape to a tranquil way of life with a focus on simple pleasures…Food is wholesome and seasonal. Bread and cheese are diet staples… with trucks darting about the countryside every morning to deliver fresh loaves door to door. Here's where you'll find the best tortilla de patata (Spanish-style omelet). A large tortilla costs around US$17 in a restaurant and will feed three hungry people…A contrast to flamenco in the south, Galicia has a strong Celtic heritage… and you're more likely to hear bag pipes than castanets…In a nutshell, Galicia is Spain… but not as you know it. And, it has a lot to offer the right person.You can rent right in the heart of Santiago de Compostela from US$470 a month. Because of its tourist appeal, real estate in Santiago is pricy, but in smaller towns and villages, it's easy to find apartments for less than US$200,000… family homes from around US$250,000… and, if you're up for a renovation project, you'll find rural properties, with land, from as little as US$20,000.All this is to give you a taste of the top cities and regions on offer. We'll explore more areas… and dig even deeper into what day-to-day life is like in these places… during the three days of our Live and Invest in Spain Virtual Conference…But remember, no matter where you settle, you'll have all these wonders on your doorstep… to explore at your leisure.
This Is The Best Time In 20 Years To Find


Great Value On Your Home In Spain


(Plus, The Truth About Brexit)
The Spanish property market came under close scrutiny in the years leading up to Brexit. Many hoped for a mass exodus of Brits that might lower property values…
Turns out there are no "Brexit bargains" to be had…
In fact, the number of foreign residents from the UK surged by 176% over the last year, as many previously unregistered Brits made their residency official. Once you get used to the good life in Spain, it's hard to give up.
Long term, it's expected the number of incoming retirees and second-home owners from the UK will drop. But there are plenty lining up to replace them…
Spain, and especially the Costa del Sol, is an established second-home market—the most popular in Europe—so you'll also meet high populations of Italians, Germans, Dutch, and French over the summer months.
But, American buyers have an advantage today—all thanks to the "currency discount" you'll experience in countries that operate in euros.
In 2022, we find the dollar and euro at their closest point since 2002… and this near-parity is expected to last for the year ahead…
5-Year Euro Dollar Exchange Rate (EUR USD) – Historical Chart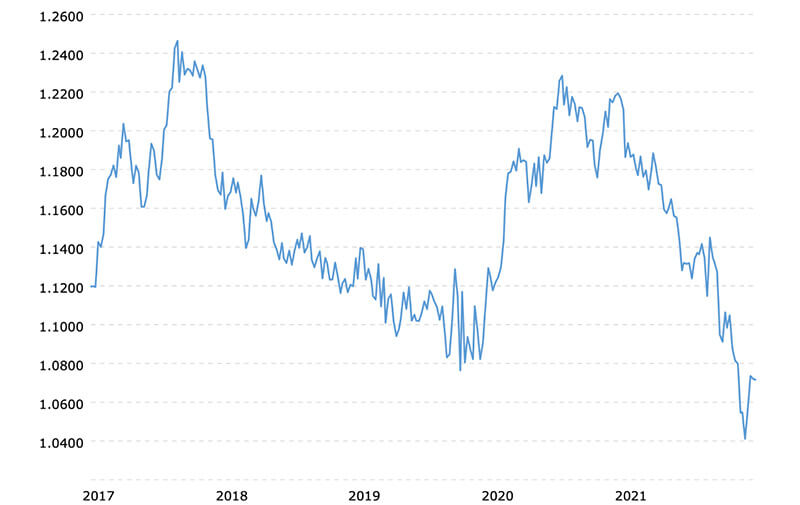 If Spain's values were already attractive in recent years, you can save thousands of dollars coming in today…
A Spanish home listed at €100,000 would have cost you US$133,000 back in 2013… but, today, you get that €100,000 home for just US$107,000.
Whether you're buying solely for your own use or hoping to earn rental income from your property, now is the best time in 20 years to be property shopping around Spain…
And under the guidance of my expert team, you'll find out:
What to look out for when buying a property in Spain…
The best neighborhoods to focus on (and where to avoid)…
Where you'll make the best rental yields (and what returns you can expect)…
How much to budget for transaction costs on your property purchase… as well as any taxes you'll need to pay as a property owner
Best of all, you'll have the opportunity to connect with my experts on the ground who can help you navigate your move.
You'll be able to send your questions to them in real time, via our live chat, during the event. But we'll also share their contact details so you can follow up with any questions that occur to you later… or when you're ready to pay a visit in person.
During our Live and Invest in Spain Virtual Conference, our real estate experts will give you real, live property listings to give you an idea of what's on the market—as well as investment opportunities you can act on.
To give you an idea of the price range, here are some we've recently spotted for sale…
Sample Property Listings:


Your Own Home In Spain From US$52,100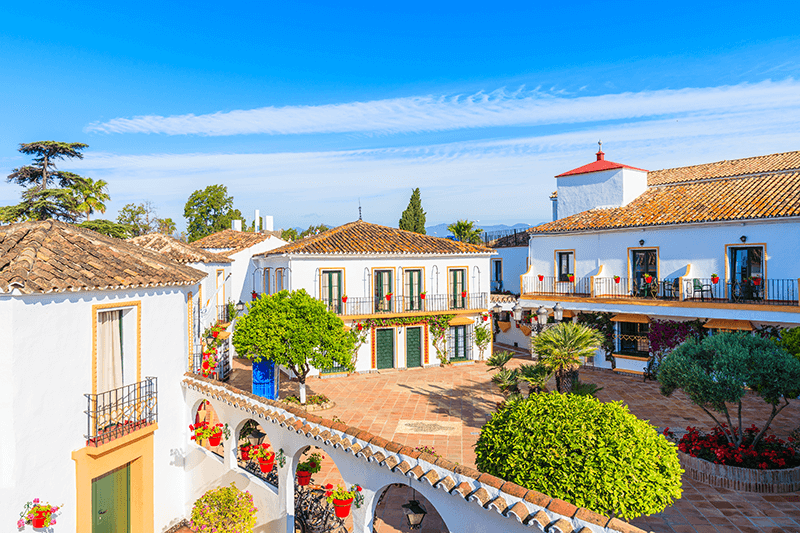 In Málaga province, in a charming village, a rustic townhouse full of character but in need of some renovation. The home is 95 square meters with three bedrooms and close to shops, cafés, and restaurants… and 10 miles to the beach. It's asking US$52,100…
Twenty minutes from Valencia, next to a park and near a hospital, a three-bed apartment of 73 square meters for US$73,400…
In the heart of Segovia—a university town one hour northwest of Madrid—a 93-square-meter, three-bed apartment that could serve as a student rental or summer vacation home for US$79,800…
A 15-minute walk from Valencia city center, a two-bed apartment of 77 square meters with lots of light. Close to public transport, supermarkets, schools, and a medical center, it's asking US$92,500…
On the Costa Almería, frontline to the Mediterranean, a one-bed apartment of 50 square meters. The building has a swimming pool and is close to the village's shops, restaurants, and health services. Price: US$95,800…
Tucked away in a hamlet in Galicia, a country home of 250 square meters with five bedrooms. The Camino de Santiago passes through the nearby town, so this could make an ideal traveler's guesthouse or B&B. Price: US$117,000…
In the heart of Valencia's historic old town, a 40-square-meter, one-bed apartment that's full of character. Although it's in a quiet location, this charming home (an ideal rental) overlooks a plaza and is close to hundreds of bars, cafés, and restaurants. Price: US$127,700…
Just off La Rambla del Raval in Barcelona, a one-bed apartment of 31 square meters. With easy access to all the city's highlights, this would make a great foothold in the city that you could rent out. Price: US$132,900…
Beautiful studio apartment in Nerja, Málaga with a spacious terrace overlooking the sea. Close to restaurants and shops, this 28-square-meter property is asking US$158,300…
In Valencia, steps from Túria Park, a two-bed apartment of 57 square meters. One of the bedrooms has a private balcony. Price: US$148,800…
Very Well Organized

"I just wanted to let you know how much
I enjoyed the conference.
Very well organized and more information
than I ever expected."

‐‐Dave D., United States
KATHLEEN'S PERSONAL GUARANTEE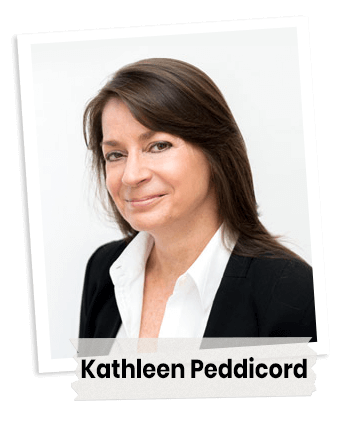 My name is Kathleen Peddicord. For more than 23 years, I was Editor and Publisher of International Living. In 2007, I took a break… and launched Live and Invest Overseas and the free Overseas Opportunity Letter.
At the same time, my husband, Lief Simon (the overseas investment part of the Live and Invest equation) and I moved family, business, and pets from Paris to Panama. (Previous moves were from the United States to Ireland and later to France.)
In other words, I've been covering this beat, researching, writing, speaking, and presenting on the opportunities for living, retiring, and investing overseas, for more than three decades.
I have traveled to more than 75 countries, invested in real estate in 23, established businesses in 7, and renovated historic properties in 6.
I've written numerous books, including "How To Retire Overseas" and "Buying Real Estate Overseas For Cash Flow (And A Better Life)" published by Penguin Random House and John Wiley Publishing respectively. I've also appeared many dozens of times on television and radio (everything from Bloomberg and CNBC to Fox and the Regis Philbin Show).
It's with that experience and that of my global network, that I confidently offer you this truly rare overseas retirement opportunity. At the Live And Invest In Spain Virtual Conference, we'll whisk you across the ocean to discover a quality, affordable lifestyle in a truly enchanting setting.
Lifetime Access Now Available


At The Lowest Rate Possible…
Our Live and Invest in Spain Virtual Conference has been designed to give you the firsthand, on-the-ground information that you need to make the right decision about investing and living here.
And, whatever lifestyle you're looking for—in the mountains, the cities, or at the beach—we'll have experienced expats on hand to show you what life is really like when you live in Spain.
The price of this year's Live and Invest In Spain Virtual Conference will be US$595 for access to all 3 days of the event.
But frankly, there's no need to pay that much…
Today, you can save at least US$200…
This cost includes:
Full access to the interactive workshops and presentations over all 3 days…
The Attendee Private Library, which includes research reports, legal guides, maps, and more…
All seminar materials, including session and chat schedules, biographies, and contact information for our faculty of experts…
On-demand recording access for every single session, including every question and answer—you'll never miss a thing…
After the event, you'll get access to the professionally-edited video package (it'll be many months before this is available to the public)…
Early Bird

Discount Now In Effect
The Early Bird Discount is currently in effect, meaning you'll save at least US$200 when you register today…
In other words, you'll get complete and interactive access to all 3 days of the event, including the recorded coverage of everything, for only US$395.
That's just US$131 per day and, again, it comes with the complete on-demand program featuring high-definition video recordings of everything once the event is over…
In other words, you'll get complete and interactive access to the event for only US$395.
Along with full access to every expert and the library of guides and reports that every attendee will receive.
In addition, you may be eligible for an even better discount*:
Subscribers of Overseas Living Letter, Global Property Advisor, and Simon Letter will get a US$50 discount… Register Here.
Or, if you're a member of Overseas Living Unlimited, you can double that amount for a full US$100 discount… Register Here.
And, of course, All Access Pass members get 100% free access…
* Please note that you cannot combine any of the discounts above.
In order to receive your savings, look for the special link on the registration form that corresponds to your discount…
Sign up with your discount rate now, here
More Information Than I Ever Expected

"I just wanted to let you know how much I enjoyed the conference. Very well organized and more information than I ever expected."

‐‐Dave D., United States
Start Living Your Dream Lifestyle


In 12 Months Or Less…
Spanish poet Federico García Lorca wrote, "There is no straight road in this world… only a giant labyrinth of intersecting crossroads."
Certainly, if you're scrambling to figure out where to go… and you're doing it all by yourself… it can feel this way.
But, if you're intrigued by all that Spain has to offer, I guarantee that this Live and Invest in Spain Virtual Conference is the straightest, surest path available to your dream life in the Old World…
Our experts and expats are standing by to help you navigate all the twists and turns… so you're ready to make your move to Spain in 12 months or less…
And, your satisfaction is 100% guaranteed.
If you're not happy with the event (or you need to cancel), just let us know by the end of the first day and I'll send 100% of your money back to you.
I urge you to give yourself the best start—sooner rather than later and in the best company—this September during my Live and Invest in Spain Virtual Conference.
I hope to see you log on.
Sincerely,


Kathleen Peddicord
Founding Publisher, Live and Invest Overseas
P.S. Remember, with the dollar performing at its strongest against the euro in 20 years, this is the perfect time to be shopping in Europe…
If you have your heart set on owning your home in Spain… you could save yourself tens of thousands of dollars on your purchase by acting over the coming months…
My expert team will help you develop an actionable plan so you can follow through on your move in as little as 12 months or sooner.
And, we'll introduce you to our trusted contacts who can support you through every step of your journey… both during and after the event.
This is your best shot at finding the life you want in Spain…
I urge you to take it.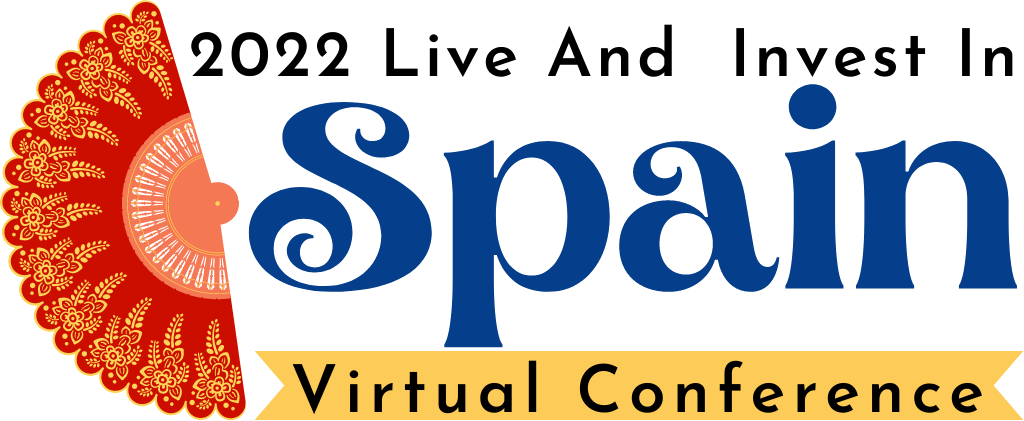 Here's What's Included In Your Registration
Complete access to three full days of interactive education and networking to help you make the right decisions about a new investment or life in Spain…
Your access to it all is via high-definition video… for both individual workshops and our popular panel discussions, as well as virtual tours for specific properties and regions…
Everything is recorded instantly for On Demand playback. Log in and out with ease for live, high-definition-video access to everything, including the individual deal presentations and our popular panel discussions…
Via online chat rooms and workshop participation, every attendee will have a chance to ask as many questions as they want. And every attendee will get access to contact information for every expert…
You'll get contact information for our attorneys, property pros, investment advisors, tax specialists, bankers, and retirement consultants…
Once the event is over, every attendee will receive a complete set of professionally edited video recordings—you'll have lifetime, on-demand access
with the option to download everything…
You won't have to spend money on travel and hotels, and neither will we. We're shifting those savings to you, and the result is an admission fee that is 1/3 of the cost of our on-the-ground event…
This is not a series of boring and overcomplicated university lectures…
This is straight-talking, tell-me-how-to-do-it information that everyone can understand.
Join us and you'll leave the event ready to take action. Guaranteed.
Wait no longer: Save your seat now…
It was a great conference

"Thanks so much. It was a great conference… better than expected. I will certainly recommend them to others and will probably attend another one myself!"

‐‐Karen Kirby, United States
KATHLEEN'S PERSONAL GUARANTEE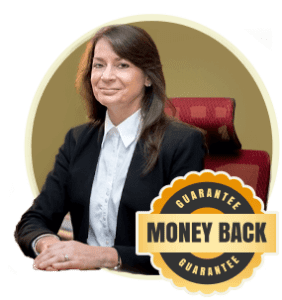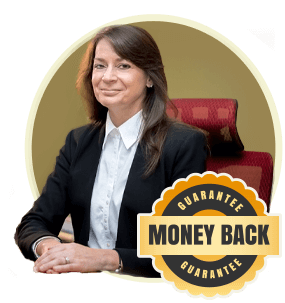 This the easiest and best way to help you consider, design, and follow through on the plan and strategy that suits you best in Spain.
Right now, you'll have to take my word for it…
However, if, after attending our Live and Invest in Spain Virtual Conference, you don't agree—no problem…
Like everything we publish, it comes with our No-Hassle, Money-Back Satisfaction Guarantee.
We'll refund your money 100% if you ask before the end of the first day.
Likewise, there is no cancellation fee prior to the event's start.
As you can see, the risk is all mine… you have nothing to lose and everything to gain…
Fill out the form below to begin… it takes less than a minute…
Frequently Asked Questions
Is this event for you?
If you want to live or invest in one of Europe's most sought-after retirement havens… at a surprisingly affordable price… then YES, this is the perfect event for you.
You'll walk away with all the knowledge, support, and contacts you need to make your move with confidence… in whichever corner of Spain you choose.
What is the daily schedule?
Wednesday, Sept. 21, 2022: 8:00 a.m. to 3 p.m. (EDT)
Thursday, Sept. 22, 2022: 8:00 a.m. to 3 p.m. (EDT)
Friday, Sept. 23, 2022: 8:00 a.m. to 3 p.m. (EDT)
Can I keep the video access?
Once the event is over, you'll have lifetime access to all of the content.
What's the refund policy? What if I need to cancel?
We are completely confident in the information you'll access during the event.
Right now, you'll have to take our word for it. However, if, after attending our Live And Invest In Spain Virtual Conference, you don't agree—no problem...
Like everything we publish, it comes with our No-Hassle, Money-Back Satisfaction Guarantee. We'll refund your money 100% if you ask before the end of the first day.
Likewise, there is no cancellation fee prior to the event's start.
Are there discounts available?
Yes! Right now, the Early Bird discount is available, saving you US$200 from the regular price. However, this discount will only be available for a limited time.
You may also be eligible for the following discounts:
Subscribers of Overseas Living Letter, Global Property Advisor, and Simon Letter will get a US$50... Register Here.
Or, if you're a member of Overseas Living Unlimited, you can double that amount for a full US$100... Register Here.
And, of course, All Access Pass members get 100% free access...
* Please note that you cannot combine any of the discounts above.
Secure Order Form
This will only take about 60 seconds... let's get started using the steps below...
New customer?