Discover The World's
Most Affordable Beach Haven
Live Right Near The Beach: US$966 A Month
Learn how to live the adventure of a lifetime on a Social Security check alone…
We've condensed what usually takes months or more of effort into just a single, action-packed day.
Via our professional online event system, you'll get to know all of Thailand's best places to spend time and money…
Your best options for getting residency, settling down, shipping your stuff, and making the move…
And you'll meet the professionals who work here and the retirees who are already live here…
All from the comfort of your own home or office.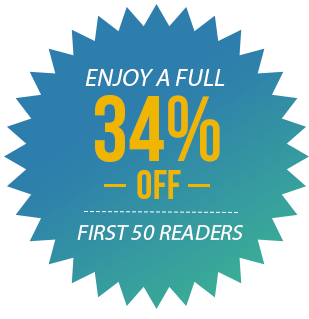 WHAT: 2022 Access Thailand Online Workshop
WHEN: July 6, 2022
WHERE: Online via our high-definition video event system
WHY: To help determine whether or not Thailand, the World's #1 Most Affordable Beach Haven, could be the place for you.
Our 2022 Access Thailand Online Workshop will give you the locations, insights, and contact information you need to find success here. With our help, you can land in Thailand and hit the ground running with your new life laid out in front of you…
The World's Most Beautiful Beach
Haven… Is Also The Cheapest
 Budgets Start At Social Security Alone
Dear Live and Invest Overseas Reader,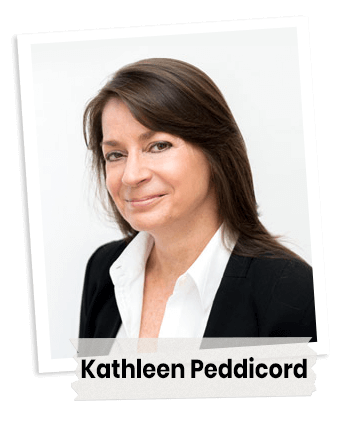 Dine out every day of the week… twice a day if you like…
Why not when you can enjoy a nice meal here for just a few dollars.
Have an hour-long massage. Heck, have one every afternoon. The cost is only US$10…
Engage full-time help around the house, and a gardener, too—you'll never have to wash another dish or pull another weed…
Again, why wouldn't you get yourself a little help, when a full-time maid can cost as little as US$100 a month… and a gardener half that?
Rent a fully-furnished home for a few hundred dollars a month…
And take off for weeklong escapes whenever the whim for travel strikes.
It can be hard to grasp just how absolutely cheap Thailand truly is…
50¢ lunches, US$1 taxi rides, US$10 full-course dinners, US$221 a month for a furnished apartment…
I know it can be hard to believe…
So let's do a quick comparison.
In Mississippi, the poorest state in the USA, the average salary is US$3,372 a month…
In Thailand, the average monthly wage is US$840—or about 1/4 of what folks earn in Mississippi.
That means you could live a middle-class life in Thailand for about a quarter of the cost of what you'd pay in the most affordable corner of America.
And, with all due respect to the great state of Mississippi, living in Thailand would be a much richer experience…
It'd be an adventure of a lifetime in an exotic land so friendly they call it the "Land of Smiles."
Plus, this part of the world is home to the world's—hand's down—most spectacular beaches: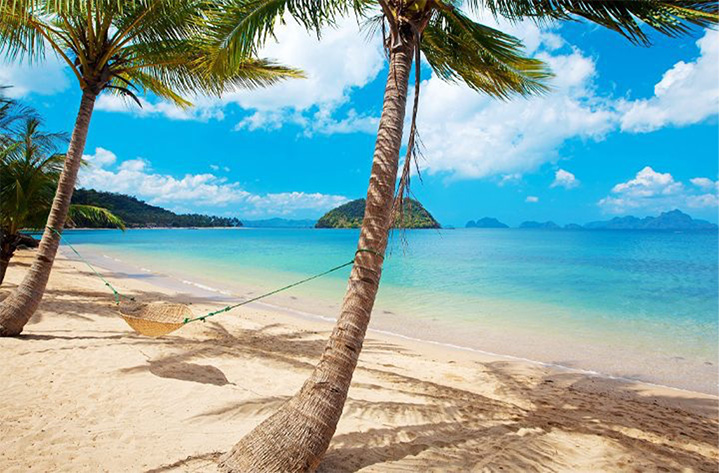 Yes, even if you earn the current average Social Security payout of US$1,657, you'd make nearly DOUBLE what many middle-class Thai do each month…
Have more to spend than that, and you could truly live like a king or queen.
White-sand beaches, tropical rain forests, sacred mountains…
Modern and traditional architecture, majestic temples, river cities, beach towns…
Cutting edge technology, the world's 3rd fastest internet, and welcoming locals.
Nowhere else in the world gets you so much for so little money…
And nowhere else in the world offers you world-class beaches at such a jaw-dropping cost of living…
The World's Best Beaches…
At The Best Prices

It's not just the team at Live and Invest Overseas who's in love with Thailand…With about 40 million visitors every year, Thailand is the 8th most visited country in the world, and the 2nd most visited in Asia behind only China.More to the point, Thailand hosts millions of expats from all over the world…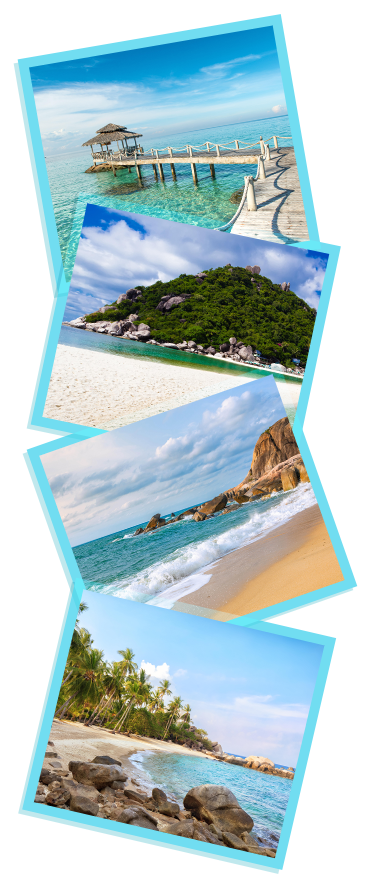 Of those, about 85,000 are British, while 40,000 are American and at least 5,000 are Canadians.What's the big draw?
Yes, Thailand is affordable… the temples are magnificent…
The food is tasty… the people are friendly… the nightlife is famous…
But spend a single day on any of Thailand's beaches and you'll know exactly why people become enchanted with Thailand.
Nearly 2,000 of miles of coastline fringe Thailand's mainland… and more than 1,400 islands and islets are located offshore.
This country literally has a countless number of beaches—and just about every type you can think of…
From the black pebbles on Koh Lipe island to the powder-white sands on the Railay Peninsula…
From tranquil beach coves like you'll find at Maya Bay (made famous by Hollywood in "The Beach" film) to the lively city beaches like you'll find in Hua Hin.
Speaking of Hua Hin, let's take a look at how much you might spend in a place where you can take advantage of Thailand's nightlife, modernity, cuisines, and beaches—all at the same time…
City Living In The Land Of Smiles…


Right Near The Beach For Only US$966 A Month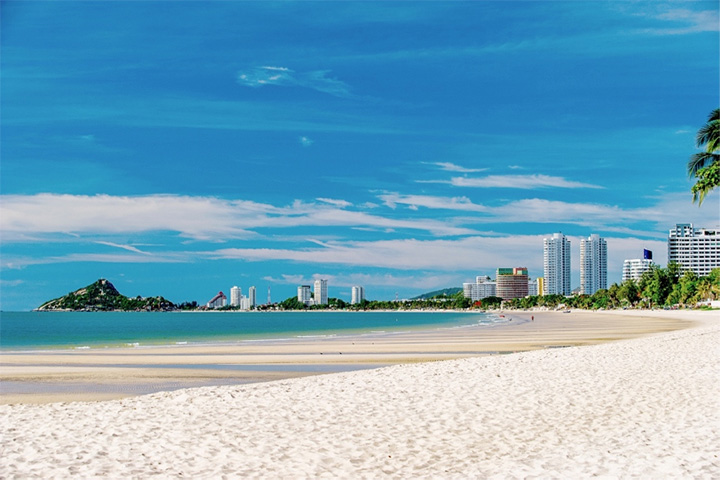 Hua Hin boasts miles of stunning beaches, pleasant weather, and a large expat community.
The rich selection of restaurants, internationally accredited medical care, and 10+ golf courses make it even more appealing.
Few places in the world match the attributes of a top retirement haven as aptly as Hua Hin…
It's close to the famous offerings of Bangkok, yet far enough away to be well removed from the chaos. Mountains, caves, waterfalls, and abundant wildlife can be seen at the seven national parks within a two-hour drive from town.
In many respects, Hua Hin could be described as the San Miguel de Allende (Mexico) or Pedasí (Panama) of Southeast Asia—you'll find a thriving expat community but still enough local Thai people to keep things interesting.
You'll know and feel that you're in a foreign country, but moving here does not require total immersion in a new culture…
Dollar for dollar, you can enjoy a much higher standard of living in Hua Hin than you could afford to have back home… take a look:
Rent
US$285
For a water-view, fully furnished apartment in a "resort style" building with pools and other amenities—just a short walk from the beach…
Public Transportation
US$20
The buses that run up and down the coast run less than 60¢ a ride, while taxis cost less than US$3 across the city
Gas
US$9
For cooking and hot water
Electricity
US$32
Frequent use of A/C  could double this amount…
Cable / Phone bundle
US$41
Cable TV and unlimited calls with mobile data plan
Internet
FREE
Hua Hin Citywide internet is free with registration—usually around 35Mb/s (faster service is available to purchase)
Entertainment
US$295
Full-course dining at a restaurant for a couple—twice a week
Food and groceries
US$275
For fresh, whole foods for a couple. Imported, freezer, and processed foods will cost you much more
TOTAL
US$966
Monthly expenses for a couple
* US dollar amounts are according to currency exchange rate as of June 2022
Even in Hua Hin, opt for beachfront digs, and you can expect to spend much more… at least US$800 for a fully-furnished apartment…
You could also hire a maid to make your life easier… at about US$5 an hour, you'll add at least US$75 a month for once-a-week visits.
Of course, you can live even cheaper—forgo the water view and you'll save US$100 or so on your housing. Likewise, you certainly wouldn't need to go out multiple times a week… and, if you're going solo, both your entertainment and grocery costs could be lower.
I should also point out that Hua Hin is one of the most expensive beach destinations in Thailand…
Off the beaten path away from the trappings of a major city, you could cut your costs by 25% or more in a more under-the-radar beach town.
Of course, not everyone wants to live at the beach…
Fortunately, Thailand offers up a bounty of geographic diversity.
In fact, one of Thailand's most popular retirement havens is famous for its tranquility, mild weather, and longevity of retirees…
Peaceful Living Among


Ancient Temples And Giant Buddhas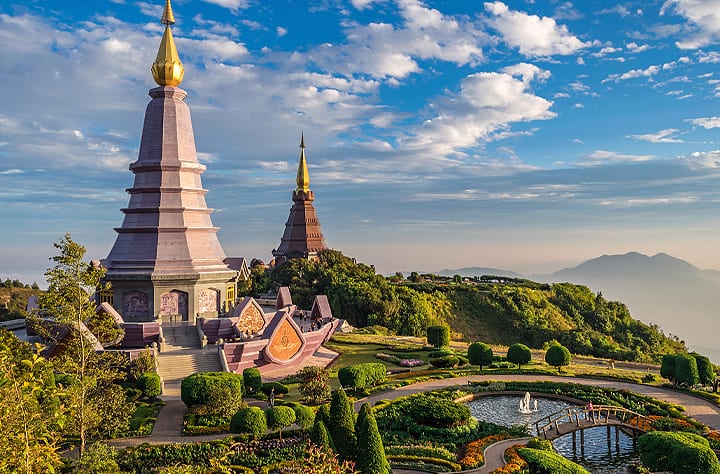 While this country boasts world-famous coastlines (including the lagoon from "The Beach" movie starring Leonardo DiCaprio), it's actually a mountain town that has been luring expats since the 1800s…
For hundreds of years, folks have come to Chiang Mai to relax and retire due to the weather, tranquility, and low cost of living.
The Old City neighborhood holds dozens of ancient Buddhist temples alongside stores, daily outdoor markets, and a huge array restaurants. Plus, festivals take place nearly every night, adding a daily buzz to an otherwise peaceful haven…
Rent
US$221
Fully furnished 1-bedroom apartment with pool access
Public Transportation
US$31
Monthly, unlimited pass for the bus… goes throughout city and surrounding areas
Gas
—
No mains gas connections
Electricity
US$44
Assuming nightly use of A/C
Water
US$0
Included in rent
Cable / Phone / Internet bundle
US$59
For high-speed Wi-Fi, Cable TV, and mobile plan
Entertainment
US$225
Full-course dining at a restaurant for a couple—twice a week
Food and groceries
US$290
For fresh, whole foods for a couple. Imported, freezer, and processed foods will cost you much more
TOTAL
US$870
Monthly expenses for a couple
* US dollar amounts are according to currency exchange rate as of June 2022
Just like any budget, you can almost always spend more or less depending on your needs and wants.
For instance, the above does not include international travel or health care—two costs that can be dramatically different from person to person…
Still, air travel throughout the region routinely checks in under US$100, and a doctor's visit here costs about US$23.
Once your health and housing are accounted for, the rest of your budget largely depends on the lifestyle you want…
For instance, our top correspondent in Chiang Mai—an American who's spent 20 years in Thailand—recommends budgeting for about US$1,500 a month to enjoy "a very comfortable life."
It's True: You Can Rent A Nice Apartment
For Less Than US$500 A Month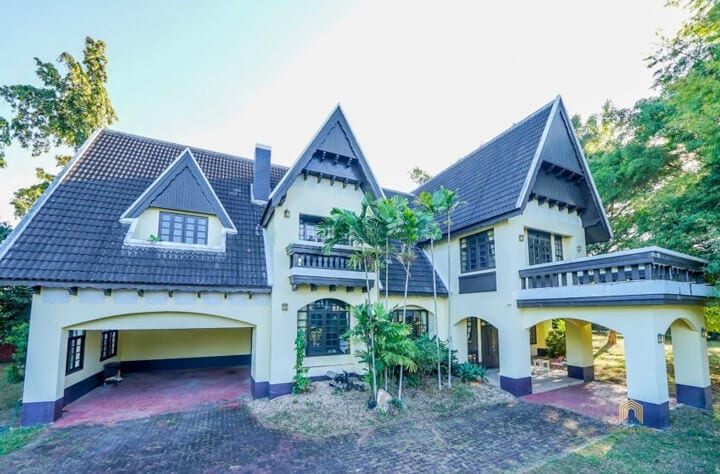 No matter where you live, your housing cost—a mortgage or rent—will be the single biggest expense in your budget.
Well, I've been around the world several times, and I've still yet to come across a cheaper place for housing than this region of the world…
In Thailand, you can rent large homes for about US$1,000 and luxury penthouses for less than US$2,000 a month.
If you're looking for something a little more normal for a couple or retiree, you're in luck…
Especially on one of Thailand's most popular and cosmopolitan islands.
This place is known for its sandy, palm-fringed shores… the waters are warm, clear, and inviting.
There's something here for nearly everybody…
Unique coastlines, world-class golfing,
world-famous dining, and a pulsating nightlife offer endless opportunities for entertainment.
In fact, more than 100,000 foreign residents have chosen to make a life here—that's over 20% of the island's permanent population.
And I can tell you this: they're all getting a heck of a deal on their housing expense…
Take this 1-bedroom condo highlighted in the photos to the right…
It's available right now for the equivalent of just US$260 a month.
And this is clearly no fixer-upper either—the condo boasts high-end finishes, a private balcony, and complete premium furnishings…
The building has two pools—a partly covered wrap-around lap pool on the roof, as well as a lounge pool on the ground floor…
Plus, it boasts a barbecue area, garden, social area with mountain and ocean views, full-time security, a gym, and community Wi-Fi…
Oh, and it's only a 5-minute stroll from this beach: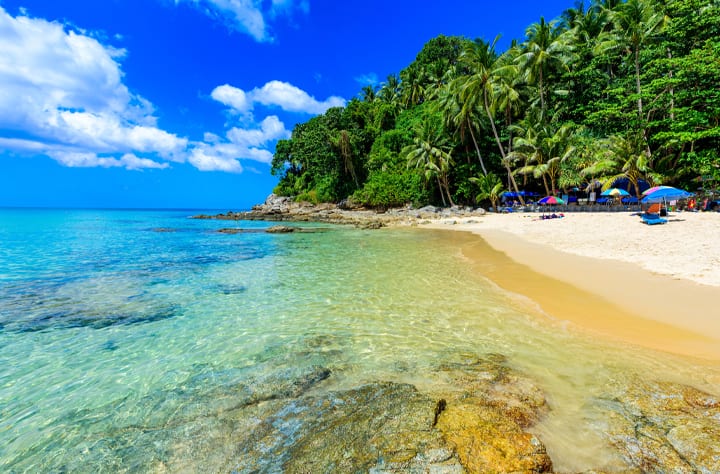 Again, it's all available for just US$260 a month.
I could go on and on and on with property examples…
Frankly, the single word I'd use to describe home options across Thailand is exciting.
It's exhilarating to think of the possibilities…
To live a life that only feels like you're living outside of your means—to live like you're on vacation every day of retirement…
Isn't that the goal, after all?
To cash in on all of that hard work you spent decades on?
And, even if you're not going to splurge on a home, just think of all the money that you'll save.
Here in Thailand, you can forget about worrying about your next egg…
You can have a truly luxurious retirement, complete with maid service, beachfront living, dinners out, a driver… even a boat!
You can afford it all here…
But What About

The Real Estate?
One downside of Thailand is related to buying property…
Or, rather, the fact that you can't buy it.
That is, like most of Southeast Asia, foreigners here are banned from owning land. A few exceptions exist, and we'll be happy to discuss them with you…
But if you want to buy anything for personal use or investment, you have three options:
Long-term land lease… in which you buy or build the building and rent the land beneath it, usually a 99-year renewable lease…
Partner with a local… a no-brainer for anyone with a local spouse or family member, but it's a risk to do so with anyone you don't trust (especially companies and "consultants" that offer services for putting their names on your title)…
Buy a condo… again, it's the land that you can't buy. Condos are fair game, and they come in all shapes, sizes, and locations with a high-quality construction and finishes widely available…
Just like the cost of living, real estate is a bargain…
In one of my favorite beach towns here, luxury condominiums start at around US$49,500. For around US$115,500, you could have an upscale and spacious place with a full Western-style kitchen, teak floors, installed phone lines, hot tubs, spectacular views and amenities such as swimming pools and golf courses.
Plus, the places you'd want to live are the same places people come to vacation… with the right property, you'll net an ROI of 5% to 10% per year on your investment.
You'll Enjoy A Healthier And
Longer Life In Thailand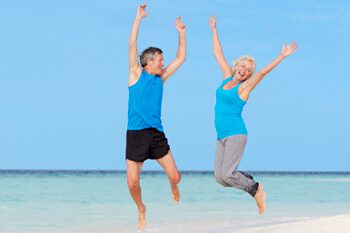 One of the big perks of living overseas is the natural tendency to lose weight and to become more active…
You're dining on and experimenting with fresh, local foods rather than easy and routine fast foods…
And folks tend to walk a lot when landing in a new place—to explore but also because they haven't bought a car yet if they're outside of a city.
I don't have to tell you that this trend is perhaps easiest to accomplish in Asia…
It's the most famous region in the world for healthy, fit, and long-lived people.
Of course, the medical systems here are some of the best on Earth.
A Live and Invest Overseas reader got in touch with us recently to recall his experience with the health care system in one of our top countries in the region…
What makes his story so compelling though, is Stephen had the experience of seeking medical care both in the United States (in Texas) and overseas (Thailand) for the same condition.
Here's how he describes his experiences…
"Let me give you a side-by-side comparison, Texas and Thailand," Stephen says.
"To start, in Dallas, I couldn't get an appointment for three months, because I wasn't a previous patient. In Bangkok, a doctor visit was available within 20 minutes, no appointment required.
"In Dallas, my visit was at a free-standing clinic, with two doctors on duty. In Bangkok, my visit was at a world-class medical hospital.
"In Dallas, my waiting time was almost five hours: 3 1/2 in the main waiting room and then another hour in the examination room. In Bangkok, my wait was 20 minutes (remember, this was without an appointment).
"In Dallas, after I'd seen my doctor, I went to fill my prescription. The first pharmacy told me I'd have to wait an hour. So I drove to a second pharmacy, where I had to wait 30 minutes. Total time, including driving, was 1 1/2 hours.
"In Bangkok, the pharmacy was on-site. My medication was delivered to me 10 minutes after I'd seen the doctor.
"In Dallas, the cost was US$150 for the doctor, US$50 for an 'extra services' fee, and US $150 for the medication. In Bangkok, the cost was US$30 for the doctor, US$10 for the 'clinic fee,' and US$100 for the medication.
"Bottom line, in Dallas, I spent six hours and US$350 and was frustrated the entire way. In Bangkok, it took less than an hour to achieve the same result. It cost me US$140. And I got fast service… with personal courtesy to boot."
And it's not just expats and locals that are taking advantage of the health care system in Asia…
More than 1.5 million foreigners seek medical care in Thailand alone ever year.
Elective procedures and major surgeries are significantly less expensive than in the U.S., and positive outcomes are high…
A heart bypass, for example, that would cost over US$100,000 in the United States will only cost around US$10,000 in Thailand.
A total hip replacement in Thailand costs around US$12,000, yet the same procedure in the States is more than US$80,000.
A simple MRI costs less than US$300, a saving of around US$700 compared to having the same procedure in the United States.
A Golfer's Paradise—
At A fraction The Cost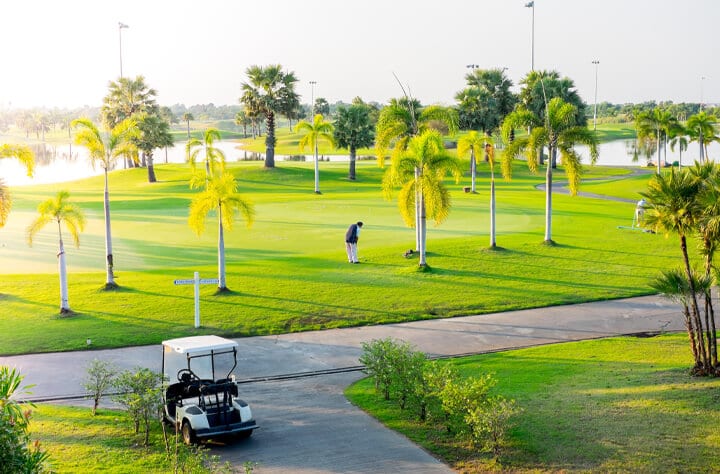 Just like anywhere else, golfing is a popular passion here…
golfing is a popular passion
In fact, Thailand has some 250 golf courses.
Golf is so vital to this country's tourism revenue that the government recently approved six "GQ" (golf quarantine) hotels where foreign visitors could play a round throughout their two-week isolation period.
Golf also has a place in the country's Golden Visa program. Foreigners who hold an "Elite Ultimate Privilege" visa qualify for 24 free golf or spa visits annually.
One of our favorite parts of the country is Hua Hin. This coastal resort is about 140 miles (225km) from Bangkok—close enough to the capital to avail of its amenities but far enough away to be removed from its chaos.
Since the 1920s, Hua Hin is the summer home of Thailand's royal family. It offers visitors and residents a wide selection of restaurants, internationally accredited medical care, and at least nine golf courses in close proximity.
Thousands of foreign investors and expats have invested in Hua Hin real estate. Around the golf courses, you'll find modern and secure gated communities. We found a 2,800 square feet (~260 square meters), 4-bedroom home on the grounds of Palm Hills Golf Club for the equivalent of US$163,175.
But Thailand Offers Much

More Than Just Affordability…
"Affordability" is usually the first or second reason most folks give for wanting to retire overseas…
Everyone is different, but other reasons tend to include something along the lines of: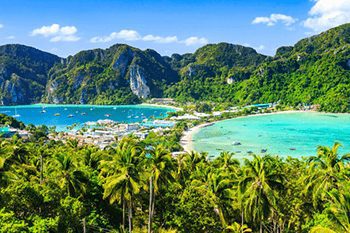 Beaches…
Better weather…
Adventure…
At this point, I think you're starting to understand that Thailand aces the affordability portion of our where-to-live-well-overseas test…
But this beautiful and exotic corner of the world boasts hundreds of thousands of expats—including for all of the reasons I listed above…
Nowhere else in the world will you get so much for so little money.
Not a fan of cold weather?
The weather here is tropical, though heading higher into the mountains rewards you with crisp and cool weather.
Needless to say, you can leave your snow shovel behind.
Thailand also boasts the Best Beaches In The World.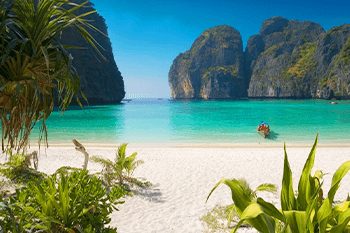 This is, of course, a subjective ranking.
However, Thailand offers every type of beach lifestyle you could imagine (again, at eye-popping low prices).
And the beaches here are immaculate… some of them are things of dreams.
What about adventure?
This is an ancient land of emperors and voyagers.
It's a place where you can stumble upon secluded thousand-year-old temples on routine hikes.
Between the history, landscapes, cultures, and cuisines, no areas on your travels around the world would be more exotic…
Yet, here in the "Land of Smiles," you'll be treated better than you would back home.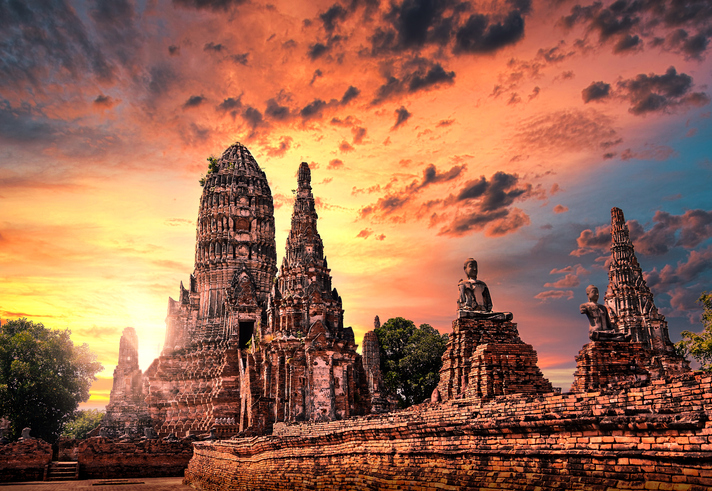 And don't forget about your health… again, this part of the world is famous for its fit, long-lived people. That's due in large part to the popular, healthy foods you'll find here…
In fact, weight loss is often the biggest surprise perk of a new life in Thailand…
Take John Leech, a Live and Invest Overseas reader now living here…
Born in New York and raised in the Chicago suburbs, John was a bit disillusioned with America…
"Things like the car culture bothered me, and the fact that everything was so expensive.
"I also disliked the fact that there was no real sense of community—particularly in the cities. People don't know their neighbors. People don't even make eye contact. I lived in an apartment in California for four or five years and I knew no one there. People were too busy to pass the time of day.
"In 2005 I visited Southeast Asia for the first time during a vacation, and afterward I had it in the back of my mind that I might like to return long-term… And that's what I did…
"I weighed 240lbs when I left the States—and I've lost 60lbs since I got here. As well as eating more healthy food, I also walk everywhere rather than drive…"
"At last, I can use my passport!"
"I've had my passport in my handbag for the last 27 years.
You have showed me the way to use it… and how. Thank you!"
– Penny Herbert, Canada
One of the remarkable aspects of Thailand's affordability is that the costs are so low that you'd never have to commit to staying put…
You could be a perpetual traveler in this part of the world—enjoying hotel stays, room service, and amenities while going from one tourist visa to the next—and still spend less than you would fully settled nearly anywhere else on Earth.
Either way, full-time or part-time, just imagine how much you could see and experience.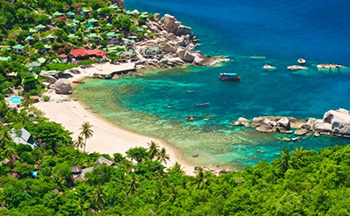 The white-sand beaches…
The exotic cultures and places…
A truly luxurious retirement, complete with maid service, beachfront living, dinners out, even a driver…
This opportunity is simply too tempting to ignore…
Of course, you need plenty of good information and insight, and you have important decisions to make…
And, mostly, you just want to make sure you get it all right when it comes to organizing a plan here.
Let's face it… the whole thing would be daunting—even overwhelming—if you were doing it all on your own…
But you don't have to.
Instead, you can tap into honest and current information, insights, and advice, all in one place…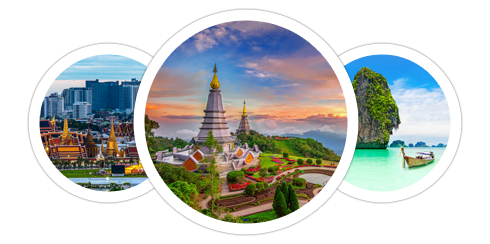 One-Day Online Event Takes Place
July 6, 2022
Explore The World's Cheapest Beach Haven…

From The Comfort Of Your Couch!
With our help, you can land in Thailand and hit the ground running with your new life laid out in front of you…
In fact, you can condense what usually takes months or more of effort into just a single, action-packed day.
Via our professional online event system, you'll get to know all of Thailand's best places to spend your time and money…
Your best options for residency, investment, property, and making the move…
And you'll meet the professionals who work here and the expat entrepreneurs and retirees who live here…
All from the comfort and convenience of your own home or office.
You'll get an in-depth view of Thailand that outsiders simply don't know about:
Find the security that comes with knowing exactly how you can live—comfortably—on a budget that starts around US$850 per month…
Get to know each of Thailand's fascinating regions, from its white-sand beaches to its misty mountain villages… from the bright lights of Bangkok to the fresh sprays of its rain forest waterfalls…
Discover why Thailand is also a winner for health care, with excellent facilities and services among the world's lowest prices…
Find out how you can save thousands of dollars when converting your currency to Thai baht…
See examples of comfortable apartments you can rent for less than US$500 per month. Some go as low as US$200 per month...
Get to know the real estate experts who have found Thailand's best income-producing properties…
Discover Thailand's best beachfront bargains… from the modern beach resorts to little-known hideaways…
Be prepared and confident, with all of the practical matters at your fingertips. From residency to taxes, from banking to real estate, you'll leave the event ready to take action. You'll be up to speed on…
Residency and citizenship…
Your tax liability…
Setting up and managing utilities…
Learning the language…
And other often-overlooked details of a new life abroad…
And, most important, you'll benefit from the experience of those who have gone before you. At this event you'll hear from current retirees and expats who now call Thailand home…
Again, you'll do it all from the comfort of your computer or tablet.
No travel expenses… no security lines… just a live and interactive event that you can join in from anywhere…
This online event will allow you to explore Thailand's greatest lifestyle opportunities from the comfort of home.

"Your presenters were very knowledgeable…"
"Our minds are still reeling with all of the information presented to us. All of your presenters were very knowledgeable about their respective fields. We also enjoyed talking with other expats-in-waiting. Mike and I live in the snowy part [of] Washington State. Needless to say, we would love to spend at least our winters someplace warm instead!"
–Laura D., United States
Experience It Live…
Then Get Lifetime Access
To ALL Of The Information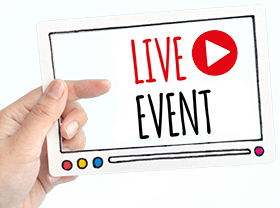 Your registration today gets you more than just interactive access to the event, our experts, and all of their insights…Because the Access Thailand Online Workshop is all done via video over the internet, we'll be able to record everything—every data sheet, every checklist, every discussion, every panel debate, and every bit of information.We'll edit, organize, and package it all into a high-definition video program that you can download or access online whenever and from wherever you want…
We'll even add in some e-books for quick and easy reference.
Plus, unlike our in-person events, these recordings will not be available for immediate purchase to the general public.

Have All Your Questions Answered
Attend this year's Access Thailand Online Workshop and have every one of your questions answered…
And by people who know from firsthand experience what they're talking about…
What are the downsides of living in Thailand in general… and each of the towns, cities, and regions we recommend specifically?
What's the best way to move money to Thailand and into the local currency?
What are the benefits of the Golden Visa residency program? Are retiree benefits available? What's required to qualify?
How can an expat get into the local health care systems?
What would life here really be like… in the expat hot spots, in big cities like Bangkok, big islands like Phuket, and small islands like Koh Samui?
Where can you find developed expat communities?
What's required to open a bank account?
Where does it make sense today to buy for investment? What real estate is off limits for foreigners?
Where are the best beaches in the region? The best bargains?
Can I really get the things I need? I mean… how would I live without Walmart and Home Depot?
Every question you have—if there's an answer for it, we can give it to you.
Our top experts in this region of the world will be on hand to discuss it all…
"This Event Should Be On Your Must-Do List…"
"Thanks again for all of your hard work in putting together the conference. For anyone considering a move to a foreign country, a conference like this one should be on their must-do list."
–Diane D., United States
"At The First Flurry Of Snow,
My 'Thailand Bag' Is At The Door!"
By Live and Invest Overseas Asia Correspondent Bart Walters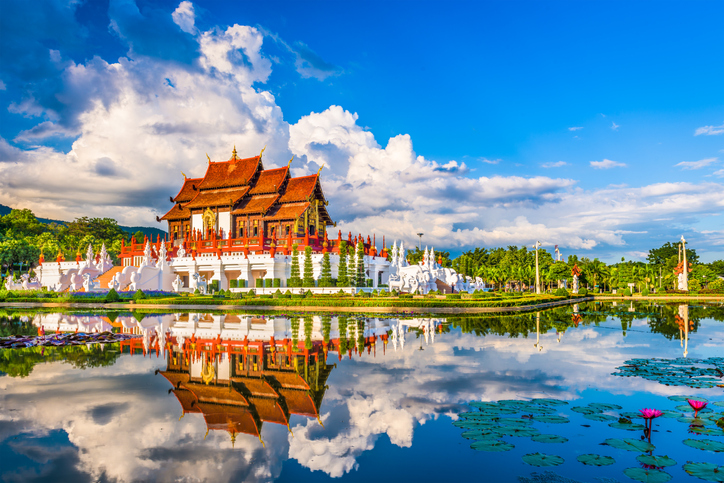 I first visited Chiang Mai in 2002, and it was sleepy beyond imagination. "I'm not old enough to live in Chiang Mai," was what I said back then. The frenetic city life in Bangkok still had me under its spell. The half-speed pace of the northern capital was just too slow.
Two decades later, it seems Chiang Mai and I have met in the middle. I've slowed down to a respectable pace for a 50-something and Chiang Mai has blossomed to earn its longtime nickname "Rose of the North."
Now I visit Chiang Mai quite often to connect with old friends and enjoy the relaxing pace. Sometimes I succumb to the laid-back yoga-hippy vibe and do nothing. Sometimes I head uptown to hear some live jazz. Every part of town is different. The people are friendly, the weather is perfect, and the cuisine is legendary.
The best thing of all? Nobody is in a hurry.
I've lived over half my adult life overseas. Chiang Mai is my top pick for anyone considering an overseas retirement in Asia.
Here are a few things that set it apart from other parts of Thailand…
1. It's not Bangkok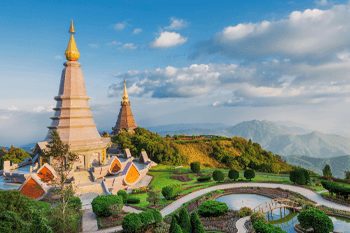 With a population of just over 1.2 million, Chiang Mai is not a big city by Southeast Asian standards. Big sister Bangkok boasts 12 million inhabitants, a figure considered an understatement by folks who live there.
Chiang Mai only has a few buildings that could be considered high rise, even those are less than 30 floors. Roads are fairly good, but the popularity of Chiang Mai as a getaway spot strains the infrastructure on big holiday weekends.
The city viewed from a higher elevation looks like a collection of neighborhoods that grew into each other to fill in the river valley. Chiang Mai is pretty busy, but it's by no means Bangkok busy.
2. It's more than a vacation spot 
While many tourists visit Chiang Mai, foreigners living here don't have the feeling they are tourists. In the big seaside resort towns like Pattaya and Phuket, large expat populations have formed. They enjoy the permanent vacation lifestyle but will always feel like tourists.
In Chiang Mai, foreigners live all over town, they experience many different lifestyles, and they connect to Thai culture in a more meaningful way. Chiang Mai is not a "tourists-who-stayed" kind of town.
3. It's plugged in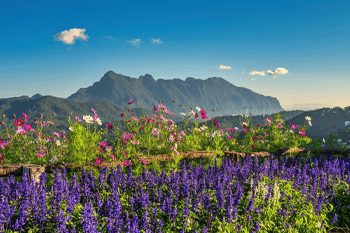 Many expats and retirees have chosen to live on some of Thailand's island paradises like Koh Samui or Koh Chang. Chiang Mai is the opposite of an island. Rather than suffer island-style isolation, residents enjoy total connection to the rest of the world.
Internet connections are high-speed and reliable…
Great roads lead in every direction, and an ever-expanding international airport is at your disposal. The overnight train to Bangkok is a trip everyone should take at least once.
Chiang Mai is plugged-in and connected to all of Asia and the world.
4. There's no big party scene 
Nobody comes to Chiang Mai for the nightlife.
Bars and restaurants close around midnight, and everything gets wrapped up before 2 a.m. There is no real red-light district, but there are plenty of friendly pubs and a surprising number of live music venues.
But if all-night go-go bars or dance clubs featuring famous DJs is your thing, Chiang Mai will disappoint.
What It Costs… And Who Comes Here
In my opinion, you can live a very comfortable life for 50,000 baht per month (about US$1,450). Retirees with a US$2,000 monthly budget could live a great life here.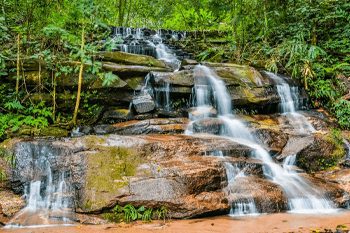 A conservative count of expats in Chiang Mai today is 30,000. They come from all imaginable walks of life… and many have reinvented themselves in their new home…
I know a stone mason that became an interior designer. I know a ship's-captain-turned-English-teacher. I know a celebrity hairdresser that owns a bungee jump concession. Diversity is what makes an expat community.
Though the majority of expats live full time here, Chiang Mai also draws the snowbird set…
Last year I met Richard and Gary, a couple of 70-somethings from Minnesota. Every year they come to Chiang Mai to wait out the harsh winter back home. "I get my Thailand bag near the door when I hear the first weather report of snow flurries," says Richard. "There's just no need to put up with 30-below."
Both of these gentlemen are motorcycle enthusiasts and spend time at one of several pubs that cater to their hobby. Chiang Mai bike week in December is the height of their winter season.
"Some people go to Florida in the winter," said Gary. "I've been to Florida… it ain't Thailand."
"Your honest, direct approach is a real service"
"What I admire is your honest, Your honest, direct approach is a real service. A lot of people have been hurt by nothing but glowing reports about offshore living from other sources. Your honest, direct approach is a real service."
–Arlean K., United States
"You Are Straight To The Point
"Kathleen… you guys are more straight-to-the-point and less hard-sell, which I appreciate at age 76."
-Walt B., United States
"This is not crazy!"
"I loved hearing stories of expats… these are people who actually walked the walk and show people like me that this is not crazy."
—Ellen Zucker, United States
A Small Fee To Claim
A Better Life Abroad…


How Much Does Admission Cost?
The 2022 Access Thailand Online Workshop has been designed to give you the expert information and insider access that you need to make the most important decisions about your new life in Thailand.
Whatever your goals, you'll come away with the locations and insights you need to start your journey…
The insights and wisdom you need to sidestep the usual mistakes and challenges…
And a support system that could very well be critical to your success and happiness in Thailand.
The cost of this year's Access Thailand Online Workshop will be US$295 US$195.
This cost includes full access to the interactive workshops and presentations…
Every research guide… the complete rolodex of experts… and the post-event package of video recordings.
Plus, you'll get access to the chat rooms and forums where you'll get to mingle with the experts as well as like-minded readers considering Thailand.
"First 50" Discount

Saves You 34% Off!
If you are reading this message, it means you are one of the first 25 people to register for the Access Thailand Online Workshop.
You're decisive… ahead of the crowd… a trendsetter…
And the recipient of a US$100-OFF DISCOUNT on the going rate for full access.
In other words, you'll get complete and interactive access to the event for only US$195.
Again, your admission comes with the complete on-demand program featuring high-video recordings of everything once the event is over…
Along with full access to every expert and the library of guides, data sheets, and checklists that every attendee will receive.
But this discount is only available to the first 50 readers to register…

"Very Well Organized"
"I just wanted to let you know how much I enjoyed the conference. Very well organized and more information than I ever expected.
–Dave D., United States"
"I'm Thrilled…"
"It's tempting to continue living the way you've been living.
It's easy… and it can be very frightening to think about creating a whole new life for yourself in a foreign place.
All I can tell you now is that I'm thrilled… it has been one of the most satisfying experiences of my life."
-Jay S., United States"
I Promise You'll Have No Regrets…
First of all, you'll be protected by my 100% Money-Back, No-Questions-Asked Guarantee.
If you're not happy with the event (or if you need to cancel), just let us know and I'll send 100% of your money back to you.
But that's not all I mean by "no regrets"…
A friend of mine, Lee, retired overseas 20+ years ago at the age of 49.
His motto?
"Go when you're able… not when you're comfortable."
It's incredibly sound advice…
And Lee, who recently made his fourth international move, has never looked back.
In fact, in my 35 years of this overseas beat, I've never met anyone who experienced such a disaster that they packed up and went home…
The only complaint I hear from expats is that they wish they had done this sooner—that they wasted precious years of their lives deliberating and waiting for the "perfect time."
So, whether you're planning to dip a toe with a vacation home overseas…
Or to go the whole hog with a full-time move…
My advice is to act sooner rather than later, and see where that takes you…
I urge you to give yourself the best start—sooner than later and in the best company—during my Access Thailand Online Workshop.
I hope to see you log on.
Sincerely,

Kathleen Peddicord
Founding Publisher, Live and Invest Overseas


Here's What's Included In Your Registration
Complete access to a full day of education, networking, and attendee-only offers…
We're using a professional online event system. This provides high-definition video for both the individual workshops and the virtual tours of locations and specific properties…
Via online chat rooms and workshop participation, every attendee will have a chance to ask as many questions as they want. And every attendee will get access to contact information for every expert…
You'll get contact information for our tax specialists, property pros, investment advisors, bankers, and retirement consultants…
Once the event is over, every attendee will receive a complete set of professionally edited video recordings—you'll have lifetime, on-demand access with the option to download everything…
Your satisfaction is guaranteed—for the education portion, the experts, and the event system itself. You're also fully protected if you decide to cancel before the event starts. Depending on the timing of the request, we'll either give you a full credit or refund 100% of your money…
You won't have to spend money on travel and hotels, and neither will we. We're shifting those savings to you, and the result is an admission fee that is 1/4 of the cost of our on-the-ground event…
This is not a series of boring and overcomplicated university lectures…
This is straight-talking, tell-me-how-to-do-it information that everyone can understand.
Join us and you'll leave the event ready to take action. Guaranteed.
Wait no longer: Save your seat now…

"It was a great conference"
"Thanks so much. It was a great conference… better than expected. I will certainly recommend them to others and will probably attend another one myself!
—Karen Kirby, United States
KATHLEEN'S PERSONAL GUARANTEE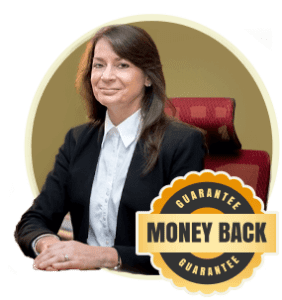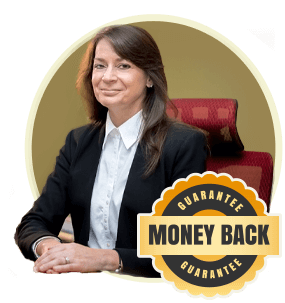 This is the easiest and best way to help you consider, design, and follow through on the plan and strategy that suits you best in Thailand.
Right now, you'll have to take my word for it…
However, if, after attending our Access Thailand Online Workshop, you don't agree—no problem…
You're fully protected by our 100% Money-Back, No-Questions-Asked Satisfaction Guarantee.
Likewise, there is no cancellation fee if you change your mind.
As you can see, the risk is all mine… you have nothing to lose and everything to gain…
Fill out the form below to begin… it takes less than a minute…
Frequently Asked Questions
Is this event for you?
If you're interested in a place that boasts an absurdly low cost of living, white-sand beaches, tropical rainforests, sacred mountains...
Modern and traditional architecture, majestic temples, river cities, beach towns...
Cutting edge technology, the world's 3rd fastest internet, and welcoming locals.... we strongly encourage you to attend.
On the other hand, if you are looking for proximity to North America... Thailand is probably not a good option for you.
How does it work?
All of the information, video sessions, and expert interaction is done online.
Our professional online event system features an online chat system, and every talk will have a question center… during each presentation, we'll take time to address the question over live video.
What is the daily schedule?
Wed., July 6: 8:00 a.m. to 3:30 p.m. (EDT)
Remember, every live session will be recorded and available for on-demand playback... so you'll never miss anything.
How long can I keep the video access?
Once the event is over, you'll have lifetime access to all of the content.
What's the refund policy? What if I need to cancel?
This is the easiest and best way to help you consider, design, and follow through on the plan and strategy that suits you best in Thailand.
If after attending our Access Thailand Online Workshop, you don't agree—no problem…
You're fully protected by our 100% Money-Back, No-Questions-Asked Satisfaction Guarantee.
Likewise, there is no cancellation fee if you change your mind.
Are there discounts available?
Yes!
If you can see this message, you qualify for the US$100 Early Bird Discount available to the First 50 attendees to reserve their spot.
This discount has already been applied automatically.
Secure Order Form
This will only take about 60 seconds... let's get started using the steps below...
New customer?