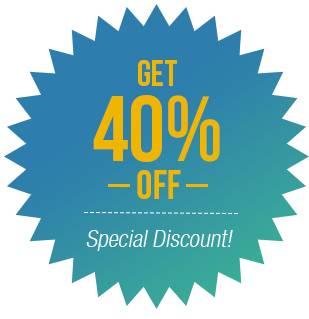 WHAT: Our Colombia Home Conference Kit is a complete library of living-and-investing-in-Colombia resources, including 30 high-def video presentations from our recent Live and Invest in Colombia Conference.
You'll get to know the country's regions—along with the professionals who work there and the expats who live there—all from the comfort and convenience of your own home. You'll get a comprehensive, in-depth view of Colombia that outsiders and tourists simply don't know about…
WHERE: Online, via our new and improved system featuring on-demand, high-definition videos and an organized library of tools and reports. Everything has been made easy via our click and play system. Your purchase guarantees you LIFETIME access to everything…
WHO: You'll hear from Lief Simon, Kathleen Peddicord and more than 25 additional experts and local expats on all facets of living and investing in Colombia… To succeed in Colombia, you need multiple perspectives, and you need to hear from the folks on the ground—that's exactly what you'll get here…
WHY: To discover your best options for thriving in Colombia… whether that is as an investor, entrepreneur, expat, snowbird, or retiree. You'll jumpstart and supercharge your plan with the help of fully vetted and trusted experts on the ground…
PRICE: US$328 US$198
Everything You Need To Know To Live, Retire, Or Invest In Colombia…

Our Live and Invest in Colombia Home Conference Kit is the most comprehensive resource out there and includes the all-new bundle of expert presentation recordings from our recent Live and Invest in Colombia Conference.
That's a total of 30 presentations detailing…
The best way to get the best deal on a rental or purchase…
Your best options for health insurance in this country…
How to open a bank account, for yourself or your business…
The top residency visa options… and how to obtain them…
Several itemized budgets for day-to-day living, for those with budgets big and small…
Terms for borrowing locally for the purchase of real estate…
Real-life tales of success from expats already living and doing business in this top emerging retirement and investment haven…
And much, much more…
Here's everything that's included in your
Live And Invest In Colombia
Home Conference Kit: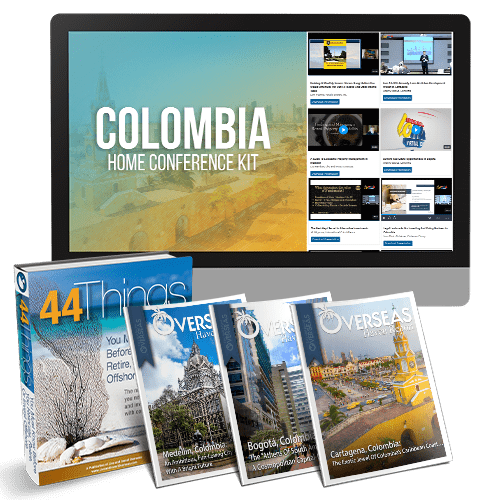 All 30 VIDEO workshops from our recent Live and Invest in Colombia Conference (a US$279 value)…
Medellín: Overseas Haven Report, a comprehensive and full-color look at Colombia's City Of Eternal Spring. This clean and friendly mountain destination with perfect year-round weather offers something for everyone (a $9.95 value)…
Bogotá: Overseas Haven Report, the largest city in Colombia is somehow one of its best-kept secrets. You can enjoy the comfortable climate of San Francisco combined with the city lifestyle of New York, but at a fraction of the cost. This is a destination for people looking to experience a booming gastronomic scene, live theater, art, fashion, and film festivals (a $9.95 value)…
Cartagena: Overseas Haven Report, considered the colonial jewel of Colombia's Caribbean coast, this city offers romance, charm, and a vibrant nightlife. Cartagena is the most popular beach destination in Colombia among both foreigners and Colombians (a $9.95 value)…
"44 Things You Must Know Before You Relocation, Retire, or Invest Offshore," the nuts-and-bolts support you need to plan your adventures in Colombia with confidence (a $29 value)…
A $100 Conference Voucher —Join us next time! This voucher saves you a full $100 on your next conference registration.
FREE INSTANT DELIVERY—The Live And Invest In Colombia Home Conference Kit is an electronic publication, delivered straight to your email inbox. There is no shipping and handling fee.
FREE UPDATE: Please note that, because this is an electronic publication, we are able to update regularly and often. Every time we do, for one year from the date of your purchase, we will send you the revised, edited, or expanded edition at no additional charge. When you buy today, you are guaranteeing yourself one full year of up-to-date information.
KATHLEEN'S PERSONAL GUARANTEE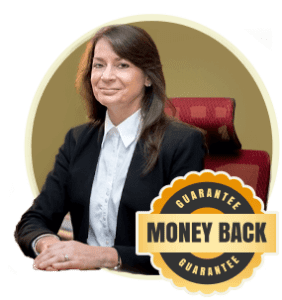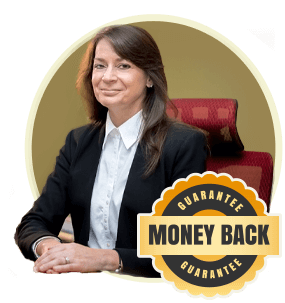 This is the best resource you're going to find available anywhere to help you consider, design, and follow through on the overseas lifestyle plan and strategy that suits you best. Right now, you'll have to take my word for it. However, if, after taking a look at our new Live and Invest in Colombia Home Conference Kit, you don't agree… no problem. Like everything we publish, it comes with our no-hassle money-back guarantee. We'll refund your money 100% no questions asked… if that's what you want.
Get started right now. Use the form below to order your all-new Live and Invest in Colombia Home Conference Kit right now.