Everything You Need To Know To Live, Retire, Or Invest In Europe…
I'm ready to discover the world's best overseas retirement haven!
Full Price: US$327
Special Discount: US$198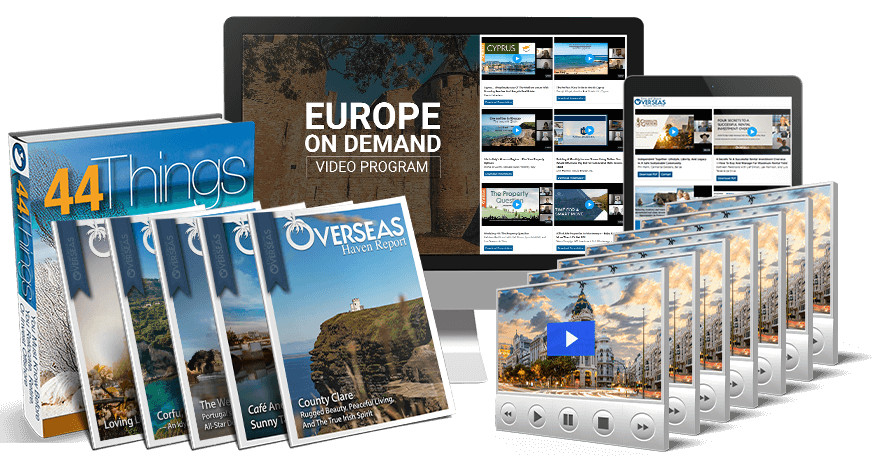 Kathleen, please send me your all-new:
Europe On Demand Video Program
Don't miss our best discount ever
Our Europe On Demand Video Program is our most comprehensive publication on Europe and includes the all-new bundle of high-definition expert video recordings from our most recent Virtual Conference.
That's a total of 47 presentations detailing…
How to find the spot in Europe that's best for you—whittling down from countries to regions to cities and even to neighborhoods…
The best way to get the best deal on a rental or purchase…
Your best options for health care and insurance…
How to open a bank account, for yourself or your business…
The top residency visa options… and how to obtain them…
Several itemized budgets for day-to-day living, for those with budgets big and small…
Terms for borrowing locally for the purchase of real estate when available…
Real-life tales of success from expat sand retirees already living in Europe…
And much, much more…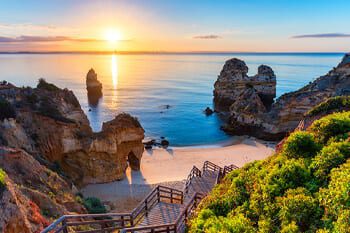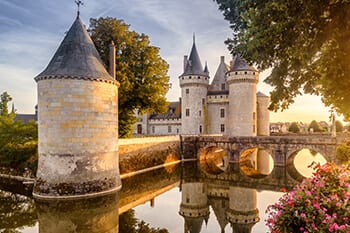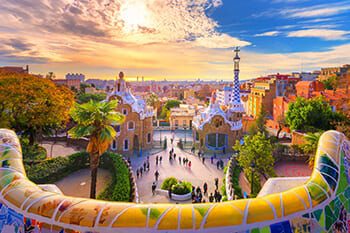 You'll Love This Program… Or It's Free!
This is the only program of its kind to help you consider, compare, and contrast Europe's best places to live as a foreigner…
We're going to help you develop an actionable plan so you can follow through on your move in as little as 12 months or sooner.
Most important, we'll introduce you to our trusted contacts who can support you through every step of your journey…. both during and after the event.
This is your best shot at finding the life you want on The Continent…
However, if, after taking a look, you don't agree… no problem. Like everything we publish, it comes with our no-hassle money-back guarantee.
We'll refund your money 100% no questions asked… if that's what you want.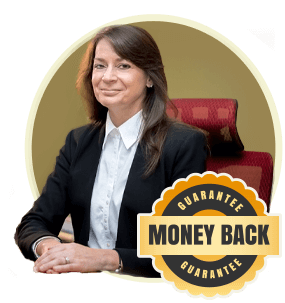 All 47 VIDEO workshops from our recent Live and Invest in Europe Virtual Conference (a US$381 value)…
5 Overseas Haven Reports—Covering 5 of our favorite place as to spend time in Europe, each of these guides is a master course in its own right with everything you need from itemized budgets and property listings to residency and heath care information…
"44 Things You Must Know Before You Relocation, Retire, or Invest Offshore," the nuts-and-bolts support you need to plan your adventures in Europe with confidence (a $29 value)…
A $100 Conference Voucher—Join us on the ground in Europe! This voucher saves you a full $100 on your next conference registration…
FREE INSTANT DELIVERY—The Europe On Demand Video Program is an electronic publication, delivered straight to your email inbox. There is no shipping and handling fee.
FREE UPDATE: Please note that, because this is an electronic publication, we are able to update regularly and often. Every time we do, for one year from the date of your purchase, we will send you the revised, edited, or expanded edition at no additional charge. When you buy today, you are guaranteeing yourself one full year of up-to-date information.
Get access in 60 seconds
by filling out the short form below…

Secure Order Form
This will only take about 60 seconds... let's get started using the steps below...
New customer?