Yes, I Want To Discover 2023's
Land Of Opportunity!
I'm ready to explore the opportunities for living, retiring, investing, and doing business in one of the world's #1 overseas haven.
Kathleen, please send me your new Panama Starter Kit!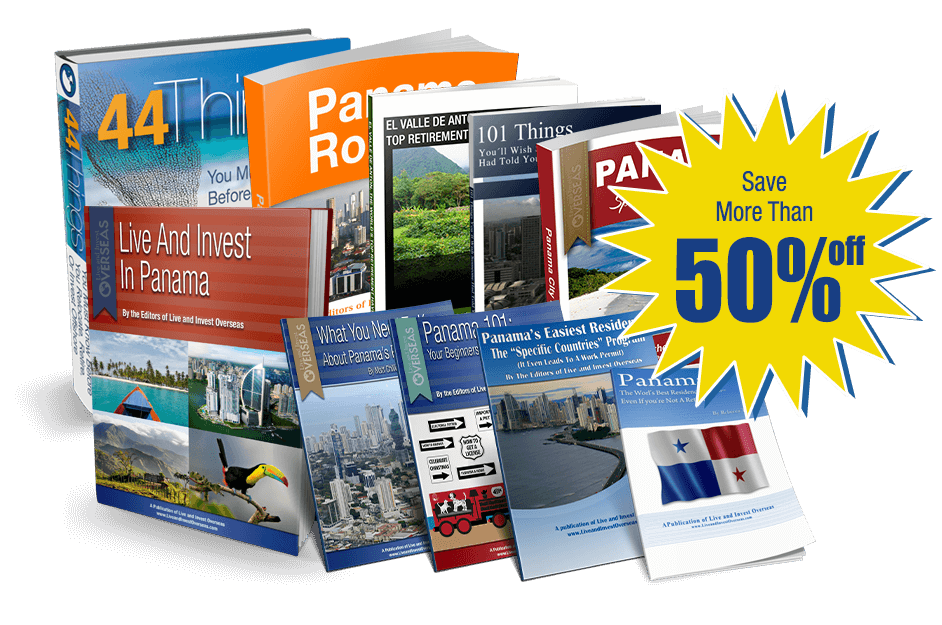 With this special offer, I will receive:
Panama Starter Kit


Full Price $182.82


Sale Price: $79.00

"Live and Invest in Panama," the complete guide to the country's seven top choices for expat living (a US$79 value)…

included

"101 Things You'll Wish Someone Had Told You About Panama" the perfect guide to save me embarrassment, hassle, delay, and headaches… not to mention a whole lot of cash (a US$9.99 value)…

included

"Your Beginner's Guide To Life In Panama," this report will help me navigate every aspect of a move and transition into Panama (a US$9.99 value)…

included

Panama Residency Visas Supplement, contains fully up-to-date information on all 14 of this country's top foreign residency options (a US$9.99 value)…

included

"Little Black Book for Panama" –Kathleen Peddicord's private Rolodex, not available for sale anywhere…

included

The Panama Special Report, El Valle de Anton a little mountain town when I can enjoy the best of the city, without its heat and humidity (a US$14.95 value)…

included

The Special Focus Report "Panama City Beaches—The Best Beach Retirement In The Americas," featuring the most turnkey, expat-friendly beach region of Panama (a US$14.95 value)…

included

The "Real Estate Primer" a guide to navigating the quirks and details of Panama's property market and the local purchase process as it applies to foreigners (a US$14.95 value)…

included

"44 Things You Must Know Before You Relocate, Retire, or Invest Offshore," the nuts-and-bolts support I need to plan my adventures in Panama with confidence (a US$29 value)……

included

Shipping & Handling

- The Panama Starter Kit is an electronic publication, delivered straight to your email inbox. There is no shipping and handling fee.
$0
Please note that, because this is an electronic publication, we are able to update regularly and often. Every time we do, for one year from the date of your purchase, we will send you the revised, edited, or expanded edition at no additional charge. When you buy today, you are guaranteeing yourself one full year of up-to-date information, intelligence, and insights on the best opportunities for living, retiring, and investing in Panama.
KATHLEEN'S PERSONAL GUARANTEE
This is the best resource you're going to find available anywhere on living, investing, retiring, banking, or starting a business in Panama, one of the world's top overseas havens for 2022.
Right now, you'll have to take my word for it. However, if, after taking a look at our new Live and Invest in Panama Starter Kit, you don't agree... no problem. Like everything we publish, it comes with our no-hassle money-back guarantee. We'll refund your money 100% no questions asked... if that's what you want.
Get started right now. Use the button below to order
your copy of our new Panama Starter Kit right now.
Secure Order Form
This will only take about 60 seconds... let's get started using the steps below...
New customer?
Reach us with questions and comments at
CustomerService@liveandinvestoverseas.com
or by phone, toll-free from the United States, at 1-888-627-8834.
Copyright © 2008-2022 Live and Invest Overseas™, President Kathleen Peddicord