Live And Invest Overseas
On Panama Resources!

Live And Invest Overseas
On Panama Resources!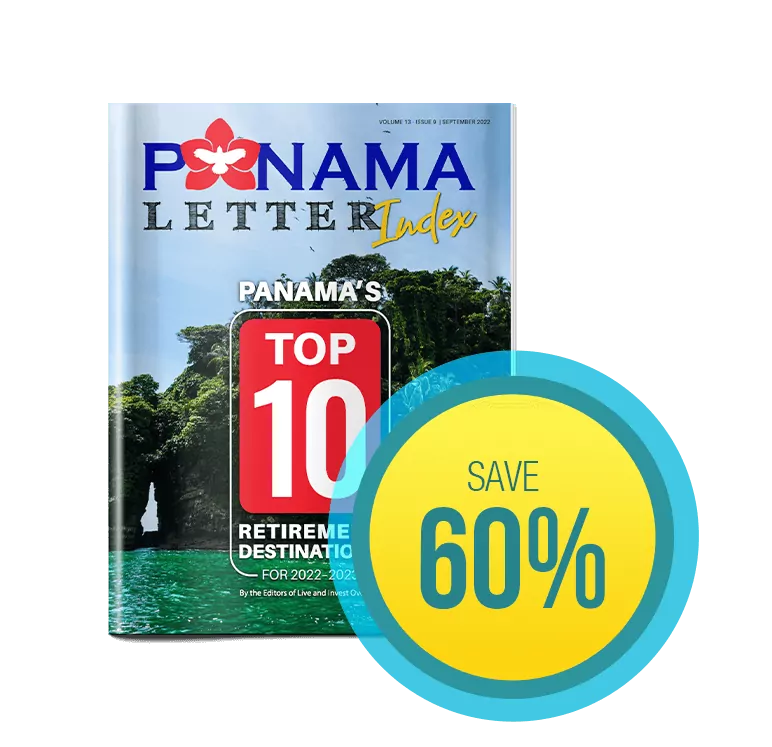 Panama Letter Index
Our Panama Index reveals the very best of Panama… coast to coast, highlands to the islands.
This fully-illustrated guide looks at the 10 best places within Panama for living and investing, including mountain escapes, world-class beaches, charming towns, and much more.
The Panama Index is yours FREE today when you sign up to Panama Letter…
Just $109 US$89 for 1 year
Plus 1 FREE Year (only $2.50 per issue)…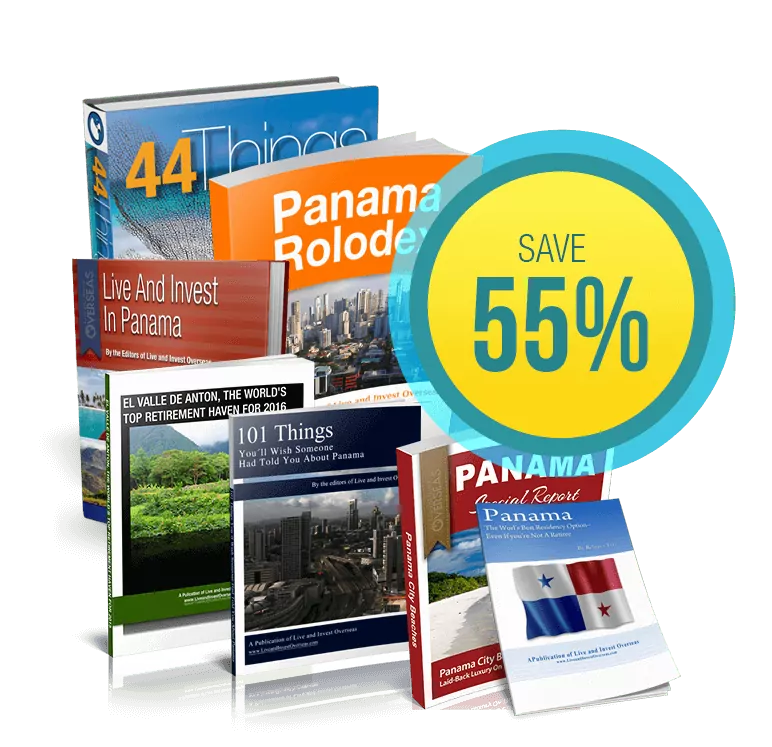 Panama Starter Kit
The Panama Starter Kit is our ever-expanding and most comprehensive Panama package. If you are interested in starting a new life in Panama, then this is the resource you've been waiting for.
The Panama Starter Kit is comprised of seven important resources designed to cover every aspect of living, retiring, investing, and doing business in Panama:
"Live and Invest in Panama," the complete, 221-page guide (a US$79 value)– This complete and current guide to Panama introduces you to the country's top seven choices for expat living and helps you to compare them, one to the other, with a clear look at the pluses and the minuses in each case…
"Panama 101: 101 Things You'll Wish Someone Had Told You About Panama" (a US$9.99 value)– This is the guide no one should come to Panama before reading first. In these pages, you'll learn vital lessons, including the absolute maximum you should ever pay for a taxi ride across Panama City… what not to wear if you want to be taken seriously by your new compatriots… where to go to shop for books in English… a guide to festivals and seasons… and helpful Panamanian-isms…
"Panama Residency Visas Supplement," containing fully up-to-date information on all 14 of this country's top foreign residency options (a US$9.99 value)–This is your step-by-step guide with answers to all your residency- and visa-related questions… And the all-new "Panama's Easiest Residency — The 'Specific Countries' Program (It Even Leads To A Work Permit)" This all-new report details Panama's latest residency program… one that leads to fast, permanent residency, plus a work permit…
"Little Black Book for Panama," our private Rolodex, not available for sale anywhere. This is a guide to our best in-country resources, including contact information.
The Panama Special Report on El Valle de Anton (a US$9.95 value)–Tranquil, beautiful, and convenient… blessed with beautiful waterfalls and rainforest canopy, the little mountain town of El Valle de Anton is conveniently located 30 to 45 minutes from the beach and about two hours outside Panama City… so you can regularly enjoy the best of the city, without its heat and humidity…
The Panama Special Report on Panama City Beaches (a US$9.95 value)– To continue your Grand Tour of Panama, this special report features the most turn-key, expat-friendly beach community in Panama, Coronado. With three international schools, Coronado has developed into ocean-side retreat for expats from all over the world… a place where neighbors gather for drinks, dinner, and dancing throughout the week.
The special report, "44 Things You Must Know Before You Relocate, Retire, or Invest Offshore," the nuts-and-bolts support you need to plan your adventures in Panama with confidence (a US$29 value)…
Special Offer:
Price: $148
$69
$ 148.00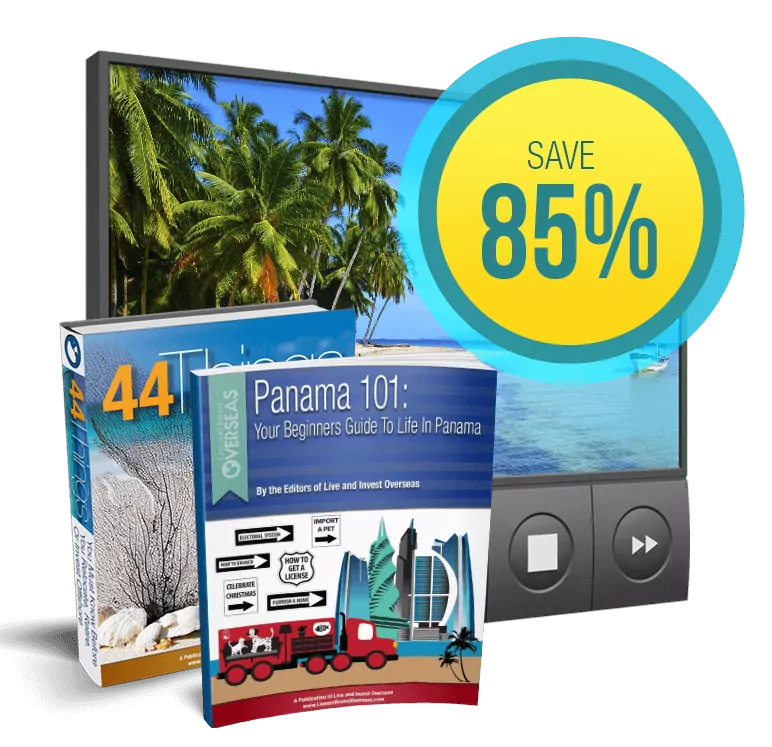 Live And Invest In Panama Home Conference Kit
Our ever-expanding and most comprehensive Panama package.
In fact, the Panama Home Conference Kit is three important Panama resources:
The All-New "Beginners Guide To Life In Panama", a 60-plus page E-Book that will answer all your questions about the Hub of the Americas (a US$29 value)…
The special report, 44 Things You Must Know Before You Relocate, Retire, Or Invest Offshore, the nuts-and-bolts support you need to plan your adventures in Panama with confidence (a $29 value)…
All 31 audio recordings and slide shows from our recent Live and Invest in Panama Conference (a US$279 value)…
Your Panama Home Conference Kit also comes with a 30-day trial of Panama Letter.
Panama Letter is our monthly e-zine from the Panama-based staff of Live and Invest Overseas, that makes it possible for you to get up to speed and to stay current, in real time, with current opportunities in the real Panama…
Special Offer:
Price: $406
$69
$ 69.00 / year with 1 month free trial and a $ 69.00 sign-up fee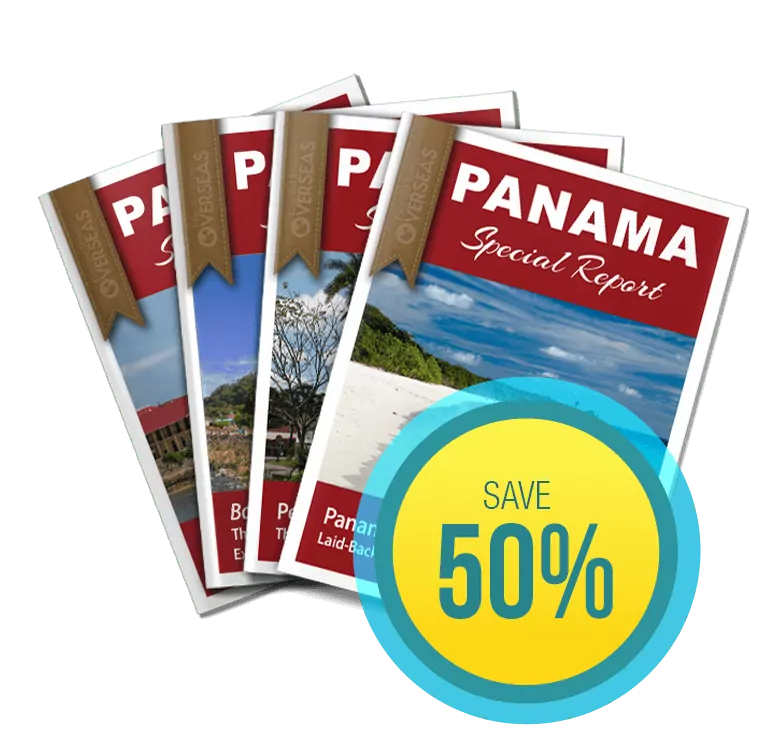 PANAMA SPECIAL REPORTS
Each Panama Special Report from Live and Invest Overseas includes an honest, current, and complete introduction to one of the places we've identified as offering tremendous advantages for the would-be retiree, investor, or part-timer in Panama.
Every comprehensive Panama Special Report addresses not only the pros, but also the cons of each destination featured. This is critical if you want to make a smart, informed choice. You'd be hard-pressed to find this information anywhere else in the world.
Our Panama Special Reports arm you with all the tips, tricks, and firsthand insider intelligence you'll need to decide whether a place could be home for you or not. Every report includes broad budget comparisons, insights into the communities and how your life would be within them, and much, much more.
Order Now—100% Risk Free
The resources above are the most complete and current resources to living, investing, or retiring in Panama available anywhere. The expert advice you'll hear is second-to-none. I guarantee it. If you don't agree or if you are disappointed in any way with the information, insights, recommendations, and discoveries shared in our Live and Invest in Panama resources, simply say so. Your full purchase price will be refunded, no questions asked.

Reach us with questions and comments at 
CustomerService@liveandinvestoverseas.com 
or by phone, toll-free from the United States, at 1-888-627-8834.