Revealed Inside Your Free Book:
How To Become Independently Wealthy (And Fund The Lifestyle Of Your Dreams… Month After Month, Year After Year)…
Dear Reader,
Can you send me your address?
Don't worry… I'm not going to show up for dinner…
But I would like to rush a hardback copy of my new book straight to your door… completely free of charge.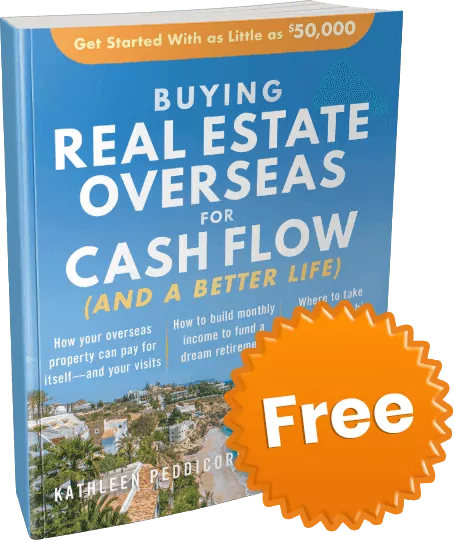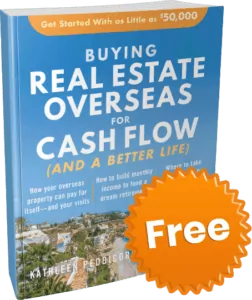 The book's called Buying Real Estate Overseas For Cash Flow (And A Better Life). And it comes hot off the presses from Wiley… who you'll know as one of America's top publishing houses.
I have a limited number of these hardbacks to give away. And, all I ask is US$4.95 from you to help cover the cost of delivering it safely into your hands.
Why would I do something crazy like this?
Frankly, I'm sick of sitting on the sidelines—watching the same old "retirement planning" advice being doled out by so-called gurus…
As we've seen way too many times in our short history, when you put your future in the hands of the stock market, you're in for a rollercoaster ride.
Still, most Americans looking to build wealth turn to stocks in one form or another. Time and time again. Even after they've been burned in the past…
All because they have no idea what else they can do.
But I know how you can do so much better…
And, in the 212 pages of my book, I'll guide you along a proven, low-risk path to growing your own wealth.
By following this route, you can:
Live a superior lifestyle backed by passive income (we're talking regular pay-checks showing up in your bank account… to the tune of US$20,000 to US$30,000 and upward a year)…
Protect yourself from running out of cash in your retirement years (in fact, you'll finally be able to grow a healthy legacy for your loved ones)…
Enjoy the adventure of a lifetime (by holding your own second home or vacation villa in an enviable spot overseas)…
And, all without worrying about where the stock market, the U.S. dollar, or the whole future of America is headed.
These Under-Tapped Opportunities Put Money In Your Pocket (Even While You Sleep)…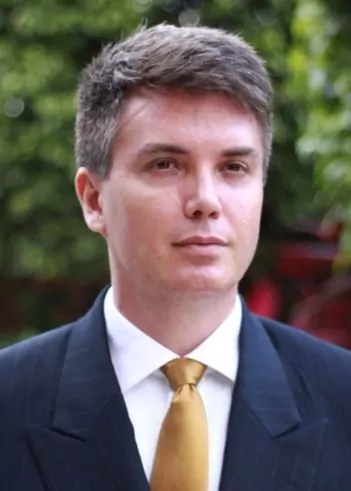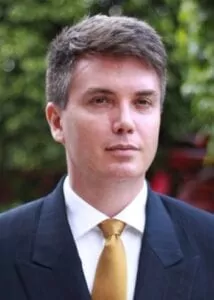 I'm Lief Simon, and these past 25 years—along with my wife Kathleen Peddicord (co-author of your free book)—I've been setting myself and my family up for a secure and comfortable future. I haven't retired yet. But, thanks to the strategies I'd like to share with you today, I'm already receiving steady monthly payments… along with annual lump sums… right into my bank account.
And, these earnings will continue to roll in once I finally clock out of my day job for good.
Best of all, I don't have to do any work to bring in this extra cash flow.
It's all taken care of for me. 100% turnkey.
This means that I'm not watching the markets on a daily basis, wondering when to buy, hold, and sell…
I'm literally earning extra money while I sleep… without lifting a finger…
I don't tell you all this to brag. I'm just an ordinary guy who started out a long time ago with a tiny investment (you can read the details of that on Page 2 of your free book). And, I've been growing my wealth ever since.
The great news is that everything I've done is well within your reach, too.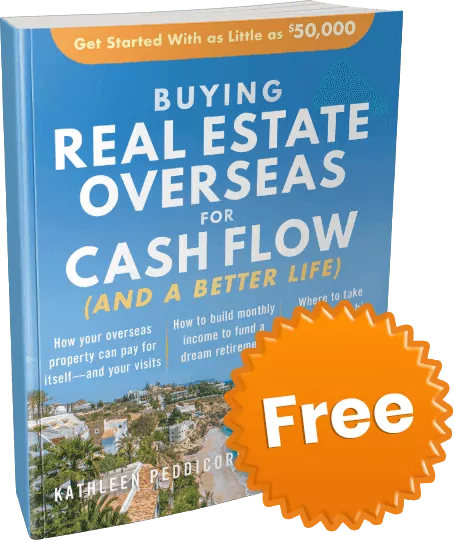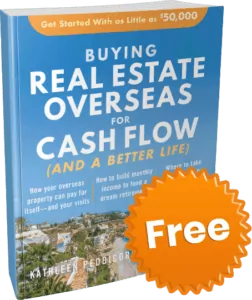 In Buying Real Estate Overseas For Cash Flow (And A Better Life)—again, yours free when you send me your address today—I've laid everything out in a clear and simple way, so you can prepare for the future you deserve.
The key is in the book's title…
Owning property… and not any old property… but income-producing property in markets outside the United States is how you'll guarantee yourself a prosperous lifestyle now and in the future…
A life where you'll never outlive your nest egg… or be forced to count your pennies day to day…
And, the even better news is you don't need a fortune to do this…
Get Started On The Path To Independent Wealth For Less Than US$31,000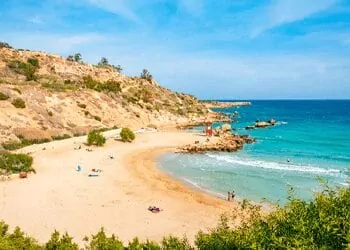 Right now, you could own your own escape on a sunny Mediterranean island for under US$50,000…
Rent the place out, and you'd be looking at a net rental yield of 14.95%… year after year. (A return you'd never dare to imagine when you deposit your cash in the bank… or buy up stocks.)
By owning an income-producing piece of property overseas, you'd be giving yourself an extra pension check every month…
Let's think about this for a moment…
The average check paid out by Social Security today is US$1,503—which comes to just over US$18,000 a year…
Yet, America's retired couples spend an average of US$45,576 a year to keep up the good life. That leaves a big gap to make up on your own…
"Now, if the politicians were honest, they would tell us not to bet on Social Security… or Medicare, for that matter… The money is simply not there. As it stands, the retirement income and medical benefits millions think they already paid for aren't going to happen."
Thankfully, I know dozens of ways you can top up your Social Security income. Ways that aren't tied to the fickle nature of the stock market… and that could earn you upward of US$1,600 a month (that's US$20,000 and more a year).
And, that's just from a single investment…
With two or more foreign properties to your name, you could easily double or triple your retirement income…
And, to top all that, you don't have to wait until retirement for the payments to kick in…
Starting now, you could have pay-checks showing up in your bank account within the next 12 months.
And, if you're not depending on having a roof over your head overseas just yet, check out Chapter 17 of the book…
That's where I'll tell you about one of the most lucrative ways to inject some healthy cash flow into your life…
Today, you can get started down this particular route with just US$30,655. Adding up all your cash flow payments over the next 30 years, you'd come out with a total US$601,020 in your pocket (a whopping 1,066% return on investment).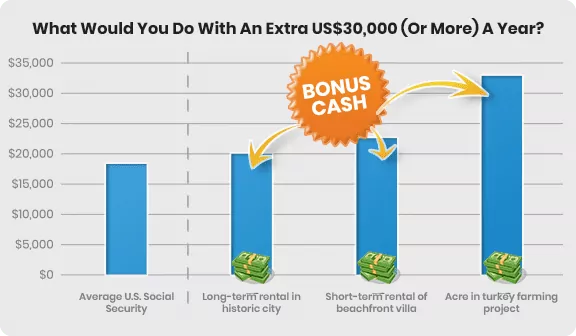 Impossible, you may think…
But Kathleen and I aren't the only ones growing our wealth this way (and having a grand adventure traveling between our pied-à-terres around the world)…
Owning A Property Overseas Means
Profit—And Fun…
Over the years, we've come across hundreds of ordinary folks like us who are buying up foreign property to fund a comfortable and exciting lifestyle…
At the age of 49, our friend Lee packed in the Manhattan rat race and retired to Ecuador with his wife Julie…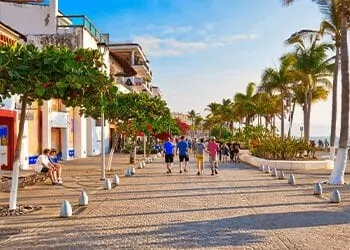 From there, the couple moved on to Uruguay… Brazil… Colombia… and Mexico. Each time they rolled the profits of their previous home into their new paradise.
For years now, Lee and Julie have been boosting their income with the monthly cash flow that comes from their rental property.
But you don't have to leave the United States for good to do this…
Years ago, we knew a lady called Janet who bought a plot of land on the Irish coastline. There, she built two homes—one for her own vacation time… and one to rent out…
Every summer, Janet flew to the Emerald Isle to check on her rental property and spend time in her Irish home. The rental cash flow she earned covered the carrying costs of both properties. And, Janet had money in the bank to cover her annual stay in Ireland (and then some).
I could go on. As I said, Kathleen and I have hundreds of these stories.
But now it's your chance to join the ranks of independently wealthy jet setters…
You can click below to claim your free book straight away…

* Please note that shipping is only available to the United States and Canada.*
Or stick with me a little longer to take a sneak peek under its dust jacket… and to explore why, getting in right now, you're in a prime position to profit…
"It's great to learn from someone who has done what we all want to do!"

"Lief does a great job and has a wealth of information. It's great to learn from someone who has done what we all want to do and can pass along that information."

—Dean M., United States
Why Owning Property Overseas
Beats The Stock Market
Don't get me wrong. I'm not completely against the stock market. I hold a small number of stocks and mutual funds…
But, over the years—and as I'll show you below—my real estate investments have returned way more than the S&P 500 could offer.
The big bonus is that I own actual property… not a REIT or a timeshare… in a place where I enjoy spending time.
I recommend you do this, too…
In other words, look for markets that show strong potential… in places you enjoy hanging around…
We'll talk about this in Chapter 1 of Buying Real Estate Overseas For Cash Flow (And A Better Life). You'll discover the top 18 places in the world to considering buying for fun and for profit…
Looking for a part-year adventure? In this capital city, you'll enjoy a sophisticated café culture… while, in the countryside, you can ski in top resorts and tour world-renowned vineyards (Page 15)…
Worried about the language barrier? Two of our safest, friendliest havens overseas are English-speaking (Page 16)…
Find California too pricey? Own an apartment in this romantic seaside town on the Pacific from US$100,000 (Page 28)…
Want the best bang for your retirement buck? Discover the place behind the world's gold standard retiree program on Page 29. Or cut your living expenses by a third in this Asian metropolis where English is widely spoken (Page 26)…
Want to be steps from the ocean? Beachfront property in the right market also means steady tourist flow. One top spot we know in the Caribbean boasts rental returns of 9% to 12% (Page 21)…
Once you go about it the right way, your cash-producing property can serve as a holiday retreat… and an attractive place to spend more time in retirement…
Where I Cut My Teeth—And Doubled My Money On Overseas Property
Over the past 30 years, my wife Kathleen and I have bought a total of 64 properties in 23 different countries. Some we bought for pure investment—to help grow our nest egg. Others were for our own part- or full-time use.
More recently, we've been hunting down opportunities to earn a constant, healthy cash flow… giving off the kind of returns that will eventually fund our retirement.
When sizing up a potential investment opportunity anywhere in the world, I make it my business to understand the market conditions and where that market is headed. As I'll show you in Buying Real Estate Overseas For Cash Flow (And A Better Life), this hard work pays off. It's how I've been able to see some extraordinary returns over the years.
Here's just a sample:
90% profits in just 16 months. While others ignored Eastern Europe, I spotted this steal of an apartment. Before I could even begin renovations, a buyer came to me… cash in hand… and I almost doubled my money.
200% profit from a market in crisis. When Argentina imploded in the early 2000s, my research showed me that this spelled opportunity. I bought three apartments and put them up for short-term rental… fully managed by my local contacts. The result? 8% annual yields for a full six years… until I sold them for double my investment.
30% per year on the Spanish Costas. Again, back in the early noughties, I bought a one-bedroom pre-construction apartment on the beautiful Costa del Sol in Spain. As the unit wasn't completed, I'd only paid 30% when an offer came in. I took the offer and made 30% a year for both years I "owned" the apartment. That's around 60% profit on an apartment that wasn't even completed.
These deals have passed. But the world is ripe with more. You're just a few clicks away from finding out how and where to make your move.

"But Can The Average Person Really
Make Money From Real Estate?"…
Kathleen and I get asked this all the time…
And, our answer is a resounding yes.
As I mentioned above, you can get started with as little as US$30,000…
With US$50,000 you have more options…
And, with a US$100,000 budget, you'll find far more opportunities… sometimes, right on the beach… in dreamy locations. The kind of opportunity you'd be hard-pressed to find anywhere in the United States.
In overseas markets, cash is king. But, if you don't have enough liquid assets at hand to reinvest, you have other options…
As I'll tell you on Page 53, a small, modest property is the best way to begin. Buying in at the right time… and in the right market… that first investment can lead to greater things…
Leveraging your property purchase is an option, of course. In your free book, I'll show you…
Where to get bank financing overseas. You can get a mortgage in parts of Latin America… and in Europe (where a foreigner can get as much as 70% loan to value). Page 55…
What to do when the banks won't lend. More developers these days are offering easy payment schemes to foreign buyers. This way, you can spread your payments over 12 to 60 months (sometimes with zero interest). Page 58…
"Thanks to you, our cash flow investments have us covered!"

"Thanks for your guidance over the years. We have invested in Panama and Belize and are confident the cash flow from these investments will more than cover our cost of living."

—Andre L. United States
Knowing your budget is just the beginning. Next, you need to know how to put your investment to work for you…
6 Kinds Of Property To Fund The Lifestyle
Of Your Dreams
When it comes time to flip the switch to retirement, I want to do it with confidence…
I want to be able to relax, knowing that everything is being managed for me, and money is showing up on time and as promised…
Is this something you'd enjoy too?
In Section III of Buying Real Estate Overseas For Cash Flow (And A Better Life), I reveal the top six ways you can use property to fund the lifestyle of your dreams…
You'll find out…
The three make-or-break questions to ask before you buy any vacation rental overseas (Pages 63-64)…
Why you should think twice before listing your rental on sites like Airbnb, VRBO, etc. (Page 64)…
The pros and cons of renting short term versus long term (Page 65)…
Why you should engage the services of a property management company… and how much you'd expect to pay (Page 65)…
Eight services your property manager should offer—if they can't offer these eight things, be prepared to walk away (Page 67)…
Three market conditions to ensure a successful rental. Ignore these and you'll have an empty property… and bank account (Pages 71-72)…
How to figure your projected rental cash flow—and why net (not gross) yields should be the deciding factor (Page 73)…
What to look out for when buying pre-construction. Your opportunity to get in far below market price on your property (Pages 79-81)…
Why agricultural land continues to be one of the greatest opportunities of our time. You don't need to lift a spade to earn double-digit returns that run for decades (Pages 83-89)…
Dreaming of some Old-World charm? Check out these 12 things to know before snapping up a fixer-upper (Pages 91-96)…
"The Essential Information We All Need In These Difficult Times"…

"I wish to congratulate you for the quality of your reports. The plain, matter of fact, but essential and wise information we all need to take vital decisions, especially in these extremely difficult times."

—Peter L., United States
Extraordinary Times Present Extraordinary Opportunity—Break Into These Top Cash-Flow Markets From As Little As US$50,000
One of my golden rules is to avoid timing your buy to take advantage of currency exchange. In most cases, that's one way to let a great opportunity slip by…
But, in certain markets right now, U.S.-dollar-holders stand in a privileged position…
Thanks to weak currencies in these places, you can buy in at bargain-basement prices and position yourself for both double-digit rental returns and serious capital gains…
In Section IV of Buying Real Estate Overseas For Cash Flow (And A Better Life), I'll introduce you to…
Probably the world's best beachfront buy. Own right on the beach here for under US$100,000. Rental yields are as much as 15%. (Page 103)…
One of the best city lifestyles from US$1,450 a square meter. The coronavirus sent this currency further down. But, with a growing middle class and rising interest from foreign buyers, prices are expected to increase steadily over the coming years. (Page 104)…
Another top strategy to maximizing cash flow is to follow the tourists. That is, get in on the path of progress where development is focused. I'm talking about places like…
A once sleepy fishing village, now a favorite on TripAdvisor. This is an enviable spot to vacation. Plus, local banks lend to foreigners. (Page 107)…
A charming part of Old Europe that Americans are just beginning to discover. With over 300 days of sunshine a year, the beach life here is glorious (Page 110)…
The main idea behind Buying Real Estate Overseas For Cash Flow (And A Better Life) is to show you how to buy property for extra, passive income. But it would be lax of me to ignore your opportunities for capital gain.
In your free book, I'll introduce you to today's best markets for buy-to-flip opportunities, including…
An economic powerhouse with a vision to becoming "the Singapore of the Americas." Get in from as little as US$74,500 by tapping the up-and-coming yuppie class. (Page 114)…
Best beachfront buy in the Caribbean. Own a luxury villa here from US$200,000. Meanwhile, this country's historic capital has exciting buy-to-flip opportunities from US$66,000. (Page 115)…
As if all that's not enough, I've saved one of my top cash-flow strategies for last…
As I see it, any truly diversified, 21st-century portfolio should include an agricultural play. Hands down, a turnkey farming investment is the best way to bring in bonus pension checks, year after year, for the rest of your life…
Over Pages 123-125, I'll share some of my top Agri picks right now. Opportunities where you can get in for less than US$50,000. And, where your internal rate of return can be in the 15% to 17% range or higher…
Again, everything is fully managed for you. You'll never have to get your hands dirty. You just get on with enjoying your days… and wait for the pay-checks to drop…
My Top Tips Garnered Through 64 Foreign Property Purchases Will Put You
Ahead Of The Game…
That's right, Kathleen and I have bought no less than 64 properties… over 25 years… and in 23 different countries.
I've already given you a taste of the kind of cash-flow opportunities that are out there for the taking. But that's only half the story…
I want to prepare you, too, for what you need to look out for as a foreign buyer overseas…
As you can imagine, over these past 25 years, Kathleen and I have been through our fair share of frustration, stress, and setbacks…
Dealing with paperwork, lawyers, bankers, and taxes isn't the sexy part of buying overseas. But it's essential to know what's ahead, so you can put your best foot forward…
In your free copy of Buying Real Estate Overseas For Cash Flow (And A Better Life), I'll explain…
How to figure out the round-trip costs of buying and selling property overseas. We'll give you detailed transaction costs for 20 of our key markets overseas (Pages 133-135)…
Why establishing a solid local network is critical to your success. I'll tell you exactly who you need to have in your Rolodex… and how to find reputable agents. (Pages 137-142)…
How to identify a property with cash-flow potential. And the questions you need to ask before signing anything. (Pages 143-145)…
What taxes you'll need to consider as an overseas property investor. Taxes can be far lower than what you'd pay back home. (Pages 157-158)…
How to sell your property for top dollar. It starts with how you tackle your purchase in the first place. But certain marketing tricks will help give your property an edge. (Pages 161-163)…
How not to lose money. Based on our own lessons learned these past 25 years as both owners and landlords overseas (Pages 167-190)…
What you should know about moving money overseas. From opening a local bank account… to doing a 1031 like-kind exchange. (Pages 193-198)…
"Thank You For Your Sincere And Honest Approach!"

"The level of experience, knowledge, and competence is top-shelf. Primarily, I appreciated the sincere and honest approach, as well as the obvious desire to give complete, accurate, timely, and appropriate information."

—Andrew F., United States
Right Now, Americans Have Extraordinary Buying Power In These Top Overseas Markets
"But aren't all the good deals gone?" is a question I often get asked…
After a quarter-century of scouting world markets, I can tell you that there's always plenty more on the table…
But, as I mentioned earlier, we live in a special time. And, the deals I'm seeing today are some of the best deals I've seen this century…
Right now, North Americans have the chance to get in on some exceptional opportunities. In your free copy of Buying Real Estate Overseas For Cash Flow (And A Better Life), I'll tell you about these markets where you could own…
A two-bedroom villa (with its own private pool and yard) just steps from a long, white-sand beach for…
A three-bedroom home in a master-planned community… on the doorstep of one of Latin America's most romantic cities… for US$138,557…
A modern one-bedroom condo in a historic city… with views over the bay for US$135,000…
Not only that, but you'd be in line for net rental yields as high as 15%. That's an extra US$20,000… US$30,000… or more in your pocket… every year…
Best of all, these deals are in emerging markets that most of the rest of the world hasn't caught onto yet…
You have a chance right now to jump in ahead of the crowds while prices remain super low.
With a copy of my book in your hands, you can cut to the chase, find the markets that make sense for you, and grab your own piece of paradise overseas…
So, what are you waiting for?
The sooner you get started with your free copy of Buying Real Estate Overseas For Cash Flow (And A Better Life), the sooner you can start living the good life…

* Please note that shipping is only available to the United States and Canada.*
Your Free Book Comes With 3 Timely Bonuses
As I write, Wiley Publishing is preparing to launch my book on Amazon. Once it's released, readers there will have to pay US$29.95 for a copy.
But you're getting a hardback copy… completely free of charge…
On top of that—to help put you ahead of the casual Amazon shopper—I'd like to throw in a few extra gifts…
When you accept your free copy of my book today, you'll also get:
Bonus #1: Special Report – 6 Passive Income Opportunities To Help Grow Your Nest Egg And Fund Your New Life Overseas
(a US$27 value)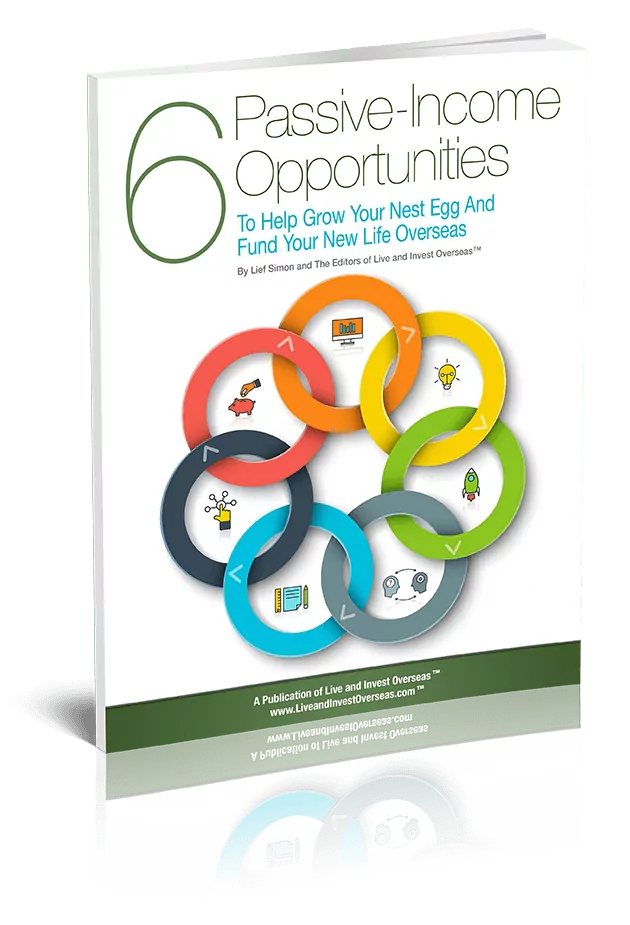 Building on the ideas you'll read about in my book, here are 6 current opportunities that will do all the hard work in earning you cash flow… while you relax and enjoy your new lifestyle overseas. You'll hear about:
How a US$30,655 investment can yield you an annualized return of 15.7% for the next 20 years…
Your own condo in one of the oldest cities in the Americas for US$106,970… with an average net rental yield of 10%…
An opportunity to earn 13% to 16% returns with a minimum investment of US$25,000 (confession: this one isn't property-related, but it was too good to leave out)…
And more…
Bonus #2: Special Report – Where Your Dollar Buys The Most
In 2021 (a US$39 value)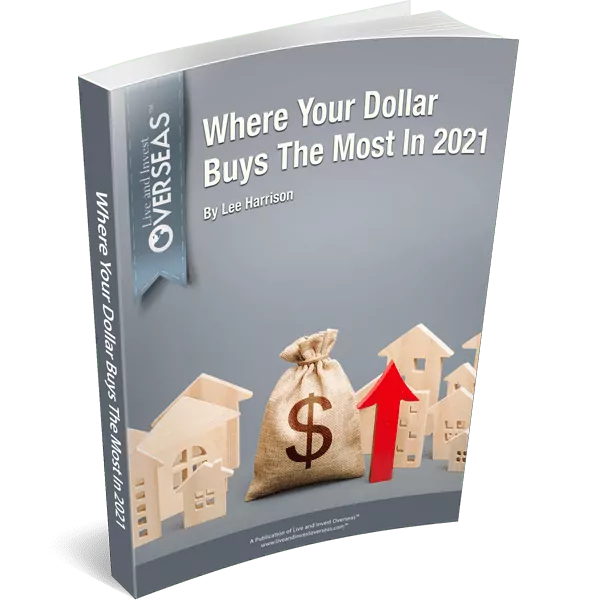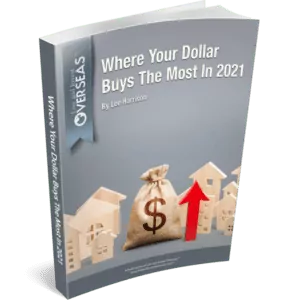 We have a tradition every New Year's… to take a snapshot of the U.S. dollar's exchange rate with several currencies from around the world where we are interested in the property market. When buying abroad, it's important to know how the exchange rate is trending… whether it's high or low by historic standards… whether or not the currency's exchange rates makes it a good time to buy or sell in a given market.
In this report you'll find out…
The top three countries where U.S. dollar holders enjoy more buying power this year…
Where the dollar lost power…
And exclusive insights from expat and property expert Lee Harrison…
Bonus #3: Free two-month trial subscription to my monthly Global Property Advisor service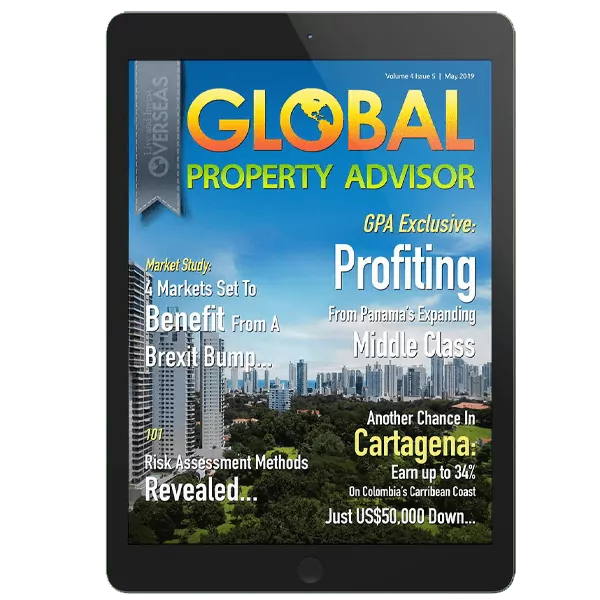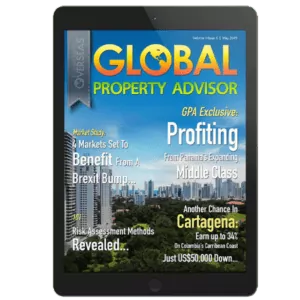 Your free copy of my book will give you the big picture of where in the world you should focus your search right now… and what to look for in those markets…
But, if you're after serious cash flow… the chance to inflate your nest egg… and to live the good life for the rest of your years… then you'll need regular (and fast) access to the latest opportunities as they crop up.
In my monthly Global Property Advisor newsletter, I'll give you first access to exclusive deals I've negotiated with my trusted contacts in the top markets I believe in today.
As a Global Property Advisor member, you'll:
Hear about my latest, cherry-picked investment deals… many of which you can get in on for under US$100,000… and even US$50,000…
Guaranteed best pricing and financing terms. For the past 25 years, I've worked with some of the world's top developers. They know and respect my members and are willing to put you to the front of the queue and offer some extraordinary, exclusive pricing…
Access to my personal Rolodex. Of course, you'll need more than just me. You'll need lawyers, accountants, tax specialists, property managers, and more. With my Rolodex at hand, you'll save time worrying about who to trust. The people here have served me and many of my readers for years…
Again, you'll pay just US$4.95 to get all these resources into your hands.
That small cost is simply to cover the shipping of your free book.
As soon as you've completed your order, we'll dispatch your hardback copy of Buying Real Estate Overseas For Cash Flow (And A Better Life)…
While you wait, you'll have instant access to your two bonus reports… and I'll welcome you on board as an honorary Global Property Advisor reader for 60 days…
Get In Ahead Of The Crowd—These
Free Books Won't Last!
I have a limited supply of books to give away…
Once this pile in my office clears, the book will only be available on Amazon at full price.
I'd hate for you to miss out…
Again, here's a quick recap of everything you'll get when you take me up on my offer today: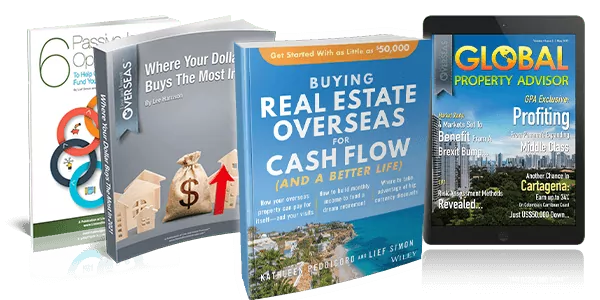 Buying Real Estate Overseas For Cash Flow (And A Better Life). This is a free hardback copy of my 212-page book. It will prepare you for any overseas property buy and make sure you get the best deal possible…
Bonus #1: Special Report – 6 Passive Income Opportunities To Help Grow Your Nest Egg And Fund Your New Life Overseas. Six top cash-flow-producing opportunities, starting from as little as US$25,000…
Bonus #2: Special Report – Where Your Dollar Buys The Most In 2021. 3 markets from across the world have been thoroughly examined and studied by our property experts…
Bonus #3: A two-month trial subscription to Global Property Advisor. My VIP-level service brings you details of current, hot opportunities… and puts you first in line for exclusive discounts…
If you're serious about living a cash-rich future, I urge you not to delay. These books won't hang around…
To lock in your copy, please go to my secure Order Form page.
There, you can check through all the details again… and tell me where you'd like me to send your free hardcover copy of Buying Real Estate Overseas For Cash Flow (And A Better Life).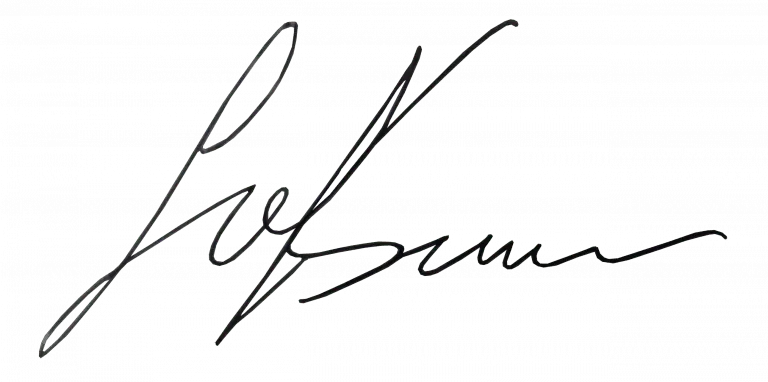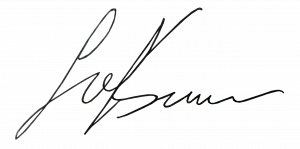 Lief Simon
Global real estate investor and author of Buying Real Estate Overseas For Cash Flow (And A Better Life)
P.S. Once your order is processed, I'll make sure that your book is dispatched without delay.
Meantime, you'll get instant access to your two bonus reports. And, you'll start to receive your trial issues of Global Property Advisor as they drop.
I hope that you'll read Buying Real Estate Overseas For Cash Flow (And A Better Life) cover to cover. I don't exaggerate when I say that every page of this book is essential…
But if you're strapped for time on the day it arrives, I recommend taking a sneaky look at Page 123. That's where I introduce you to my absolute top pick for earning serious cash flow today…
You can get in on this type of deal from as little as US$30,655… and enjoy extra pension checks for life.
Secure your free book by clicking the button below.
* Please note that shipping is only available to the United States and Canada.*

Reach us with questions and comments at 
CustomerService@liveandinvestoverseas.com 
or by phone, toll-free from the United States, at 1-888-627-8834.
Copyright © 2008- Live and Invest Overseas, Founding Publisher Kathleen Peddicord