Stop Worrying About How You'll Pay For Life… And Start Enjoying It, Instead…
In The Right Places Overseas, You Can Live Better Than You Do Now—Maid, Dinners Out—For As Little As $736 A Month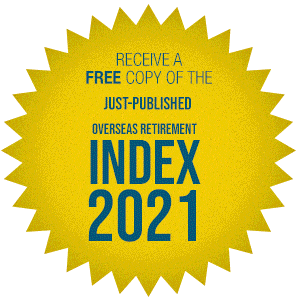 Dear Live and Invest Overseas Reader,
Our editors have just published a special report on the world's top 21 overseas retirement havens... the best places on earth for improving your quality of life while reducing your cost of living... including complete details on the cheapest places in the world to retire today.

We'd like to send you this new and comprehensive guide with our compliments.

I'll share details for how you can obtain your free copy of this one-of-a-kind resource in just a minute. First, I'd like to introduce you to just a few of the tempting retirement Shangri-La's it features...

"In The States, We Couldn't Afford This Life At All"
In the mornings, Judy Ahern sips a cup of tea, one hip perched on the rail of her open porch, and looks out over the turquoise waters, listening to the tide slosh in.
Sometimes horses gallop by on the beach. Often she takes a quick swim. Always she's struck by how lucky she feels. And how alive.
"We never imagined we'd be able to afford an island retreat—let alone one right on a secluded beach," Judy says.
For years we'd check out the real estate when we were on vacation... we looked all over Hawaii and in other places on the water. But it was always too expensive.
"Yet here we are today on this Caribbean island, pretty much full-time. We're enjoying the open-air house we had built—and an incredible quality of life—for a fraction of what it would cost us anywhere else nearby.
"
In the States, we couldn't afford this life at all.
"
Meet Kathleen Peddicord
Kathleen Peddicord has covered the live, retire, and do business overseas beat for more than 30 years and is considered the world's foremost authority on these subjects. She has traveled to more than 75 countries, invested in real estate in 21, established businesses in 7, renovated historic properties in 6, and educated her children in 4.

Kathleen has moved children, staff, enterprises, household goods, and pets across three continents, from the East Coast of the United States to Waterford, Ireland... then to Paris, France... next to Panama City, where she has based her Live and Invest Overseas business. Most recently, Kathleen and her husband Lief Simon are dividing their time between Panama and Paris.
Kathleen was a partner with Agora Publishing's International Living group for 23 years. In that capacity, she opened her first office overseas, in Waterford, Ireland, where she managed a staff of up to 30 employees for more than 10 years. Kathleen also opened, staffed, and operated International Living publishing and real estate marketing offices in Panama City, Panama; Granada, Nicaragua; Roatan, Honduras; San Miguel de Allende, Mexico; Quito, Ecuador; and Paris, France.
Kathleen moved on from her role with Agora in 2007 and launched her Live and Invest Overseas group in 2008. In the years since, she has built Live and Invest Overseas into a successful, recognized, and respected multi-million-dollar business that employs a staff of 35 in Panama City and dozens of writers and other resources around the world.
Kathleen has been quoted by The New York Times, Money magazine, MSNBC, Yahoo Finance, the AARP, and beyond. She has appeared often on radio and television (including Bloomberg and CNBC) and speaks regularly on topics to do with living, retiring, investing, and doing business around the world.
In addition to her own daily e-letter, the Overseas Opportunity Letter, with a circulation of more than 300,000 readers, Kathleen writes regularly for U.S. News & World Report and Forbes.
Originally from California and in their 70s today, Judy was a teacher and actress. Her husband, Bill, is still in the airplane-parts business.
Back in 2002, they traded in their expensive, traffic-clogged life for a quieter, more affordable one on a lush, mountainous island where sand crabs meander across the roads. You may never have even heard of this place (though it's only a two-hour flight from Houston)...
Yet here in the Caribbean, Judy and Bill have access to solid health care... a full dinner of fresh lobster with wine and dessert costs less than $30... they can get homemade cheesecake squares at the local bakery and fresh lettuce, fruits, and veggies at the organic farm...
And in this place, $199,000 buys a two-bedroom, two-bath home with a private pool on nearly an acre of land, just a 60-second stroll to a mile-long private beach...
With $135,000, you could own a luxury condo here with hardwood floors, high-end appliances, a community pool, panoramic vistas from your private deck... and be just five minutes by foot from the shops, restaurants, and groceries in town.
"Moving here changed the way we experience life... for the better," Judy told me. "There's a freshness here. A quickening of the senses.
"Instead of retreating someplace to retire, we've reached out toward new challenges.
"I'm keeping busy as the director of a pre-school that serves underprivileged, working families. And I'm editor of our local island magazine, too.
"Sure, living here isn't without its inconveniences.
"But it's as if we're looking not at the end of our lives now... but at the beginning of another life altogether!"
"Retirement" Doesn't Have To Be About Difficult Compromises. It Isn't For Judy And Bill.
And It Doesn't Have To Be
For You, Either...
If you're intrigued by Judy and Bill's experience—whether you're ready for retirement now or planning for the future—I know you'll be excited about what I have to share with you.
Because even though for millions of people "retirement" in the years to come is likely to mean cutting back on pleasures like dining out and on vacations... or, worse, demand downright frugal living...
It doesn't have to mean that for you!
No matter what the economy does back home, today you can retire overseas in style... live like a movie star on a school teacher's budget... and never outlive your nest egg...
If, that is, you know where to go. Around the world are places where you can...
Live comfortably in a modern, 2600-square-foot apartment with mountain views... on less than $15,000 a year...

Enjoy health insurance for $120 a month or less... or choose to retire to a place where medical care is free...

Retire in style and employ a maid, a gardener, or even a driver—all on a Social Security budget...

Own your own home in the sun for as little as $120,000... and wake up each morning to the sound of the waves on the sand... or the freshness of clean, mountain air...

Insightful And Honest

... I really have to commend you for your insight and honesty in 'telling it like it is' to your readers...
—
Norman S., United States
You see, in the world's best-value places, your dollars simply buy you more.
So that you can actually live much better than you ever did at home—for as little as $22 a day...
... and you'll
never have to worry
you might outlive your savings.
Retire Overseas Today And
Never Outlive Your Nest Egg...
Leonard Holden and his wife Jenna aren't independently wealthy. Not by a long shot. But they're confident they'll have more than enough to carry them comfortably through retirement, no matter what the economy does at home.
Here's why...
Leonard and Jenna used to spend about $8,000 a month living in Manhattan. At 49, when Leonard "retired," he took with him a pension of $1,800 a month. They could have stayed in New York. But it would have meant either some serious scaling back, living on savings, or—more realistically—taking another job.
Only they were ready to stop working and start "living." And there was no way they could maintain the lifestyle they'd grown accustomed to on less than one-quarter of the income.
So they looked for a place where that $1,800-a-month pension would stretch.
And they found it in a safe, welcoming, warm-weather city in Ecuador, where they'd be among the community's wealthiest residents.
There they could afford a 5,000-square-foot house, two cars, and a carefree—even luxurious—lifestyle that included a housekeeper, dinner out a few times a week, and the time and funds to travel and explore their new corner of the world.
Five Good Reasons To
Retire Overseas
| | |
| --- | --- |
| 1 | Escape cold winters... and never pick up a snow shovel or scrape a windshield again. |
| 2 | Sidestep a recession at home and invest where the prospects for profit are strong. |
| 3 | Live better, healthier, and with less stress. |
| 4 | Grow your investments tax-free or tax-deferred. |
| 5 | Enjoy a Rolls-Royce lifestyle on a Dodge Dart budget... and never outlive your nest egg. |
Leonard and Jenna are part of what is rapidly becoming a real "movement" among adventuresome (and pragmatic) folks. You might even call it a "Retirement Revolution."
And it's something you can easily take advantage of, too.
After all, do you really want to cut back or make do at this important stage in your life?
Or are you ready for some peace of mind? To know you're set for life. To live not just comfortably... but even extravagantly... and do it on much less than you spend today?
If You're Ready To Enrich Your Life In Retirement... Find New Ways To Spend Your Days... Discover... Explore... Grow...

Look Overseas.

You Can't Afford Not To...
You know, maybe it doesn't bother you... but it sure bugs me that all you see in the papers these days are stories about terrorist attacks, politics, pandemics, and economic crises.
To be fair, the U.S. is embroiled in the Middle East... struggling with critical health care and Social Security situations... home prices are falling, the costs for food and fuel have jumped, credit is tight, the stock market is uncertain. (A recent AARP survey reports that about half of Americans over 50 don't expect to be able to afford retirement without working, and many others plan to delay retirement entirely.)
But the thing is... what you don't get in the papers are reports about attractive alternatives overseas (in Europe, Asia, and Latin America) where people are friendly, crime is almost non-existent, the health care is excellent, and the prices for everything from homes to groceries to doctors' visits would make you think it's 1953 again.
That's not really "breaking news," I suppose.
But it is the reality in the places around the world I'd like to show you.
Places where you can take that dream you've always had about an open-air home right on the beach... or a hillside retreat tucked into a vineyard... or a cosmopolitan pied-a-terre in vibrant city...
... and you can make it your reality on as little as $739 a month.
That's what this 'Retirement Revolution' is all about... It's for forward-thinking souls like you who are looking for an alternative to what we traditionally think of as 'retirement.'
That's what this "Retirement Revolution" is all about...

It's for forward-thinking souls like you who are looking for an alternative to what we traditionally think of as "retirement."

It's for people who are ready to enrich their lives, to find new and interesting ways to spend their days... to discover, explore, grow...

And to live well on a fraction of what it would cost at home.
Find Out Where To Go Now From An Expert Who's Been Right About The Best-Value Places Every One Of The Past 30 Years
I'd like to help you do exactly that. First though, let me introduce myself.
My name is Kathleen Peddicord. I've been covering the live and invest overseas beat for more than 30 years, writing, editing, and publishing magazines, newsletters, books, and reports devoted to retiring well and investing for profit abroad. I'm from Baltimore, Maryland, originally. But for more than a dozen years, I've lived overseas with my husband and two children—in Ireland, Paris, and Panama.
I've traveled to more than 70 countries, invested in real estate in 24, established businesses in 7, and renovated properties in 6.
And over the years, I've fostered a truly far-flung network of globally minded colleagues and friends—people who, like me, are living, investing, and doing business in good-value destinations all around the world.
The 'Babe Ruth' Of Overseas Living

Kathleen Peddicord is like the Babe Ruth
of overseas living.
—
Scott U., United States
So when a reporter at the
New York Times
or
Money
magazine wants to write a story about the best international destinations for affordable retirement, they call me. I'm a contributor to ABC radio's Expat Show and I've been a guest on
Good Morning America
. When the AARP is looking for an authority on overseas retirement, I'm the person they talk to, and when Penguin Books decided it wanted to launch a line of "How To Retire Overseas," I'm the one they called.
I guess it's fair to say I'm an "expert" in where to retire overseas. And I seem to have a nose for the next, great, up-and-coming retirement hot spot.
More than 20 years ago now, I was among the very first retirement advisors to recommend places like San Jose, Costa Rica... San Miguel de Allende, Mexico... and Ambergris Caye, Belize...
That was well before the rest of the world caught on to those good-value, welcoming, warm-weather destinations.
And while today those places are well-discovered—and not nearly as affordable as they once were—the idea of living well for less is just as appealing now as it ever was.
Given the current economic climate... it might even be more appealing!
Yet as word gets out about a place and it becomes more "mainstream," people go in greater and greater numbers. Demand increases for properties to rent and to own. And as the market heats up, so do prices. The best values eventually fade.
But it's just like what happens in big cities around the world where neighborhoods get gentrified and prices rise... then the artists and young hipsters and, increasingly, retirees migrate toward new "frontier" neighborhoods...
Well it's the same idea with retirement "frontiers" overseas. There's always some community ripe for discovery. Some hidden gem where you can enjoy an incredible quality of life for next to nothing.
I make it my mission to know where those places are.
And I've just collected my current favorite finds in a
special report
I'd like to send you—absolutely free...
Get Kathleen Peddicord's Top Picks For The World's Best-Value Destinations Today...
Yours FREE
Twenty-one top picks, in fact. They're all included in our just-published 2021 Overseas Retirement Index (retail price: $49) published with Overseas Living Letter readers in mind.
You see, I appreciate your dilemma. From the myriad new-home possibilities out there, you've got to narrow it down to one single place to hang your hat.
And, every month, in
Overseas Living Letter
, you'll be presented with a tempting new retirement destination. One month, you may be convinced, "This is it: I'm moving to Italy's Abruzzo region!" A month later, you're gushing over Belize's Cayo region. Then you see Cuenca, Ecuador, is coming next month. Now, mightn't that be worth sticking around for?...
Sometimes, I fear, in bringing you up close and personal with our favorite retirement havens around the world, we're doing more harm than good... making your challenge not easier but more difficult!
And, so, our
Annual Overseas Retirement Index
was born…
In this special report, we take our favorite locales around the world, highlight their strong and weak points… ranking them all on the important things that affect expat life, including cost of living, quality of health care, infrastructure, climate, safety, whether English is spoken, ease of residency/citizenship, taxes, real estate, and so on.
That way, you can quickly see where each haven shines... as well as the areas where it's less than perfect. And, if a sunnier climate... or a low cost of living... or having an existing expat community to connect with... is of utmost importance to you, you can take a flip through the index and identify the best areas to start considering for your new home.
Of course, lots of organizations out there publish their own annual indexes—covering everything from cost of living to health care and quality of life. Thing is, these indexes are generally country-focused. They're trying to compare, for instance, Brazil with Croatia. But you're not going to retire to Brazil. Nor are you going to retire to Croatia.
In Brazil, you're going to retire to the beach in Fortaleza… or maybe opt for big city life in Rio. In Croatia, you might choose a fairytale hill-town in the north… or an island escape in the Adriatic. In other words, your options in any one country are diverse… making it impossible to attribute across-the-board scores for a country. Not to mention meaningless for you, the would-be expat.
What does it matter if the average living cost for "France" is $3,000 a month, when you could live for $2,000 in the charming Occitanie region?
That's why we focus on specific destinations… both in the monthly
Overseas Living Letter
and in this special
2021 Overseas Retirement Index
. And, as an
Overseas Living Letter
subscriber, you get free and immediate access to this just-published report… plus, you'll be first to receive a complimentary copy of the 2022 index when it's ready!
Among the 21 top picks in our 
2021 Overseas Retirement Index
, you'll find places where…
You could live a very comfortable lifestyle for $1,250 (or less) a month...


You won't have to worry about learning a new language (nine of our havens have English as the official language or a major language—and, in others, English is spoken widely enough that you could get by most of the time)...


You'll be spoiled for choice for year-round activities... with access to beaches in the summer and skiing in the nearby mountains in winter...


You can be the only expat on the block... or have some expat friends in the community for support and friendship... depending on your own preference...


Health care is a fraction the cost of the United States (in fact, a number of the destinations you'll read about are medical tourism hot spots offering cheaper but still international-standard specialist care)...


Qualify for a retirement visa with an income from as little as $800 a month...
You'll find all of this in the 2021 Overseas Retirement Index… yours—at no charge—simply for taking a look at our entirely unique retirement-intelligence service called Overseas Living Letter.
No Sugar-Coating. Just The Facts.
Delivered With A Lifetime Of Perspective...
Overseas Living Letter
is not a glossy magazine. It's an intelligence service.
A detailed, down-and-dirty, tell-it-like-it-is, get-there-first report from the real world about the best communities for good-value living and investing all over the planet.
I don't sugar-coat any place. That sort of "it's the perfect paradise" language doesn't do you any favors if you're seriously thinking about moving and investing overseas.
I know that. And so do you.
No place is perfect. And in
Overseas Living Letter
I won't tell you it is.
But I will give you an honest, measured assessment of each destination we feature. And tell you not only what it has to recommend it. But what the drawbacks and potential pitfalls are, too.
I've been in this business for more than three decades. I know the questions to ask. I know the risks you'll want to avoid.
And I'll get them on your radar screen.
That way you can decide for yourself whether a place is worth investigating firsthand... or not.
Sophisticated And Thoughtful...
And Therefore More Useful

I have to say that you seem to dig deeper into the feel of a particular place and to do comparative analysis between alternative places. Your approach is more sophisticated and thoughtful and therefore more useful than that of other e-letters I've read covering these same subjects.
—
John W., United States
After all, what's important to you isn't necessarily what's important to the next guy. Everybody's situation is different.
Take me, for instance. I'm still young. In good health. And I've got a 19-year-old son. The accessibility and cost of long-term medical care isn't my top, personal priority when I consider overseas destinations for my own family.
Right now I'm more concerned about where, in what language, and how well my little guy will be educated. Plus I want to be near an airport since I travel all the time...
But that might not be what keeps you up at night...
Maybe you're more worried about how close by, how sophisticated, and how affordable a doctor's care is...
I can tell you about one place I like where many doctors are U.S.-trained... prescriptions typically cost 50% what they do in the States... an overnight stay in a private hospital room will run you less than $40... and you can have your teeth cleaned for less than $30. Full-coverage medical insurance? About $120 a year.
Or maybe what you really dream about is being able to walk barefoot every day on the soft sand of a palm-lined beach... yet you still want to be an easy hop from home so you can get back for your grandchildren's birthdays.
In one of my favorite Caribbean islands, the beaches are every bit as white and soft as those of the U.S. Virgin Islands or the Bahamas. But properties are a fraction the price. $89,000 will buy you a one-bedroom apartment with a vast veranda in an exclusive complex lush with flowers, close to the beach. And from here you can fly direct to the States on discount carriers like Spirit Air and Jet Blue.
Perhaps you'd prefer a place where there's spring-like weather year-round, a small and friendly community, and ample opportunity for you to put your life experience and your interests to good use locally...
In one place I can think of that fits that bill... the weather is cool so you need no air conditioning. The land is lush with orchids. The hills rise to forests where clear rivers run and waterfalls tumble. And here you could buy a lot and build a tidy house for less than $150,000.
Not Your Parents' Retirement

This word "retirement" has nothing to do with checking out or taking it easy. Unless you want it to.

In the places I'd like to introduce you to, sure, you could improve your golf swing or join a bridge club... you could spend your days lazing in a hammock beneath the banyan trees. And no one would think any less of you.

But if you're not ready to take up a position on the sidelines of life, don't worry. That's not what I'm suggesting.

The ideas of retirement I'm talking about work for the 30-year-old as well as anyone twice that age... or older. That's because it is easier today than ever before to live, travel, invest, and retire as best suits your personal agenda.

The world is alive with opportunities for fun and for profit, no matter what your age. I'd like to steer you to the ones that make the most sense for you.
The Good News Is:
There's A Good-Value Community For Everyone. It's Just A Matter Of Finding The Right Fit...
Your good-value escape exists. With
Overseas Living Letter
I'll help you find it. Quickly and easily. It'll save you time, trouble, and money, too.
(Just think about it: If you decided to traipse to every destination that could possibly make sense for you, you'd spend thousands of dollars a month in travel expenses alone. You'd be at it for years. And there's no telling if you'd get the straight story, either.)
With
Overseas Living Letter
I and my seasoned team of experts and expats will do all the important legwork for you.
Every month, you'll get an honest and comprehensive assessment about a place worth retiring to today (or maybe investing in now and living in 10 years from now)—including both the pros and cons.
You'll get proven recommendations for everything from health insurance to mortgages to keeping in touch from afar.
And timely ideas about ways you can protect and grow your nest egg overseas.
Including Real-World Stories From Folks Who Have Found Their Own Perfect Haven...
And Retired In Style
On A Budget Overseas
I'll also bring you stories in
Overseas Living Letter
directly from folks who have already done what you're thinking about doing.
People who have traded an uncertain quality of life at home for a new, more affordable adventure overseas.
People like Rob and Krista Burrows, for instance.
Back in Cleveland, Ohio, Rob was putting in 50 hours a week as a management consultant...
They were cold and unhappy. So they began to look beyond our borders... and found the sunny exuberance of the Caribbean.
After years of holiday escapes, Rob finally had an "ah ha" moment…
"I was vacationing in the Caribbean all the time," Rob explains.
"I was working 50 weeks a year, then I spent every two-week vacation in the Caribbean.
"That meant 14 days a year I was happy.
"What if, I finally thought, I were to move to the Caribbean?
"Then I'd have two days each weekend to enjoy being in the Caribbean. Even without taking a vacation, that'd mean I'd be happy 104 days a year!
"I'm no math wiz," Rob continues… "but it seemed like a no-brainer to me."
How is Rob's new life of white sand, azure sea, and swaying palms working out for him?
"I love the water," Rob says, "so I spend all my free time sailing, surfing, snorkeling, fishing…
"My wife and I are living much better lives… much healthier lives.
"I lost 70 pounds in the first eight months here. We just eat better, and we naturally get more exercise.
"I can honestly say that I'm happier than I ever was living in the States. I'm a truly happy person now."
Immediate Info... No Bull

... just a thank you for the immediate info without all the bull.
—
Tom F., United States
More Than Half A Million People Already Receive Their Social Security Checks Abroad.
I include stories like Rob and Krista's in 
Overseas Living Letter
 for two reasons:
1) It's important to remember that real people like you—school teachers, dentists, accountants, attorneys, consultants, office managers, doctors, sales reps, small business owners—are already doing what you're thinking about. And doing it successfully.
Because I promise you: You'll have family and friends who think you've lost your marbles. I know mine did!
But the truth is: more than 697,000 people already receive their Social Security checks at an address abroad. And the real numbers of North Americans living well and enjoying life overseas—at least part of the year—has been figured to be over 12 million.
So I like stories like Rob and Krista's because  they can open your eyes to possibilities you might never have even thought about before.
And the world is full of inspiring, life-improving, money-saving, and money-making possibilities. In
Overseas Living Letter
, I'll bring them to you.
2) Plus there's nothing more welcome when you're starting out in a new place than a little "been there, done that" advice. And that's exactly what
Overseas Living Letter
delivers each month.
The world is full of inspiring, life-improving, money-saving, and money-making possibilities. In Overseas Living Letter, I'll bring them to you.
It plugs you in to my vast network of contacts—both the "experts" and the "regular folks"—in the best-value destinations all over the world.
It's invaluable to hear these personal stories of people changing their lives for the better in a new place. Many of them have found creative ways of making money, too.
Which leads me right to the next important point…
How To Fund Your New
Life Overseas (By Working A
Whole Lot Less)
Once you start to think about a new life overseas, sooner or later, thoughts come around to money.
And, from three decades of talking to live-overseas hopefuls, I can tell you that, more than any other fear, financial worry is what stops many a would-be expat in his tracks.
True, it's not always easy to find a job overseas.
But you have plenty of opportunity to create an income stream for yourself.
Really, you have two main options:
Set up a business you can do from anywhere in the world (a laptop-based business is ideal)…


Invest for cash flow (and skip the working life altogether)...
Or, of course, some combination of the above.
We'll cover specific opportunities, and share some real-life stories of people paying their way in their new life overseas, in
Overseas Living Letter
each month.
But, to get you thinking about your own direction… and what interests or skills you have that you could be putting to good use… I'd like to send you two brand new reports our team has just prepared.
Both of these reports come free when you decide to give
Overseas Living Letter
a try…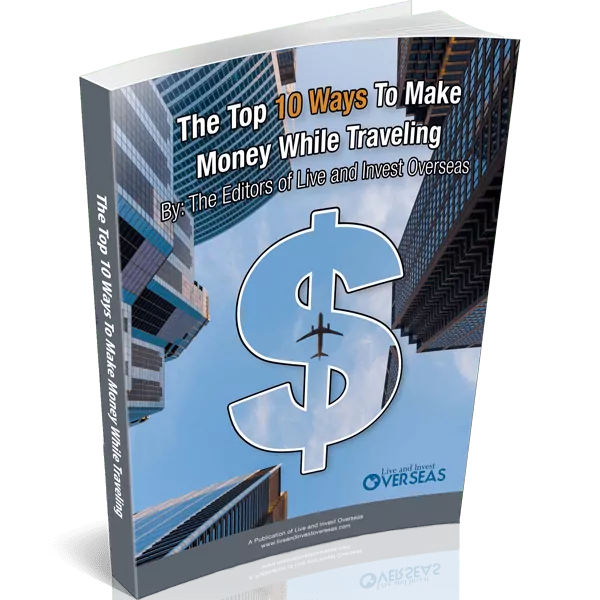 Bonus Report #2: The Top 10 Ways To Make Money While Traveling
Inside, you'll read about gigs like travel writing and photography… copywriting… import/export, and more.
All of these can be done from anywhere in the world, of course, with little to nothing in terms of seed capital. And, you can get started long before you leave home.
If you've always thought you'd like the opportunity to be your own boss, on your own schedule, free to work from your kitchen table, your local café, a hammock by the beach… as little or as much as you wish… you'll find your best options in this bonus report.
And here's a quick tip: If you want maximum return for minimum effort, skip straight to the section on import/export (that's Chapter Four). It's one of the easiest ways to generate a healthy income (as much as $5,000, $10,000, or even more) with as little as three hours of your time a week (you don't even have to handle or store products to make a profit).
Bonus Report #3: 7 Passive Income Opportunities To Help Grow Your Nest Egg And Fund Your New Life Overseas
Now, maybe you have some savings to give you a good start in your new home—and you'd prefer to take things a little easier when you go overseas… without having to think about work.
But you'd welcome the opportunity to grow your nest egg—and give you the cash flow you need to enjoy more of the good life you moved halfway across the world to experience.
In that case, this third bonus report is just for you…
In
7 Passive Income Opportunities To Help Grow Your Nest Egg And Fund Your New Life Overseas
, you'll find the best passive income-producing opportunities to consider, including:
Property investment for rental income (in places we'll put you onto, you can earn double-digit net rental yields)…


Turnkey agri-investments (highly recommended for the long-term player). We'll tell you about markets and crops you can invest in, with yields up to 20% and harvest seasons that can last 60 to 80 years and beyond…


Foreign CDs, dividends, and bonds that trigger cash flow. Some foreign financial institutions offer as much as 8% interest on five-year CDs…
Any of these passive income stream opportunities can give you the lifestyle you long to keep overseas. But there's a longer-term bonus, too…
Diversifying and growing your investment portfolio is critical to securing your future (and that of your loved ones) and crucial to peace of mind as you move toward retirement. It's never too late… or too early… to get started.
Again, these two reports are brand new—never before seen by any other readers—and we're making them exclusive to our
Overseas Living Letter
readers only.
How You Can Retire On $1309 Per Month... Or Even Less
In one excellent value community I like in Latin America, the graceful curves and painted colonial facades give a prosperous, old world feel. You can eat out at fine restaurants... enjoy the theater, orchestra, and plenty of festivals and celebrations.
The population is about 400,000, which makes it big enough that you can find what you need, but small enough that you know how to get around and get things done. Here people know and remember you, which makes it easy to feel at home and part of the community.
You don't need a car. Public transportation is great—taxis are about $1.50. And rental cars are easily available when you're ready to explore the country off the beaten trail.
The expat community is small, but large enough so that there's always someone you can get together with for company.
Assuming you'll own your own apartment or home and won't have a monthly payment, $1309 should cover your everyday expenses. Here's how:
| | | |
| --- | --- | --- |
| Rent | US$ 475 | Unfurnished, two-bedroom, comfortable apartment in a desirable part of town. |
| Transportation | US$50 | |
| Gas | US$10 | Used for hot water and cooking |
| Electricity | US$70 | |
| Water | US$10 | |
| Cell phone | US$60 | |
| Internet and Cable | US$80 | Allow $200 if a full-time maid is required |
| Entertainment | US$140 | Movie tickets: 6 per ticket; dinner and drinks for two: 27; drinks for two: 6 to 15… |
| Groceries | US$450 | Basic items for a couple |
| TOTAL | US$1305 | |
A World Of Opportunity
Delivered Directly To You...
Retiring overseas opens up a whole world of opportunity for you. A world full of excitement... meaning... interest... and adventure...
A world where you can live like a movie star on a school teacher's budget... and take advantage of investment opportunities that just don't exist at home...
In each issue of
Overseas Living Letter
, you'll learn about extraordinary possibilities like...
Ways you can cultivate a portable trade... and fund your new life overseas in a few hours a day from your beachfront deck... or the den in your mountaintop chalet... or the front veranda of your vineyard estate...


"Opportunity Hot Spots" to watch around the world...where changes in infrastructure, or government incentives, or economic circumstances, or global trends are creating smart investment opportunities for the people who notice. I'm paying attention so you don't have to. And I'll make sure you know when the stars are aligned for early-in investors.

Right now, for instance, I've got my eye on three cities in particular—one in South America, one in Europe, and one in Asia—that are continuing to provide double-digit investment yields even in this very uncertain global investment climate. This is a time for back-to-basics investing, and these three markets have solid fundamentals. In Overseas Living Letter, I'll show you how you can position yourself for profit...


Extraordinary communities for good-value living all over the planet... places you simply won't read about anywhere else.

I have one in mind. It's a seaside town in Uruguay with a high-end, Bohemian feel to it. It's clean, well-maintained, safe. You can dine at local, waterfront seafood restaurants or choose Italian or sushi. You can even get high tea in the afternoon. The galleries and boutiques will satisfy the shopper in you. Yet for all its great attributes, you can still buy a home there for between $50,000 and $150,000...


How much money you really need for an overseas retirement... and how to invest and spend along the way.
You can go to Yahoo's finance site and others like it on the web, and they'll help you—in a very generic way—calculate things like "if x and if y... then this is how much money you'll have when you're 90."
Interesting And Timely...
Inside Knowledge

I read each one and always pick up some interesting and timely piece of inside knowledge.
—
Robert C., Spain
But I realize your questions about funding a retirement overseas aren't generic at all. So you'll find in
Overseas Living Letter
a much more specific and personalized approach.
We'll talk about preserving your financial health abroad... and about how to find and take best advantage of profit opportunities overseas that the folks back home just don't see.
Try Overseas Living Letter—
Risk-Free—Today And Receive
3 Special Reports ($118.90 Value),
No Charge
You'll find all that—and much more—every month in
Overseas Living Letter
.
You know, if you paid a financial advisor $1 a day ($365 over the course of a year) to get the kind of up-to-the-minute, on-the-ground advice and insider guidance you'll find in
Overseas Living Letter
, that investment would be worth every penny... and then some.
I mean, just think about it: $365 for somebody to show you where to go and how to structure your life so that you could have things like a home on a palm-lined beach with a full-time maid and cook, a gardener... enough leftover income to dine out and go to the movies... plenty on hand to spend on travel and extras. And the whole lifestyle yours—free-and-clear—on less than $20,000 a year...
But you don't have to pay anywhere near $365 to receive a whole year's worth of exactly that kind of life-changing intelligence.
Because right now you can get it in 12 monthly issues of
Overseas Living Letter
—for just
$36
today (regular rate $76). You save $40 with this special offer.  And I'll also send you at no charge...
SPECIAL REPORT # 1: The Just-Published 2021 Overseas Retirement Index (retail price: $49). Yours free today.


SPECIAL REPORT # 2: The Top 10 Ways To Make Money While Traveling (retail price: $29.95). Yours free today.


SPECIAL REPORT # 3: 7 Passive Income Opportunities To Help Grow Your Nest Egg And Fund Your New Life Overseas (retail price: $39.95). Yours free today.
Sign Up For 2 Years
At Extra Special Savings
(And Get An Additional
Bonus Report)
I think you'll agree that the one-year offer is a pretty sweet deal. But, if you'd like to stretch your
Overseas Living Letter
subscription to two years, then you're in line for an even deeper discount…
A two-year subscription, by the way, means you'll get
24 issues of Overseas Living Letter
to your inbox…
including two Annual Retirement Index bumper reports
… along with your two bonus reports.
A two-year membership would normally cost $152.
But, by signing up during this discount period, you'll pay just $63 for two years... in other words,
$2.60 per issue
.
If you take me up on this deal, you save nearly 60%... and get to stay with us through a full 24 months of discovery and opportunity.
What's more, I'd like to send you an
additional bonus report
when you sign up for a two-year subscription. Sign up for 24 issues of
Overseas Living Letter
now, and you'll also receive a copy of my brand new report
"Most Frequently Asked Questions Related To Living And Investing Overseas."
It's exciting to think about a brand new start in a brand new place where you can enjoy all the things you're missing out on right now…
Where your cost of living is lower and your opportunities for enjoying life far greater…
Sooner or later, though, the "stumbling-block" questions set in. Questions start to spring from everywhere.
In the brand new report
"Most Frequently Asked Questions Related To Living And Investing Overseas"
we answer 30 of the most frequently asked "stumbling-block" questions, including:
"Can I still receive my Social Security payments?"


"Can I drive on my home country's driver's license overseas?"


"What happens if I die overseas?"


"Living overseas, would I lose my original citizenship?"
I'll send you this brand new report immediately when you sign up for 24 issues of my
Overseas Living Letter
.
You Take Absolutely No Risk.
Your Investment Is Guaranteed Three Ways...
You risk nothing when you agree to take a look at
Overseas Living Letter
today. Here's why...
Guarantee No. 1:
This retirement-intelligence service is guaranteed to be the most straight-shooting, tell-it-like-it-is, get-there-first report available about the best-value communities on the planet. Sugar-coated Paradise-pushing doesn't do you any favors. So I don't do it. No place is perfect. And I won't tell you it is. But I've been at this for more than 30 years. And I will give you an honest, measured, educated assessment of each destination we feature. So you can decide if it's right for you.
Guarantee No. 2:
I'll bring to you a splendid array of options all around the world. Beachfront retreats... cool-weather mountain hideaways... charming European enclaves... laid-back Latin American havens... vineyard sanctuaries... and more. But if you don't feel
Overseas Living Letter
delivers the kind of make-your-nest-egg-last-forever opportunities you're looking for, you can cancel at any time... and I'll promptly reimburse you for any issues remaining in your subscription. No questions asked.
The Best Time We've Ever Had In Our Lives

We're having the best time we've ever had in our lives. Bill and I are thrilled with our purchase of oceanfront... Gosh, what a place... people who are immediate friends, ever-present adventure, beauty around every turn, and a feeling of being in a place few are privileged to find.
—
Judy and Bill Ahern, Retired Overseas
Guarantee No. 3:
Should you decide the opportunities you learn about in
Overseas Living Letter
aren't for you, all the
special reports
are yours to keep. My way of saying thank you for giving
Overseas Living Letter
a try.
That's how certain I am that you'll love it. You can't lose. And all the risk is mine.
Why Wait?
You know, I think a lot of folks with retirement on the horizon are feeling paralyzed. Maybe you are, too. It's understandable. You're likely to live longer. Spend way more on health care than you could have ever imagined. And, in today's economy, earn far less on your investments than you probably hoped for.
So what do you do? Lots of folks will simply sit numbly by and hope for the best.
But you have way more control of your future than you may think. Simply look beyond your borders. I'll show you where.
Because you'll find in the world's best-value locales the promise of good, healthy living... a quality of life twice as good as what you're used to, for half the price... and days filled with excitement, interest, and adventure...
If you're ready to join the new "Retirement Revolution" and ensure you never outlive your nest egg... I'd like to show you how in
Overseas Living Letter
.
Go here now to get your deep discount and Special Reports, including the just-published 
2021 Overseas Retirement Index
, free:
Sincerely,
Kathleen Peddicord
Founding Publisher,
Overseas Living Letter
No Matter How Busy I Am,
I Find Time For Your Newsletter

In a horribly busy world and corporate pressures I find that your newsletter is most informative and a wealth of very interesting and thought provoking information of which I hope to make use of in the near future. No matter how busy I am I find the time to make sure to read your newsletter... keep up the great work!
—
John M., United States
P.S. In
Overseas Living Letter
you'll discover what millions of retirees overseas already know: In the right destinations, the values are great. The lifestyle is extraordinary. And you can stop worrying about how you'll pay for life... and start enjoying it, instead.
For my top picks of the best-value places to live and invest overseas today—and a deep discount—go here now...
Reach us with questions and comments at
CustomerService@liveandinvestoverseas.com
or by phone, toll-free from the United States, at 1-888-627-8834.
Copyright © 2008-2021 Live and Invest Overseas, Founding Publisher Kathleen Peddicord