Dear Reader,
I'm going to take a shot here and guess that you're a picky person…
Like me, you're not one to settle in life.
And more than anything, you're not ready to settle on one of the biggest milestones of your life…
Your retirement.
Neither were Terry and Ann O'Halloran…
After living 40 years in Hawaii, the couple found themselves free of the rat race and craving adventure…
Used to living life to the full, Terry and Ann had a long list of must-haves as they shopped for their new home overseas: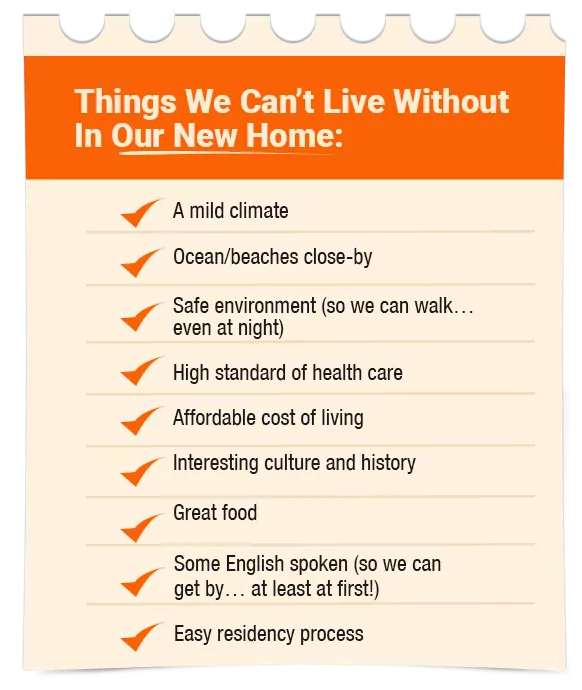 To get all that in one place sounds like a big ask, right?…
But the O'Hallorans' pickiness paid off…
They found every single item on their list (and more) in one sun-drenched corner of Europe…
"We really hit the jackpot," says Terry. "We live in a great apartment with a sweeping ocean view on one side and a stunning view of the mountains on the other…
"This is a happening place with a strong sense of community. The people here are friendly, welcoming, and helpful beyond expectation. We're also blessed with clean ocean waters, white sandy beaches, cobblestone sidewalks, and beautiful parks."
Looking back, Terry calls his relocation across the pond a "bold move into the unknown."
But let me tell you a secret about the couple's move…
Terry and Ann may have moved quickly, but they didn't go in blindly…
Before they shipped out of Hawaii, they took one important step…
A step that led them to "hit the jackpot" as Terry says… and check off every box on their wish-list…
They came to me.
I'm Kathleen Peddicord, Founding Publisher of Live and Invest Overseas…
And it was my team of trusted experts that helped the O'Hallorans fast-track their hunt and settle into their new paradise with ease…
The place they chose, by the way, was Cascais, Portugal. It's a cosmopolitan town, fringed by white-sand beaches, just a 30-minute drive to all the delights of Lisbon…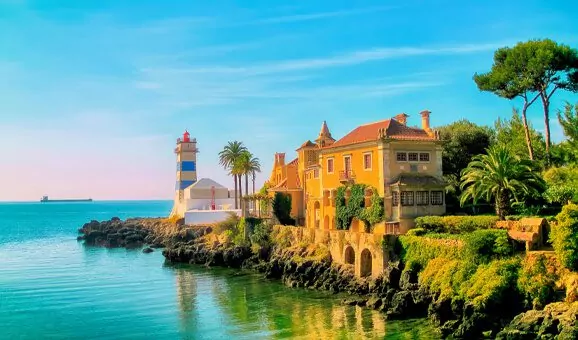 But, of course, it could be any one of dozens of top options for you (we'll talk about those in a moment)…
The O'Hallorans had never heard of Cascais until they stumbled on it in one of my special destination reports.
And, their home with the stunning sea and mountain views?
Snapping up a property like that is not an easy thing for a newcomer in a foreign town…
Luckily, Terry and Ann had the help of my friend Luis… not only one of the most experienced property-finding agents on the ground in Portugal… but also one of the most pleasant gentlemen you'll meet. (I'm extremely careful about who I recommend to my inner circle of readers.)
No matter where you go in the world, it's this combination of reliable, from-the-scene intel AND access to the right people on the ground that's critical to a successful (and speedy) move…
And, now there's a way you can access both of these things in one place… which is why I'm here today…
I'd like to invite you in as a VIP member of my brand-new service: Overseas Living Unlimited…

This is your chance to get unlimited access to all the help you need to launch your new life overseas… faster and with confidence…
Having this wealth of information at your fingertips… and my team on your side… is the difference between feeling lost, lonely, and on the verge of a mental breakdown during your first weeks and months on the ground in a foreign country (trust me, I've been there)…
And, instead, hitting the ground running, ready for whatever comes your way… so you're free to relax and enjoy your new home.
Now, before I walk you through everything that's included with your Overseas Living Unlimited membership, let me be clear about one thing…
You don't need a lot of money to do this…
In Fact, You Can Cut Your


Monthly Budget In Half…
I mentioned earlier that you can start living the lifestyle of your dreams—in an exciting location overseas—within the next 12 months…
When I tell most folks this, their reaction is usually something like:
"But it'll be years before I can retire!"…
Or…
"I'll go when I have more savings."
Don't fall into this "some day" trap…
The truth is, you don't need a big nest egg to support you… and you don't need to be "ready to retire"…
If you're worried that your pension won't stretch far enough overseas… or that you'll burn through your savings too fast… you should know that there are a number of ways around your money worries…
The first is to choose a place where the living is a lot more affordable—but where you won't have to compromise your lifestyle in the slightest.
Of course, everyone has a different idea of what that budget should look like…
Carole and Dave live in an upscale neighborhood in Medellín, Colombia…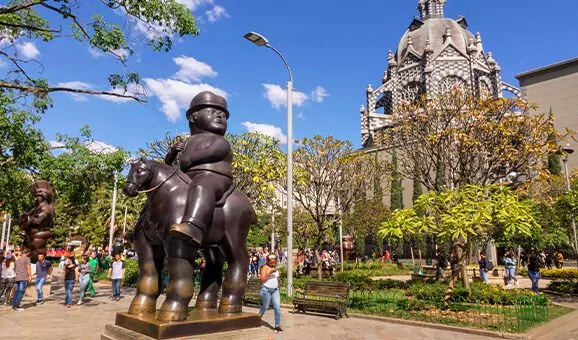 "We enjoy a good quality of life at a great cost of living," says Carole. "We live a similar lifestyle spending about US$3,000 a month as opposed to US$8,000 in the States. We could live more frugally, but we don't want to."
Going elsewhere, you could cut that US$3,000 budget in half or less…
Take Cuenca, Ecuador, for instance. It's an attractive Spanish colonial city—with a growing expat community…
You can rent in an attractive neighborhood here, within walking distance of all amenities, from US$400 a month… an entrée at a nice restaurant costs US$10… and you can go to the movies for US$6…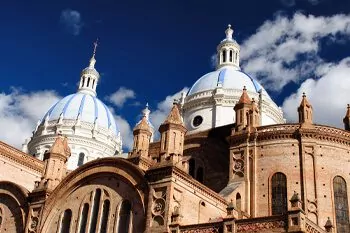 David Edwards, a retired U.S. law school administrator, splits his time between Cuenca and a small farm an hour's drive south of town where he tends a garden and raises geese…
"For me it's the best of both worlds," says David. "Back in California I could barely make ends meet with a one-bedroom apartment. Here in Ecuador I can afford to indulge both my lifestyle interests."
I'm not saying you should choose your new home based entirely on the bottom line. But, in most places that I'd like to introduce you to through Overseas Living Unlimited, you can make it work with whatever budget you have to play with…
Renting In The Tropics For US$500 A Month

"I rent a three-bedroom, two-bath house that's about 111 square meters. I pay around US$500 a month, and it's incredible."

—Barbara S., full-time expat in Phuket, Thailand
Which brings me to your second option for taking off to paradise before you're ready to retire…
Make Money From Anywhere—Working Just

A Couple Hours




A Day…
Of course, many expats—especially those who are decades from traditional retirement age—work to support themselves in their new home.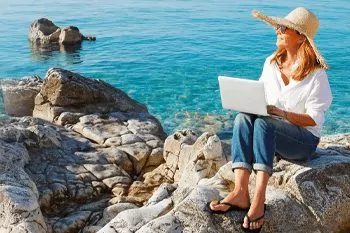 Louisa Rogers and her husband divide their time between Eureka, California and Guanajuato, Mexico. Louisa writes freelance articles on travel, expat life, retirement, health, spiritual living, family, and more… and offers life coaching over Skype…
Meanwhile, French brothers Charlie and Arnaud recently relocated to Panama and opened up a food truck. Located in front of Plaza Albrook in Panama City, the Ma Mamie menu runs the gamut from quiche lorraine and croque monsieur to crêpes drizzled with salted-caramel sauce…
These expats are doing what they love… working on their own terms (often just a few hours a day)… and enjoying the adventure of living overseas.
No reason you can't do the same.
In fact, today, you have things even easier…
As the coronavirus pandemic has shown us, home doesn't have to be near the office. According to a study by freelancing network Upwork:

While many folks are just looking to get out of the metropolis, it's also a big opportunity for you to break for the U.S. border…
If your job is already portable, why not take it on the road?
If it's not, could you break into a "digital nomad" gig?…
From freelance writing to life coaching to teaching English, you'll discover "work from anywhere" opportunities through your Overseas Living Unlimited membership… as well as tips from money-making expats on how to get started…
Now, let's take a look at all the resources you'll have at hand when you come on board as a fully-fledged Overseas Living Unlimited member today…
Overseas Living Unlimited Member Benefit #1:
Annual Membership Of Overseas Living Letter–Discover A New Destination Every Month…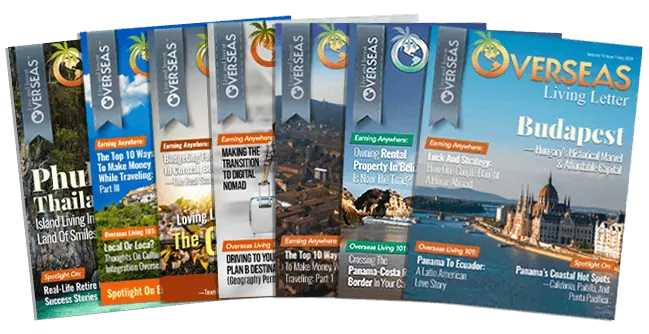 The first step toward your enhanced retirement is to get to know your top lifestyle options in the world today…
You'll understand that I can only give so much away in my free daily e-letter. But, in the pages of my subscriber-only Overseas Living Letter, my correspondents and I seriously up our game to take you to the next level.
And, as an Overseas Living Unlimited member, you'll receive a copy of Overseas Living Letter to your inbox every month…
What will you find inside your copy of Overseas Living Letter?
My editorial team and I promise to:
Introduce you to a top retirement haven worth your consideration for living in right now—from Caribbean fishing villages to historic old towns… cool mountain escapes to cosmopolitan cities… including places where you could live well on your Social Security check alone…
Give you the information you need to set yourself up in each of these featured havens—including all the practical nuts-and-bolts matters like applying for visas and residency, buying and renting a home, getting connected and paying your bills, where to shop like a local, where to find expat groups, get language help, etc…
Help you figure out how you're going to fund your new life… if you need to supplement a retirement income—or continue to work part- or full-time—we'll put you on to the top work-from-anywhere, money-making opportunities… as well as the best places to start a brick-and-mortar business…
Connect you to the people on the ground—from lawyers and real estate agents to language teachers and doctors. Before you go, you'll have your own go-to rolodex with the numbers for who to call around town…
Every issue of Overseas Living Letter comes from my correspondents who are living—or have spent extended time on the ground—in these top-notch locations…
This team of well-heeled experts and expats works hard to bring you the full low-down on a destination. Because no place in the world is without its faults, we want to fully prepare you for what to expect… so you get to settle in with ease.
"The Essential Information We Need In These Difficult Times"

"As a recent subscriber of your newsletter, I wish to
congratulate you for the quality of the reports I have received up to
now: the plain, matter of fact, but essential and wise information we
all need to take vital decisions, especially in these extremely
difficult times."

—Peter L.
"Realistic Budgets… With No Fluff Or B.S."

"I subscribe to a number of 'living overseas' resources, but yours is by far the best. Your articles cut to the chase without fluff or B.S. Your realistic budgets are indispensable for planning purposes as I'm going on a look-see to some of the locations in your articles. Keep up the good work!"

—Thomas R.
You'll get 11 of these Overseas Living Letter issues a year… plus one special bumper issue…
My Annual Overseas Retirement Index…
Hitting your inbox in December, it's an in-depth analysis of the top world havens that are worth your immediate consideration…
 

Revealed:

The 10 Best Places
To Retire!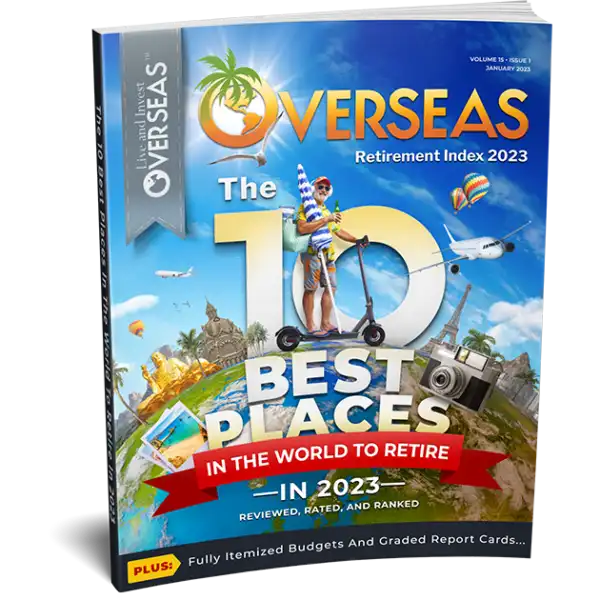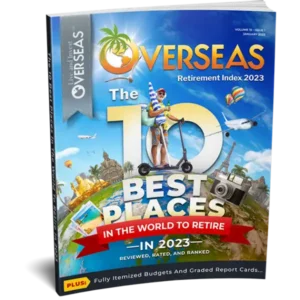 Part science… part experience… part judgment… my Annual Overseas Retirement Index is the best way to introduce yourself to the exciting world of overseas retirement options from the comfort of your home…
In this bumper report of more than 212 pages, we rank and rate these top 10 havens in terms of health care, retirement benefits, climate, culture, leisure, taxes, real estate, and more…
Other readers will pay US$49 to get a copy of this Annual Overseas Retirement Index into their hands. But it comes to you free, as part of your Overseas Living Unlimited membership…
Overseas Living Unlimited Member Benefit #2:
Live Video Call With A Destination Insider (Ready To Answer Your Questions)
Once a month, you'll be invited to access an exclusive, live video call.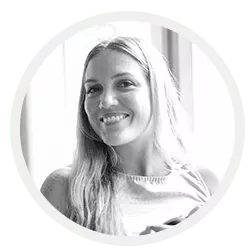 This is a special event—for Overseas Living Unlimited members only—hosted by Overseas Living Letter Managing Editor Sophia Titley…
On the line with Sophia will be the writer of the current Overseas Living Letter feature—an expert on the destination—who'll reveal more behind-the-scenes information… things that maybe couldn't be squeezed into the issue.
We schedule this live session a couple of weeks after we deliver your issue, so you have time to read… and come up with any questions you might like to ask to the author. You can send questions in ahead of the interview… or you can type them in the live chat box as they arise during the video call…
And, if you can't join the call live, you'll be able to catch up later. We record every monthly interview and will send you on the access details.
"Keep The Excellent Advice Coming!"

"Thanks Kathleen and Lief… I have been following your excellent advice for the last three years… keep it coming

—Bob A.
Overseas Living Unlimited Member Benefit #3:
Instant Access To 105 Overseas Haven Reports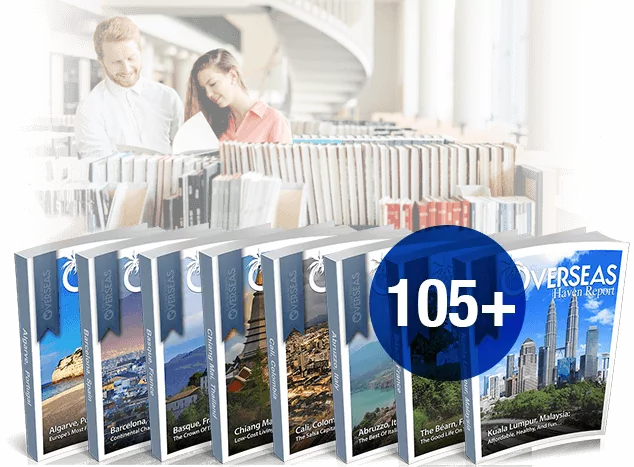 As soon as you come on board as an Overseas Living Unlimited Member, there'll be no waiting around…
Of course, I'll send you the latest issue of Overseas Living Letter…
But you'll have access to every single Overseas Haven Report my team has compiled over the past decade…
I don't mean to overwhelm you… nor do I expect you to go back and read every single of these reports right away…
But if you're interested in Belize, for example, you may go straight to reports on Cayo, Placencia or Ambergris Caye…
Or if Europe is more your style, you might check out Portugal's Algarve… Malta… Italy's Abruzzo… the "affordable South of France"… to name a few…
These 105 Overseas Haven Reports are there when you need them for reference… all throughout your Overseas Living Unlimited membership…
If you're looking for somewhere to begin, here are some highlights from the last couple of years:
The Western Algarve. A beautiful coastline with over 150 sandy beaches… one of the safest environments in the world… friendly locals, good cuisine, fine local wines… a cost of living that starts from just US$1,120 a month… and easy residency options…
Santo Domingo, Dominican Republic. From real estate to the general cost of living, it can be hard to believe you're in the Caribbean… and with the opportunity for fine dining, shopping, theater, museums, and baseball. Own a renovated apartment here for less than US$100,000… and a couple can live well here for US$1,830 a month…
Da Lat, Vietnam. With spring-like temperatures year-round, this French-built resort town is a tranquil place to escape the rest of the world. As well as having its own mini Eiffel Tower, it's full of pretty villas, boulevards, parks, and golf courses. With its other-worldly atmosphere, Da Lat has the reputation of being Vietnam's honeymoon capital. Live out your own fairy-tale here from US$1,000 a month…
Bologna, Italy. From homemade pasta and delicately folded tortellini, to fresh cheese, organic produce, and excellent local wine, the food and drink are reasons enough to come to this amazing city. But it offers much more… Bologna is chock-full of history, a center of culture, home to Europe's oldest university, and a UNESCO City of Music. Rent a two-bed renovated apartment in a central neighborhood here from US$1,400 a month or own from US$220,000…
Ambergris Caye, Belize. A small haven in the Caribbean, surrounded by vibrantly turquoise waters and skirted on its eastern side by the longest barrier reef in the Western Hemisphere. Living on Ambergris, you'd wake up to the gentle lapping of waves onto pristine white-sand beaches just outside your window and the faint crash of the ocean in the distance…
Occitanie, France. Or "the other South of France" as we like to call it. Property prices here are typically half the cost of the Côte d'Azur and Provence next-door… yet you still have a Mediterranean climate… good-quality, fresh food… fantastic art, history, and culture… high-quality health care… beautiful and varied countryside… good infrastructure yet little to no traffic… not to mention award-winning wines…
Mazatlán, Mexico. Mazatlán offers the best beachfront lifestyle you'll find in Mexico… maybe the best you'll find anywhere. But what sets this city apart is its Spanish-colonial historic center. This colonial city on the beach is drawing a growing number of North Americans, offering countless options for fine dining, quiet coffee shops, energetic and friendly bars… as well as an affordable cost of living.
Valencia, Spain. On a stretch of the Mediterranean known as the "Orange Blossom Coast," Valencia is Spain's third-largest city. It's more laid back than Madrid and Barcelona—and prices can be considerably cheaper. Valencia boasts a warm climate year-round, a vibrant lifestyle, and is well located to explore the rest of Europe. Rent in this vibrant city from US$950 a month. A couple could live well here on around US$1,650 a month…
Chiang Mai, Thailand. Probably the most livable city in Southeast Asia for a foreigner. Good infrastructure, a thriving expatriate community, and friendly native hosts ensure Chiang Mai will hold that distinction for years to come. A couple could live comfortably here from US$1,400 a month (including household help and eating out a couple times a week)…
And that's just a small sample… a fraction of what's standing by in our archives…
"We Couldn't Be Happier In Our New Home"

"I wanted to take a few minutes of your time to thank you for all the hard work and effort that goes into your publications. My wife and I have followed your work for 6 years and believe it is awesome. We struggled with many of the things you write about and have always found you to be the best authority on overseas living. We have retired to Spain just south of Valencia and couldn't be happier."

—Craig and Erena W.
Overseas Living Unlimited Benefit #4:
Access To My Private Rolodex Of Live And Invest Overseas Experts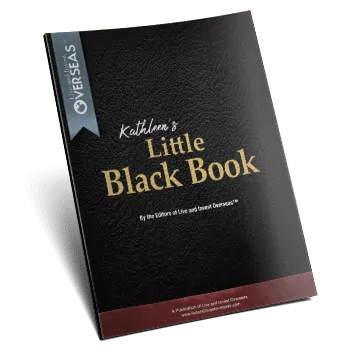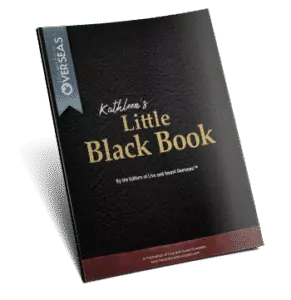 If you've been trying for any length to get your head around an international move, you appreciate the scale of what you're trying to do.
Through three international moves, everything I learned about living, investing, doing business, buying, selling, and owning real estate, managing logistics, and raising children overseas, I had to figure out… slow step by slow step… on my own (with the help, of course, of my husband Lief).
Years later, we look back at those crazy early times and wonder how we ever made it through. How we didn't lose our minds. How we didn't just pack up and go home.
We needed help back then. But it didn't exist. Not in any focused, personalized way. And certainly not all from one single trusted source, covering our new life in paradise from A to Z.
But today, that level of help is right here for you. Because, over the years, Lief and I have built a global network of help… a group of experts we know we can trust to guide us and our readers… and, thanks to our team of global writers and correspondents on the ground, our network continues to grow…
You'll get to connect with these experts in a number of ways through your Overseas Living Unlimited membership, including:
Rolodex—for every featured destination in your monthly issue of Overseas Living Letter and in every Overseas Haven Report, you'll find a Rolodex of contacts to follow up with in that place—from realtors to attorneys to English-speaking doctors…
Ask us. Want to know about health insurance overseas? Want to find a property to rent in Italy? Need an immigration attorney in Colombia? Contact our Customer Service team… for an answer within 24 hours.
Overseas Living Unlimited Benefit #5:
Overseas Living Clubhouse—Connect With Your Tribe
If there's anything that's going to give you that extra boost to propel you forward, it's your tribe…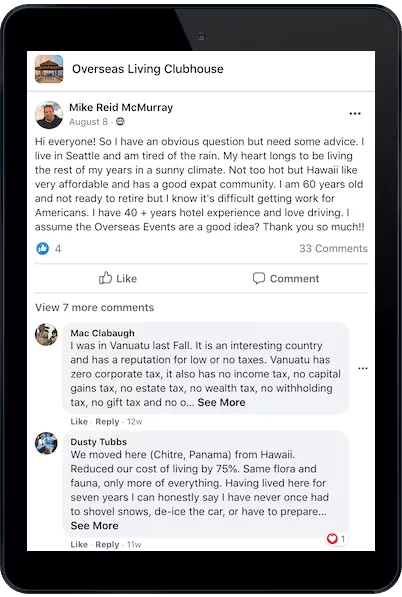 Not just the experts I mentioned above who you'll now have on your side… but your fellow members, too…
During the global pandemic, it got harder (and most of the time, impossible) to meet up in person at LIOS conferences. So, we created the next best thing…
The Overseas Living Clubhouse…
In this private Facebook forum, Overseas Living Unlimited members take great pleasure in sharing details with you—of their research, their findings and discoveries, their frustrations, and challenges, and their ultimate triumphs.
This unique feature of the Overseas Living Unlimited is the true hub of this virtual move or retire-overseas community. Here, overseas retirement dreamers with a purpose can huddle for support, guidance and personal connections. It's a comfortable setting where peace of mind—and enjoyment—slowly mellow out the uncertainty and apprehension of your move overseas.
Any time of day, the Clubhouse is open and ready for you to tell us your own story… raise your concerns… ask your questions… post your own pictures and videos… and make new friends…
I'll be checking in regularly… and hope to see you there.
Overseas Living Unlimited Benefit #6:
A Standing 20% Discount
On All Our Publications…
As an Overseas Living Unlimited member, you'll enjoy a 20% discount off every Live and Invest Overseas purchase—which you can bundle with any other current discount or sale offer—even with half-price discounts.
Build as complete a Live and Invest Overseas library as you like—at bargain prices. The more you buy, the more you save. Enjoy this benefit as long as you remain an Overseas Living Unlimited member…
 Save 20%
on all Live and Invest Overseas publications including…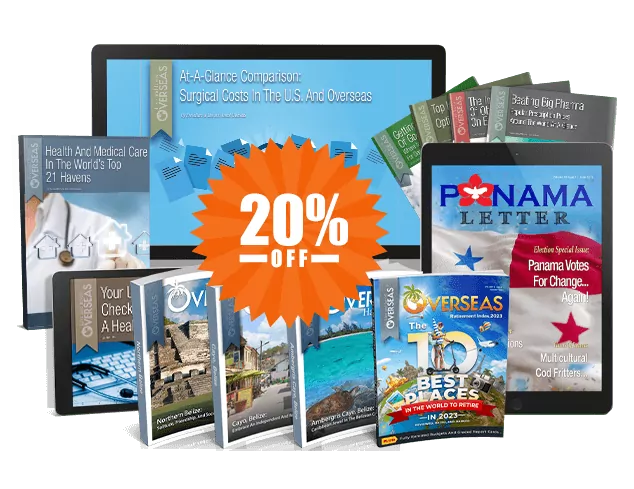 "Starter Kits" and "Live and Invest in…" kits for Belize, Panama, Colombia, Ecuador, and others
"The Panama Letter"(monthly)
"Where and How to Retire Overseas" Kit
"44 Things You Must Know Before You Relocate, Retire, or Invest Offshore"
"52 Days To Your New Life Overseas"
"Top Health Insurance Options for the Retiree Abroad"
"Your Dream Home Overseas; How to Buy, Own, and Profit from Foreign Property Program"
"Passport to Freedom: The World's Top Havens for Residency, Citizenship, and a Second Passport"
Overseas Living Unlimited Membership Benefit #7:
A Standing US$100 Conference Registration Discount…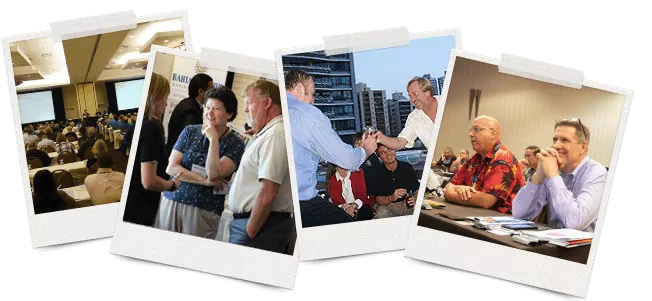 Likewise, as part of your Overseas Living Unlimited membership, you won't have to pay full price to participate in any conference or live event sponsored by Live and Invest Overseas…
We know the impact conference attendance has on motivating moves overseas… so we provide this discount as an extra incentive to encourage you in the pursuit of living your retire-overseas dream. By the time you're only a couple of sessions and a few conversations into one of our conferences, you'll feel the fire in your belly that has spurred so many of your fellow readers into the retirements of their dreams.
Again, this discount applies every time you attend a LIOS event. No limits. As an Overseas Living Unlimited member, attend two conferences a year and save US$200… attend five events a year, and you save US$500… and so on…
"Without You, I May Never Have Been Brave Enough To Move"…

"First, I must tell you that you folks are the ONLY group I can think of that provides exactly what you promise. We attended your Orlando conference and decided on Colombia. We have met with your wonderful colleagues, Juan Dario and Filipe Gutierrez. Or house is for sale and we have come to terms with parting with most of our possessions.

"Your conference, recommendations, newsletters and book have been so informative and entertaining. You are all such an inspiration. I always wanted to live in another country and I'm afraid I might never have been brave enough without all of your guidance. Thank you so much!"

—–Robin D
Overseas Living Unlimited Membership Benefit #8:
VIP Status—With Access To
Private Functions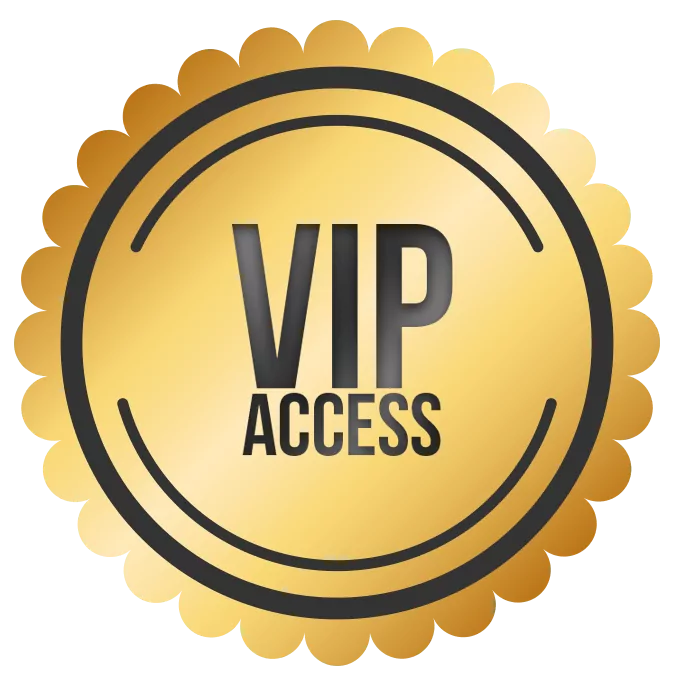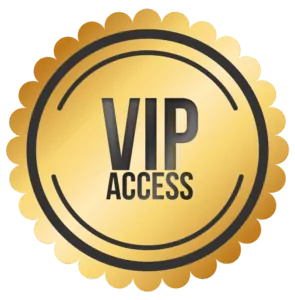 Got a question about moving overseas? Overseas Living Unlimited members get full VIP support and attention from the Live and Invest Overseas customer service staff, editors, correspondents, experts, and in-country resources. All questions are answered (and researched if necessary)—within 24 hours.
Enjoy VIP privileges at our live events and conferences—including access to the VIP lounge and to all private invitation-only functions. As a non-member, VIP lounge access would cost you US$25.
Your VIP treatment begins immediately when you join Overseas Living Unlimited.

About Kathleen Peddicord, Founding Publisher of Live and Invest Overseas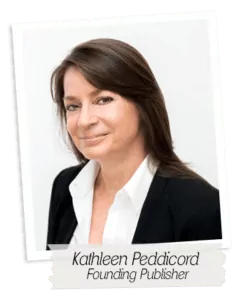 For 35 years, Kathleen has been exploring the world for fun and profit—and reporting back about her discoveries for thousands of readers.
In total, Kathleen has traveled to more than 50 countries, invested in real estate in 21, established businesses in 7, and renovated properties in 6. Kathleen is regularly quoted in The New York Times, Money magazine, Forbes, and beyond. She has written innumerable books, reports, and essays on where and how you can escape the retirement-tromping economy at home and live like royalty on a modest budget… invest for profits overseas ahead of the crowds… and secure your dream lifestyle in the world's best destinations.
None of this would have been possible without taking that very first step—leaving Baltimore, Maryland, behind 23 years ago for adventure on the Emerald Isle. Kathleen knows exactly what it's like to be in your shoes—and, through her newsletters, reports, kits, and books (as well as occasional speaking at Live and Invest Overseas events) she shares her best advice for taking the leap.
Your Exclusive Retirement Upgrade Comes At A Deeply Discounted Price—

Plus, A 25% Discount For The Next 25 Members
I've presented you with a lot here, I know…
So, let's do a quick recap on all these Overseas Living Unlimited membership benefits…
Overseas Living Unlimited—What's Waiting For You…
Annual subscription to Overseas Living Letter (Value: US$36) including the LIOS Annual Overseas Retirement Index
Monthly Video Session With LIOS Destination Expert (Value: US$1,100)
Access to 105 Overseas Haven Reports (Value: $9.95 x 105 = US$1,064.65)
My Private Rolodex Of Live And Invest Overseas Experts (Value: Priceless)
Your Exclusive Overseas Living Clubhouse—Private Forum (Value: Priceless)
Standing 20% Discount (For Life) On Live And Invest Overseas Bookstore Products (Value: Buy more, save more)
Standing US$100 Discount (For Life) On All Live And Invest Overseas-Sponsored Events (Value: US$100 A year, based on attending a single conference)
Instant VIP Status, Including Access To Private Functions (Value: Priceless)
Ignoring the hundreds… even thousands of dollars… you can save over the coming year alone between the bookstore and live events… and those benefits that are simply impossible to put a value on (including the rolodex that's taken me three decades to build)… you're getting US$2,200.65 worth of resources into your hands…
That's US$2,200.65 worth of help—all to get you from where you are now to your new home overseas in as little as 12 months…
But you won't pay anything near that price…
Down the line, my plan is to charge a membership fee of US$199. An incredible value, you'll agree…
But, as a valued Live and Invest Overseas reader, I'd like to cut you special deal…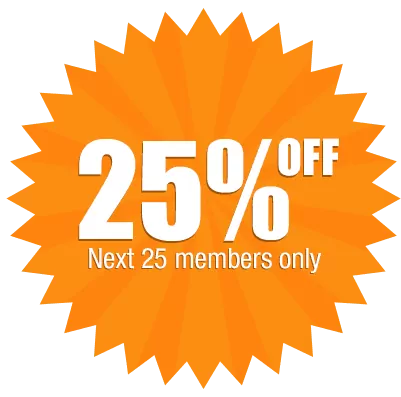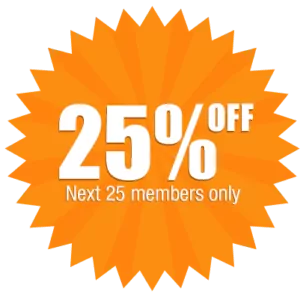 When you're one of the first 25 readers to come aboard during this Open Enrollment Window this month, I'll slash a further 25% off your membership fee…
So, you'll get everything I've listed out above… at the special launch price of US$149.
All for being a loyal reader… and one of the first to be welcomed in the door…

Go While You're Able—We've Got Your Back!
"Go when you're able… not when you're comfortable."
That's the motto of my friend Lee who, just over two decades ago, took the bold move to retire overseas at the age of 49.
It's sound advice…
And, Lee, who recently made his fourth international move, has never looked back.
In fact, in my 25 years of living overseas, I've never met anyone who experienced such a disaster that they packed up and went home…
The only complaint I hear from expats is that they wish they had done this sooner… that there are now precious years of their lives wasted that they won't ever get back…
So, whether you're planning to dip a toe with a vacation home overseas…
Or to go the whole hog with a full-time move…
My advice is to act sooner rather than later… and see where it takes you…
With Overseas Living Unlimited, I'm handing you everything you need to seize your own "retirement upgrade"… and live an adventure-filled life, without compromise…
Wherever in the world that winds up being, you've got help every step of the way…

Sincerely,

Kathleen Peddicord
Founding Publisher, Live and Invest Overseas
Founder, Overseas Living Unlimited
P.S. Remember, you're getting immediate access to over US$2,200.65-worth of move-overseas help—at a fraction of the price.
What's more, membership is usually closed except for a single Open Enrollment Window each month…
Right now, not only is membership available, it's also on sale at a 25% discount for the next 25 members to join.
 Get in, right now, by clicking on the button below…