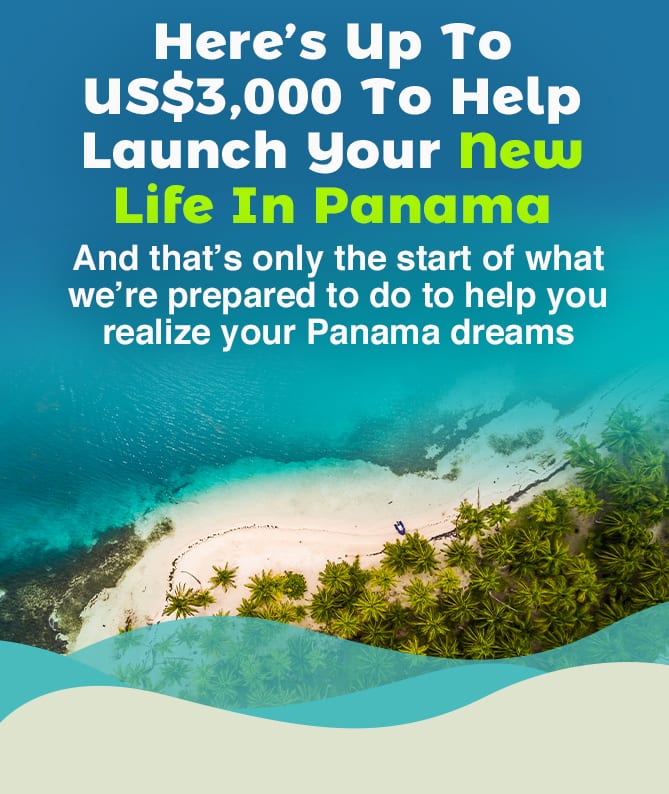 Panama is the world's #1 retirement haven…
It's the world's top offshore haven…
and an international banking center…
Its pensionado program of special benefits for
foreign retirees is the Gold Standard…
And, as a foreign resident, you can pay zero local tax…
Panama is one of the best places in the world right now to start a business… and one of the easiest places to obtain foreign residency… 
Boomtown Panama City offers more opportunity every day…
And, outside Panama City, this beautiful country hides the smartest beach, river, and mountain property buys anywhere on the planet today…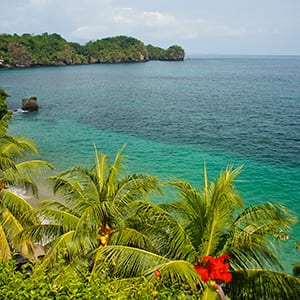 Panama boasts beautiful Atlantic and Pacific coastlines…
Dear Live and Invest Overseas Reader,
Low cost of living… excellent health care… idyllic climate (outside the capital)… Pacific and Caribbean shorelines… with wildflower-covered mountains in between… real-world infrastructure…the U.S. dollar for currency (since 1904), so Americans face no exchange risk…
An economy that has averaged growth of 7% a year for the past decade-and-a-half… and that will expand further this year…
Friendly To Foreigners

"What attracted me to Panama? It has a great metropolitan city, good business opportunities, a relatively low cost of living, and it is near to the United States and easy to get to. The country is friendly to foreigners. I enjoy the culture and the food. It's a place I know I want to spend time long-term."
—Edward T., United States
When the people of this country completed the expansion of their Panama Canal in 2016, they guaranteed themselves decades of further and expanding prosperity.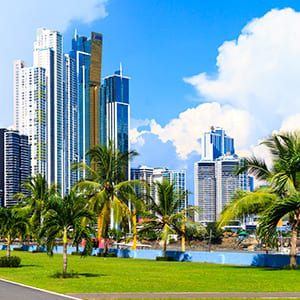 Panama is the most advanced nation in the region…
Tax, banking, business, and investment advantages… and beautiful, too. Panama boasts an abundance of coastline and a mountainous interior of waterfalls and coffee plantations… unspoiled, even uninhabited islands fringed by powder-sand beaches… and expanses of forests, jungle, and parkland home to more species of birds and plants than many of the country's neighbors more famous for their eco-tourism offerings.
This, then, is the dual personality of this little country that holds such an important geographic position.
On the one hand, Panama is the most advanced nation in the region, the hub of the Americas, and one of the world's biggest trading zones, thanks to geography and the Canal.
On the other hand, Panama beyond its capital remains a largely undeveloped tropical paradise with a rich history and a vibrant culture.
A Land Bursting At The Seams With Opportunity
These are exciting times in Panama. It's been 20 years since the Americans left and handed over control and management of the Panama Canal to the Panamanians. The transformation in this country over the past two decades has been remarkable. Panama has shown the world that she knows how to put her assets to good use.
And she stands today as the world's #1 overseas retirement, business, and lifestyle havens.
Thank You

"Thank you for the immediate info without all the bull."
—Tom F., United States
Indeed, it's the place my family and I have chosen to call home ourselves. Frankly, we could be living anywhere right now. However, after 10 years living in Europe, we've chosen to relocate to the Hub of the Americas.
Why Panama? Why Now?
After more than two-and-a-half decades making a career as a global property investor and more than two years of focused research to identify The Next Big Thing, Lief Simon, my husband, chose Panama as the place to invest his money and his time. He's busy out on the Azuero Peninsula developing a long stretch of beautiful beachfront.
And, after more than 30 years doing business all over the world, I chose Panama, in 2008, as the place to invest my time and my money in the launch of my new publishing venture. (Lucky for Lief and me, I guess, that our two geographic agendas collided!)
All things… and this whole wide world considered… it was a no-brainer at the end of the day. We made our lists… pooled our decades of international travel, investing, and business experience… and we arrived at:
Panama.
We earn our money in U.S. dollars… and this is a dollar-based economy…
More Reasons To Choose Panama
From full-time Panama expat Reyn Vada:
"The biggest appeal of Panama for us is the pace of life. We've chosen to base ourselves and our children in Puerto Armuelles. Living in this small town on the Pacific is like stepping back in time. We are disconnected in the best way. We aren't focused on the media cycle but on the scene in front of us.
"This simple, slow life would not be for everyone, but we couldn't be happier raising our family here."
From full-time Panama expat Peg Fairbairn:
"We've been in Panama for five years now and have moved from the east coast of the Azuero Peninsula to the small mountain town of Santa Fe to, now, the home we've built for ourselves at Los Islotes.
"We live on US$2,500 per month. That covers everything—health insurance, car insurance, internet, utilities, etc., etc. We could live on less. But we like to eat and drink well… and we do!"
From full-time Panama expat Samantha Russell:
"I chose Panama so that my daughter could grow up speaking more than one language. I know that, living here, she'll be bilingual. That's important to me.
"The second reason I chose Panama is the U.S. dollar. I'm just more comfortable understanding my costs of living in dollar terms."
We're careful how we spend our money, just like everyone else… and Panama can be a very affordable place to call home. We're enjoying little luxuries we couldn't afford elsewhere (full-time household help, for example)… and still living within Lief's budget.
We travel a lot… and this is the top travel hub in the Americas… the most efficient point from which to move around, not only the region but the world beyond, as well…
We need regular, reliable, high-speed Internet… and, here in Panama City, that's no problem…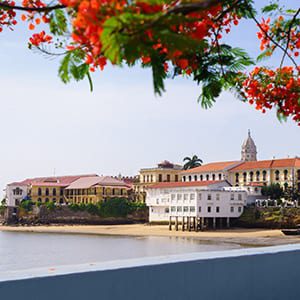 Panama City's Casco Viejo mixes the Old World with today's modern amenities…
We appreciate the Old World and enjoy the colonial history of this region, nowhere better represented than in Panama City's Casco Viejo…
Lief and I have launched and operated businesses in many places around the world… and we can tell you from experience that Panama is an efficient, affordable, straightforward place for the would-be entrepreneur to pursue opportunity…
Furthermore, Panama City is home to an impressive (and, again, affordable) international yet English-speaking labor pool…
We don't like to pay taxes… and this is a jurisdiction where, depending on your circumstances, you can organize your affairs so your tax obligations are controlled, minimized, even eliminated…
We appreciate (and require) the infrastructure and services of a big city, but we like country living, too…
Furthermore, here in Panama, we've been able to realize an important piece of our long-term plan—a big house at the beach where all the family can gather for holidays and getaways… a place where we're sure the kids and their friends… and, eventually, their kids… will want to return to as much and as often as we do…
In Panama, we've got the best of city, country, and beach life, all within a few hours drive…
Sophisticated And Thoughtful

"I have to say that you seem to dig deeper into the feel of a particular place and to do comparative analysis between alternative places. Your approach is more sophisticated and thoughtful and therefore more useful than that of other e-letters I've read covering these same subjects."
—John W., United States.
The World's Best Place To Slow Down, Too
We've come to Panama to do business. But maybe that's not your agenda. Maybe you're at the point in your life where you're ready to slow down… settle in… sit back… and enjoy…
Again, Panama is the answer. Low cost of living, excellent health care, and the best program of discounts, tax breaks, and other perks for foreign retirees available anywhere in the world today…
Everything from 50% discounts off movie, theater, concert, and sporting events tickets to 25% off in-country airline tickets… from 50% off hotel stays to 15% off hospital bills… from 10% off prescription medicines to 20% off doctor's consultations… and, even, 50% off closing costs for home loans (yes, foreigners can borrow to buy in this country… no problem).
No, that's not what I mean to say… for that's not the truth of it. Our editors didn't name Panama as the #1 place to retire…
They named El Valle de Anton, the little town that sits at an altitude of about 2,000 feet in the Province of Coclé to the west of Panama City as the World's Top Retirement Haven.
"After spending a month in the melting heat of Mexico's Yucatan Peninsula," writes Overseas Living Letter Contributing Editor Lucy Culpepper, "we craved a cooler, greener place.
Panama had been on our minds for almost a year, and El Valle-conveniently positioned not too far from Panama City, yet high enough to be cooler and less humid–kept popping up on our radar."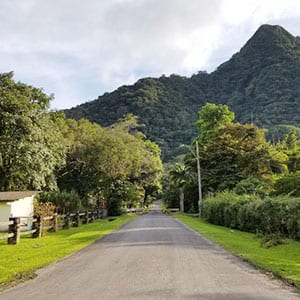 Just a couple hours from the capital El Valle offers cool climates year round…
Expat retiree Cynthia, who, with her husband Fred, took up residence in this lovely mountain town just about a year ago, puts it this way:
"We fell in love with El Valle the moment we set foot here.
"We'd visited the usual spots: Panama City, Boquete, Volcan Baru, and Santa Fe," Cynthia goes on to explain. "But there was just something magical about this place, and we connected with it immediately.
"When our pensionado visas were ready, we further explored the area looking for property to buy. We found it just outside town and bought on the spot.
An Invaluable Resource

"Most valuable aspect of my Panama Circle Membership? Without a doubt, it's been the very personal assistance from… the Members Liaison. She has provided wonderful support. She has come up with an answer to every single question I've put to her. She is an invaluable resource, so well-connected in this country."
–John P., United States.
"We bought the land in El Valle, returned home to Colorado, finished remodeling our house, sold it and most of our belongings, and moved here with our two cats. With the exception of our mover, everything went smoothly.
"Today, nearly a year later, we are known in the community by both Gringos and Panamanians alike, and yes, we feel accepted… We feel so fortunate to be here…"
How do you get from where you are today… to "here"?
How do you join Cynthia and Fred… Lief and me… and the thousands of other people just like you who have already made the move and who are already enjoying the myriad benefits Panama has to offer?
Live, retire, invest, do business in Panama, the world's #1 retirement, business, and offshore haven, we say.
But… but… how… maybe you can't help but wonder…
How do you get started?
I made some big promises at the start of this letter. And those promises are the answer.
Welcome To The Panama Circle
It's the secret to realizing every dream you may have of a new life… a grand adventure… a big upside… or a quiet retirement… in the world's top lifestyle, retirement, and offshore haven.
And here's your special, limited-time opportunity to take part.
Here's your invitation to: Join our Panama Circle.
When you do, you will:
Receive a voucher good for 1% up to US$3,000 toward your first Panama real estate purchase…
Position yourself among the savviest group of Panama expats, investors, business people, retirees, colleagues, contributors, friends, associates, resources, and contacts ever assembled…
Guarantee yourself all the support you'll need to make every one of your Panama dreams come true–from VIP conference invitations to private one-on-one consultations with our experts… from members-only teleconferences to invitation-only special events in-country… from privately circulated opportunity alerts to special market reports and White Papers… from five-star concierge service to Panama Circle member discounts…
What's more, the up to US$3,000 voucher good toward real estate purchase in this country is a one-time benefit… but all the other benefits, invitations, discounts, perks, advantages, and privileges of Panama Circle membership continue for your lifetime.
I told you a little about myself earlier, explaining that my husband and I have chosen, after a decade living in Europe, to relocate now to the Hub of the Americas… and I cited the reasons for that move.
Access and Support

"My Panama Circle Membership has provided me introductions and access to a network of helpful and trusted professionals with lots of good experience in Panama. It is good way to meet people who may become valued business advisors, partners, and friends. This is what's most valuable to me–the experience and knowledge of the staff and their helpful support and advice. Plus, the events and tours, the opportunities for networking with other Members."
—David M., Australia.
Allow me now, though, to introduce myself a little further.
My name is Kathleen Peddicord. For more than 23 years, I was Publisher and Senior Editor of International Living. In 2008, I struck out on my own, launching the Live and Invest Overseas group.
I have nearly three-and-a-half decades of experience living, traveling, and doing business all over the world. I've researched, scouted, investigated, reported on, uncovered, discovered, written about, and recommended opportunities for living, retiring, and making money from one end of this earth to the other.
It's getting to the point where I'm a little reluctant to admit it…but you're not going to find anyone else with as many years (or frequent flyer miles) of experience covering this beat.
And, at this tumultuous time in world market and economic history, I've chosen to base myself, my family, and my business in Panama.
I didn't make that decision lightly. And I bring the same level of experience to bear when I make this recommendation to you today:
If you'd like to join me down here in the world's top retirement haven… let me help.
That is, let me connect you to the unparallel network of resources I've been able to establish over the past 20 years of spending time and doing business in this country.
Let me do everything I can to help you launch your adventures abroad in Panama (including sending you that up to US$3,000 voucher I mentioned above that you can use toward the purchase of your new Panama home!).
Sure, you could try to manage things on your own… but, believe me… your experience will be smoother, easier, and more pleasant… less hassle-filled and frustrating…
And it'll cost you far, far less… far less money and far less time…
If you don't try to go it alone.
Frankly, that route can lead to disaster. How do you know, on your own, whom you can trust?
I've learned the hard way. Over the many years I've been spending time in Panama, I've made missteps and miscalculations… I've worked with people who've let me down… and I've paid for it.
I don't want you to pay, as well. Please, leverage my experience.
What are we talking about, specifically?
Here's the deal:
As a Panama Circle Lifetime Member,you will receive: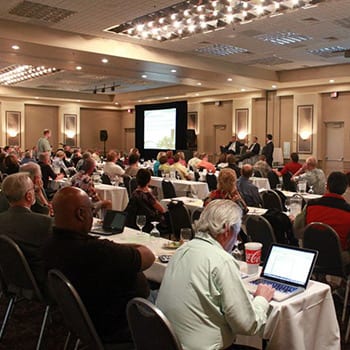 Attend all future Live and Invest Panama Conferences for free…
Benefit #1


Free Attendance For You And A Guest At Our Annual Live And Invest In Panama Conference For Life
It's all about who you know. That's the secret to success retiring, relocating, doing business, or investing in a new country.
Join us in Panama for one of our annual Live And Invest in Panama events… and we'll make sure you know the right people. You'll be connected to every resource, expert, and advisor you'll need to accomplish everything on your Panama To Do list. We'll introduce you to our preferred and recommended attorneys, bankers, visa specialists, mortgage brokers, health insurance advisors, real estate agents, shipping companies, tour operators, even taxi drivers…
Plus we'll put you in touch with fellow expats, who will share the stories and the lessons learned from their own firsthand experiences living, investing, and doing business in this country.
And, just as important, you'll have the chance to mingle with your fellow attendees, others just like you, researching, considering, planning for, and making real their dreams of a new life in the World's Top Retirement Haven.
Attendees at our annual Live and Invest in Panama Conference will pay as much as US$1,595 to be in the room over the three days of this high-caliber event. As a Panama Circle Member, you'll pay nothing.
Not the first year you attend… and not any year you choose to attend thereafter. If you're in the Circle, you're welcome as our guest… every year. Furthermore, feel free to bring a guest.
This benefit of Panama Circle membership carries a value that far exceeds the conference registration fee. It could save you not only the US$1,595 cost of attending… but the incalculable cost of trying to find reliable and current answers on your own to the important questions you'll struggle with as you prepare to invest your time and your money in this country:
How do you open a bank account… and which bank should you choose? Panama is an international banking center, but, the truth is, it's harder and harder all the time for a foreign resident to open a bank account, not only in Panama, but anywhere in the world. You need advice, and you may even need a referral and a personal introduction. That's what our Panama team can provide.
What kind of visa should you choose? Panama offers the would-be foreign resident many options… which is great… but confusing, as well. Which visa choice is best for you? Visa experts with many years experience helping foreigners wade through the residency visa process will detail all the options… then help you decide which is the best one for you.
What kind of health insurance should you buy? Again, our experts have years of experience helping foreign residents, just like you, make the best choice.
Should you ship your personal belongings? Your car? Your pet? What import duties will you be liable for?
Should you buy or rent? (Hint: Always rent first.)
Internet, cable, telephone… household help, a gardener, a driver… volunteer organizations, expat groups… business opportunities and potential business partners… language lessons… a driver's license…
Join us as we address all these issues and every other that you'll face as a foreign resident or investor in this country. Spend three days in Panama City with our team of experts your first year of Panama Circle membership… and every year thereafter if you like (and bring a guest each time).
You'll find that one of the biggest benefits of attending one of our events is the personal connections you'll make… the friendships, with our speakers and with your fellow attendees. Come back again and again, if you want… to renew those relationships… and to make new ones.
Come back again, too, to stay up-to-date with changes in Panama related to the foreign retiree… as well as to hear first of new opportunities for the foreign investor.
And come back to share your own story. Once you've made the move, novitiate attendees will be eager to hear your firsthand tales of success!
Over 10 years of membership in the Panama Circle, this membership benefit alone, considered at face value only, is worth over US$15,000 to you.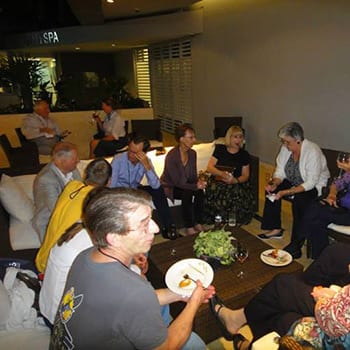 Benefit #2 
Be Our Guest At All Panama Circle Meetings
At least twice a year, including during our annual Live and Invest in Panama event, we'll plan special Panama Circle members-only get-togethers. This is your chance to mingle one-on-one with fellow Panama-philes, to make business connections, and to make Panama friends.
Theme parties… keynote speakers… special opportunities… language lessons… dance lessons… cooking lessons… each get-together will be different… and a lot of fun. And they're private, for Panama Circle Members only.
If we were to allow non-Panama Circle members to attend, the cost would be at least US$100. You, though, as a Panama Circle member, are welcome at every special Panama Circle event, as our guest.
Over 10 years of membership in the Panama Circle, this membership benefit is worth at least US$2,000.
Benefit #3


Never Miss Out, Even When You Can't Join Us
When you can't be in the room with us, don't worry. We'll bring the information, the recommendations, the insights, and the discoveries of every Live and Invest in Panama event, as well as materials from our special Panama get-togethers, to you.
That is, we'll make sure you have access to PowerPoint presentations, notes, and reports from all Panama events. They'll be archived on your Panama Circle members-only website, where you'll be able to access them anytime you want… as often as you like.
When we package and sell these kinds of events materials, the price will be US$200. Therefore, over 10 years of membership in the Panama Circle, this membership benefit is worth US$2,000.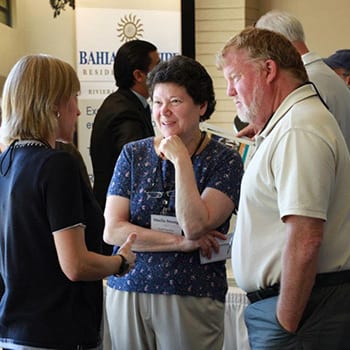 Benefit #4
Private Consulting With Our Panama Team Of Experts
"Is there any way I could speak with you personally," wrote a reader recently. "I have questions about living in Panama that I'd like to have answered directly. Is this possible?"
No problem, dear reader… when you're a member of our Panama Circle. As a member, you'll enjoy two hours of consulting time with our Panama Panel of Experts. All your residency, tax, business, investing, relocation, etc., questions answered, one-to-one, either in person or over the phone.
You couldn't arrange this consulting time on your own. Our key Panama experts don't make a business selling their time by the hour. But they've agreed to make it available on a strictly limited basis for Panama Circle members only.
Spend two hours with our Panama attorney or perhaps an hour with our real estate consultant and an hour with our relocation expert or two hours with our tax specialist. Up to you how you use them… but you've got two hours to spend.
If you could buy this kind of personalized attention, it'd cost you US$500 an hour.
Benefit #5
Our Panama Starter Kit
This fully up-to-date, complete, comprehensive, and unparallel resource will be yours hot off the virtual presses.
You'll receive our Panama Starter Kit, our ever-expanding and most comprehensive Panama package of nine important resources including our private Panama rolodex… and you'll also receive every update and new edition we publish every year during your Panama Circle membership.
I've been in this business a long time. And, over the years, one of the most-often-heard complaints from readers is that information we've published has become out-of-date.
They're right, of course.
What we publish today won't necessarily be true two months from now… or even next week. Panama, especially Panama City, is a fast-moving market. Real estate prices, legislation related to foreign residency, banking rules, tax code… these things are in constant flux.
I tell you this: The information in our new Panama Starter Kit will be correct and current the day we publish it.
Beyond that, I can't make any guarantees… except this one:
We'll update the Panama Kit regularly… and, every time we do, we'll send you the new edition.
The Panama Starter Kit sells for US$97. Over 10 years of membership in the Panama Circle, this benefit is worth US$970…if we publish but one new edition of the kit each year. We'll do at least that.
Benefit #6
Panama In Real Time–Panama Letter
Our monthly Panama Letter service is Panama, warts and all, from on-the-ground experts, expats, and insiders. This is your direct line, in real time, to the real Panama.
Each monthly issue of Panama Letter features an in-depth report on another region of this country worth your attention. In addition, each report includes current news, recommendations, insights, and discoveries from the isthmus.
This is Panama beyond the marketing hype and beyond the theory of Panama. This is the real-deal Panama, prepared each month by real Panama expats.
Your Panama Letter issues will keep you current on changes in the country's residency legislation and visa programs, on developments in medical care and health insurance, on the economy, on the cost of living, on the real estate market, on tax incentives, on business opportunities…
With so much on the table, the idea of Panama can become overwhelming… and, at times, misleading…
For, just as there is a wealth of information out there on Panama today… so, too, are there lots of mistruths and inaccuracies, misrepresentations and misunderstandings.
Some of this is a result of sugar-coating, misinformation intended to make a buck from the unsuspecting, inexperienced gringo.
More is a function of how quickly this market has been moving in recent years. Once information is published on the Internet, it becomes immortal, knocking around in cyberspace for all eternity. Even if it were true when first published, it can be misleading at best by the time you stumble upon it with the help of Google.
To get the most out of your investment of time and money in this country, you need current information, not cached reports from a search engine.
You need to know the full story and to understand all the facts, straight, complete, and current…
You need to see Panama for what she really is, to open your eyes to the good, the bad, and the ugly of living, investing, banking, and doing business here. Only then can you set yourself up for success.
That's the promise we deliver on every month in each issue of Panama Letter—the real Panama in real time.
As a Panama Circle Member, you'll receive every issue.
This electronic subscription service sells for US$118 per year. Over 10 years of membership in the Panama Circle, this benefit is worth US$1,180.
Benefit #7
Panama: the White Papers
Four reports, prepared especially for Panama Circle Members, will be dispatched to you as soon as you join their ranks:
Panama White Paper #1: The World's Best Residency Option–Even If You're Not A Retiree 
Panama White Paper #2: Panama's Easiest Residency—The 'Specific Countries' Program (It Even Leads To A Work Permit)
Panama White Paper #3: Top 5 Medical Insurance Options for Expats in Panama
Panama White Paper #4: Sunsets, Surfing, And Serenity- Panama's Best Real Estate Investment Play Right Now
These White Papers sell for US$49 apiece. Total value to you is US$196.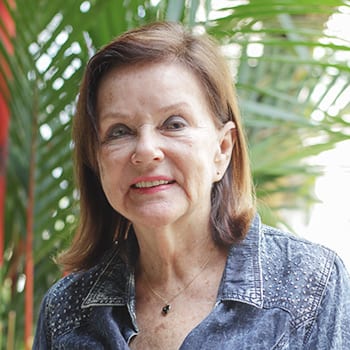 Benefit #8
Palanca… Thanks To Your Personal In-Panama Assistant
What if you had your own personal Panama secretary? Someone on call to help you manage all things Panama-related? Travel, meetings, appointments, tours, shopping, shipping, accommodation, doctor referrals… someone to help you get around and get things done.
As a Panama Circle Member, you've got all this and then some.
Allow me to introduce my Panama assistant, Marion de Mena, a 40-year Panama expat, who is fluent in English, German, and Spanish.
More than that, though, here in Panama, Marion is connected. She's got pull. Without it, in this country, you get nowhere.
In Spanish, it's palanca. As Marion explains, "You can be a Ph.D. You can be president of a company. These things mean nothing here… unless you have palanca."
Marion's got it… and she knows how to use it. Now you can leverage it. Marion's standing by… and she'll do two things as soon as you become a Panama Circle Member.
First, Marion will send you her direct personal telephone number, so you can reach her whenever you need her.
Second, Marion will send you a copy of her personal, private electronic rolodex.
Who do you need? A shipper? A builder? A dry cleaner? A driver? A plumber? A babysitter? Marion knows the best… and she has current contact details for them all in her personal rolodex, which she's agreed to share with Panama Circle Members.
Current Panama Circle members cite Marions' personal support and assistance as perhaps the most valuable Panama Circle membership benefit of all.
If Marion's time and incomparable support services were made generally available, we'd charge at least US$100 an hour. As a Panama Circle Member, again, you'll have unlimited access to Marion… at no extra charge. Over 10 years of membership in the Panama Circle, this benefit could be worth at least US$10,000.
Benefit #9
Access To Our Live And Invest Overseas Group Bupa International Health Insurance Policy
This is a one-of-a-kind benefit, available nowhere else outside our group.
Arranging health insurance in your new country of residence can be one of the most important and confusing issues you'll face as you prepare for your new life overseas. The options are many.
What's best for you? We can't say, of course. However, I can tell you that the international health insurance Lief and I have chosen to carry since we left the States two decades ago is with Bupa International.
Why Bupa? We consider it the best international health insurance available. Among its benefits, Bupa provides:
Complete global coverage, making this the best choice if you intend to divide your time in retirement among two or more countries or if you plan to travel regularly…

Plans that can include coverage in the United States…

More than 5,500 participating hospitals and clinics worldwide…

The option in many cases for paying your hospital bills direct, saving you the out-of-pocket expense and the hassle of chasing down reimbursement…

A 24-hour hotline, where your call is answered by multi-lingual staff…

Coverage that includes emergency evacuation and repatriation services…
In addition, Bupa's rates are very competitive relative to other international insurance options. In fact, your Bupa International coverage could, depending on your age and country of residence, cost less than Medicare. And, unlike Medicare, your Bupa policy will follow you wherever you travel. You can even arrange a policy (yes, at a greater cost) that will cover you not only in Panama but in the United States, as well (ideal if you're considering dividing your time between the two countries and establishing a part-time presence in Panama).
As I said, we've been sold on Bupa International since we left the States. And the more research we've done, the more convinced we've become that this is the gold standard for international health insurance.
Now, thanks to the Live and Invest Overseas Group Policy we've negotiated with Bupa International, all Panama Circle members will enjoy a 10% discount off the cost of their Bupa coverage.
Your cost of coverage will depend on your age, your country of residence, and your personal health circumstances. An average premium cost for someone aged 65 or older can be US$2,500 per year, meaning your member discount would be US$250 per year—or a total savings of US$2,500 over 10 years of your membership…
Benefit #10
1% Up To US$3,000
No, we're not going to send you cash. But, as I explained at the start of this letter, as soon as you become a Member of the Panama Circle, we are going to send you a voucher good for 1% up to US$3,000 off your first real estate purchase in Panama.
Frankly, I feel like I should stop here. What more can I say? If you've any interest in investing in a new life, a second home, a retirement escape, a fresh start, a rental property, or a beachfront parcel in this country… why wouldn't you jump at this opportunity?
Why wouldn't you let us send you a voucher good for up to US$3,000 you can put toward that purchase?
You can use your voucher immediately… or you can tuck it away until you're ready to act. Remember, your Panama Circle membership is good for your lifetime. As a Member, you've got a lot of years of benefits to look forward to.
I don't know why you'd wait, though.
As I've mentioned, I've been covering this beat a long time. When I started out, over 30 years ago, these live and invest overseas ideas were considered a bit fringy… and those of us who practiced them… well, "fringy" was sometimes the kindest way we were described.
But today? Today these are ideas whose time has come. Perhaps never before in our lifetimes has it made as much sense as it does right now to think about expanding your horizons and seeking out better opportunities overseas.
Better opportunities for living… for retiring… for doing business… for investing… for having the time of your life in a place where maybe you can make your life's fortune… current global financial fiascos notwithstanding…
That's Panama in a nutshell. That's what this country has to offer you today. Better opportunities. To live well and comfortably in retirement or otherwise, even on a modest budget…
To invest with big upside in some of the world's most beautiful beachfront, riverfront, and mountainside property…
To have the adventure of your lifetime… in a country at one of the most important turning points in its history.
This living and investing overseas thing isn't only about the money, you know. There's so much more to a new life overseas than a lower cost of living or a chance to buy real estate with an upside.
Here in Panama, you can have it all. A comfortable, affordable retirement. An exciting new life. An entrepreneur's playground. A global property investor's dream.
You can have it all right now… served up to you on a silver platter, thanks to my nearly quarter-century of experience covering this beat and the incomparable in-Panama network of contacts, insiders, and other resources I've been able to assemble in more than a dozen years spending time and doing business in this country.
Take advantage of me… of them… of it all. Please. Leverage us.
OK… Here's How the Voucher Works:
You respond to this special invitation and apply to become a Member of the Panama Circle.
Our staff here in our Panama City office reviews your application for membership, approves it, and registers your name and other details in our Membership Log.
We send you your initial "Welcome!" materials by email. Included in this electronic Welcome Package will be a file containing your 1% up to US$3,000 voucher. You're free to print out the voucher, along with all the other electronic materials you receive.
Meantime, we'll also dispatch to you, by regular mail, your formal Welcome Package, containing a print copy of your 1% up to US$3,000 voucher, along with all other materials, bits, and pieces promised you in this letter… plus a few little surprises, as well.
You go shopping with the help of our in-Panama real estate support team. Once you've purchased a piece of property through these channels, you'll present us your 1% up to US$3,000 voucher… and we rebate you up to US$3,000 for the purchase.
To recap, here's the complete Panama Circle membership program, in review:
Benefit #1: Free Attendance for You and a Guest Every Year at Our Annual Live and Invest in Panama Conference
Lifetime Value: US$15,950
Benefit #2: An Open Invitation to All Panama Circle Members-only Meetings
Lifetime Value: US$2,000
Benefit #3: Electronic and Website Access to All Conference Materials
Lifetime Value: US$2,000
Benefit #4: Two Hours Of Private Consulting With Our Panama Team of Experts
Lifetime Value: US$1,000
Benefit #5: Our Panama Starter Kit… and Every New Edition We Publish Over the Lifetime of Your Membership
Lifetime Value: US$970
Benefit #6: Panama in Real Time–The Panama Letter 
Lifetime Value: US$1,180
Benefit #7: Panama: The White Papers
Lifetime Value: US$196
Benefit #8: Palanca… That Is, Your Personal Panama Assistant
Lifetime Value: US$10,000
Benefit #9: Access To Our Live and Invest Overseas Group Bupa International Health Insurance Policy
Lifetime Value: US$2,500
Benefit #10: 1% Up To US$3,000
Lifetime Value: 1% Up To US$3,000
Again, this final, take-you-by-the-shirt-collar-and-pull-you-up-straight-so-you'll-take-notice benefit of Panama Circle membership isn't cash. We aren't going to send you US$3,000.
But we are going to send you that voucher I've been telling you about, good for up to US$3,000 toward your purchase of real estate in this tiny, beautiful country with such an enviable geographic situation.

Let's Do The Math
Taking tally of everything detailed above, the total value of Panama Circle membership to you is US$7,656 in your first year of membership alone.
However, remember, this is a lifetime offer. We're here to help you realize your Panama dreams today… tomorrow… and for years to come. Over 10 years of membership, your Panama Circle benefits are worth US$38,796, based on my conservative estimates here of their value and of your use of them. In truth, the value could be (and we believe will be) far greater.
A Must If You're Considering Panama

"Mike and I would like to take this opportunity to thank you so very much for the recent Live and Invest in Panama Conference. Our minds are still reeling with all of the information presented to us. All of the presenters were very knowledgeable in their respective fields, and we so enjoyed talking with other expats-in-waiting. 

Mike and I live in the snowy part of Washington State.
Last winter was very snowy and cold.
Needless to say, we would rather be in Panama instead!

After the Conference, we spent a little (and by that I mean too little!) time visiting areas around Panama City and El Valle. Although our Spanish is at best rudimentary, we were able to talk with people. We ate wonderful food, saw incredible sights,and were able to appreciate a bit of this beautiful country.

Thanks again for all of your hard work in putting together the Conference. For anyone considering a move to Panama, your event should be on their 'must-do' list."
—Diane D., United States.
Furthermore, this valuation doesn't include any new benefits added over time.
Our Panama Circle is an ever-evolving proposition. The list of benefits you're reading about here is only the start. We'll add to this list regularly… and, every time we do, existing members, of course, will be invited to take advantage of every new product, service, discount, and perk, right along with new members.
You're in this for the long haul, and so are we. We're in a unique position to be able to identify and then to be able to provide and fulfill any and every service and support system you could need as you continue to explore and chase your Panama dreams. For we're here… in the heart of Panama City… living and doing business in this exciting town ourselves every day. We understand the goals you might have related to this place… and we see the opportunities that you might want to pursue… because we share many of those same goals and we ourselves are right now pursuing those same opportunities.
To recap one more time, the total lifetime value of the benefits of being a member of our Panama Circle is US$38,777.
The value to you in your first year of membership alone is US$7,637.
However, for today only, you can join the Panama Circle for just US$4,500 US$3,300.
And, in addition, right now, during this period of Open Membership, we're also making it possible for you to become a member without paying the full membership fee up front, all at once.
Today you can arrange lifetime membership in our private Panama Circle for only US$1,800 US$600 down and 12 monthly payments of US$250. After those 12 months, that's all you'll ever pay… to enjoy not only every single benefit I've detailed for you here in this letter… but also every single product, service, discount, and perk we add to the roster of benefits in the months and years to come.
Or, pay in full and enjoy a discount of a full US$300 (You'll pay only US$4,500 US$3,300 when you purchase membership in a single payment!).
Lief and I could be anywhere at this point in our lives. We've chosen to be here in Panama, because the benefits and the advantages are irresistible.
We'd love for you to join us. And we're prepared to do everything we can… to bring all our resources to bear and to provide all the in-country, on-the-ground, insider support you could ever hope for.
Come… realize your Panama dreams.
Sincerely,


Kathleen Peddicord
Founding Publisher, Live and Invest Overseas
Founder, The Panama Circle
It's easy. When you're a Panama Circle Member.
P.S. How can we do this? How can we possibly provide the level of support and service I'm promising in this letter?
The truth is, as I've explained, we can do it for only a very limited number of members. This isn't marketing hype. This is a simple matter of: we don't want to let you down.
I make every promise in this letter sincerely. And, from where I'm sitting as I write to you today, in this office located in the heart of Panama City, I know my team and I can deliver what I'm promising. With the help of my Panama team, I can exceed your expectations… as long as the "you" doesn't number too many.
Here's the cap during this limited period of Open Membership: 10 new Members.
P.P.S. The Panama Circle is Panama fully figured out and turnkey. And remember, these "Panama in a Box" benefits of the Panama Circle are lifetime:
Free Attendance for You and a Guest Every Year at Our Annual Live and Invest in Panama Conference…
An Open Invitation to All Panama Circle Members-only Meetings…
Electronic and Website Access to All Conference Materials…
Two Hours Of Private Consulting With Our Panama Team of Experts
Our Panama Starter Kit… and Every New Edition We Publish Over the Lifetime of Your Membership…
Panama in Real Time–The Panama Letter…
Panama: The White Papers…
Palanca… That Is, Your Personal Panama Assistant…
Access To Our Live and Invest Overseas Group Bupa International Health Insurance Policy
1% Up To US$3,000 Real Estate Voucher…
This is everything you need to make every Panama daydream you have come true. What are you waiting for? Join today!
Become A Member Today: 100% Risk-Free
We guarantee that membership in our Panama Circle is the best possible resource available anywhere to help you realize every single one of your Panama dreams. No other service or network of in-country support can compare.
However, if you don't feel the Panama Circle delivers on this promise, you can rescind your membership at any time. If you do, we'll promptly reimburse you for any term remaining on your membership. No questions asked.
The Special Reports and other materials you've already received are yours to keep, no matter what.