Good News!
Private Network Membership Is Still
Available For 12 More Readers
You have been accepted. Join immediately
or ask your questions using the forms below…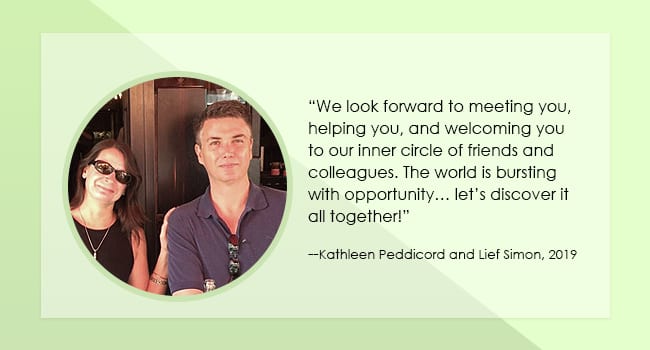 Here are the benefits promised to every Private Network member:
An annual private retreat every year with 2 full days of one-on-one consulting sessions…

For 2019, we'll do this in Medellín, Colombia on July 13–14.

Medellín is one of our favorite places in the world. In fact, we've bought and renovated a home here in order to spend much of our time during retirement here. If you haven't been yet, I guarantee you will not be disappointed. (Plus, it's fun to see the reactions from less-informed friends and family when you tell them you're visiting Medellín!)

No visa is required for North Americans, and flights range anywhere from 4 hours from Florida to 10 hours from Vancouver. Your Private Network members' Liaison will be happy to assist you in getting the best deals on airfare and hotel.

Quarterly meetings with us, Kathleen and Lief, and our expert guests…

After our meeting in Medellín in July, we have identified Houston, Texas (September), and Panama City, Panama (October or November), as our potential meet-up destinations through the rest of the year.

While less structured than our Annual Retreats, these meetings give you a chance for updates on your situation and goals, as well as a casual setting to enjoy the company of other like-minded folks.

As our Private Network members are scattered around the world, these should end up being intimate affairs, meaning you'll have plenty of one-on-one opportunities to talk with Lief and me.

Monthly webinars with one of our experts…

We promise that each virtual meet-up will be on an important topic related to living, investing, or doing business overseas. Going forward, you will have the ability to request a topic that interests you the most.

So far this year, we've already had conversations with:

April 2019: A rundown on residency-through-investment schemes, with Lief…
March 2019: Understanding investment markets in Colombia, with three of our local attorneys in Medellín…
February 2019: Taxes for the expat and investor, with Lief and Vincenzo Villamena…
January 2019: The "World's Best Places To Live In 2019," with Kat Kalashian…

Fortunately, each of those webinars has been recorded, and they are all waiting for you in the Private Network members-only site. Our next webinar, scheduled for later this month, will be on the new residency and second passport opportunities offered by Cyprus.

Two free nights' accommodation per year in our private apartment…

We're offering a stay at our apartment in the heart of Medellín, Colombia, for all Private Network members.

Located in Poblado, the finest and most well-to-do neighborhood in the city, this apartment has been completely renovated with plenty of love and hard work. It is easily one of our favorite places to spend time in the world.

It's within walking distance of several parks, restaurants, and malls, and it's but a few blocks away from the main street in the city that turns into a walking and bicycle path on the weekends (a weekly event called Ciclovía).

I have a couple of photos of our home below, and we'll be happy to send you more upon request.

Join Lief on his property scouting trips…

If you love to explore uncharted waters… or to learn new things… or to get in on an insider's deal first, this may end up being your favorite benefit of all.

These trips cover the entire world, but are mostly within Latin America and Europe, with infrequent trips into Asia.

As a Private Network member, Lief will send you an invitation in advance of each trip to visit new real estate markets or to inspect and discuss potential property deals.

Depending on the situation, Lief may even be able to bring you to the table with him as he asks the important questions… and negotiates the best deal. The profit potential here is significant.

A desk in our office…

Panama is the business hub of all of Latin America, and a stop in town for banking or administration can be well worthwhile.

If you're in the neighborhood, you're welcome to get some of your personal business done at the Live and Invest Overseas HQ in Panama City, Panama.

We have an open desk waiting for you in the office, with free access to high-speed internet, printers, scanners, fax machines, telephones, pens, paper… you name it.

VIP privileges at all Live and Invest Overseas events…

Make no mistake: As a Private Network member, you will be catapulted to the highest rank of our Live and Invest Overseas readership.

Frankly, you'll be more than merely a reader as part of our Private Network, but whenever you decide to join us at one of our events, we're going to make sure you have the most VIP experience possible.

VIP benefits change from one event to the next, but they typically include perks such as front-row seating, concierge service, access to VIP-only special events, and priority when consulting with speakers.

Access to top experts on living and investing overseas…

Of course, you don't need to be a VIP at one of our events in order to get a free consultation with one of our experts. You'll receive our personal Rolodex as soon as you become a Private Network member.

These are the people we trust. They've personally helped us over the decades, and they're the folks we go to when we have important questions

Again, you'll get to meet these experts out in the field at our retreats, gatherings, and adventures… but, you'll have their private contact details, too, for whenever you need to call on them.

Join us on our adventure trips every year…

If we're being honest, this is the reason we created Private Network in the first place. By now, you may have heard about our recent excursions where we visited a S.W.A.T. training facility… or the tank driving course… or the cave tubing tour in Belize… or the African safari…

Whatever we choose to do next, you'll be with us.

These are bucket list items… once-in-a-lifetime experiences with fun-loving people. Our guarantee is to do at least one fun activity a year in some part of the world…

For 2019, we have two excursions planned…

First, we're travelling the Silk Road in China as part of a 10-day, all-inclusive tour. This takes place in August.

Second, we're right now putting together the details for another tank driving course in Texas, right before or after the Retire Overseas Conference in September. (Rumor has it that we'll actually be able to fire the tank cannons!)
Start Your Private Network Membership Now
This is a unique service… we know of no other opportunity quite like it.
On one hand, you're signing up for adventure and fun. Your membership puts you right into the action, where you can meet new friends and have new experiences you may have never thought to do. You're cutting out the hassle of the administration for the excursions, and any awkwardness of doing it on your own. You'll be a welcome part of a group of fun-loving, interesting, and intelligent people.
On the other hand, this is an investment. You're putting yourself into an inner circle of powerful and connected people from across the world. The people you meet and the information you'll receive will save you tens of thousands of dollars and months or even years of precious time. First access to Lief's property deals alone can pay for both the entry fee and the annual dues.
When doing the accounting for this new membership, our goal was to make sure it wasn't reserved for the "high rollers" only.
And so we've made the entry fee as low as possible. We're also asking for an annual membership due to cover the expenses of the annual retreats, gatherings, and related administration… plus, and as important, to ensure that every member stays active.
The entry cost for Private Network is US$4,995.
After the first year, you'll pay US$995 for every year you are active in the membership. Keep in mind that the cost of membership includes access for both you and your significant other.
If you have any questions, get in touch by email now here. They can set up a call to ask your questions or to have a quick chat with Lief or me.
You can also call your Private Network Members' Liaison now at 1-888-627-8834.
Otherwise, if you're ready to jump in, we're excited to get you up and started! Use the form below to join us now: