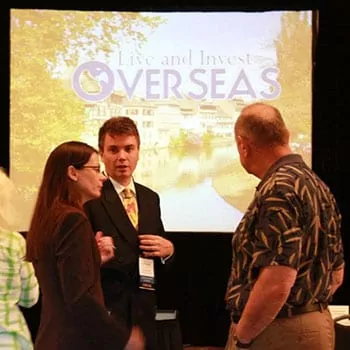 Dear Reader,
I've never forgotten this night…
It was almost 10 years ago, and I had just joined the cocktail party at one of our live events…
One of our attendees (let's call him Steve) walked over to me, cocktail in hand, and—without a pause—poured out his thoughts…
"Kathleen," he said, "I'm your biggest fan. I love what you do. I want the same things you want…"
I had no idea where Steve was going with this. So, I did the best thing anyone could do in this situation. I took another sip of champagne, and I waited…
"But," he said, "I don't want to be sold to every time. I'm already on board. I don't need any more sales pitches!"
The guy had a point.
"What might I do to help you?" I asked.
"Well," he said, "Is there a way that I can get everything you publish… all at one price… and so I never miss out on a single opportunity?"
I didn't have a solution for Steve at the time.
But, as we drained our glasses, I told him I liked his idea of a special deal for all our publishing products—and that it may be possible in the future.
Over the years that followed, I went on to have many similar conversations with readers… some over coffee breaks and cocktails at events… some by email… all of them wondering how they could get everything we publish here at Live and Invest Overseas HQ… delivered in one neat bundle… and for a one-time fee…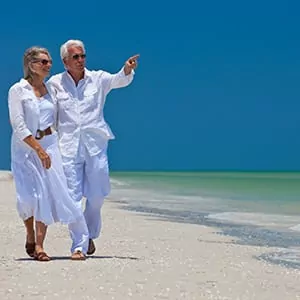 These are hard-core readers who are not happy being teased, day to day, with reports about other people living out their dream life overseas.
They want to know exactly what they need to do reach their own version of the good life… and do it now.
Maybe you are part of this hard-core move-overseas set, too.
And, I write to you today, because, at last, I'm ready to do this…
That is, I'm ready to give you the opportunity to get unlimited access to every single resource we publish…
I'm talking every title that's in our library to date (that's more than 197 products)… and everything we publish in the future… at one deeply-discounted, all-inclusive price…
That is, you will never—for the rest of your life—have to pay a single cent to get your hands on one of my products…
So—in case you're in the same boat as Steve—I won't need to bother you with any future offers. You'll already have free, unlimited access to everything…
Join The Expat Ranks—Semi-Retired, Reinvented, And Rat-Race-Free 
In Our Top Havens Overseas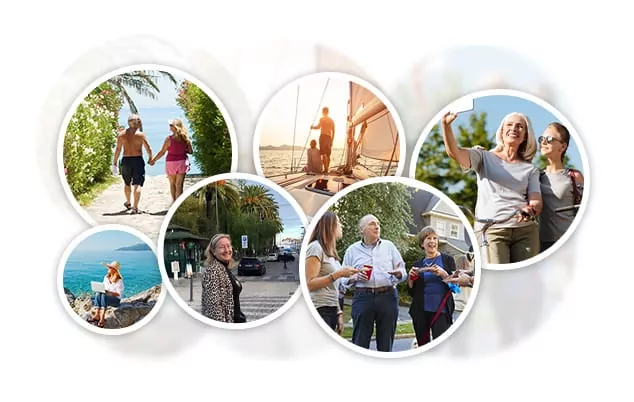 Thousands of Live and Invest Overseas readers—people who once stood where you stand now—are already living out their own dream lifestyles overseas today…
Now it's time for you to join their ranks…
And, I'd like to make your path easier than ever before by giving you full VIP access to my entire Live and Invest Overseas library…
I'm calling this new VIP-level membership of Live and Invest Overseas my Publisher's Circle.
And, during this launch period, I'm inviting you to join in at the lowest price I'll ever offer… with a number of extra bonuses to boot (more about those a little later)…
When you come on board as a Publisher's Circle member, I'll essentially hand you a master key to our ever-expanding Live and Invest Overseas publishing vault (the full kit and caboodle)—that today holds more than 197 products…
The knowledge I share through this library is based on my own experiences of living and investing overseas for almost three decades—as well as reports from my network of in-the-field global correspondents… those who have made it to the other side and want to help you follow in their footsteps…
Between us, we've gone through every step of the move-overseas process in dozens of locations overseas… and have documented every hard-won nugget of information to help spare you much of the time and trouble…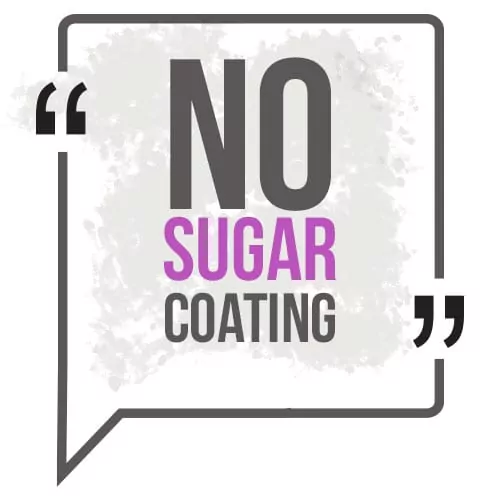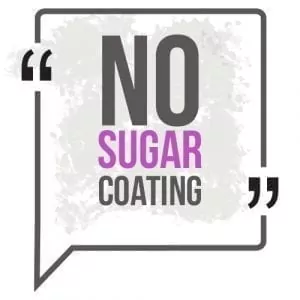 This is, by the way, unlike any other live-, retire-, invest-, work- or do-business-overseas information you'll find out there today.
At Live and Invest Overseas, we are not trying to sell you a vacation destination. Our aim is to introduce you to the best places to consider in the world today… without the sugarcoating.
My correspondents and I live in the real world. We recognize the pros… the cons… and the purely bizarre customs of a place… and report all our findings back, so you can make up your own mind.
Above all, I don't want you to simply read our recommendations… and live forever in envy…
I want you to gain the confidence to join us in living the life you are meant to live… so you get to tease your friends and family back home with stories of your own adventures…
As a Publisher's Circle member, you'll:
Get immediate, lifetime access to every single product we publish (all that we've published to date… and every single e-zine, special report, course, and kit that will pass through our virtual presses over the coming years—at no additional charge)…
Never have to worry about missing out on anything we publish—or about having to renew a subscription again (your one-time, deeply-discounted fee covers everything for life). You'll get our timely, up-to-date reports delivered straight to your inbox without interruption…
Enjoy a lighter email inbox. I'll no longer send you any sales offers. You'll simply get alerts as a new newsletter issue comes out (with download instructions)—or when we want to alert you to a new report that's ready for you to pick up.
What exactly do I mean when I say every single product we publish?
Let's now go through each Publisher's Circle member privilege in detail…
Publisher's Circle Benefit #1: 
Lifetime Membership To All Live And Invest Overseas Subscription Services
If I were to single out the biggest benefit of Publisher's Circle, I'd say it's this…
As a member, you'll receive each of our four subscription-based e-magazines every month—with the latest insights from our globally-spread editors and correspondents.
These e-magazines—that you'll receive for life—are valuable not only as you make your move… but even after you've settled into your new home overseas, too. This is especially true if you're interested in exploring investment opportunities to bump up your nest egg or provide a healthy cash flow… or you're thinking about spreading yourself between a number of overseas destinations…
As a Publisher's Circle member, you'll get:
Overseas Living Letter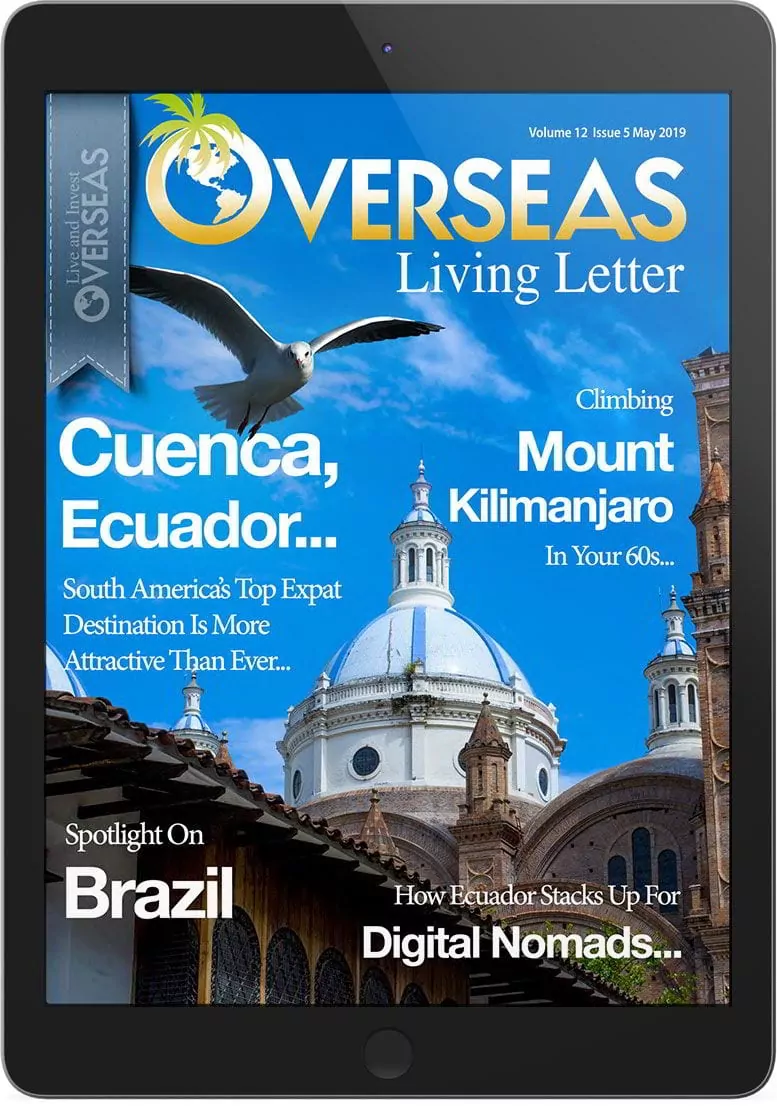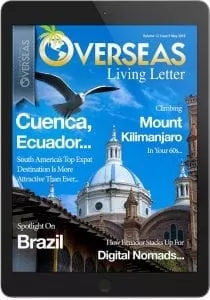 In Overseas Living Letter, you'll be introduced to:
Little-known havens where you can be part of a warm and welcoming community—where time is irrelevant and yours to spend on the things you enjoy most…
Safe places where you can live part- or full-time (or buy now and save for later). Whatever you feel comfortable with, there's an opportunity that's just right for you…
Sunny escapes where you can spend more hours outside… eat fresh food and get fitter by default…
Tranquil havens where you can rent from US$343… or grab a four-bed townhouse for as little as US$66,000…
Opportunities for you to earn an income (sometimes without working at all) in your new home—whether you need to continue to support yourself or would like to boost your existing income…
The aim here is to help you to narrow your focus. With these no-holds-barred reports from our experts, you'll be able to quickly decide which places are worth keeping on your list… which get crossed off… and the ones you really need to see in person.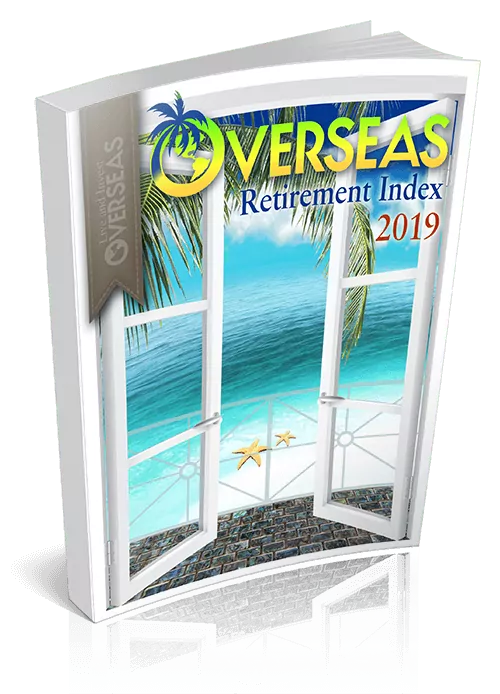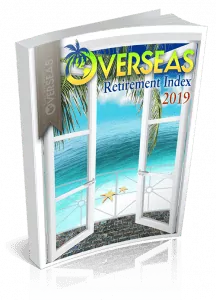 And, to help you further compare and contrast all our top live-and-invest-overseas destinations, you'll get one special bumper issue each year, too… our "Annual Overseas Retirement Index"…
Published in December, this bumper issue includes over 300 pages of itemized budgets for each destination, as well as comprehensive and up-to-the-minute overviews of health care, health insurance, residency options, internet speeds, climate particulars, taxes, the cost of buying a home of your own, safety concerns (if any), size of the local expat community, and on and on.
"I Look Forward To Reading!"

"Keep up the great work… I honestly look forward to reading the succinct info you provide to potential expats."

—Dan G., United States
Global Property Advisor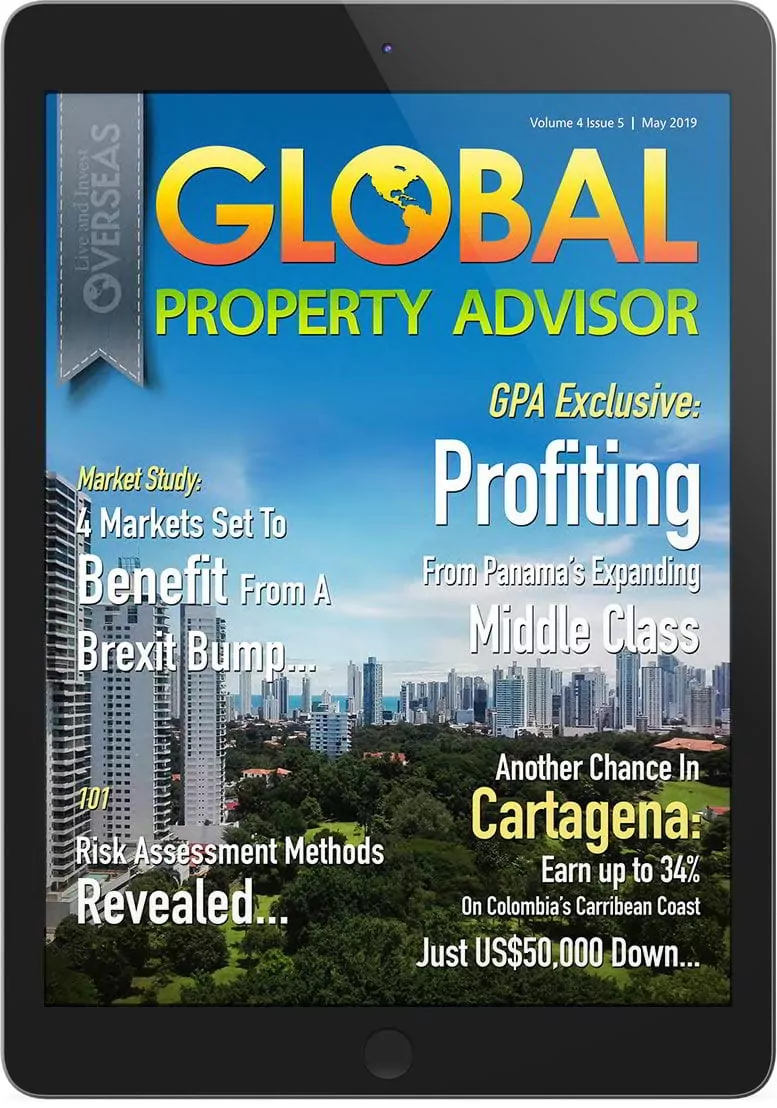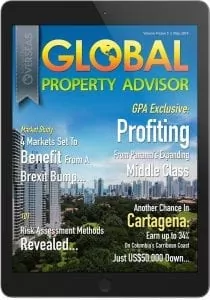 To give you an idea of what to expect, here are just some of the opportunities Lief has put readers of Global Property Advisor on to in the past:
Fully managed vacation rentals in a prime but overlooked Caribbean haven…
The newest turn-key organic agricultural investment in Panama (Global Property Advisor Members heard of this first… before any other investor anywhere)…
An all-inclusive, hassle-free rental cash flow opportunity in one of Colombia's fastest growing tourist destinations…
A low-cost, buy-and-hold appreciation deal on true beachfront lots along the northeastern coast of Brazil…
A proven private mortgage lending opportunity that provides double-digit returns and immediate cash flow…
An aquaponics farm deal in Thailand that gives investors cash flow within 12 months of their initial investment…
Some of these opportunities remain available today… though you'd be hard-pressed to find details advertised publicly. The developers and owners in question tend to keep them among their own networks. You'll receive complete details when you become a Global Property Advisor Member (as part of your Publisher's Circle membership).
Plus… outside your monthly issues, Lief and his team will keep you updated with instant property alerts—whenever a timely opportunity arises that needs action sooner rather than later.
Best of all, because Global Property Advisor Members are the first to be alerted to new opportunities coming online, you are also guaranteed the best pricing and financing (where it's available) terms.
And you'll also have access to Lief's personal property Rolodex… and be invited along on some scouting and deal-making trips (should you like to see a deal firsthand).
Simon Letter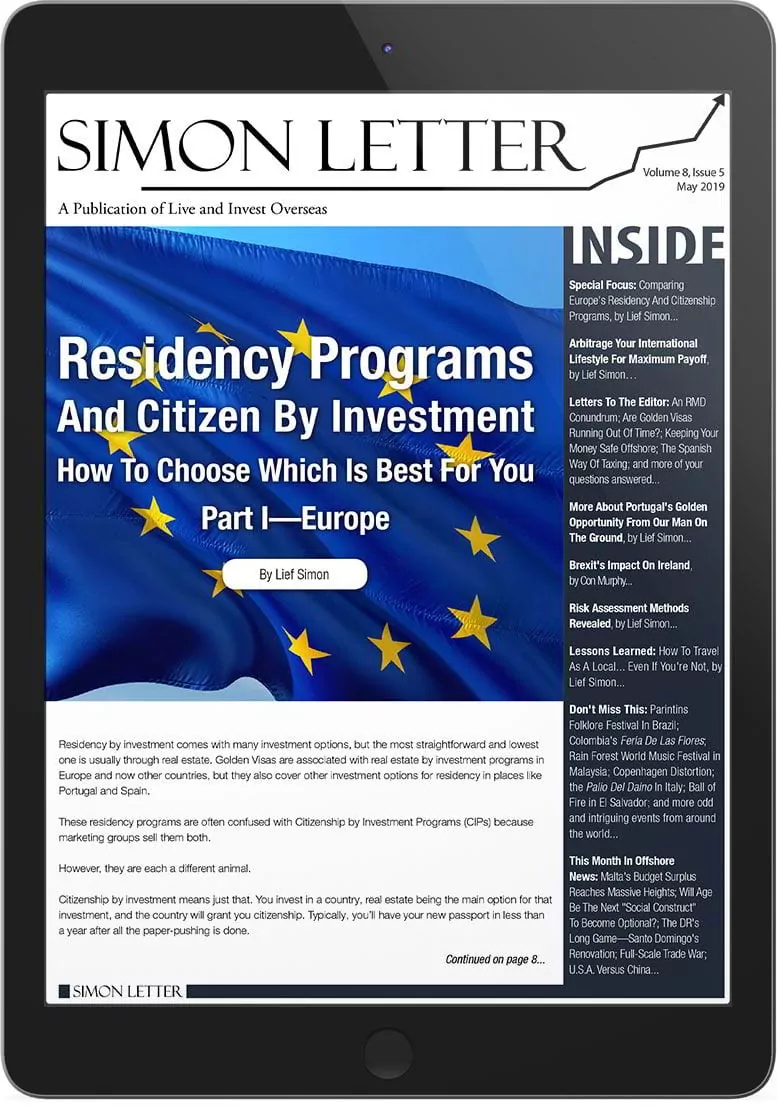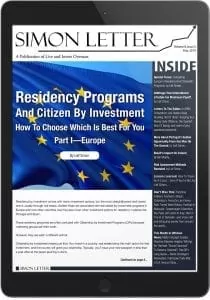 Also from the desk of Lief Simon—a man who wears two hats here at Live and Invest Overseas… one as our global real estate guru and one as our resident offshore expert…
Between three international moves, buying and selling property in 26 countries, opening multiple foreign bank accounts, and acquiring a second passport, Lief has learned over the years that not everybody who doles out international investing advice actually knows what they're talking about.
More importantly, he's learned that there is a growing need for this information. More and more people like you are coming to see that their money is just not safe in the United States. And there are plenty of advantages to investing offshore.
That's why Lief created and continues to write Simon Letter—a monthly e-magazine covering the latest in offshore topics to help you internationalize your life.
Inside its pages every month, you'll discover things like:
When (and where) you should establish residency—or even citizenship—in a foreign country. You'll learn which countries make sense, what the tax advantages are, and exactly how to go about actually doing it—if and when you are ready.
How (and where) to open a foreign bank account. Not all jurisdictions are created equal when it comes to security and privacy. You'll discover which countries are best to bank in now (this continues to change as the United States rolls out laws like FATCA).
Where to find great deals on real estate—especially productive real estate. There's something about having tangible property in other countries that is extremely comforting. There's little—if any—negative impact when the dollar crashes… and because the property is in a foreign jurisdiction, courts in the United States can't touch it in the event of a judgment from a frivolous law suit.
In February (or thereabouts) you'll get "Lief's Annual Tax Guide For Americans Living, Investing, And Doing Business Overseas." You'll get advice on how to report income from foreign assets, how to handle foreign bank accounts, what to do if you report income in a foreign country, and so on. While this is no substitute for personal tax advice from your accountant, it does give you a start in the right direction and can even assist your professional in preparing your taxes.
Many issues of Simon Letter are focused on a particular country. You get in-depth, real-world, practical information on local banking, citizenship and residency options, asset structures and protection techniques, business incentives, and more. This is not general information that is scraped quickly from Google—it is real-world knowledge gleaned from actual experience on places like Belize, Panama, Malta, Ireland, Singapore, and more.
"Legally Holding Onto Our Dollars!"

"God bless you for your gracious demeanor in explaining again for the unenlightened the insightful use of the few tax codes on the books that allow a U.S. citizen to try to hold on to what few dollars we have left legally. Thanks for your great publication."

—B.W., United States
Panama Letter
Yes, Panama gets its own subscription service—which we've been publishing for almost 10 years now. Why? Simple…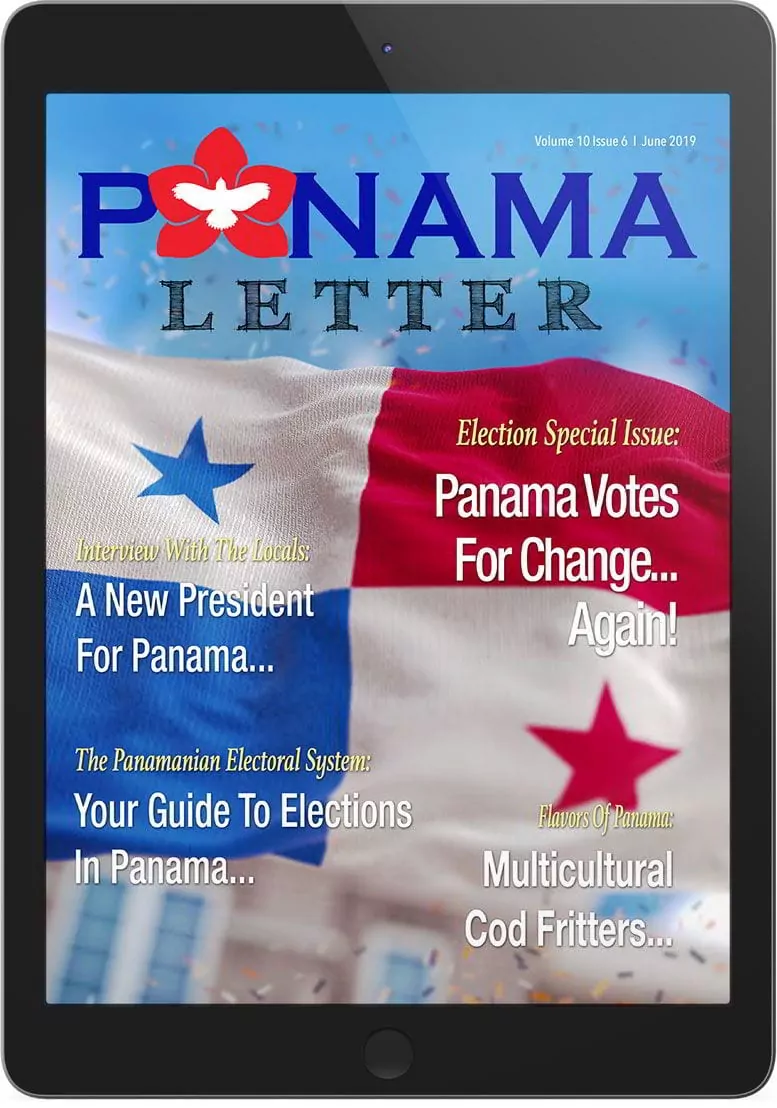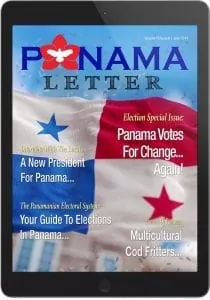 Panama is arguably the world's #1 retirement haven… and an international tax haven…
As a foreign resident, you can pay zero local tax…
Panama's pensionado program of special benefits for foreign retirees is the Gold Standard…
Panama is also one of the best places in the world right now to start a business…
Glossy magazines and websites tell you the best of Panama; in Panama Letter, we introduce you to all of Panama.
Every month in Panama Letter, my editorial team will show you a new area within this beautiful country. They'll tell you about a particular neighborhood, a certain beach, a little-known town—what it has going for it… how much living here would cost… who this region will suit… who wouldn't be happy here… and who—on the ground—can help you settle in…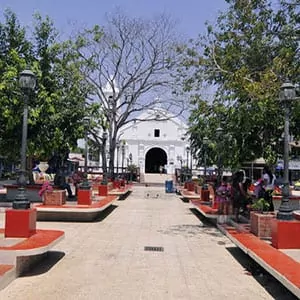 It's their mission to introduce you to less-known places. Places, for example, like the little beach town of Las Tablas on Panama's Azuero Peninsula… a town of 10,000 people without a single traffic light…
Of course, to take advantage of the best opportunities on offer in Panama you've got to be in Panama. And, as you probably are aware, that's exactly where my editorial team is based.
So, in every issue of Panama Letter, for every region, city, beach town, and community they feature for you, therefore, they are able to provide you with local contacts who will make it possible for you to access the most interesting opportunities and to operate beyond the gringo world (where the costs can be much greater!).
Our team can tell you…
Where to go to enjoy breakfast for as little as US$1.75…
Or a full Panamanian dinner of meat and fish with a couple of sides for US$6…
How to shop for jumbo shrimp, fresher than you'll find in the supermarket, for US$2.50 a pound…
How to snack on the go for pocket change…
And it's not just food that's cheap in Las Tablas and elsewhere in Panama…
A taxi across town some places is no more than US$1.50…
The four-hour bus journey from the interior to Panama City can be as little as US$8 each way…
Things like getting your car serviced can be a super bargain, too, if you know where to go… the mechanic we recommend charges as little as US$5 an hour…
I couldn't be more committed to this country. I continue to spend a few months of my year here—alternating between Live and Invest Overseas HQ in Panama City and the private community Lief and I are developing out on the Azuero Sunset Coast. And I continue to be impressed by what she has to offer—above her Latin American neighbors.
But I'm no fool either. I see Panama's downsides as well as her advantages. I know about the frustrations and the limitations of living and doing business here. I face them every day. And so, our promise with Panama Letter is absolutely no sugar-coating.
You may decide, of course, that Panama is not somewhere you wish to live or invest. Through your Publisher's Circle membership, you're going to discover many more options. But, by reading these monthly newsletters, I think you'll, at the very least, be tempted to touch down in Panama for a visit…
And when you do, you'll know exactly the best places to go.
Other readers will pay a total of US$478 a year to keep up with all four of these subscription services. But when you join my Publisher's Circle, there'll be no future fees for you… just complimentary lifetime membership of each one.
And that's only the beginning of what's on the table for you today…
Publisher's Circle Privilege #2: 
Tap Into The Knowledge Of Our Globally-Spread Experts And Expats… With Our Home Conference Kits…
You may have joined us for an event or two in the past. Or you may have longed to be in the room with our experts, but were unable to find time in your schedule…
Either way, it's impossible for anyone to make every single event that we run in a calendar year… from the United States (for our big annual Retire Overseas Conference) to Portugal… Ecuador to Belize… and beyond.
But this won't be a problem for you anymore…
For every event that we run at Live and Invest Overseas, we produce a special "Home Conference Kit" that includes recordings of all our speakers on stage (some audio, some video)… their accompanying slides… and a selection of bonus reports…
As a Publisher's Circle member, you'll have access to all our past conference kits… as well as those coming down the line. With 9-10 events a year, this means a constant flow of up-to-date and in-depth information from our favorite corner's of the globe—straight from the mouths of the experts we trust.
With your comprehensive "conference in a box," you'll be able to act on the opportunities that are presented at the event (including anything that our VIP guests have been made aware of)… and special deals that often won't be revealed to the general readership.
These kits range in value from around $149 up to US$329+ for special gatherings like our annual Global Property Summit, Offshore Wealth Summit, and Retire Overseas Conference…
But, again, you don't have to worry about these prices. All our conference kits are included as part of your Publisher's Circle Membership…
We have 9 events already planned for 2020. For now, though, the following Home Conference Kits are ready and waiting for you to dive in (including every presentation from our recent annual Retire Overseas Conference—a bumper package with 64 recordings):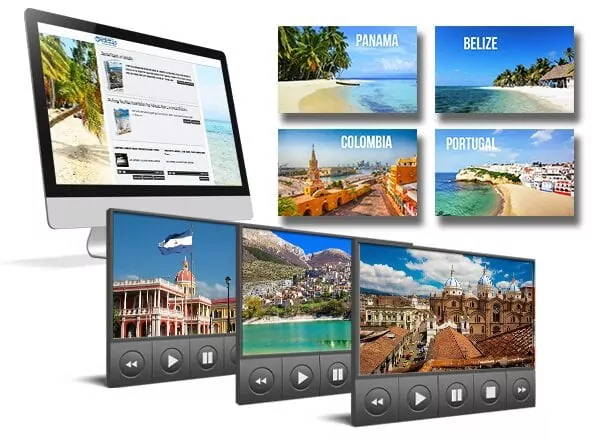 Retire Overseas Home Conference Kit (value: US$460)
Your Dream Home Overseas (value: US$299)
Live and Invest in Belize Home Conference Kit (value: US$329)
Live and Invest in Panama Home Conference Kit (value: US$329)
Live and Invest in Portugal Home Conference Kit (value: US$198)
Live and Invest in Ecuador Home Conference Kit (value: US$198)
Make Money Overseas: The Home Conference Kit (value: US$198)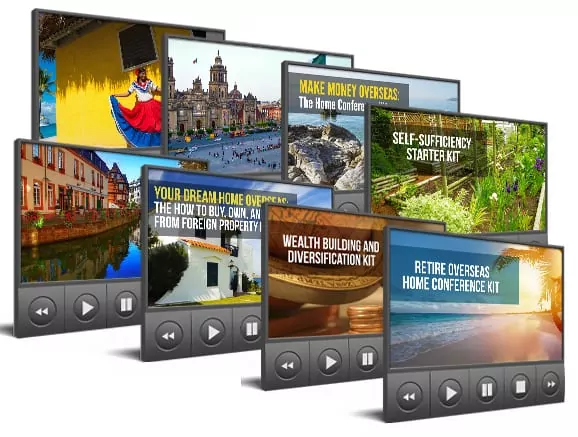 Live and Invest in the Dominican Republic Home Conference Kit (value: US$198)
Live and Invest in Italy Home Conference Kit (value: US$198)
Wealth Building and Diversification Kit (value: US$329)
Live and Invest in France Home Conference Kit (value: US$329)
Live and Invest in Mexico Home Conference Kit (value: US$198)
2015 Live and Invest in Nicaragua Home Conference Kit (value: US$198)
2016 Self-Sufficiency Starter Kit (value: US$149)
Again, these home conference kits are the next-best thing to being in the room at a live event…
And, whenever you can make it in person to one of our conferences, you can cash in another perk I'll tell you about a little later.
But, for now, let's continue our tour of what's waiting for you in your library of unlimited access…
Publisher's Circle Privilege #3: 
Access To 101+ Overseas Haven Reports, 58+ Panama Special Reports, And A Fast-Growing Collection Of Discovery Reports…
Do you dream of waking to the break of ocean waves? Of being able to walk a few steps through powder-white sand to take a morning dip?…
Or perhaps you'd prefer to wake to the bustle on the cobbled street below your balcony in the heart of Old Europe…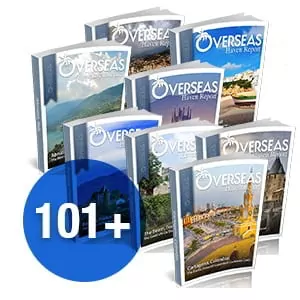 Maybe you want to live in your idea of paradise—and still be able to earn an income, working just a few hours a day or week…
Or maybe you have no fixed ideas at all. You're keeping all your options open.
Whichever way you come at it, you'll find that our Overseas Haven Reports cover the specific destinations—across the Americas, Europe, and Asia—that we have identified as offering a truly special, and often very affordable, lifestyle…
Flip through all of these in-depth destination reports at your leisure—or, if you have some specific ideas in mind, cut straight to those destinations and get stuck in…
These places include:
The city that has all the charm and history of a European capital… but at an unusually affordable price-tag…
A beach town on the Riviera Maya with white-sand beaches, crystal-clear cenotes, tropical jungle, and Maya ruins that's attracting a growing number of expats…
A tiny Mediterranean country with a varied and fascinating past… where English is an official language and widely spoken…
The undiscovered "Second City of Eternal Spring" in Colombia…
A top spot for easy living in Europe's "Garden on the Adriatic"…
A quintessential, white-sand Caribbean haven (that's still affordable)…
French countryside living at its best (this place is also an emerging wine region)…
An opportunity to bask in both the history and sun of the Caribbean…
First-world, cosmopolitan living in Latin America…
And many more…
With 101 Overseas Haven Reports already in my library (for a combined value of US$1,004.95), there's bound to be at least a handful of places to inspire your search…
Remember, these reports aren't destination brochures. Inside, you'll find lots of practical information on how to make your move… the contacts that can help you through each step…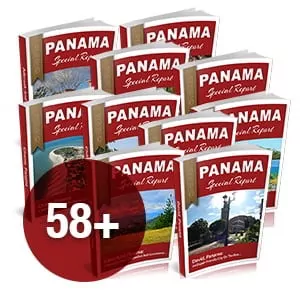 and detailed budgets (drawn up by expats on the ground) for housing, utilities, groceries, entertainment, and more.
Our series of Panama Special Reports—also included with your Publisher's Circle Membership—follow the same idea… only the featured destinations are, of course, based on the isthmus…
From our favorite neighborhoods within Panama City itself… to the "City Beaches" (a chance to live near the sand but with all the conveniences of modern living nearby)… to the cooler climate of the colonial highlands… to Panama's "Wild West" where you can experience raw nature in all its glory… each of these reports is packed with all the information you'll need to decide whether a place makes sense for you… and all the practical tips you'll need to know before you go…
Right now, 58 of these Panama Special Reports (representing a value of US$837.20) sit in our vaults—ready and waiting for you to tap in…
As well as this collection of Overseas Haven Reports and Panama Special Reports, you'll find a collection of what we call "Discovery Reports", covering a variety of themes.
To date, these include: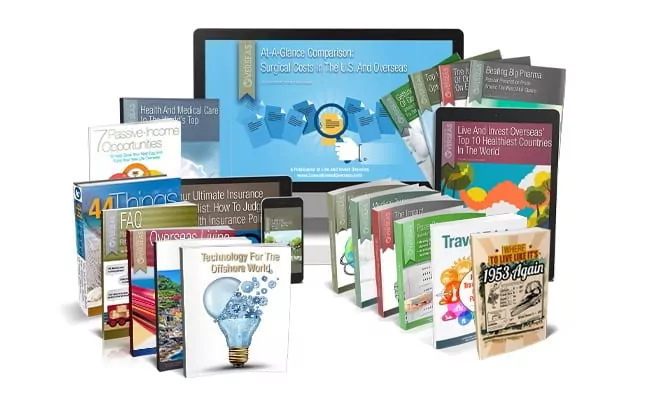 2019 Overseas Retirement Index—the must-have 375-page e-book that identifies and scores the 21 best places on Earth to think about living or retiring overseas (value: US$49)
Taxman's Guide For Americans Abroad—Premium Edition (value: $59)
Complete Guide To Health Care And Health Insurance Overseas (value: US$79)
44 Things You Must Know Before You Relocate, Retire Or Invest Offshore (value: US$29)
Overseas Living 101: The Most Important Things You Need To Know Before You Move Overseas (value: US$19.95)
Technology For The Offshore World (value: US$19.95)
5 Fun Ways To Get Paid To Travel (Working As Little As 3 Hours A Week) (value: US$19.95)
7 Passive Income Opportunities To Help Grow Your Nest Egg And Fund Your New Life Overseas (value: US$19.95)
FAQ—The Most Frequently Asked Questions Related To Living And Investing Overseas (value: US$19.95)
Travel Tricks: How To Travel Better But Pay Less (value: US$19.95)
Where To Live Like It's 1953 Again (value: US$19.95)
It All Starts With You—What You Need To Know About Yourself Before Deciding On A Home Overseas (value: US$19.95)
3 Evergreen Investment Strategies To Calmly And Confidently Weather Any Financial Storm (value: US$19.95)
Lief Simon's Little Black Book (value: US$19.95)
5 Hassle-Free Productive Land Opportunities (Under US$50,000) To Give You A Bonus Pension Check Every Year (value: US$19.95)
Buy Like A Boss: All Your FAQs On Buying Real Estate Overseas (value: US$19.95)
6 Strategies For Bulletproofing Your Financial Future (value: US$19.95)
6 Drop-Dead Simple Foreign Bank Account Destinations (value: US$19.95)
How To Get A Second Passport In 183 Days (value: US$19.95)
Lief Simon's 5 Favorite Offshore Jurisdictions (value: US$19.95)
Speed Up Your Residency By Skipping The Background Check (value: US$19.95)
The World's #1 Offshore Haven (value: US$19.95)
Who's Packing? The Right To Bear Arms Overseas (value: US$19.95)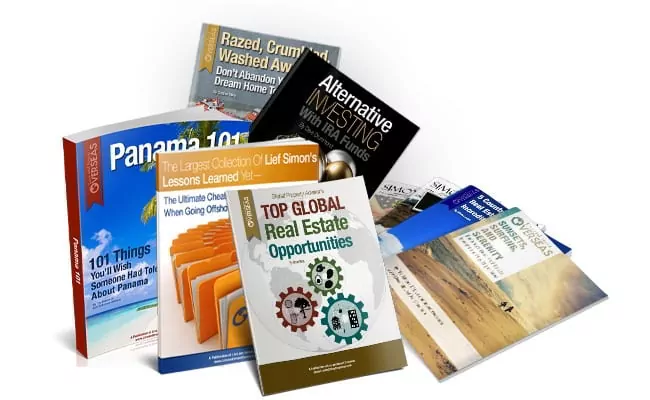 Lief Simon's Lessons Learned—The Ultimate Cheat Sheet To Avoiding Pitfalls Offshore (value: US$19.95)
The World's Best Citizenship-By-Investment Programs (value: US$19.95)
How To Use Your Self Directed 401(k) (value: US$19.95)
Lief's List: The Best Second Passports The World Has To Offer In 2019 (value: US$19.95)
Lief Simon's 4-Part Bug Out Plan…And Why You Need One, Too (value: US$19.95)
Top Global Real Estate Opportunities (value: US$19.95)
Alternative Investing With IRA Funds (value: US$19.95)

A Primer On Capital Restrictions

(value: US$19.95)
The World's Top Disaster-Free Havens (value: US$19.95)
5 Countries Where Real Estate Is Still Incredibly Cheap (value: US$19.95)
101 Things You'll Wish Somebody Had Told You About Panama (value: US$19.95)
Panama: The World's Top Retirement Residency Haven—Even If You're Not A Retiree (value: US$19.95)
Panama´s Easiest Residency–The Specific Countries Program (It Even Leads To A Work Permit) (value: US$19.95)
Little Black Book For Panama (value: US$19.95)
Top 5 Medical Insurance for Expats in Panama (value: US$19.95)
Sunsets, Surfing, And Serenity–Early In On The Azuero Sunset Coast (value: US$19.95)
All told, that's US$2,776.75 worth of special reports just one click away.
And, still, we're not done…
Publisher's Circle Benefit #4: 
Access To All Live And Invest Overseas Kits And Courses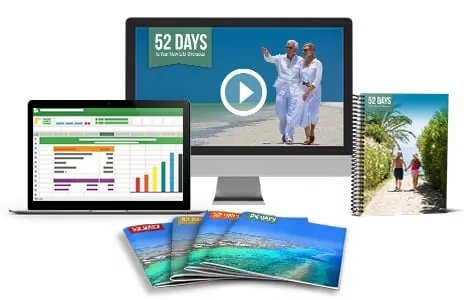 I wouldn't blame you, dear reader, if you're starting to feel a little overwhelmed right now.
With all this information at hand, where will you begin?
Thankfully, we've arrived to the kits and courses aisle of the library. And, right here, I've got the perfect thing to bring some structure to your research…
It's my 52 Days To Your New Life Overseas e-course.
And, this is the very first place I recommend you start.
It will help you to understand yourself and your needs (critical to a successful move overseas)… so you can then go on and assess all your options with a critical and educated eye…
In 52 Days To Your New Life Overseas, you'll answer important questions like:
Are you moving alone? With a significant other? With children? With a business?
Do you want to live among the locals or in a private gated community where your neighbors will be fellow expats?
Do you want to learn a new language?
What are the things you refuse to scrimp on? What could you not give up?
Are you ready to move full-time?
Your answers to each of these questions will affect how you approach your search… and where you'll ultimately settle.
I designed the course to be followed over 52 days, but as a Publisher's Circle member, you'll have immediate access to all 52 modules at once… so you can choose whether to limit yourself to one per day… or speed up the process…
Either way, you'll find out about:
Residency and citizenship—the costs and timeframes involved in our top jurisdictions…
Health care and health insurance—local versus international options… and what to do if you can't get insurance…
How to narrow your list of potential new homes to just two locations…
How to open a bank account in a foreign country… and how to set up your credit cards for online access…
Dealing with your stuff—what you really need to bring overseas and how to get it there safely…
How much tax preparation you need to do (maybe none)… and how to take advantage of the Foreign Earned Income Exclusion (FEIE)…
What to know before you rent… and before you buy property… and how to avoid "margarita madness"…
Preparing to deal with post-move panic (it happens to us all at some point)… and how to establish a new network of friends overseas…
And lots more…
On its own, my 52 Days To Your New Life Overseas e-course is worth US$195. But it's included in your Publisher's Circle membership deal.
And, you'll also get access to the rest of our kits:
Passport To Freedom: The World's Top Havens For Residency, Citizenship, And A Second Passport—everything you need to know to establish legal residency in our top jurisdictions overseas—delivered in audio recordings and special reports (value: US$169).
Belize Starter Kit—our Belize 101, with everything the would-be expat or retiree considering a new life in Belize needs to get started (value: US$79).
France Starter Kit—the history, the food, the shopping, the dining, the architecture, the art, the gardens, the parks… plus the world's best health care, best infrastructure, most beautiful (and romantic) city… France is the good life defined… and, as you'll find out inside, it can be far more affordable than you might imagine (value: US$79).
Discover Asia Kit

—follow some of the world's most intrepid travelers as they take you on a journey through Asia unlike what you'll find anywhere else.
Our editors introduce you in real time and a very real-world way to the cities, villages, and beaches of this region that we've identified as holding out real potential for the adventurer retiree (value: US$48).
Discover Europe Kit—this comprehensive program features 6 fully illustrated reports covering our top picks for Old World living on a budget, plus the special 100+ page guide Exploring Europe: A Grand Tour Of The Old World's Most Romantic Places To Spend Time (value: US$48).
Panama Starter Kit—our ever-expanding and most comprehensive Panama package (including 7 resources). If you are interested in starting a new life in Panama, then head straight this way (value: US$79)…
Again, all of these kits are just a few clicks away… you get to keep them for life… and any future kits that my editorial team rolls out…
Publisher's Circle Benefit #5:
Exclusive Members-Only Website
 I must point out at this stage, all of the publications I've mentioned so far are delivered electronically—our Live and Invest Overseas library is a collection of electronic newsletters, e-reports, and e-kits.
This means that:
Once you come on board as a Publisher's Circle member, you'll have instant, 24/7 access to this library of more than 170 resources. No extra shipping costs. No waiting in for a big bundle of books to drop.
Our experts can provide you with the most up-to-date information. In this business, as you'll understand, immigration policies change… real estate markets move… new health insurance companies enter the market. Because we're working electronically, my editorial team can make updates quickly and easily at our end and deliver it to you immediately.
And, to make it quicker and easier for you to access my entire library, as a member of Publisher's Circle, you'll have access to a members-only website with everything laid out neatly for you to open up… at any time… forever…


All those reports and webinars I mentioned are standing by on this website now. When you join, you'll get immediate access.
Publisher's Circle Benefit #6:
Members-Only Newsletter
As I've said, we're regularly adding new products to the Live and Invest Overseas library. To make sure you're aware of every single new report… every newsletter that rolls out of my editorial department—and getting the most from your membership—each month, I'll send you a personal letter, highlighting a new release…
Again, this won't be anything I want to sell you. You'll own it. It's already yours.
But if, for example, Lief has uncovered an early-in opportunity for his Global Property Advisor readers that can earn you 17% annualized returns for the next 20 years for a one-time small investment, I wouldn't want it to slip below your radar…
Or perhaps one of my correspondents has pulled back the curtain on a destination we've never before spoken about… or provides an insight into a new opportunity to earn income in your new home overseas (a topic covered every month in Overseas Living Letter)…
Again, I wouldn't want you to miss out. So in each monthly letter from me, I'll highlight some of the new additions.
This, by the way, will be an exclusive communication to just my Publisher's Circle members—something that won't be broadcast to the rest of the readership… and that, from time to time, may include off-the-cuff anecdotes that wouldn't fit in my daily e-letter.
Publisher's Circle Benefit #7:
US$200 Off Any Live And Invest Overseas Conferences (For Life)
You're going to have, at your fingertips, every resource you need to plan your new life overseas… and, I hope, the inspiration to start taking some research trips.
Whenever you decide to join in a Live and Invest Overseas conference, we'll take US$200 off the cost of registration.
This discount can be applied as many times as you wish during your lifetime membership… without limit.
Publisher's Circle Bonus: 
Free Copies Of  My Two Books
(Delivered To Your Door)
As I've told you, these days at Live and Invest Overseas, we publish all our products digitally…
But I'm an old-school girl at heart…
I know there's nothing like holding a "real" book in your hands… one you can place on your bookshelf to remind you of your path… one you can dust off and flip through at your leisure…
That's why I'd like to send you complimentary copies of the two books I've written for external publishing houses:
"How To Retire Overseas—Everything You Need To Know To Live Well (For Less) Abroad." Now in its Second Edition with Penguin Random House and on bookshelves across America, as well as being a best-seller on Amazon, this is your introduction to the big-picture issues you need to understand when approaching a move overseas—as experienced by my own family on our three international moves—and a first glimpse at some of my top recommendations for places to consider (along with sample budgets).
"How To Buy Real Estate Overseas"  Published by Wiley, this book is full of practical advice—again, learned the hard way by Lief and me—on how to enjoy the benefits and avoid the pitfalls of investing in property abroad. Inside, you'll find out how to:

Capitalize on crisis opportunity…
Diversify your long-term wealth (and create positive cash flow)…
Build your dream lifestyle and live well in your own version of paradise…
These two books are bonuses, really—books that I've published with these bigger publishers—but that, as a Publisher's Circle member, I wouldn't want you to miss.
So should you decide to come on board during this special Publisher's Circle inaugural offer, we'll arrange to have both books delivered to your preferred shipping address. (If you're a longtime reader, you may already have a copy of one or both of these books. If this is the case, feel free to regift these copies to a deserving friend.)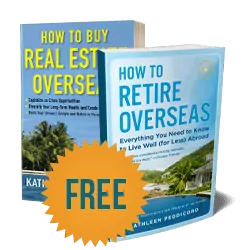 "How To Retire Overseas—Everything You Need To Know To Live Well (For Less) Abroad" and "How To Buy Real Estate Overseas" would normally cost you US$16 and US$24.95 respectively on Amazon. But both are yours free with your Publisher's Circle membership.
About Kathleen Peddicord, 
Founding Publisher of Live and Invest Overseas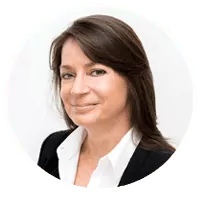 For the last 30 years, Kathleen has been exploring the world for fun and profit—and reporting back about her discoveries for thousands of readers.
In total, Kathleen has traveled to more than 50 countries, invested in real estate in 21, established businesses in 7, and renovated properties in 6. Kathleen is regularly quoted in The New York Times, Money magazine, and beyond. She has written innumerable books, reports, and essays on where and how you can escape the retirement-tromping economy at home and live like royalty on a modest budget… invest for profits overseas ahead of the crowds… and secure your dream lifestyle in the world's best destinations.
None of this would have been possible without taking that very first step—leaving Baltimore, Maryland, behind 20 years ago for adventure on the Emerald Isle. Kathleen knows exactly what it's like to be in your shoes—and, through her newsletters, reports, kits, and books (as well as occasional speaking at Live and Invest Overseas events) she shares her best advice for taking the leap.
This Is Everything You Need—All In One Place—
To Help You Plan A Smooth And Successful Move Overseas…
At A Massive 88% Discount
Your new life overseas is achievable—once you have a plan in place… and the right support backing you up.
With your Publisher's Circle membership, you'll have access to a wealth of up-to-date information… and contact details for reliable contacts you can follow up with—and even make connections with before you travel.
With your Publisher's Circle membership, you'll get:
A step-by-step, tried-and-tested plan for a smooth international move (it's all in your 52 Days To A New Life Overseas e-course)…
The world's best options for living and investing today—through in-depth Overseas Haven Reports from the expats gone before you (remember, over 100 of these reports are standing by)… and you'll continue to hear of new locations every month in your Overseas Living Letter e-zine…
Reports and alerts of current global real estate opportunities (through your Global Property Advisor membership)—a chance for you to diversify your portfolio, grow your nest egg, earn regular cash flow to help fund your new life overseas, and provide a more secure future for you and your loved ones…
The chance to hear from our experts on the ground (and tap into special deals) with complete sets of recordings and bonus materials from each of our LIOS events—past and future—all neatly bundled in our Home Conference Kits…
My rolodex of trusted contacts around the world. Need a lawyer in Colombia? A realtor in Portugal? For each of the top havens I recommend, you'll get my list of follow-up contacts—the people I have worked with over the years (and often still call on today)…
In my library, you'll find everything you need for a successful move overseas… the support to keep you sane while you settle in… and you'll stay up-to-date with new opportunities, as they happen…
It's all you need to succeed in your new life… all in one place… and for life.
If we release a brand-new e-course… or e-zine… or special report this year… you'll automatically get it at no extra charge.
This is the biggest package of publishing products I've ever offered my readers—including everything we've published in over 11 years in business.
Of course, I realize it will only appeal to a number of readers—those who are truly committed to moving overseas… and doing it as safely and efficiently as possible…
If you are one of these readers, then I'm excited to help you forward on your journey. And, I'd like to reward your loyalty with a one-of-a-kind discount—one that I can't possibly keep open for long…
Before I give you the details of this special deal, let's take a quick look at the value you're getting with your Publisher's Circle Membership…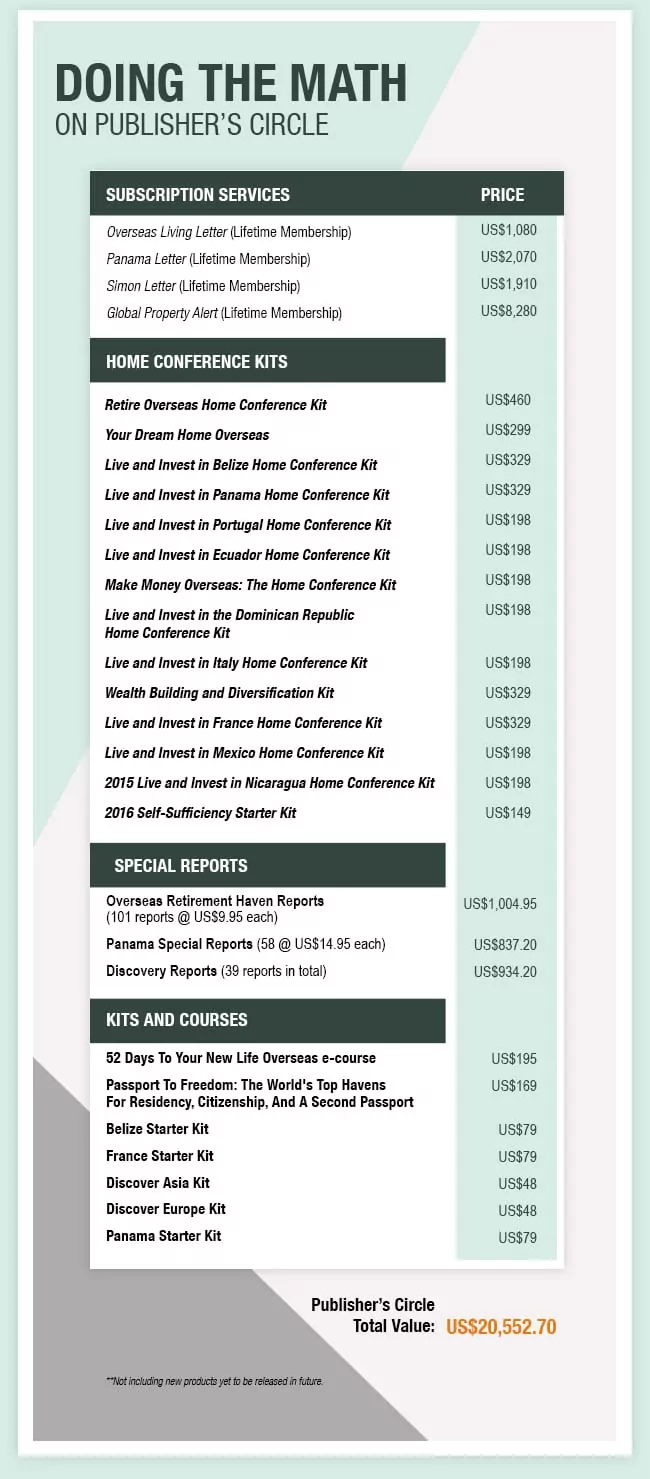 This means, coming on board as Publisher's Circle member today, you're getting US$20,552.70 of resources at your disposal…
And that's not including what's coming down the line. As I've said, everything we'll publish in the future will be yours at no extra charge.
But I'm not going to ask you for anything near US$20,552.70 today…
To reward the first 20 10 readers who join my Publisher's Circle, I'm going to go as low as I can possibly go with this…
Right now, during this special inaugural offer, I invite you to come on board as a fully-fledged Publisher's Circle member for just US$2,500…
This means you're saving a whole US$18,052.70 off the price you'd pay by purchasing each individually through my bookstore… which amounts to a whopping discount of just over 88%… to get access to the full Live and Invest Overseas kit and caboodle.
And, remember, you'll never have to pay me a single dollar again. Ever.
Again, this one-time fee covers everything we've published to date… and everything that comes down the line… whether that's next week… next year… or 20 years from now.
Pull The Trigger On A
Bright New Future Overseas—
With The Best Discount I'll Ever Offer
That new life that you're dreaming of overseas right now… I want you to have it.
I don't want you to envy me… or the thousands of your fellow readers out there living it up in their favorite corners of this wide world…
I want you to join us.
Once you delve into my library, you'll be surprised how quickly it can all happen.
But remember, I can only keep this 88% discount open for the first 20 10 readers to respond.
Be one of the first to join my Publisher's Circle ranks here now… at the lowest price I'll ever offer…
Sincerely,


Kathleen Peddicord
Publisher, Live and Invest Overseas
P.S. By taking advantage of the outstanding value of Publisher's Circle membership today, you're guaranteed 24/7 access to every live-and-invest-overseas-themed product I've published in the past… and every single product I publish in the future (at no extra charge)… for life… all at a massive 88% discount.
Plus, I'd like to give you a full 30 days to try it out… completely risk-free. If, during these first 30 days, you decide Publisher's Circle membership is not for you, and you let us know within this timeframe, we'll refund your membership fee in full. No questions asked.
Get started with zero risk below…
P.P.S. If you'd like to spread the cost of membership, my team has set up an Easy Payment Plan option especially for you. Full details when you click on the button below (you'll also have a chance to review everything that's included).