Are You Ready To Set Up Your Own Plan B?
Here's How You Can Escape To A




Secret Paradise In Belize…




That Pays You US$21,000 A Year



On Tuesday, September 15 at 12:00 noon EDT, I'll show you exactly how and where you can secure your own peaceful Caribbean getaway, one that comes with returns as high as 12% net ROI.
The world changed dramatically in 2020.  And current events are pushing us to take stock of what exactly we want our future to look like.
Travel will open back up again. That much is guaranteed.
But as to what the world will look like… and what's next for the stock market and our hard earned retirement funds (bear in mind U.S. executives just dumped US$6.7 billion of stock in their own companies last month)… these are big unknowns.
Faced with the uncertainty of what is going on in the States right now, a lot of people are rethinking their retirement plans.
Suddenly, the idea of owning your own bolt-hole overseas doesn't seem so crazy…
Particularly if it's in a dreamy Caribbean destination, where life is slower, more peaceful…
Where you can enjoy small-town life, friendly neighbors,  and a welcoming expat community…
Where English is the official language, and taxes and the cost of living are low…
Where you're surrounded by pristine, white-sand beaches and rich, green rainforests.
What's more, your Caribbean home could hand you a steady cashflow when you're not around…
You get not just a second home, but also your own independent second income— regardless of what happens next to Social Security, stocks, the U.S. dollar, or the U.S. economy.
I'm talking about property that allows you to capitalize on a healthy rental market in a strategic location.
How about an extra US$21,000 landing into your back account every year?
Now that would be a nice cushion to have in these uncertain times…
This is how you can set yourself up to thrive—now and in retirement—no matter what the rest of the world gets up to.
Take this exciting new eco-friendly home, right on the water…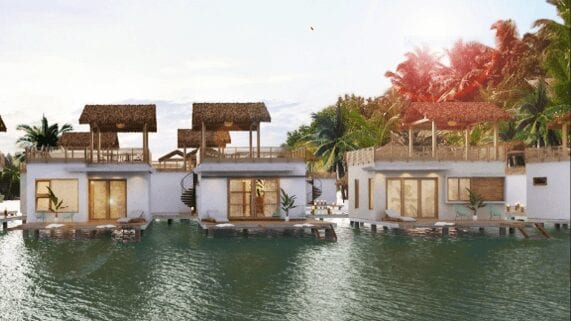 Here on Ambergris Caye, a narrow, 26-mile-long island just off the coast of the Belize mainland, I've negotiated first dibs on small luxury homes from an established developer I have known and worked with for a number of years—starting at just US$149,900.
This project, which launched with 20 units earlier this year, sold out in record time. But join us for our Plan B: Escape To A Secret Belize Paradise Webinar, and you'll be among those getting first access to Phase 2.
We'll show you how to get one of these 21 exclusive Caribbean waterfront homes for less than US$150k.
They're in a prime location with massive local tourism, and an on-site rental management team in place.
Here, your family (and your renters) can enjoy a laid-back Caribbean island lifestyle, with miles of sugar-sand beaches and a seaside town with cafes, shops, and restaurants… all on your doorstep.
This is a place where folks use golf buggies to get around, and shorts and flip-flops will cover your wardrobe for most of the year…
But this Plan B is not just about enjoying the easy life…
You need an income, too.
Choose to rent this property out when you're not around, and you should see a 9% to 12% net ROI steady cashflow—that could add up to an extra US$21,000 straight into your bank account every year.
Altogether, it's a completely hassle-free and diversified investment.
Why put your money into a volatile stock market—or a practically 0% interest savings account—over this?
And this is just one of the exciting new opportunities we'll explore in our Plan B: Escape To A Secret Belize Paradise Webinar.
We'll also be exploring a chance to own in a small, self-sufficient community surrounded by tropical rainforests, the majestic Maya Mountains, and the Belize River Valley.
It's a nature-lover's paradise, with wide-open spaces crisscrossed by rivers for swimming and kayaking, rainforests for exploring and hiking, and Mayan ruins for climbing.
One of the best parts is that your slice of this secret Belize paradise starts at just US$35,000.
This September 15, we'll arm you with everything you need to secure your own very affordable Belize escape… one that will hand you a steady cashflow for the rest of your life.
You'll also access exclusive discounts available to our webinar attendees only.
And here's the important thing to remember: Even if you are not ready to act right now on the information we'll share with you, you owe it to yourself to get informed and at least see what's on offer right now…
Why Should I Consider Buying Overseas Real Estate Right Now?
Would you like to create a second independent income that could hand you as much as US$21,000 a year, every year… for as long as you wish?
Do you like the idea of owning your own secret Belize getaway that pays for itself?
Would you like to diversify outside the stock market, outside the U.S. and still see annual returns as high as 12%?
If you said yes to any of these questions, then read on because that's exactly what's on the table right now…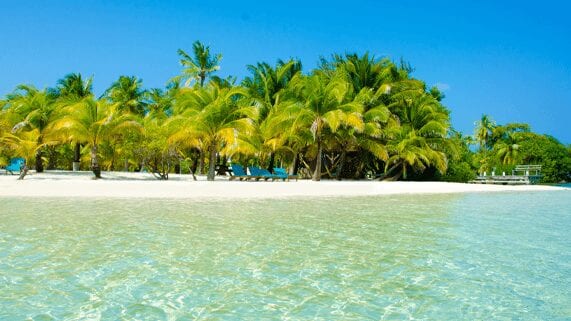 Belize is a safe, stable and welcoming country that feels like a small town.
The sun shines year-round, everyone speaks English, the cost of living is affordable, and establishing residency is easy.
Little more than a two-hour flight from Miami, Belize is an under-the-radar expat secret that's about to be let out of the bag.
The good news is that you and I are already ahead of the game…
In our first-ever Plan B: Escape to A Secret Belize Paradise Webinar, September 15, we're going to explore exactly how you can set yourself up here with an income producing property for less than US$150,000.
It's the perfect Plan B:
Claim your own Caribbean paradise in one of the world's top retirement havens…
And lock in guaranteed returns…
Without the big spend.
Today's Opportunity:
Over the past 12 years, we've introduced readers to the best real estate investment opportunities Lief Simon has identified worldwide.
If you missed out on these wealth generating opportunities, I strongly recommend that you act now.
The truth is, it's harder and harder to find income-producing property worth owning without breaking the bank…
Especially anything near the water.
However, we have identified a number of unique opportunities all under US$150,000… and some as low as US$35,000.
We've negotiated first dibs on an exciting new project, along with exclusive discounts.
On our Plan B: Escape To A Secret Belize Paradise Webinar we'll walk you through them all.
WHEN:
Tuesday, September 15, at 12:00 noon EDT
WHERE:
Online, from the comfort of your own home
WHO:
Lief Simon, America's #1 Overseas Real Estate Expert, along with a panel of Belize property experts.
How Much Does It Cost?
Live access to the Plan B: Escape To A Secret Belize Paradise Webinar  costs $29. This rate gives you access to the entirety of the webinar, which is projected to last 1 hour & 30 minutes approx.
Why Is The Price So Low?
Given the urgency of the current situation, we want as many readers as possible to have access to this briefing. In the future this will likely sell at US$129. But not now… not when so many people need a solution to what could be the biggest retirement crisis of the century.
How Does It Work?
All you need is an internet connection.
We'll send you an email confirmation which will include full login details for the webinar on September 15. On that day, you will receive a reminder and access to the webinar shortly before it begins, at 12:00 noon EDT.
In addition, we have reserved time to allow you to ask as many questions as you'd like. Your access also comes with a free online recording of the webinar, so you can reference the information as often and whenever you like.
Click the button below to reserve your access now…
What's On The Agenda?
As an investor here you're tapping into an already successful market.
Belize is a successful and mature tourist market, so investors here are not gambling on an unproven idea.
Named as the leading destination in Central America by the World Travel Awards for two years running, Belize welcomed a record half-million overnight visitors in 2019, continuing a long-running upward trend.
When travel reopens—as it must—Belize popular for its pristine beaches, lush green forests, and wide-open unspoiled landscapes will remain as much in-demand as ever before.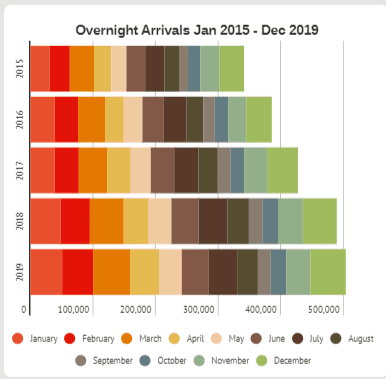 Beyond its tourism potential, thanks to its attractive QRP residency program, English-speaking population, and laidback lifestyle, Belize also draws a large number of expat retirees from around the world.
Whether you're looking for a peaceful Caribbean getaway, one that more than pays for itself when you're not there, or solely for a cash-flowing investment… the opportunities we'll explore during our webinar offer the perfect Plan B.
During the webinar, Lief will provide you access to exclusive new deals. You'll get first dibs on exciting Ambergris Caye property priced under US$150,000… plus, a chance to talk to our panel of Belize experts and ask your own questions.
Lief will also share his own insights and personal experiences buying and investing in Belize.
What Are You Waiting For?
No one can say for sure what will happen tomorrow or the next day.
But we do know this for certain…
Regardless of what is going on right now, you need a Plan B. You need to look for profit opportunities that can weather any future storms. It's your choice. You can sit and worry about what's coming next…
Or…
Just months from now you could be sitting comfortably on your own safe-haven overseas getaway, one that hands you a steady retirement income for life… one your family can continue to enjoy for generations to come.
The online Plan B: Escape To A Secret Belize Paradise Webinar will arm you with all the support, guidance, and access you need to invest safely, outside a fragile U.S. economy.
This is how you can set yourself up to thrive—now and in retirement—no matter what the rest of the world gets up to.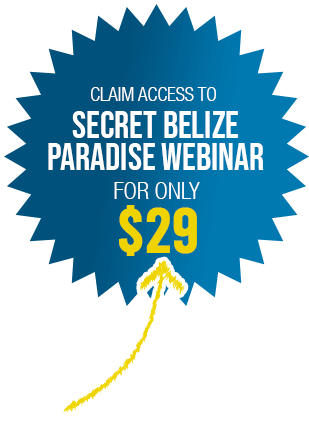 Secure Order Form
This will only take about 60 seconds... let's get started using the steps below...
New customer?