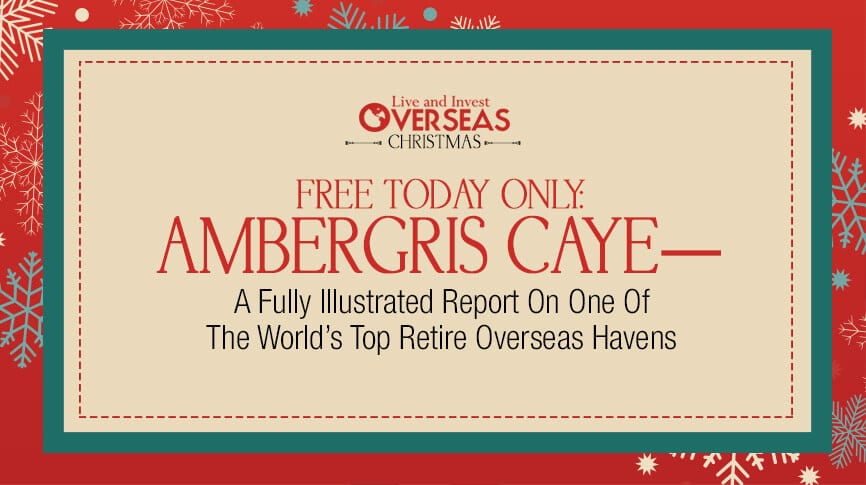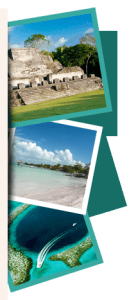 Belize has made it onto the Live and Invest Overseas Top 10 of Retire Overseas Havens for several years in a row. And with good reason…
Only a 90-minute flight from the United States, Belize is an under-the-radar, sand-fringed, English-speaking country in the Caribbean that offers a warm climate… an affordable cost of living… lifestyle options from sandy beachfront to quiet inland retreats… safety… stability… privacy… independence… freedom…
The island of Ambergris Caye, just offshore the mainland, is home to a growing expatriate community. This is unadulterated and pure Caribbean… the sea, sand, and sunshine of the Caymans or the Virgin Islands… but without the price tag…
Your free gift today, Day 8 of our 12 Days Of Christmas Event, is a comprehensive look at Ambergris Caye, including residency and cost of living information, firsthand, real-life expat experiences, insights, and recommendations, plus photos, videos, maps, and more…
Remember, this special giveaway, like every offer during our 12 Days Of Christmas Event, is available for 24 hours only.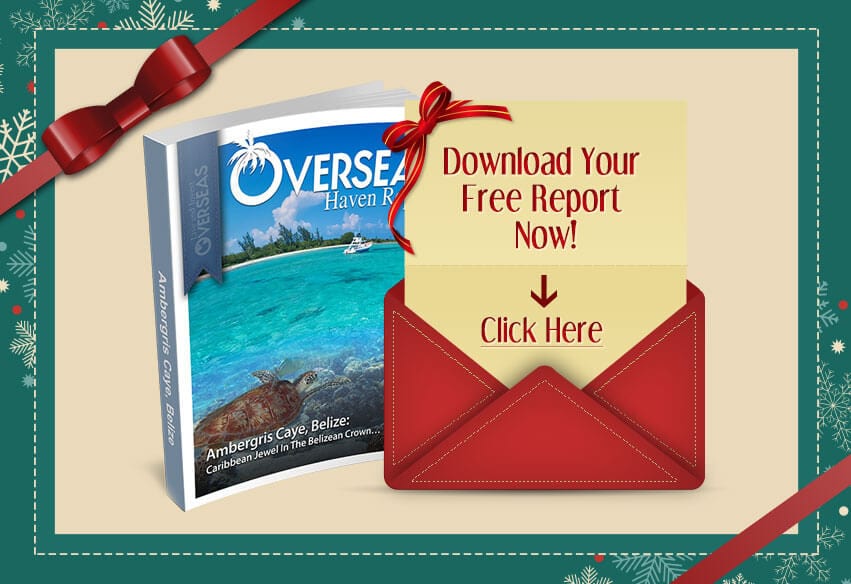 Special Offer During 12 Days Of Christmas Event Only: Get Your Copy Of The Ultimate Belize Resource And Save 25%!
This extensive report on Ambergris Caye is part of our popular Belize Starter Kit.
If Belize is on your radar (as we suggest it should be), the Belize Starter Kit has everything you need to take the first step toward realizing your dreams of a new life in this beautiful, English-speaking Caribbean nation.
Think of it as Belize 101, everything the would-be expat or retiree considering a new life in Belize needs to get started. It includes:
—- "Live and Invest in Belize," the complete guide for living, retiring, and investing in Belize (a $79 value)—This complete and current guide to Belize introduces you to the country's top choices for expat living and helps you to compare them, one to the other, with a clear look at the pluses and the minuses in each case…
–Our Special Overseas Haven Report on Belize's Cayo District, one of our favorite spots in the country, offering perhaps the most affordable retirement lifestyle in Belize right now (a $9.95 value)…
–Our Special Overseas Haven Report on Ambergris Caye, home to a growing expatriate community. This is pure Caribbean…the sea, sand, and sunshine of the Caymans or the Virgin Islands, but without the price tag… (a $9.95 value)…
–Our Special Overseas Haven Report on Northern Belize, an area that bursts stunning landscapes and natural resources where you can live a luxury lifestyle for $1,145 a month… (a $9.95 value)…
—"Retire At 45 In Tropical, Tax-Free Belize," our special report on Belize's QRP retirement program, detailing why this is one of the top three retirement residency programs in the world right now (a $9.99 value)…
–The special report, "44 Things You Must Know Before You Relocate, Retire, or Invest Offshore," the nuts-and-bolts support you need to plan your adventures in Belize with confidence (a $29 value)…
Altogether, that's six separate resources to help you start planning your Belize adventure today.
The Belize Starter Kit sells for $79 in the Live and Invest Overseas online bookstore.
However, for today only, during our 12 Days Of Christmas Event, you can access your copy for only $59. That's a full 25% off the already discounted sales price, and again, it's available today only.
This offer is unpublished, and you'll gain access only by clicking the button below. Your private Coupon Code BELIZE25 will be applied automatically.
Access your discounted copy of this ultimate Belize Resource now.